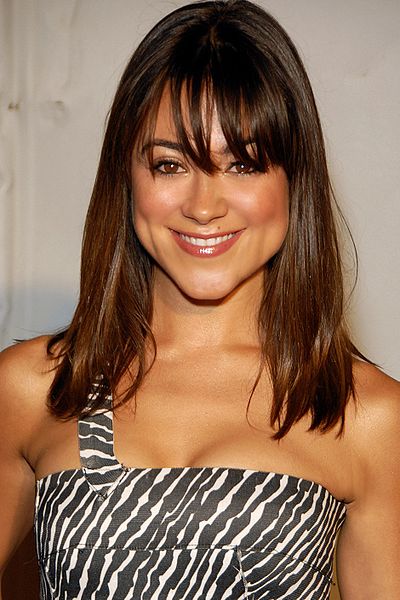 Camille Guaty
Born:
June 28, 1976
Age:
46
Birthplace:
Santa Clara County, California, U.S.
Popularity:

Please login to contact Camille Guaty...
Biography
Camille Guaty (born June 28, 1976)[1] is an American film and television actress. She is known for several roles: as Daisy in Gotta Kick It Up! (2002), for playing Maricruz Delgado, Sucre's girlfriend, in Prison Break (2005-07) and as Walter O'Brien's sister, Megan, a recurring role on the CBS series Scorpion (2014-15).
Guaty was born in California[2] of Cuban and Puerto Rican descent. Her mother's side of the family is originally from the Canary Islands.[
citation needed
]
She attended a summer program at the Royal Academy of Dramatic Art in London and studied at Boston University.[3] She has lived in California, New Jersey and New York City.
Read more...
Career
Singing
Camille auditioned for Popstars, a reality TV show that aired on the WB Network in 2000. She made it to the L.A. Workshop that included only the best 26 contestants. In the end, Camille was one of ten semi-finalists and eventually the last contestant not to win a spot as part of the winning girl group Eden's Crush.[4]
Acting
In 2002, Guaty was the lead in the movie Gotta Kick It Up!, a Disney Channel Original movie. She was the leading role in the short-lived TV series The Help with Mindy Cohn, Megan Fox, and Antonio Sabato Jr.
In 2004, Guaty was the leading lady, Maggie Moreno, in the movie 30 Days Until I'm Famous. She also starred in Crossing Jordan as Det. Luisa Santana in the episodes "Blue Moon" and "Family Affair".
In 2005, Guaty had a recurring role Maricruz Delgado, the girlfriend of Fernando Sucre, in Prison Break. She starred as Franny Rios in ABC's The Nine, and played the role of Alex in The Brothers Garcia.
Guaty was cast as recurring character Piper Nielsen, a new Montecito concierge, in 2007 on NBC's Las Vegas. Guaty has also appeared in Cupid and Ghosts of Girlfriends Past. She appeared in a 2011 episode of The Chicago Code as Elena, as the fiancée of the main character, Jarek Wysocki. She has a recurring role in the TV show Scorpion as Megan O'Brien, the older sister of main character Walter O'Brien.
Personal life
Guaty is married to British songwriter Sy Rhys Kaye.[5] They reside in Los Angeles, California.[citation needed]
Filmography
Television
Year
Title
Role
Notes
2001-02
Raising Dad
Olivia
Recurring role; 12 episodes
2002
Gotta Kick It Up!
Daisy Salinas
Disney Channel original movie
2002
What I Like About You
Liz
Episode: "Spa Day"
2003
ER
Mia
Episode: "When Night Meets Day"
2003
The Brothers García
Alex
3 episodes
2004
30 Days Until I'm Famous
Maggie Moreno
Movie
2004
Gramercy Park
Maddy Kelly
Unaired ABC pilot[citation needed]
2004
The Help
Maria
Main role; canceled after 7 episodes
2004-05
Crossing Jordan
Detective Luisa Santana
2 episodes
2004
Everwood
Serena
Episode: "The Tipping Point"
2004
Joey
Debbie
Episode: "Joey and the Roadtrip"
2005
Sex, Love & Secrets
Andrea
Episode: "Abandonment"
2005-07
Prison Break
Maricruz Delgado
Recurring role; 9 episodes
2006-07
The Nine
Franny Rios
Main role; 13 episodes
2007-08
Las Vegas
Piper Nielsen
Recurring role; 16 episodes
2007
Without a Trace
Paula Solis
Episode: "Res Ipsa"
2007
Supreme Courtships
Amber Chavez
Unaired FOX pilot[citation needed]
2001-10
Family Guy
Various
7 episodes
2008
Dirt
Debbie Ann
Episode: "What Is This Thing Called?"
2009
Fear Itself
Karen / Zelda
Episode: "Echoes"
2009
Cupid
Lita Arroyo
Main role; 7 episodes
2009
CSI: Crime Scene Investigation
April Martin
Episode: "Death and the Maiden"
2010
Drop Dead Diva
Wendy Simon
Episode: "Good Grief"
2011
Eden
Kelly Dimeo
Episode: "Pilot"
2011
The Chicago Code
Elena
4 episodes
2011
Friends with Benefits
Katie Finelli
Episode: "Pilot"
2012
Breakout Kings
Emmy Sharp
Episode: "I Smell Emmy"
2012
Let It Go
Charlie
Unaired FOX pilot[citation needed]
2013
Spy
Caitlin Banks
Unaired ABC pilot[citation needed]
2013
The Vampire Diaries
Caitlin Shane
2 episodes
2013
How I Met Your Mother
Lisa
Episode: "Bedtime Stories"
2014
Hart of Dixie
Connie Vincent
2 episodes
2014-15
Scorpion
Megan O'Brien
Recurring role
10 episodes
2014
Happyland
Elena Velez
Main role
2017
Daytime Divas
Nina Sandoval
Main role
Film
| Year | Title | Role | Notes |
| --- | --- | --- | --- |
| 2003 | Love Object | Counter Girl | |
| 2007 | Blink | Nicole | |
| 2008 | Consuming Love | Sarah | Short film |
| 2009 | Ghosts of Girlfriends Past | Donna | |
| 2012 | Towing | Red | Short film |
| 2013 | Crush | Ms. Brown | |
| 2013 | The Smile Man | Irene | Short film |
| 2014 | Cake | Tina | |
| 2015 | The Wedding Invitation | Ryann | |
| 2018 | A Futile and Stupid Gesture | Alex Garcia-Mata | |
| 2018 | Nappily Ever After | Wendy | Post-production |
[ Source: Wikipedia ]