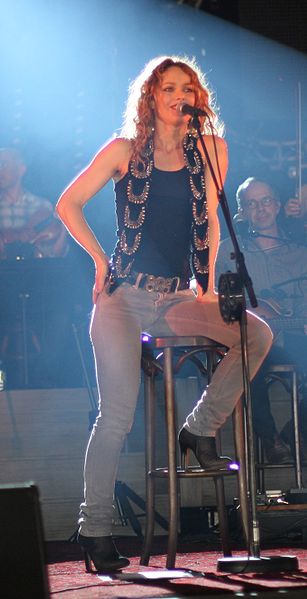 Vanessa Paradis
Birth name:
Vanessa Chantal Paradis
Born:
December 22, 1972
Age:
50
Birthplace:
Paris, France
Popularity:

Please login to contact Vanessa Paradis...
Biography
Vanessa Chantal Paradis (born 22 December 1972)[1][2] is a French musician, singer, songwriter, actress, and fashion model.
Paradis became a child star at 14 with the worldwide success of her single "Joe le taxi". Since 1991, Paradis has been a spokesmodel for Chanel. She was in a relationship with American actor Johnny Depp from 1998 to 2012; they have two children: Lily-Rose and John "Jack" Christopher Depp III. Vanessa's sister, Alysson Paradis, is also an actress.[3][4]
Vanessa Paradis was born in Saint-Maur-des-Fossés, France, to interior designers Corinne and André Paradis. Her singing career began at the age of seven when her uncle, record producer Didier Pain, helped her appear on the local television program
L'École des fans
, a talent show for child singers.[1]
Read more...
1983-1991
Paradis recorded her first single, "La Magie des surprises-parties", in 1983 and performed it in an Italian festival in 1985. Although not a hit, it paved the way for the song with which she became internationally famous, "Joe le taxi", in 1987 when she was 14. It was number one in France for 11 weeks[5] and, unusually for a song sung in French, was released in the United Kingdom, where it reached number three. It was taken from her first album M&J (it stands for Marilyn & John) which, although it placed 13th in France, drew little attention in the UK and did not enter the chart.
In March 1989, at age 16, she left high school to pursue her singing career.
Paradis released the album Variations sur le même t'aime in 1990, containing a remake of the Lou Reed song "Walk on the Wild Side". The album was written by acclaimed French composer Serge Gainsbourg, whom she met when she received the best singer award at Les Victoires de la Musique, on 4 February 1990. In 1990, Paradis won the 1990 César Award for Most Promising Actress for her role in Noce Blanche.
In 1991, Paradis promoted the fragrance Coco for Chanel.[6] In the advertisement, she was covered in black feathers, portraying a bird swinging in a cage. The advert was shot by Jean-Paul Goude.[7] Paradis spoke of her continued admiration of Chanel in 2010 saying, "The more I know them, the more I love Chanel."[8]
1992-1996
In 1992, Paradis moved to the United States to work with Lenny Kravitz, whom she also dated at the time.[1][9] Paradis started working on a new album in English, a language she was now fluent in. Written and produced by Kravitz, the album, titled Vanessa Paradis, topped the French chart and briefly made the UK listings (number 45). One of the singles from it was "Be My Baby", which made number 5 in France and gave her another Top 10 hit in the UK, peaking at number six.
In March 1993, Paradis started her first international tour, the Natural High Tour; she performed in France, England and Canada. In February 1994, Live was released in France. In April 1994, Paradis filmed Élisa, under the direction of Jean Becker. Elisa was a big success in France, and was released internationally.
1997-2006
In 1997, Paradis played in Un amour de sorcière with Jeanne Moreau and Jean Reno, before filming Une chance sur deux, with Alain Delon and Jean-Paul Belmondo. In March 1999, La fille sur le Pont, by Patrice Leconte was released. This movie was shot and released in black and white. In 2004, she promoted Chanel's new handbags called Ligne Cambon.
In 2005, she modeled for Chanel again for The New Mademoiselle handbag. In 2008, she modelled for Miu Miu. Meanwhile, she was included in the French children's album and concert Le Soldat Rose in 2006.
Paradis performing in 2007
2007-present
Paradis released a new album (Divinidylle) in 2007 which was released in the UK on 11 December (September in France). There are three versions (regular, limited edition, and the Christmas edition). She started the Divinidylle Tour in October. Some concerts were filmed and a DVD/CD of the tour was released. Paradis won two 'Les Victoires de la Musique' awards for this album in February 2008. Some of her later projects are a greatest hits CD (Best of Vanessa Paradis), which includes the commercial jingle "I love Paris in the Springtime"; she also starred in the animated film Un monstre à Paris, released in 2010.
Canadian film director Jean-Marc Vallée cast Paradis in a starring role in his film Café de Flore, in which she plays the single mother of a Down syndrome child in the 1960s.[10] The film was released in 2011, and Paradis garnered a Genie Award for Best Actress in a Leading Role at the 2012 Genie Awards.[11]
Paradis released an acoustic album in November 2010 entitled Une nuit à Versailles. The album was recorded at L'Opéra of the Palace of Versailles during her Vanessa Paradis Concert Acoustique Tour.[12] She also released a set of DVDs in 2010 called Anthologie which collected rare live performances and interviews from 1987-2007.[13]
In 2010 she became the face of Chanel's new lipstick, Rouge Coco. She also became the face of their new handbag line, Ranger.
Her 2011 international tour included performances in the United States, Canada, the United Kingdom, Europe and Turkey.[14]
In May 2013, Vanessa Paradis released a new album, Love Songs, a double LP produced by French singer and producer Benjamin Biolay.[15] The first single, Love Song, was also written by Biolay.[16] The second single was Les espaces et les sentiments.[17] The third single, Mi Amor, was written by BB Brunes frontman Adrien Gallo. Other people that have contributed to the songwriting of the album include Mickey 3D frontman Mickaël Furnon, Johnny Depp, Paradis herself and their daughter Lily-Rose.[15]
In 2016, Paradis starred in Yoga Hosers with her daughter Lily Rose, as a history teacher.[18] That same year, she was a member of the main competition jury of the 2016 Cannes Film Festival.[19]
Personal life
Paradis dated French singer Florent Pagny from 1988 to 1991. From 1992 to 1997, she was in a relationship with Lenny Kravitz, who also produced her 1992 self-titled album. She also dated French actor Stanislas Merhar from 1997 to 1998. From 1998 to 2012, Paradis was in a relationship with American actor Johnny Depp.[20] They have a daughter, Lily-Rose Depp (born May 27, 1999),[21][22] and a son, John Christopher "Jack" Depp III (born April 9, 2002).[23] In May 2014, at a Chanel show in Dubaï, Vanessa Paradis confirmed her relationship with French singer Benjamin Biolay. They broke up in May 2015. In November 2016, she began dating Samuel Benchetrit, who directed her in his fifth film, Dog.[24][25] In June 2018, Paradis and Benchetrit married in the small French town of Saint-Simeon.[26]
Philanthropy
Paradis has been a member of the Les Enfoirés charity ensemble since 1993.[27]
Discography
Main article: Vanessa Paradis discography
Vanessa Paradis - Joe Le Taxi excerpt An excerpt from Joe Le Taxi

---

Problems playing this file? See media help.
Studio albums
M&J (1988)
Variations sur le même t'aime (1990)
Vanessa Paradis (1992)
Bliss (2000)
Divinidylle (2007)
Love Songs (2013)
Filmography
Film and television
Year
Title
Role
Notes
1989
Noce Blanche
Mathilde Tessier
1995
Élisa
Marie Desmoulin
1997
Witch Way Love
Morgane
1998
Pleasure (And It's Little Inconveniences)
La voix du nouvel âge (voice)
1998
Une chance sur deux
Alice Tomaso
1999
Girl on the Bridge
Adèle
2002
Lost in La Mancha
Herself
Documentary (footage from the filming
of The Man Who Killed Don Quixote)
2004
Atomik Circus - The Return of James Battle
Concia
2004
My Angel
Colette
2005
The Magic Roundabout
Margotte (voice)
2006
Le soldat Rose
Made in Asia
TV film
2007
La clef
Cécile
2010
Heartbreaker
Juliette Van Der Becq
2011
A Monster in Paris
Lucille (voice)
English and French dubs
2011
Café de Flore
Jacqueline
2012
Dubaï Flamingo
Jackie
2012
Low Profile
Emmanuelle
2012
Cornouaille
Odile
2013
Fading Gigolo
Avigal
2014
Rio, I Love You
Mulher
segment "Quando não há Mais Amor"
2014
Sous les jupes des filles
Rose
2016
Yoga Hosers
History Teacher
2017
Frost
2018
Knife + Heart
Awards and nominations
Year
Nominated work(s)
Award
Category
Result
1988
"Joe le taxi"
Victoires de la Musique
Nominated
Herself
Nominated
1989
Nominated
1990
"Mosquito"
Nominated
Noce Blanche
César Award
Won
Herself
Prix Romy Schneider
Won
Victoire de la Musique
Won
1991
Tandem
Won
1993
Herself
Nominated
2000
La fille sur le pont
César Award
Nominated
2001
Bliss
NRJ Music Awards
Nominated
Herself

Best Francophone Female Artist

Nominated
2007
Ordre des Arts et des Lettres
Honored
2008
Trophée des femmes en or (fr)
Nominated
"Dès que j'te vois"
NRJ Music Awards
Nominated
Divinidylle
Nominated
Victoire de la Musique
Won
Herself
Won
Globe de cristal (fr)
Nominated
2009
Divinidylle Tour
Victoire de la Musique
Won
2011
Herself
Nominated
Une nuit à Versailles (fr)
Globe de Cristal
Nominated
L'arnacœur
Nominated
2012
"La Seine" (fr) (with ‑M-)
Victoire de la Musique
Won
Café de Flore
Genie Award
Won
Jutra Award
Won
Cabourg Romantic Film Festival
Won
Vancouver Film Critics Circle
Nominated
2016
Herself
Legion of Honour
Honored
[ Source: Wikipedia ]