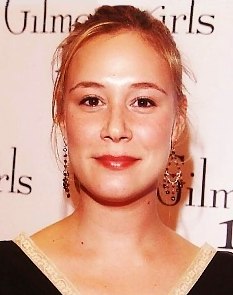 Liza Weil
Birth name:
Liza Rebecca Weil
Born:
June 5, 1977
Age:
45
Birthplace:
Passaic, New Jersey, U.S.
Popularity:

Please login to contact Liza Weil...
Biography
Liza Rebecca Weil (born June 5, 1977) is an American actress, known for her role as Paris Geller in the WB/CW series Gilmore Girls and its Netflix revival Gilmore Girls: A Year in the Life. She is also known for her roles as White House aide Amanda Tanner in the first season of ABC's Scandal and as attorney Bonnie Winterbottom in ABC's How to Get Away with Murder.
Weil was born in Passaic, New Jersey, into an acting family.[5] She was raised in, and continues to practice, Reform Judaism.[6]
Her parents, Lisa and Marc Weil, toured Europe with their comedy troupe, The Madhouse Company of London, with her in tow. Weil had aspirations of becoming an archaeologist in her younger years, because of the Indiana Jones film trilogy and a childhood crush on Harrison Ford.[7] In 1984, at the age of seven, her family settled down in suburban Lansdale, Pennsylvania northwest of Philadelphia, where her parents continue to reside. Weil was a self-avowed average student in high school who focused more on her budding acting career than her studies.[8]
Weil traveled frequently to New York City for professional auditions and acted in productions both off-Broadway and in Philadelphia's theatrical community before pursuing her film and television career. A 1995 graduate of North Penn High School, she graduated in the summer rather than the regular term due to her acting commitments.[9][10]
Read more...
Career
Weil continues to be active in the Los Angeles theatrical community during hiatuses, is a regular performer at the Ojai Playwrights Conference in early August and radio dramas with L.A. Theatre Works, and still occasionally performs in live theater in Philadelphia and New York City. She has acted with every member of her family; in 2004, she headlined with her father in a well-received community theater production of Proof at the Montgomery Theater in Souderton, Pennsylvania, just north of her adopted hometown of Lansdale. Her first ever television role in 1994, which was an episode of The Adventures of Pete & Pete called "Yellow Fever", found her playing a bully alongside her mother Lisa, who played a teacher (she would also play a second role later in the series as a love interest to Big Pete in the episode "35 Hours"). Her younger sister Samantha shared the screen with Liza in Gilmore Girls' third season finale, "Those Are Strings, Pinocchio". Samantha Weil played a student named Bernadette (who was unrelated to Paris) making out a video yearbook entry in front of an impatient Paris, standing off to the side waiting to make her own.
An alumna of Columbia University, Weil received her first major feature film role co-starring with Kevin Bacon in Stir of Echoes. Before that role, she was the star of the 1998 independent film, Whatever, and her first film in 1996 was the short film, A Cure For Serpents, where she played the daughter of a mysophobic woman bringing home a boyfriend who was not as obsessive with cleanliness, and how the mother deals with the challenge. She has also done several other short and feature-length independent films, which include, Motel Jerusalem, Scar, and Lullaby, and shown interest in behind-the-camera work. After her work in Whatever and Stir of Echoes, Warner Bros. signed Weil to a talent holding deal and she moved to Los Angeles, where she guest-starred on series produced by that studio, including ER and The West Wing, before being cast on Gilmore Girls.[11]
Weil was originally considered for the role of Rory Gilmore by Gilmore Girls creator Amy Sherman-Palladino before Alexis Bledel won the role; the character of Paris Geller was created especially for Weil.[10]
In 2006, Weil was featured in the horror themed short film, Grace, in which her character suffers a miscarriage, yet decides to carry the baby to term with terrifying results. The film, which also featured Brian Austin Green, premiered at the Fangoria Weekend of Horrors convention on June 2, 2006, and is the basis for the 2009 feature film of the same name.[12] She also had a minor role as a humane society worker in the Molly Shannon film Year of the Dog, and appeared as Doris Delay in the 2008 biographical film Neal Cassady, and as a reporter in the 2010 live-action rotoscoping film Mars.
Weil also voiced a public service announcement which aired from June to October 2007 and aired on radio stations in Philadelphia and the Delaware Valley in support of the American Diabetes Association's Step Up to Fight Diabetes staircase climb event, which took place in Center City Philadelphia on October 20, 2007.
In 2009, Weil returned to her roots as a regular guest star in various television series, including appearances in Eleventh Hour, CSI, In Plain Sight, Grey's Anatomy and Private Practice and in February 2010 began a run as Dr. Glass on the popular Internet series Anyone But Me; series creator Susan Miller officiated at Weil's wedding to Paul Adelstein in 2006.[13]
In March 2011, it was confirmed that Weil had signed for the role of Amanda Tanner, a White House aide, in ABC's Scandal, a series written and produced by Shonda Rhimes.[14][15] It was picked up by the network for their midseason 2011-12 schedule on May 13, 2011,[16] and Weil had a recurring role in the series' first season.[14]
Weil played a supporting role in the horror film Smiley, and started 2013 as a recurring guest star in the last half of the only season of Amy Sherman-Palladino's ABC Family series Bunheads as Milly, the sister of Truly Stone.[17] She is also a constant collaborator with independent film director Noah Buschel, having appeared in most of his work through the years and co-producing and starring in the 2014 low-cost project The Situation is Liquid.[18]
At the end of February 2014, Weil was confirmed as signing on for another Shonda Rhimes project, having been cast as Bonnie Winterbottom, an assistant to Annalise Keating (Viola Davis) in the ABC series How to Get Away with Murder,[19] which premiered during the 2014-15 television season.[20] She also reprised her role as Paris Geller in the "Winter" and "Spring" episodes of the Netflix revival series Gilmore Girls: A Year in the Life.[21]
Personal life
Weil married actor Paul Adelstein, in a Reform Jewish ceremony, in November 2006.[22] They had previously known each other through theatrical projects.[23] The two went on to appear together in three film projects: the short film Order Up (2007), the Gregory Dark-helmed Little Fish, Strange Pond (2008), and The Missing Person (2008). She also appeared in an episode of Private Practice (airdate February 24, 2011), although she and Adelstein had no scenes together. The couple welcomed a baby girl, Josephine Adelstein, on April 20, 2010.[24][25] Weil filed for divorce from Adelstein in March 2016,[26] citing irreconcilable differences. The divorce was finalized in November 2017.[27]
Weil is left-handed, and a natural brunette.[28] She is the aunt of child actress Scarlett Estevez (no relation to the acting family of the same surname), who plays Beatrice Espinoza on the Fox/Netflix series Lucifer.[29]
Filmography
Film
Year
Title
Role
Notes
1998
Whatever
Anna Stockard
1999
Stir of Echoes
Debbie Kozac
2002
Dragonfly
Suicide Girl
Lullaby
Rane
2006
Grace
Madeline Matheson
Short film
2007
Year of the Dog
Trishelle
Order Up
Hippie Patron
Short film
Neal Cassady
Doris Delay
2008
Mars
Jewel
2009
Little Fish, Strange Pond
Norma
Direct-to-DVD
The Missing Person
Agent Chambers
2012
Advantage: Weinberg
Sylvia Weinberg
Voice role; short film
Smiley
Dr. Jenkins
Television
Year
Title
Role
Notes
1994
The Adventures of Pete & Pete
Bully
Margie Corsell
2 episodes
2000
The West Wing
Karen Larson
Episode: "Take out the Trash Day"
2000-2002
ER
Samantha Sobriki
3 episodes
2000-2007
Gilmore Girls
Paris Geller
96 episodes
2001
Law & Order: Special Victims Unit
Lara Todd
Episode: "Tangled"
2009
Eleventh Hour
Ashley Filmore
Episode: "H2O"
CSI: Crime Scene Investigation
Risa Parvess
Episode: "A Space Oddity"
In Plain Sight
Angela Atkins
Episode: "Gilted Lily"
Grey's Anatomy
Allison Clark
Episode: "Here's to Future Days"
2010
Anyone But Me
Dr. Glass
Web series; 4 episodes
2011
Private Practice
Andi
Episode: "Two Steps Back"
2012
Scandal
Amanda Tanner
6 episodes
2013
Bunheads
Milly Stone
6 episodes
2014-present
How to Get Away with Murder
Bonnie Winterbottom
Main role; 60 episodes
2016
Gilmore Girls: A Year in the Life
Paris Geller
3 episodes
The Tonight Show Starring Jimmy Fallon
Guest with Scott Patterson and Sean Gunn
November 22, 2016
[ Source: Wikipedia ]