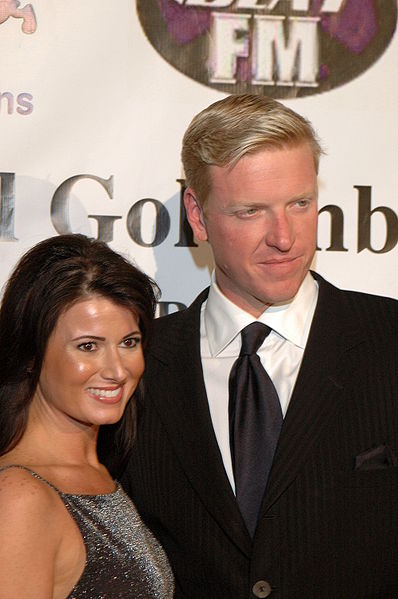 Jake Busey
Birth name:
William Jacob Busey Jr.
Born:
June 15, 1971
Age:
51
Birthplace:
Los Angeles, California, U.S.
Popularity:

Please login to contact Jake Busey...
Biography
William Jacob Busey Jr. (born June 15, 1971) is an American actor, musician, and film producer. He is sometimes credited as Jacob Busey.
Busey was born in Los Angeles, and raised in Malibu, California, the son of photographer Judy Busey, and actor
Gary Busey
.[1] Busey spent his childhood on film sets and touring with bands in which his father sometimes played, such as
Leon Russell
,
Willie Nelson
, Little Feat. He began considering his career choices at the age of five when he took up the two hobbies that grew into professions: acting and playing drums.
Read more...
Career
Busey's motion picture debut was in the 1978 film Straight Time with his father Gary and Dustin Hoffman. His two most notable appearances are as the murderous religious fanatic opposite Jodie Foster in Contact and as smart-mouthed soldier Ace Levy in Starship Troopers. He appeared in H. G. Wells' War of the Worlds, one of three 2005 film adaptations of the novel by H. G. Wells, alongside C. Thomas Howell. Additionally, he has had major roles in Tomcats opposite Jerry O'Connell and Shannon Elizabeth, in James Mangold's thriller Identity, with C. Thomas Howell in The Hitcher II, Michael J. Fox in Peter Jackson's The Frighteners and Road House 2. Busey played the role of "Backfire" in Patrick Durham's movie Cross which was released directly to DVD and download in May 2011, and stars in the independent film Don't Pass Me By.
He has also had minor parts in films like Windrunner: A Spirited Journey starring Jason Wiles, Christmas with the Kranks starring Tim Allen, I'll Do Anything, Enemy of the State, The Killing Jar, The Stoned Age, PCU, Fast Sofa with Jennifer Tilly and Natasha Lyonne, and Reaper with Danny Trejo and Vinnie Jones. He also had a main role on the television series Shasta McNasty. Busey portrayed since 2013 Professor Aiden "Sex Machine" Tanner in From Dusk till Dawn: The Series.[2]
He also provided the voice of The Radioman in the 2012 video game Spec Ops: The Line.
In 2016, Busey starred in the feature film Deserted opposite Mischa Barton, Trent Ford, Winter Ave Zoli, Jackson Davis, Dana Rosendorff, Lance Henriksen and Gerry Bednob. The film is a psychological thriller about a group of friends on a road trip to a music festival in "Death Valley - which results in getting them hopelessly lost in the most stunning, but unforgiving topographical terrain on the planet".[3] Busey played the role of Clay.[4]
Personal life
On July 30, 2016 he and his wife April welcomed a baby girl named Autumn.[5]
Filmography
Year
Film
Role
Notes
1978
Straight Time
Henry Darin
1982
Barbarosa
Cook boy
1989
Hider in the House
Teenage Tom
Voice role
1992
Cruel Doubt
student
TV movie
1993
Shimmer
Richard Halverson
1994
Foot Shooting Party
Short film
Motorcycle Gang
Jake
TV movie
S.F.W.
Morrow Streeter
The Stoned Age
Jimmy Muldoon
PCU
Mersh
I'll Do Anything
1995
Quiet Days in Hollywood
Curt
Windrunner
Dave Promisco
1996
The Frighteners
Johnny Charles Bartlett
Twister
Mobile Lab technician
1997
Contact
Joseph
Starship Troopers
Private Ace Levy
1998
Enemy of the State
Krug
Home Fries
Angus
1999
Shasta McNasty
Dennis
2001
Tomcats
Kyle Brenner
Jeremiah
Jake Davenport
2002
The First $20 Million Is Always the Hardest
Darrell
The Twilight Zone
Vincent Hansen
Episode: "Chosen"
2003
Identity
Robert Maine
The Hitcher II: I've Been Waiting
Jack
2004
Christmas with the Kranks
Officer Treen
Charmed
warlock
Episode: "WitchStock"
2005
H. G. Wells' War of the Worlds
Lieutenant Samuelson
The Rain Makers
Shaw
Associate producer
Code Breakers
Straub
2006
Road House 2
Wild Bill
Wristcutters: A Love Story
Brian
2008
Time Bomb
Jason Philby
Direct-to-video
2010
The Killing Jar
Greene
2011
Cross
Backfire
Producer
Arbor Demon
Sean
2012
Play James Play
Paul
Don't Pass Me By
Fred Norwick
Nazis at the Center of the Earth
Adrian Reistad
Beverly Hills Chihuahua 3: Viva la Fiesta!
Oscar
Voice role
2013
Girl Meets Boy
Richard
Sparks
Sledge
Psych
FBI agent
Episode: "Santabarbaratown 2"
2014
Reaper
Bill
2014-2016
From Dusk Till Dawn: The Series
Professor Aiden "Sex Machine" Tanner
26 episodes
2015
Justified
Lewis "The Wiz" Mago
Episode: "The Trash and the Snake"
Texas Rising
Samuel Wallace
2 episodes
Most Likely to Die
Tarkin
2016
Last Man Club
Diamond Jim
Deserted
Clay
2017
Day 5
Carl
Episode: "Lucid"
Dead Again in Tombstone
Colonel Jackson Boomer
Ray Donovan
Acid Man
3 episodes
Freakish
Earl
5 episodes
2018
Agents of S.H.I.E.L.D.
Tony Caine
2 episodes
The Predator
Sean Keyes
NCIS
Whit Dexter
Episode: "Handle With Care"
2018
Stranger Things
Bruce
[ Source: Wikipedia ]