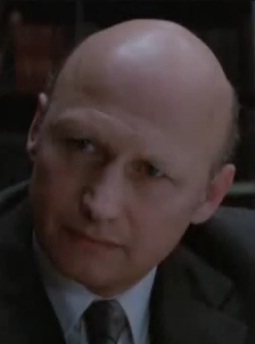 James Tolkan
Birth name:
James Stewart Tolkan
Born:
June 20, 1931
Age:
91
Birthplace:
Calumet, Michigan, U.S.
Popularity:

Please login to contact James Tolkan...
Biography
James Stewart Tolkan (born June 20, 1931) is an American actor, known for his work in films such as Serpico, Top Gun and the Back to the Future franchise.
James Stewart Tolkan[1] was born in Calumet, Michigan, the son of Dale Nichols and Ralph M. Tolkan,[3] a cattle dealer. He attended the University of Iowa, Coe College, the Actors Studio and Eastern Arizona College.[4]
Read more...
Career
Tolkan is known for his role in the 1985 film Back to the Future as the strict Hill Valley High School principal, Stanford S. Strickland; the character refers to Marty McFly, his father, and Biff Tannen derisively as "slackers". He would reprise the role in the 1989 sequel Back to the Future Part II, in which unnamed gang members make a drive-by assault on him in a dystopian 1985; he also refers to these criminals as "slackers" as he shoots back. In 1990, he played the part of Mr. Strickland's grandfather Chief Marshal James Strickland in Back to the Future Part III. Tolkan would again reprise his role as Strickland in addition to playing his character's ancestors and descendants in the 1991 animated series spin-off.
Other well-known roles include an FBI agent in WarGames and Stinger, the no-nonsense commanding officer of USS Enterprise's embarked Carrier Air Wing in the 1986 box-office hit Top Gun. He portrayed the role of cold and determined District Attorney Polito in Sidney Lumet's Prince of the City. He also appeared in the 1987 film Masters of the Universe as Detective Lubic. He had a dual role in the Woody Allen comedy Love and Death, playing both Napoleon and a look-alike.[5] He also appeared as Big Boy Caprice's accountant "Numbers" in the 1990 Warren Beatty film Dick Tracy. He appeared in Serpico (1973) in a small but notable role as a cop who loudly accuses Officer Serpico of having a gay encounter with another cop in the men's room.
Tolkan has also made guest appearances on many TV shows, including Naked City, Remington Steele, Miami Vice and The Fresh Prince of Bel-Air.[6]
A member of the repertory cast of A Nero Wolfe Mystery (2001-02), he played more than a dozen varied roles in the A&E TV series and also directed two episodes[5] ("Die Like a Dog" and "The Next Witness").
Personal life
On August 28, 1971, Tolkan married Parmelee Welles, a staffer at the American Place Theater in New York.[1]
Filmography
Actor
Year
Film
Role
Notes
1960
Naked City (TV series)
Evan Humboldt
"The Man Who Bit a Diamond in Half"
1962
Armstrong Circle Theatre (TV series)
Stefan Malwitz
"The Man Who Refused to Die"
1966
The Three Sisters
1969
N.Y.P.D.
"The Night Watch"
Stiletto
Edwards
1971
They Might Be Giants
Mr. Brown
1973
The Friends of Eddie Coyle
The Man's contact man
The Werewolf of Washington
Dark Glasses
Serpico
Lt. Steiger
1975
Love and Death
Napoleon Bonaparte
1976
Independence
Tom Paine
1979
The Amityville Horror
Coroner
1981
Wolfen
Baldy
Prince of the City
District Attorney Polito
1982
Hanky Panky
Conferee
Author! Author!
Lt. Glass
1983
Wings (TV)
Billy
WarGames
FBI Agent Nigan
Nightmares
Voice of the Bishop
(segment) "The Bishop of Battle"
1984
Iceman
Maynard
The River
Howard Simpson
1985
Turk 182!
Hanley
Hill Street Blues
Coach Beasley
"Queen for a Day"
Back to the Future
Principal Strickland
Walls of Glass
Turner
1985-1986
Mary (TV series)
Lester Mintz
1985-1987
Remington Steele (TV series)
Norman Keyes
"Diced Steele"
"Forged Steele"
"Bonds of Steele"
"The Steele That Wouldn't Die"
1986
Off Beat
Harry
Top Gun
Commander Tom "Stinger" Jardian
Armed and Dangerous
Lou Brackman
Little Spies
The Kennel Master
1987
Masters of the Universe
Detective Lubic
Made in Heaven
Mr. Bjornstead
Miami Vice
Mason Mather
"Amen ... Send Money"
1988
Weekend War (TV)
Dr. Alex Thompson
Viper
Col. William Tansey
Leap of Faith (TV)
Dr. Siegel
Split Decisions
Benny Pistone
1989
The Equalizer (TV series)
Ruger
"The Visitation"
The Case of the Hillside Stranglers (TV)
True Blood
Det. Joseph Hanley
Second Sight
Coolidge
Back to the Future Part II
Principal Strickland
Ministry of Vengeance
Col. Freeman
Family Business
Judge in 2nd Trial
1990
Opportunity Knocks
Sal Nichols
Sunset Beat (TV series)
Ray Parker
"One Down, Four Up"
Back to the Future Part III
Chief Marshal James Strickland
Dick Tracy
Numbers
The Fresh Prince of Bel-Air
Dr. Oates (alias Dr. Bloat)
"Day Damn One"
1991
Hangfire
Patch
Trabbi Goes to Hollywood
Vince
Tales from the Crypt (TV series)
Sgt. McClaine
"The Trap"
Problem Child 2
Mr. Thorn
1992
Tequila and Bonetti (TV series)
"Fetch This, Pal"
Sketch Artist (TV)
Lt. Tonelli
The Hat Squad (TV series)
Mike Ragland
"The Widow Marker"
Bloodfist IV: Die Trying
Agent Sterling
1993
The Wonder Years (TV series)
Coach Silva
"Hulk Arnold"
Boiling Point
Levitt
1993-1994
Cobra (TV series)
Dallas Cassel
1994
Beyond Betrayal (TV)
Joe Maloney
1995
Sketch Artist II: Hands That See (TV)
Tonelli
1996
Top Gun: Fire at Will (video game)
Commander Hondo
Nowhere Man (TV series)
Commander Cyrus Quinn
"Heart of Darkness"
Underworld
Dan "Iceberg" Eagan
Robo Warriors
Quon
Early Edition (TV series)
Coach Phillips
"Hoops"
1997
Love in Ambush (TV)
Agent Price
The Pretender (TV series)
FBI Special Agne Korkos
"Dragon House"
1999
Wings: Thrill of Flight
Host
2001-2002
A Nero Wolfe Mystery (TV series)
Richard Wragg
Mr. Hackett
Bernard Quest
W.J.
Mr. Joseph Pitcairn
Percy Ludlow
Avery Ballou
Loftus, Dog Expert
Leo Bingham
Adrian Dart
Benedict Aiken
Ben Jenson
Richard Wragg
Ed Graboff
"The Doorbell Rang"
"Champagne for One"
"Prisoner's Base"
"Disguise for Murder"
"Door to Death"
"Over My Dead Body"
"Death of a Doxy"
"Die Like a Dog"
"Motherhunt"
"Poison à la Carte"
"Too Many Clients"
"Help Wanted, Male"
"The Silent Speaker"
"Cop Killer"
2004
Seven Times Lucky
Dutch
2006
Heavens Fall
Thomas Knight Sr.
2011
Leverage (TV series)
Dean Chesny
"The Cross My Heart Job"
2013
Phil Spector
Larry Fidler
TV film
2015
Bone Tomahawk
The Pianist
[ Source: Wikipedia ]