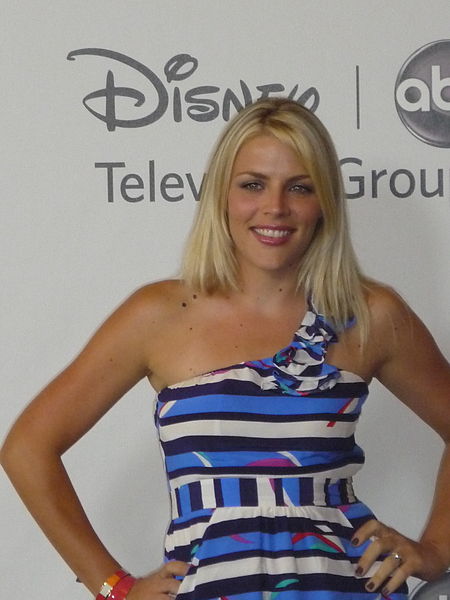 Busy Philipps
Born:
June 25, 1979
Age:
43
Birthplace:
Oak Park, Illinois, U.S.
Popularity:

Please login to contact Busy Philipps...
Biography
Elizabeth Jean "Busy" Philipps (born June 25, 1979)[1] is an American actress, writer, producer, and director. She is known for her roles on the television series' Freaks and Geeks (1999-2000), Dawson's Creek (2001-03) and ER (2006-07), and for her portrayal of Laurie Keller on the ABC series Cougar Town (2009-15), for which she received a Critics' Choice Television Award.[2] She has also appeared in numerous films, such as The Smokers (2000), Home Room (2002), White Chicks (2004), Made of Honor (2008), He's Just Not That Into You (2009), The Gift (2015), and I Feel Pretty (2018).
Philipps was born in Oak Park, Illinois, a suburb of Chicago.[1][3] Her former babysitter, Tracy, gave her the nickname Busy.[4] She attended Chaparral High School in Scottsdale, Arizona.[5] She attended Loyola Marymount University at the same time as
Freaks and Geeks
costar
Linda Cardellini
and former boyfriend
Colin Hanks
.[3][6][7][8]
Read more...
Career
Philipps worked the toy-fair circuit as a real-life Barbie ("Cool Teen Skipper") before making her show-business debut.[4]
Her first major role was Kim Kelly in Freaks and Geeks, in which she appeared in all but one of its 18 episodes (the exception being the episode titled "Chokin' & Tokin'").[3][8] She later made her film debut in comedy The Smokers in 2000, as well as various other cameos on television.
In 2001, Philipps was cast as Audrey Liddell in the teen drama Dawson's Creek.[3][9] She was a series regular in seasons 5 and 6, appearing in 46 episodes, before the show finished in 2003. Her role of Audrey earned Philipps a Teen Choice Awards nomination in the category of "TV - Choice Sidekick".[10]
Philipps then appeared in two films, Home Room (2002) and White Chicks (2004). She was cast in the UPN sitcom Love, Inc., in a role originally intended for Shannen Doherty.[11] The show lasted for one season (2005-2006) before being cancelled. In 2006, she had a major recurring role as Hope Bobeck on ER, alongside her Freaks and Geeks co-star Linda Cardellini.[3][9]
During her second year on ER, her character headed to South America to "fulfill her Christian mission".[12] Philipps had a co-credit for the storyline of the 2007 comedy film Blades of Glory.[3][9][13] A year later, Philipps returned to being in front of the camera with her supporting role in Made of Honor.[3]
Philipps has also made appearances in He's Just Not That Into You as the character of Kelli Ann and on an episode of How I Met Your Mother. From 2009 to 2015, Philipps portrayed Laurie Keller in the television series Cougar Town.[9] She routinely contributed to the Thrilling Adventure Hour, a live stage radio show.[14] Her primary recurring character is the Red Plains Rider.[15]
On a 2010 appearance on Chelsea Lately, Philipps commented that she auditioned for the hit television show Glee just one week after giving birth, following a pregnancy during which she gained 80 pounds.[16]
Philipps stars on the HBO series Vice Principals, which premiered in 2016.[17]
In 2017, Philipps signed on as co-lead opposite Casey Wilson in Tina Fey's comedy pilot, The Sackett Sisters, for NBC.[18]
In 2018, Phillips played the role of Sheba in Netflix's Unbreakable Kimmy Schmidt.
Philipps' has a late-night talk show called Busy Tonight. The show premiered on October 28, 2018 on E![19]
Personal life
Philipps dated Colin Hanks in the 1990s, while in college. Philipps married screenwriter Marc Silverstein in 2007.[3][9][20]
They have two daughters: Birdie Leigh (born August 13, 2008),[21] whose godmother is actress Lizzy Caplan;[22] and Cricket Pearl (born July 2, 2013).[23][24][25]
Books
Philipps' memoir, This Will Only Hurt a Little, was released October 18th, 2018. Her memoir includes a passage in which the actress describes a physical altercation that took place between James Franco and herself while on the set of Freaks and Geeks. Bummed by the amount of attention drawn to just this incident within her story, Philipps hopes the audience will see the bigger picture she is addressing about women's equality on set and off. [26]
Filmography
Film
| Year | Title | Role | Notes |
| --- | --- | --- | --- |
| 2000 | The Smokers | Karen Carter | |
| 2002 | Home Room | Alicia Browning | |
| 2004 | Mummy an' the Armadillo | Carol Ann | |
| 2004 | White Chicks | Karen Googlestein | |
| 2005 | Stewie Griffin: The Untold Story | Additional Voices | Voice |
| 2008 | Made of Honor | Melissa | |
| 2009 | He's Just Not That Into You | Kelli Ann | |
| 2010 | Revolution | Emily | Short film |
| 2011 | I Don't Know How She Does It | Wendy Best | |
| 2012 | The Reef 2: High Tide | Cordelia | Voice |
| 2012 | Made in Cleveland | Shannon | |
| 2013 | A Case of You | Ashley | |
| 2014 | Jason Nash is Married | Busy Philipps | |
| 2015 | The Gift | Duffy | |
| 2016 | FML | Amanda | |
| 2018 | I Feel Pretty | Jane | |
Television
Year
Title
Role
Notes
1999
Saving Graces
Mindy
TV series
1999-2000
Freaks and Geeks
Kim Kelly
18 episodes
2000
Malcolm in the Middle
Meghan
Episode: "High School Play"
2001
Anatomy of a Hate Crime
Chasity Pasley
TV movie
2001
Spring Break Lawyer
Jenny
TV movie
2001
Dead Last
Tracy Sallback
Episode: "Death Is in the Air"
2001-2003
Dawson's Creek
Audrey Liddell
39 episodes
2002
Undeclared
Kelly
2 episodes
2003
Criminology 101
Polly
TV movie
2004
Foster Hall
Peg Hall
TV movie
2005
Life As We Know It
Alex Morrill
2 episodes
2005
Testing Bob
Madison 'Maddie' West
TV movie
2005
American Dad!
Dana
Voice
Episode: "Threat Levels"
2005
Super Robot Monkey Team Hyperforce Go!
Korlianne
Voice
Episode: "Girl Trouble"
2005-2006
Love, Inc.
Denise Johnson
22 episodes
2006-2007
ER
Dr. Hope Bobeck
19 episodes
2007
Entourage
Cheryl
Episode: "Dog Day Afternoon"
2007
How I Met Your Mother
Rachel
Episode: "Third Wheel"
2008-2009
Terminator: The Sarah Connor Chronicles
Kacy Corbin
5 episodes
2009
Kath & Kim
Whitney
Episode: "Competition"
2009-2015
Cougar Town
Laurie Keller
96 episodes
2011
Community
Greendale Team Member
Episode: "For a Few Paintballs More"; uncredited
2011
Fish Hooks
Clamanda
Voice
Episode: "We've Got Fish Spirits"
2012
Don't Trust the B---- in Apartment 23
Busy Philipps
Episode: "A Reunion..."
2012
RuPaul's Drag Race All Stars
Herself (guest judge)
Episode: "RuPaul's Gaff In"
2013
Arrested Development
Joan
Episode: "Borderline Personalities"
2014-2018
Drunk History
Various
3 episodes
2014
Garfunkel and Oates
Karen
Episode: "Hair Swap"
2015
Bottom's Butte
Beverly Bottom
Voice
Pilot
2016
New Girl
Connie
Episode: "300 Feet"
2016
Angie Tribeca
Courtney Woodpatch-Newton
Episode: "Miso Dead"
2016-2017
Vice Principals
Gale Liptrapp
14 episodes
2016
Bajillion Dollar Propertie$
Cate Kates
Episode: "Spiritual Gurus"
2017
The Odd Couple
Natasha
Episode: "Should She Stay or Should She Go?"
2017
Chopped Junior
Herself (guest judge)
Episode: "Curry Hurry"
2017
The Sackett Sisters
Mandy Sackett
NBC sitcom pilot
2017
Beat Bobby Flay
Herself (guest judge)
Episode: "Tame the Flame"
2018
Unbreakable Kimmy Schmidt
Sheba Goodman
Episode: "Kimmy Meets an Old Friend!"
2018
Camping[27]
2018
Busy Tonight
Herself (host)
Awards and nominations
| Year | Award | Work | Category | Result |
| --- | --- | --- | --- | --- |
| 2003 | Teen Choice Awards | Dawson's Creek | "Choice TV: Sidekick" | Nominated |
| 2011 | Critics' Choice Television Awards | Cougar Town | Best Supporting Actress in a Comedy Series | Won[10] |
[ Source: Wikipedia ]