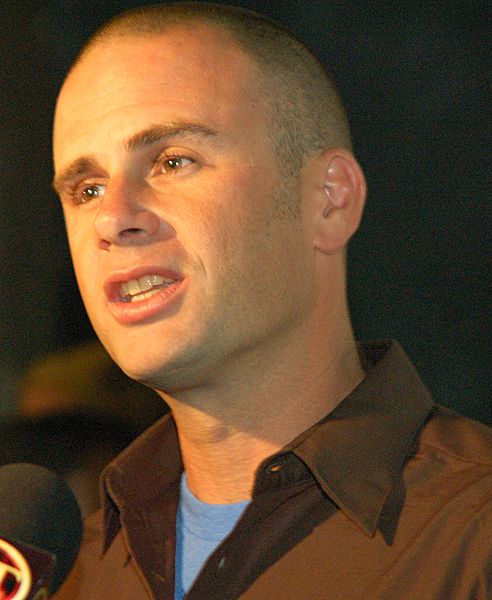 Jamie Walters
Born:
June 13, 1969
Age:
53
Popularity:

Please login to contact Jamie Walters...
Biography
James Leland Walters Jr. (born June 13, 1969) is an American actor, singer, firefighter and record producer, best known for his roles on Beverly Hills, 90210 and The Heights and his number one[2] single "How Do You Talk to an Angel".
Walters was born in Boston, Massachusetts[3] and grew up in Marblehead, Massachusetts.[4] After graduating from high school, Jamie Walters attended New York University and studied film for two years and studied acting at The Actors Space in New York City.[5]
While attending college, he was discovered at a bank by a casting agent who placed him in three high-profile commercials for Levi's 501 Jeans. He then moved to Los Angeles to pursue an acting and musical career. He played a bit role on Everyday Heroes. His film debut came in 1991 with the movie Shout, alongside John Travolta, Heather Graham, and Gwyneth Paltrow. Walters performed the song "Rockin' the Pad" on the Shout soundtrack album.
In 1992, Aaron Spelling cast Jamie as the lead on the Fox series The Heights, in which he also sang the theme song "How Do You Talk to an Angel?." The single reached #1[2] on the Billboard Hot 100 on November 14, 1992 knocking Boyz II Men's "End of the Road" from the top spot. It was also nominated for an Emmy Award for "Outstanding Individual Achievement in Music and Lyrics". (The award went to Liza Minnelli.) The show was canceled by Fox, but it launched Jamie's music career when Atlantic Records took an interest in Walters and signed him to a recording contract.
In October 1994, Aaron Spelling created a role especially for Jamie on Beverly Hills, 90210, casting him as Ray Pruit, the musician-boyfriend of Donna (played by Tori Spelling). Jamie was a cast member of the hit show for two seasons until November 1996, when he asked Spelling to leave the show to focus on his music career.
On September 20, 1994, Jamie released his self-titled debut album Jamie Walters. The first single from the album "Hold On" peaked at no. 16 on the Billboard Hot 100,[6] and no. 76 in Australia.[7] Jamie made appearances on MTV and various shows to promote the album, and also had a nationwide tour. The album sold over 1 million copies and was certified platinum.[8]
In 1997, Jamie released his second album 'Ride'. The album was certified gold.[8] A third album, Believed, followed in 2002.
With his residence in Los Angeles county, he pursued training, certification, and employment as a paramedic and worked with the Los Angeles County Fire Department. He is now working as a full-time firefighter/paramedic for the Los Angeles City Fire Department as of early 2004. Walters is focusing on his family and his career with the fire department but hopes to get back into music and acting sometime in the near future.
In 2009, Walters appeared in the VH1 reality show Confessions of a Teen Idol, in which former teen idols attempt to resurrect their careers.[9]
Read more...
Favorite artists and influences
Tom Petty, Jimi Hendrix, The Black Crowes, Matthew Sweet, Steve Miller Band, John Lee Hooker, Bruce Springsteen and Counting Crows among others.
In 1995, he said his favorite songs were American Girl by Tom Petty and Take the Money and Run by Steve Miller Band.[10]
Favorite actors are Nicolas Cage, Sean Penn, Robert De Niro and Gary Oldman among others.[10]
Band members
Leland Sklar - bass guitar
Russ Kunkel - drums
Gary Mallaber - drums
Michael Landau - guitar
Reb Beach - guitar
Zachary Throne - guitar, backing vocals
Personal life
Walters was engaged to Drew Barrymore in 1992. They broke up in 1993.[11]
In 2002, Walters married Patty Walters. They met at Centinela Hospital, where they were both EMTs. He and Patty have 3 daughters, Ellie, Caiti, and Ana. In 2015 Patty filed for divorce.[12]
Walters also has a son named Noah from a previous relationship.
Quotes
| | |
| --- | --- |
| | This article contains too many or too-lengthy quotations for an encyclopedic entry. Please help improve the article by presenting facts as a neutrally-worded summary with appropriate citations. Consider transferring direct quotations to Wikiquote. |
"I don't want to turn into someone like David Cassidy. Most people's impressions of those kind of guys are that they're cheezers. I'd like to think of myself as a lot more real than some of the pop stars I grew up watching." - 1992
"Nobody wants to take an actor seriously as a musician. I'm totally expecting to get shit. Music has been my love forever. Playing the guitar to me is like therapy. And that's how I write most of my songs, too; it's my way of working through experiences I've had, working them out. Acting is cool and I love to do it, but you don't get the same back from it that you do from playing music." - 1994
"I like combining acting and music. I also like playing characters that are similar to myself 'cause they're playing my music. It's sort of the best of both worlds." - 1995
On his Beverly Hills, 90210 role as Ray Pruit: "At first he was like this sort of like the underdog he was this guy from the wrong side of the town, who didn't fit in with the Beverly Hills kids but he had his music and he was honest and all this stuff. And then they started twisting him into being like this abusive evil boyfriend. I was like you either have to change the character or you have to let me off the show, because I'm going out and I'm like trying to sell tickets on our tour, and there's like teenage girls out there who think, like they really think I'm an abusive guy you know, and they'd hold up signs saying like 'leave Donna alone' and that's like so not what I wanted". - 1999[13]
"People were so attached to those characters, and then when one of those characters starts abusing one of the other characters, people do get mad at you. I didn't throw Donna down the stairs but my character did. I kept having to remind people of that, you know...that it was a show, I played a character." - 2003
Filmography
Walters at Six Flags in 1996
Film

| Year | Title | Role | Notes |
| --- | --- | --- | --- |
| 1990 | Everyday Heroes | Erik Linderman | TV Movie |
| 1991 | Bed & Breakfast | Mitch | |
| 1991 | Shout | Jesse Tucker | |
| 1994 | Vanishing Son II | Reggie Valmont | TV Movie |
| 1994 | Vanishing Son IV | Reggie Valmont | TV Movie |
| 1995 | Burnzy's Last Call | Shannon | |
| 1996 | God's Lonely Man | Hustler | |
| 2000 | The Mumbo Jumbo | Thomas Doubting | |
Television
Year
Title
Role
Notes
1989
1992
Quantum Leap
Young Max
Al 'Bingo' Calavicci
Episode: "Genesis: Part 1"
Episode: "A Leap for Lisa"
1991-1992
The Young Riders
Frank James
Episode: "The Initiation"
Episodes: "'Til Death Do Us Part: Parts 1 & 2"
1992
The Heights
Alex O'Brien
1994-1996
Beverly Hills, 90210
Ray Pruit
40 episodes
1999
To Serve and Protect
Jeremy
2 episodes
2001
Dead Last
Vance Harmon
Episode: "To Live and Amulet Die"
Discography
Studio albums
Jamie Walters (1994)
Ride (1997)
Believed (2002)
Singles
Year
Single
Peak chart positions
Album
AUT
CAN
GER
NED
NZ
NOR
SWE
US
1994
"Hold On"
18
9
83
41
7
3
2
16
Jamie Walters
1995
"Why"
—
—
—
—
—
—
—
105
"Perfect World"
—
—
—
—
—
—
—
—
1996
"I'd Do Anything for You"
—
—
—
—
—
—
—
—
Ride
"Reckless"
—
—
—
—
—
—
—
—
"—" denotes releases that did not chart
[ Source: Wikipedia ]