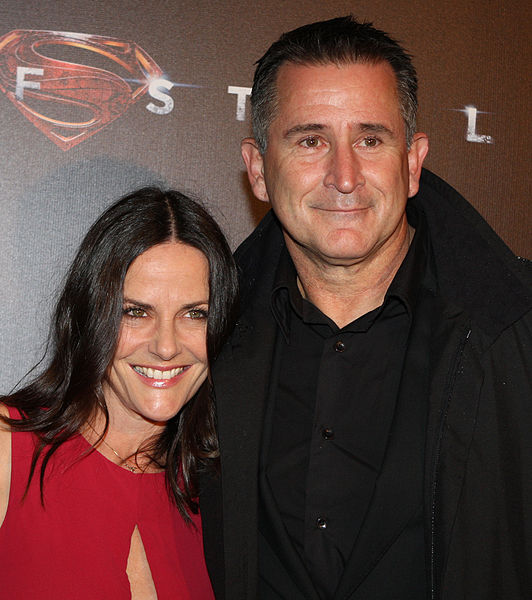 Gia Carides
Born:
June 7, 1964
Age:
58
Birthplace:
Sydney, New South Wales, Australia
Popularity:

Please login to contact Gia Carides...
Biography
Gia Carides (born 7 June 1964) is an Australian actress. She is best known for her portrayals of Liz Holt in Strictly Ballroom, Susy Connor in Brilliant Lies, and Cousin Nikki in My Big Fat Greek Wedding.
Carides was born in Sydney, Australia, to a Greek father and an English mother.[1] She began acting at the age of 12. Her first film was the drama
The Love Letters from Teralba Road
starring
Bryan Brown
and Kris Macquade.
Read more...
Career
Early in her career, Carides starred as Helena Angelopolous on the Australian television series Police Rescue, also receiving acclaim for her films Strictly Ballroom and Brilliant Lies, with AFI Award nominations for each.
She is best known for her roles as Robin Swallows (née Spitz) in Austin Powers: The Spy Who Shagged Me and as Cousin Nikki in My Big Fat Greek Wedding, the sequel television show My Big Fat Greek Life, and the sequel film My Big Fat Greek Wedding 2.
Carides works in both America and Australia, recognised for a host of film and television credits including Primary Colors, Year One and East of Everything. She also appeared in a guest spot on husband Anthony LaPaglia's television series Without A Trace.
She has volunteered as an actress with the Young Storytellers Program.
Personal life
Carides was married to actor Anthony LaPaglia, whom she met in Sydney in 1992. A year later they starred in the film Paperback Romance (a.k.a. Lucky Break). She and LaPaglia are the parents of daughter Bridget (born in January 2003). Gia Carides is sister to Zoe Carides, also an actress, and Danielle Carides, singer songwriter. Her former brother in-law is doctor-turned-actor Jonathan LaPaglia.[citation needed] In April 2015, newspapers reported that LaPaglia and Carides had split after 17 years.[2][3]
Filmography
Film

| Year | Title | Role | Notes |
| --- | --- | --- | --- |
| 1977 | The Love Letters from Teralba Road | Maureen | |
| 1983 | Midnite Spares | Ruth Mintos | |
| 1983 | Phar Lap | Emma Woodcock | Credited as Georgia Carr |
| 1984 | Annie's Coming Out | Narrator | |
| 1985 | The Coca-Cola Kid | Chambermaid | |
| 1985 | Bliss | Lucy Joy | |
| 1987 | Backlash | Nikki Iceton | |
| 1992 | Greenkeeping | Gina | |
| 1992 | Strictly Ballroom | Liz Holt | |
| 1992 | The Girl Who Came Late | Wendy | |
| 1994 | Paperback Romance | Sophie | |
| 1995 | Bad Company | Julie Ames | |
| 1996 | The Cottonwood | Kathy | |
| 1996 | Two If by Sea | Joan Rappaport (uncredited) | |
| 1996 | Brilliant Lies | Susy Connor | |
| 1997 | Lifebreath | Gale Pullman | |
| 1998 | Primary Colors | Cashmere McLeod | |
| 1998 | Letters from a Killer | Lita | |
| 1999 | Austin Powers: The Spy Who Shagged Me | Robin Swallows | |
| 2000 | The Extreme Adventures of Super Dave | Sandy | Video |
| 2000 | Maze | Julianne | |
| 2001 | Jack the Dog | Georgia | |
| 2002 | My Big Fat Greek Wedding | Cousin Nikki | |
| 2003 | Exposed | Jade Blake | |
| 2005 | One Last Thing... | Madelene | |
| 2006 | Thank Heaven | Cybil | |
| 2006 | Stick It | Alice Graham | |
| 2007 | The Trap | Clara | Short film |
| 2009 | Year One | Queen | |
| 2011 | In Loco Parentis | Mum | Short film |
| 2011 | Burning Man | Carol | |
| 2015 | This Isn't Funny | Gillian Jones | |
| 2016 | My Big Fat Greek Wedding 2 | Cousin Nikki | |
| 2016 | Joe Cinque's Consolation | Maria Cinque | |
Television
Year
Title
Role
Notes
1983
A Country Practice
Tracy Power
Episode: "Hair of the Dog: Part 1"
Episode: "Hair of the Dog: Part 2"
1984
Five Mile Creek
Beth
Episode: "Maggie"
1986
Studio 86
Episode: "Strawberry Girl"
Episode: "Sisters in the Bathroom"
1989
Inside Running
TV series
1991
Boys from the Bush
Episode: "The Stuffed Platypus"
Episode: "Poetic Galah"
1991
Acropolis Now
Haroula
Episode: "The Goddess"
1992
The Resting Place
Sally
TV short
1992
Ultraman: Towards the Future
Jean Echo
13 episodes
1992-1993
Police Rescue
Helena Angelopoulos
7 episodes
1993
Seven Deadly Sins
Gluttony
TV miniseries
1995
The Adventures of Captain Zoom in Outer Space
Vesper, Vox's High Priestess
TV movie
1997
ER
Suzanne Alner
Episode: "You Bet Your Life"
1997
Firehouse
Charlotte Brooks
TV movie
1997
The Devil's Child
Eva
TV movie
1999
A Secret Affair
Mimi
TV movie
2003
My Big Fat Greek Life
Nikki
7 episodes
2003
Gladius
Additional Voices
Video game
2005
Without a Trace
Stephanie Patterson
Episode: "4.0"
2008-2009
East of Everything
Melanie Freedman
10 episodes
2011
Small Time Gangster
Darlene
8 episodes
2017
Big Little Lies
Unnamed Witness
7 episodes
2017
Twin Peaks
Hannah
1 episode
2017
The Librarians
Lenore Jones
1 episode
[ Source: Wikipedia ]