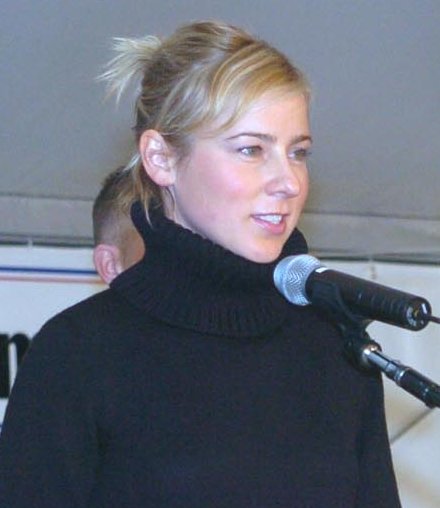 Traylor Howard
Born:
June 14, 1966
Age:
56
Birthplace:
Orlando, Florida, U.S.
Popularity:

Please login to contact Traylor Howard...
Biography
Traylor Elizabeth Howard (born June 14, 1966) is an American actress. She is known for playing Sharon Carter on the television series Two Guys and a Girl, and Natalie Teeger on the USA Network series Monk.
Howard was born in Orlando, Florida, to Peggy E. (née Traylor) and Robert M. Howard, Jr., president of the Howard Fertilizer and Chemical Company. She attended Lake Highland Preparatory School in Orlando, Florida.[
citation needed
]
Read more...
Career
In 1994 Howard appeared in one of the "You Will" series of television commercials for AT&T Corporation.
Howard's most prominent roles to date include Natalie Teeger, Adrian Monk's (Tony Shalhoub) assistant on the USA Network television series Monk,[1] and Sharon Carter, the "girl" of the title of the 1998-2001 sitcom Two Guys, a Girl, and a Pizza Place (later retitled Two Guys and a Girl).
She also starred in the short-lived sitcoms Boston Common and Bram & Alice alongside actor Alfred Molina. In 1999 she appeared in the Foo Fighters' music video "Breakout". During the third season of The West Wing, Howard made a guest appearance. She was the romantic lead in the Norm Macdonald film Dirty Work.
Personal life
Howard has been married three times. Her first marriage was to actor Cameron Hall on February 2, 1991, which ended in divorce on March 12, 1993; the couple had no children.[2] Her second marriage was to actor Christian Navarro on April 26, 2003, which ended in divorce in 2006. They also had no children.
On November 24, 2006, Howard gave birth to a son, Sabu. She was pregnant with him during season five of Monk, so she spent several episodes with boxes, newspapers, and the like in front of her abdomen to hide the pregnancy. Traylor married for the third time in 2011 to Jarel Portman, son of famed architect John C. Portman Jr.; the couple's son Julien was born in 2012.[3]
Filmography
Film
| Year | Film | Role | Notes |
| --- | --- | --- | --- |
| 1994 | Till the End of the Night | Fran | Credited as Traylor H. Hall |
| 1998 | Confessions of a Sexist Pig | Anne Henning | Alternative title: Taste of Love |
| 1998 | Dirty Work | Kathy | |
| 2000 | Me, Myself & Irene | Layla Baileygates | |
| 2005 | Son of the Mask | Tonya Avery | |
Television
Year
Title
Role
Notes
1994
Lois & Clark: The New Adventures of Superman
Dr. Heller's Office Temp
Episode: "Madame Ex"
1996-1997
Boston Common
Joy Byrnes
32 episodes
1998-2001
Two Guys, a Girl and a Pizza Place
Sharon Carter
81 episodes
2002
The West Wing
Lisa Sherborne
Episode: "100,000 Airplanes"
2002
First Monday
Ashley Riverton
Episode: "Right to Die"
2002
The Division
Sarah Franzen
Episode: "Remembrance"
2002
Bram and Alice
Alice O'Connor
8 episodes
2005-2009
Monk
Natalie Teeger
87 episodes;
won Gracie Allen Award for Outstanding Supporting Actress - Comedy Series (2009)
2010
Nolan Knows Best
Julie Nolan
Pilot[4]
[ Source: Wikipedia ]