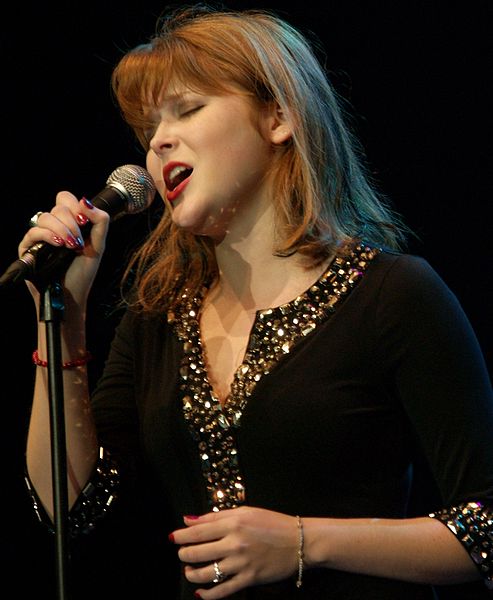 Renee Olstead
Born:
June 18, 1989
Age:
33
Birthplace:
Houston, Texas U.S.
Popularity:

Please login to contact Renee Olstead...
Biography
Renee Olstead (born June 18, 1989) is an American actress and singer. Active since childhood as an actress, she is best known for her roles on the CBS sitcom Still Standing and on the drama The Secret Life of the American Teenager as Madison Cooperstein. In addition, she has recorded four studio albums, primarily of jazz music.
Olstead was born in Kingwood, Texas, to Christopher Eric Olstead and Rebecca Lynn Jeffries. Olstead is of Norwegian ancestry.[1][2][3] As a child actress, she made films and commercials from age eight onwards. She also attended Centre Stage theatrical school and is mentioned on their website's list of alumni.
From 2002 to 2006, she appeared in the TV sitcom Still Standing as middle sister Lauren Miller. Olstead was presented with the Young Artist Award for Best Performance in a TV Series (Comedy) - Supporting Young Actress for Still Standing in 2002. She also had a small part in the 2004 film 13 Going on 30. She co-starred in the ABC Family series The Secret Life of the American Teenager, about fifteen-year-old Amy Juergens's struggle through her unexpected pregnancy and how it affected her peers. Olstead played the character Madison Cooperstein, one of Amy's best friends.
In 2004, Olstead released a self-titled album of jazz songs and pop standards for Warner Bros. Records to good reviews. Since her previous releases had limited distribution, this album was considered her official debut. She subsequently performed in Berlin during the Live 8 concert on July 2, 2005.[4]
Olstead also recorded with trumpeter Chris Botti on his 2005 album To Love Again: The Duets and appeared on the 2006 DVD Chris Botti Live with Orchestra and Special Guests. Her singing style is influenced by such great jazz vocalists as Ella Fitzgerald and Sarah Vaughan. Reportedly, her musical talent was discovered by composer David Foster, who produced her 2004 album. She later performed with him on The Oprah Winfrey Show.
A follow-up album entitled Skylark, also produced by Foster, was originally announced for release in 2005, but it was subsequently pushed back several times, with release dates in the summer of 2006 and early 2007 being mentioned on online retailers such as Amazon.com. It was then scheduled for a June 2008 release, but was delayed once again.[5] It was finally released on January 27, 2009, nearly four years after it was originally announced.
On September 14, 2011, as the result of a criminal complaint initially made by actress Scarlett Johansson, the FBI announced it was investigating the alleged hacking of celebrity cellphone and email accounts and the dissemination of explicit nude photographs of Johansson and approximately 50 other celebrities, including Olstead. As a result of the investigation, 35-year-old Christopher Chaney of Jacksonville, Florida, was arrested in October 2011.[6] During the trial, Olstead testified that she attempted suicide after the nude photographs were leaked, adding that she had never before considered suicide before the hacking.[7] Chaney was sentenced to 10 years in prison in December 2012.[7]
Olstead most recently starred as Kaitlan in the 2013 supernatural thriller The Midnight Game[8] and as Jess Felton in the 2014 technology-themed thriller film Unfriended.[9]
Read more...
Personal life
Renee is married to pianist Tommy King, and legally took his last name.[10]
Olstead is a vegan.[11] She appeared in a PETA ad, Fish Are Friends Not Food, urging her fans to become vegan themselves.[12][13] In 2012, Olstead joined PETA's campaign to free the elephant Mali from captivity at the Manila Zoological and Botanical Garden, where she has been alone for the last three decades.
Discography
List of studio albums, with selected chart positions
Title
Album details
Peak chart positions
Certifications

Stone Country

Release date: December 5, 2000
Label: Renee
Formats: CD

—
—
Renee Olstead

Release date: May 25, 2004
Label: 143 Records/Warner Bros. Records
Formats: CD

—
—
Skylark

Release date: January 2009
Label: Reprise
Formats: CD

—
—
Singles
Year
Title
Peak chart poisitions
Certifications
Album

2000
"Unleashed"
—
—
—
—
2004
"What a Wonderful World"
—
—
—
—
Renee Olstead
"Summertime"
—
—
—
—
Skylark
2009
"Midnight Man"
—
—
—
—
Other charted songs
Year
Title
Peak chart position
Album

2004
"Breaking Up Is Hard to Do"
—
—
—
Renee Olstead
"Sunday Kind of Love" ft. Chris Botti
—
—
—
"Is You Is or Is You Ain't My Baby"
—
—
—
"Meet Me, Midnight"
—
—
—
"A Love That Will Last"
—
—
—
2009
"Lover Man"
—
—
—
Skylark
"Ain't We Got Fun"
—
—
—
"You've Changed"
—
—
—
"Stars Fell on Alabama"
—
—
—
"Nothing But the Blame"
—
—
—
"Midnight Man"
—
—
—
"Midnight in Austin Texas"
—
—
—
"Hold Me Now"
—
—
—
"Thanks for the Boogie Ride"
—
—
—
?
"Through the Fire"
—
—
—
Filmography
Film
Year
Title
Role
Notes
1996
Cadillac Ranch
Mary Katherine (young)
film debut
shared role with Renee Humphrey
1997
The Usher
Little Girl
Short film
1999
The Insider
Deborah Wigand
1999
End of Days
Amy
credited as Rebecca Renee Olstead
2000
Space Cowboys
Little Girl
2003
Scorched
Girl Scout
2004
13 Going on 30
Becky
2012
The Monogamy Experiment
Renee Ramrock
2013
The Midnight Game
Kaitlan
2014
Unfriended
Jess
2014
The Monogamy Experiment Short
unknown
Short film
2015
The Murder Pact
Annabel
2017
Feral
Brienne
2018
Bachelor Lions
Evelyn Ross
Television
Year
Title
Role
Notes
1995
Streets of Laredo
Marci Fant
television debut
Television Miniseries
Episode: #1.3"
1995
Deadly Family Secrets
Emily Pick
Television Movie
1996
Santa, NASA & the Man in the Moon
Herself
Television Movie
1996
Ceftin Wiz Kids
Katie
Television Movie
1997
Out There
Megan Tollman
Television Movie
1998
Touched by an Angel
Bits
Episode: "Doodlebugs"
1998
Reunited
Ami Beck
series regular; 5 episodes
1999
Chicken Soup for the Soul
Lauren
Episode: "Where's My Kiss, Then?"
1999
Providence
Little Girl
Episode: "Home for the Holidays"
2000
The Wonderful World of Disney
Featured
Episode: "Geppetto"
2002
My Guide to Becoming a Rock Star
Selma
Episode: "Fame"
2002
She Spies
Amy Divornak
Episode: "Poster Girl"
2002-2006
Still Standing
Lauren Miller
series regular; 86 episodes
Young Artist Award for Best Performance in a TV Series (Comedy) Supporting Young Actress (2006)
Nominated - Young Artist Award for Best Performance in a TV Series (Comedy or Drama) - Leading Young Actress (2003)
2003
Fillmore!
Lucille (voice role)
Episode: "South of Friendship, North of Honor"
2007
Super Sweet 16: The Movie
Sky Storm
Television Movie
2007
Point of Entry
Melinda
Television Movie
2008-2013
The Secret Life of the American Teenager
Madison Cooperstein
series regular; 89 episodes
2011
The Bling Ring
April
Television Movie
2016
Grip and Electric
Krystyn
series regular; 5 episodes
2016
Cozmo's
Kallie
Television Movie
TBR
Work Mom
Heather
Television Movie
[ Source: Wikipedia ]