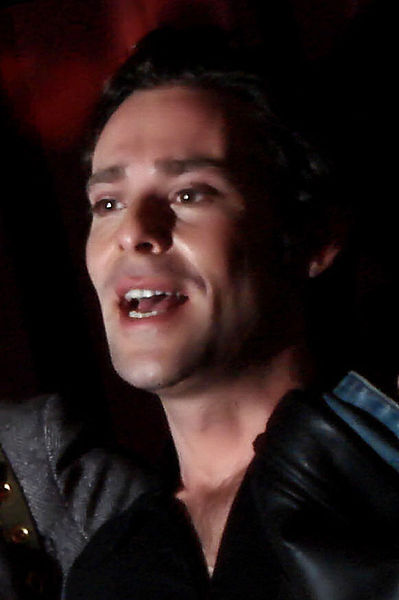 James Callis
Birth name:
James Nicholas Callis
Born:
June 4, 1971
Age:
51
Birthplace:
Hampstead, London, England
Popularity:

Please login to contact James Callis...
Biography
James Nicholas Callis (born 4 June 1971) is an English actor. He is best known for playing Dr. Gaius Baltar in the re-imagined Battlestar Galactica miniseries and television series, and Bridget Jones' best friend Tom in Bridget Jones's Diary and Bridget Jones: The Edge of Reason. He later reprised the role in 2016, in Bridget Jones's Baby. He joined the cast of the TV Series Eureka, on Syfy, in 2010. In 2017 he voiced the character Alucard on the Netflix series Castlevania, based on the video game of the same name.
Callis was born in Hampstead and brought up in London, where he attended St. Martin's Prep School in Northwood and then Harrow School in north-west London. His parents owned a bed-and-breakfast.[1] In a comment to a fansite, Callis repudiated the rumour that he comes from aristocratic roots by saying that he is the descendant of poor immigrants from Russia and Poland.[2]
Callis attended the University of York, graduating in 1993 with a BA in English and Related Literature. He was a member of Derwent College, for which he was an enthusiastic rugby player. At university he was also a keen student actor, director and writer. He was a key member of the University of York Gilbert and Sullivan society and even appeared in productions put on by friends at Cambridge University, including a production of Harold Pinter's The Dumb Waiter. After graduating from university, Callis trained at LAMDA.
Read more...
Career
Callis went on to attend the London Academy of Music and Dramatic Art, from which he graduated in 1996. In the same year, he was awarded the Jack Tinker Award (Theatre Record Critic of the Year) for Most Promising Newcomer for his performance in Old Wicked Songs, a two-hander by Jon Marans, in which he starred alongside Bob Hoskins.
Callis has appeared in various West End productions and television series as well as on radio. He has also been involved in writing and directing. His directorial debut was Beginner's Luck, a co-production of his and writer/director Nick Cohen's Late Night Pictures and Angel Eye Film & TV, starring Julie Delpy, Steven Berkoff and Fenella Fielding. Beginner's Luck was critically panned, but ran for almost three weeks on one print (all the low-budget film could afford) in one cinema in central London, then went on a tour of student cinemas around the UK The UK distributor was Guerrilla Films. The film is still on the Icon Catalogue.
Callis finished filming his first role in a cinema film, Bridget Jones's Diary, alongside Renée Zellweger and Hugh Grant, in the summer of 2000 and between a few further film and TV roles went back on stage in the Soho Theatre in December 2002.
Callis in 2007
In 2003, Callis played the role of Dr. Gaius Baltar in the re-imagined Battlestar Galactica miniseries and continued the role in the regular series that followed. In 2006, Callis won the Best Supporting Actor Saturn Award and an AFI award for his performance as Baltar.
Personal life
Callis has two sisters, Sarah and Sophie. He married Neha Callis in December 30, 1998, and they have two sons and a daughter: Joshua Amaan (born 2003), Sacha Ishan (born 2005) and Anika Jahan (born 2009).
Filmography
Film
Year
Film
Role
Notes
1997
Weekend Bird
Mike
Short
1999
Surety
Ben
Short
Directed & produced with Nick Cohen
2000
Jason and the Argonauts
Aspyrtes
Television film
Arabian Nights
Prince Ahmed
Television film
2001
Bridget Jones's Diary
Tom
Victoria & Albert
Ernest of Saxe-Coburg-Gotha (Prince Albert's brother)
Television film
Beginner's Luck
Mark Feinman
Callis also wrote, co-directed and co-produced this film.
2004
Bridget Jones: The Edge of Reason
Tom
Dead Cool
Josh
2006
One Night with the King
Haman, the Agagite
2007
Battlestar Galactica: Razor
Dr. Gaius Baltar
Television film
2009
Merlin and the Book of Beasts
Merlin
Television film
2010
Reuniting the Rubins
Danny Rubins
Meet Pursuit Delange
Pursuit
Short
2011
17th Precinct
John Bosson
Television film
2013
Austenland
Colonel Andrews
Believe
Man in Mac
2015
House by the Lake
Scott
Post-production
2016
The Hollow
Vaughn Killinger
Film
2016
Bridget Jones's Baby
Tom
2017
Once Upon a Date
Ed Holland
Television Film
Television
Year
Title
Role
Notes
1996
Murder Most Horrid
Mark
Episode: "Confess"
Soldier Soldier
Maj Tim Forrester
9 Episodes
1997
A Dance to the Music of Time
Gwinnett
TV Mini-Series, Episode: "Post War"
1998
Heat of the Sun
Asst. Supt. Clive Lanyard
TV Mini-Series, Episode: "Private Lives"
The Ruth Rendell Mysteries
Guy Curran
Episodes: "The Going Wrong: Part 1", "The Going Wrong: Part 2" and "The Going Wrong: Part 3"
1999
Sex, Chips & Rock n' Roll
The Wolf (Justin DeVere Montague)
TV Mini-Series
The Scarlet Pimpernel
Henri
Episode: "Valentin Gautier"
2001
As If
Sebastian
Episode: "Nicki's POV"
2002
Relic Hunter
Raoul
Episode: "Faux Fox"
2003
Battlestar Galactica
Gaius Baltar
TV Mini-Series
Blue Dove
Dominic Pasco
TV Mini-Series
2004-2010
Battlestar Galactica
Dr. Gaius Baltar
73 Episodes
2008
Late Show with David Letterman
Gaius Baltar - Top Ten Presenter (uncredited)
2009
Numb3rs
Mason Duryea
Episode: "Angels and Devils"
2010
FlashForward
Gabriel McDow
Episodes: "The Garden of Forking Paths", "Goodbye Yellow Brick Road", "Course Correction" and "The Negotiation"
2010-2012
Eureka
Dr. Trevor Grant
10 Episodes
2011
Merlin
Julius Borden
Episode: "Aithusa"
17th Precinct
Jeff Bosson
TV pilot
2012
Midsomer Murders
Toby & Julian DeQuetteville
Episode: "The Dark Rider"
DCI Banks
Owen Pierce
Episodes: "Innocent Graves - Part 1" and "Innocent Graves - Part 2"
2013
Arrow
The Dodger
Episode: "Dodger"
Key and Peele
Shakespeare
Episode: "Episode #3.8"
2013-2014
CSI
John Merchiston
Episodes: "Skin in the Game", "The Devil and D.B. Russell" and "Boston Brakes"
2014-2016
The Musketeers
Emile Bonnaire
2 Episodes: 1.3 "Commodities" and 3.4 "The Queen's Diamonds"
2015
A.D. The Bible Continues
Herod Antipas
Television miniseries
2015
Gallipoli
Ellis Ashmead-Bartlett
Television miniseries
2015
Rick and Morty
Pat Gueterman (voice)
Episode: "The Wedding Squanchers"
2017-present
Castlevania
Adrian Tepes / Alucard (voice)
2017
12 Monkeys
Athan/The Witness
Season 3 (Recurring Guest Star)
Radio
| Year | Title | Role | Notes |
| --- | --- | --- | --- |
| 1997 | Daisy Miller | | Winterbourne |
| 1999 | HMS Ulysses | Saturday Playhouse (Radio 4) | Aired on 14 June 1997 |
Web original series
| Year | Title | Role | Notes |
| --- | --- | --- | --- |
| 2014 | Caper | Doc English | Through Geek and Sundry |
[ Source: Wikipedia ]