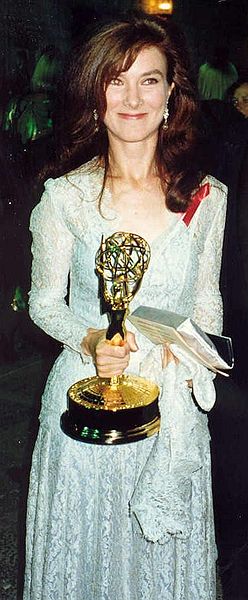 Valerie Mahaffey
Born:
June 16, 1953
Age:
69
Birthplace:
Sumatra, Indonesia
Popularity:

Please login to contact Valerie Mahaffey...
Biography
Valerie Mahaffey (born June 16, 1953)[1] is an American character actress and producer. She won an Emmy Award for her work on Northern Exposure. She later won fame through her portrayal of extroverted and friendly but ultimately insane women on the television shows Wings, Desperate Housewives and Devious Maids.
Mahaffey was born in Sumatra, Indonesia,[1] to a Canadian mother and a Texan father who met in New Brunswick, Canada.[2] When Mahaffey was 16, the family moved to Austin, Texas, where she graduated from Austin High School. She earned a Bachelor of Fine Arts from the University of Texas at Austin in 1975[2][3] and later made her Broadway debut in musical
Rex
.[1]
Read more...
Career
Mahaffey was regular cast member in the soap opera The Doctors from 1979 to 1981, which earned her a nomination for Daytime Emmy Award for Outstanding Supporting Actress in a Drama Series in 1980.[4] She starred in the film Women of Valor in 1986 and while the characters are fictitious, it portrayed women's roles in the Philippines during World War II.
As of late 1980's, Mahaffey began acting in television comedies, like Newhart, Cheers, and Seinfeld. From 1992-93, she starred in the short-lived NBC sitcom The Powers That Be. She played Tracy Milford in the 1995 film National Lampoon's Senior Trip and Jan Kempster in the 1997 film Jungle 2 Jungle. In 1999, she had a recurring role on ER. In 2003, she starred in the film Seabiscuit. In 2009, she appeared in seven episodes of United States of Tara. Her stage credits include Eastern Standard, Talking Heads, Top Girls, and Rex.
Mahaffey won the Primetime Emmy Award for Outstanding Supporting Actress in a Drama Series for her performance as the chronic hypochondriac Eve in the CBS series Northern Exposure in 1992. Mahaffey was the only actor from the series to win an Emmy Award.[5]
Mahaffey played Alma Hodge in season 3 of ABC comedy-drama series Desperate Housewives from 2006 to 2007. Mahaffey has made guest appearances on Quantum Leap, L.A. Law, Ally McBeal, Judging Amy, The West Wing, Law & Order: Special Victims Unit, Frasier, CSI: Crime Scene Investigation, Private Practice, Boston Legal, Without a Trace, and Raising Hope.[6] She also appeared on Glee as the mother of Emma Pillsbury from 2011 to 2013.[7] Mahaffey co-starred as Fran Horowitz in short-lived TNT medical drama Monday Mornings in 2013.[8] Also in 2013, she had a recurring role on Lifetime Television comedy-drama series Devious Maids as Olivia Rice.[9]
Filmography
Valerie Mahaffey at the Governor's Ball after the 1992 Emmy Awards
Year
Title
Role
Notes
1977
Tell Me My Name
Alexandra/Sarah
Television film
1979-1981
The Doctors
Ashley Bennett
Nominated - Daytime Emmy Award for Outstanding Supporting Actress in a Drama Series (1980)
1984
Tales of the Unexpected
Jane
Episode: "The Open Window"
1986
Mr. Bill's Real Life Adventures
Mrs. Bill
1986
The Rise and Rise of Daniel Rocket
Alice
1986
Fresno
Tiffany Kensington
TV mini-series
1986
Women of Valor
Lt. Katherine R. Grace
Television film
1987
Newhart
Jolene
Episode: "Love Letters in the Mud"
1987
Jack and Mike
Colleen
Episode: "Till Death Do Us Part"
1987
Her Secret Life
Becky
1989
Perry Mason: The Case of the Musical Murder
D.A. Barbara August
Television film
1989
Perry Mason: The Case of the All-Star Assassin
D.A. Barbara August
Television film
1990
An Enemy of the People
Mrs. Stockman
Television film
1990
Father Dowling Mysteries
Justine Hemmings
Episode: "The Solid Gold Headache Mystery"
1990
Quantum Leap
Mary Greely
Episode: "The Boogieman - October 31, 1964"
1991
Cheers
Valerie Hill
Episode: "Achilles Hill"
1991
The Young Riders
Lottie
Episode: "The Talisman"
1991
Baby Talk
Tammy Morrison
Episode: "One Night with Elliot"
1991
Seinfeld
Patrice
Episode: "The Truth"
1992
Till Death Us Do Part
Gail Bugliosi
1992
Dream On
Helen Harley
Episode: "Up All Night"
1992-1993
The Powers That Be
Caitlyn Van Horne
21 episodes
1993
They
Chris Samuels
Television film
1991-1994
Northern Exposure
Eve
5 episodes
Primetime Emmy Award for Outstanding Supporting Actress in a Drama Series (1992)
1994
L.A. Law
Andrea Rossoff
Episode: "Cold Cuts"
1994
Witch Hunt
Trudy
Television film
1995
Women of the House
Jennifer Malone
6 episodes
1996
Senior Trip
Miss Tracy Milford
1993-1996
Wings
Sandy Cooper
3 episodes
1995-1996
The Client
Ellie Foltrigg
4 episodes
1996
Caroline in the City
Alicia Crawford-Lane
Episode: "Caroline and the Therapist"
1997
Jungle 2 Jungle
Jan Kempster
1997
George & Leo
Martha
Episode: "The Thanksgiving Show"
1999
Dinner at Fred's
Susan
1999
ER
Joi Abbott
4 episodes
2000
Love & Money
Gloria Barrell
Episode: "Guess Who's Paying for Dinner"
2000
Ally McBeal
Dr. Sally Muggins
Episode: "I Will Survive"
2001
That's My Bush!
Janet Rove
Episode: "Trapped in a Small Environment"
2001
Night Visions
Sally Osgoode
Episode: "Neighborhood Watch"
2001
After Amy
Virginia Hytner
Television film
2001
Judging Amy
Ms. Morlock
Episode: "The Unbearable Lightness of Being Family"
2001
The West Wing
Tawny Cryer, Appropriations Committee
Episode: "Gone Quiet"
2002
Law & Order: Special Victims Unit
Brook Thornburg
Episode: "Justice"
2002
Par 6
Pecan Hegelman
2003
Seabiscuit
Annie Howard
2003
Frasier
Peggy
Episode: "Maris Returns"
2004
Without a Trace
Bonnie Toland
Episode: "Shadows"
2005
Out of Practice
Barb
Episode: "...and I'll Cry If I Want to"
2006
Crumbs
Carolyn Pierce
Episode: "Friends in High Places"
2006
My First Wedding
Grace
2006
CSI: Crime Scene Investigation
Dora Pomerantz
Episode: "Happenstance"
2006-2007, 2012
Desperate Housewives
Alma Hodge
9 episodes
2007
Raines
Arlene
Episode: "Pilot"
2007
Private Practice
Marilyn Sullivan
Episode: "In Which Charlotte Goes Down the Rabbit Hole"
2008
Boston Legal
Mary Winston
Episode: "Mad About You"
2008
A Previous Engagement
Grace
2009
United States of Tara
Dr. Ocean
7 episodes
2010
Summer Eleven
Linda
2010
Better with You
Ariel
Episode: "Better with Road Joel"
2010
Hannah Montana
Ms. Jameson
Episode: "I'll Always Remember You"
2010
Raising Hope
Margine
Episode: "Meet the Grandparents"
2011
Jack and Jill
Bitsy Simmons
2012
If I Were You
Lydia
2012
Crazy Eyes
Mo
2012
The Exes
Anne
Episode: "He's Gotta Have It"
2011-2013
Glee
Rose Pillsbury
3 episodes
2013
Monday Mornings
Fran Horowitz
6 episodes
2013, 2015
Devious Maids
Olivia Rice
8 episodes
2013
Grey's Anatomy
Donna Kaufman
Episode: "Somebody That I Used to Know"
2014
Kirstie
Victoria
Episode: "The Dinner Party"
2014
Hart of Dixie
Mae
3 episodes
2015
Workaholics
Celeste
Episode: "Blood Drive"
2015
Impastor
Susie Kerry
Episode: "Honor Thy Boyfriend's Father and Mother"
2015
No Pay, Nudity
Lisa
2016
Sully
Diane Higgins
2017
The Man in the High Castle
Susan
2017-present
Young Sheldon
Ms. MacElroy
Recurring role, 3 episodes
[ Source: Wikipedia ]