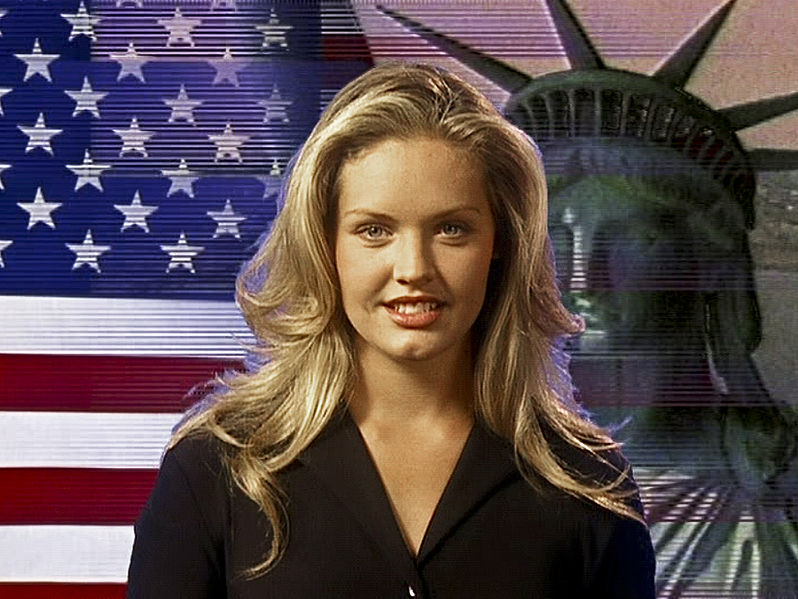 Cassidy Rae
Born:
June 7, 1976
Age:
46
Birthplace:
Clermont, Florida, USA
Popularity:

Please login to contact Cassidy Rae...
Biography
Cassidy Rae Joyce (born June 7, 1976) is a retired American actress. She starred in the made-for-television movie Crowned and Dangerous with Yasmine Bleeth in 1997.
Rae was born in Clermont, Florida, to Andrea and Raymond Joyce.
Read more...
Career
Rae had the recurring role of Sarah Owens on Melrose Place, a character she continued in the spin-off Models Inc.[1]
She is also known for her role as Davina Mayhan in the made-for-television movie My Sister And Me that premiered on Showtime Networks in the spring of 1997. She later reprised her role on the hit sitcom My Family And Me which was first broadcast on YTV in the fall of 1998. My Sister And Me was originally set as a TV series pilot movie for My Family And Me, but the movie version had a completely different concept and plotline. Once it was picked up as a series, the whole concept was later changed from a drama to a comedy and even the title itself was changed when it went into production in the summer of 1997. Rae portrayed Davina for the first two seasons, but did not returned for the third because she wanted to pursue other acting projects. In the third season, she was lreplaced by Amanda Schull, who played the title character's older sister for the show's entire run.
In 2007, Rae was asked by the show's producers to be featured in the hour long clip show special YTV Life: The Best of My Family And Me, which features the main cast (barring the actors who play the parents) and the fans talking about their favorite moments from the show's nine seasons, but declined the offer to appear in the special because she was done with acting and she didn't want to make anymore television appearances anytime soon. However, clips of her portraying Davina Mayhan from the first two seasons were featured along with the 1997 television movie My Sister And Me. The hour long clip show special was a way of celebrating My Family And Me's 10 years of being in production by YTV.
In 2011, after taking a ten-year break to get married and start a family, Rae starred in the short film "Swordbearer". Three years later, she starred in another short film, "Fluffy 1947".
Filmography
Film
| Year | Title | Role | Notes |
| --- | --- | --- | --- |
| 1995 | Evolver | Jamie Saunders | |
| 2001 | Extreme Days | Jessie | |
| 2011 | Swordbearer | Joilin Thran | Short film |
| 2013 | Fluffy 1947 | Soldier | Short film |
Television
| Year | Title | Role | Notes |
| --- | --- | --- | --- |
| 1992 | Clarissa Explains It All | Elise Quackenbush | Episode: "Sam in Love" |
| 1993 | Angel Falls | Molly Harrison | TV series |
| 1993 | Days of Our Lives | Karen Foster | TV series |
| 1994 | The Byrds of Paradise | Math Tutor | Episode: "This Band Is My Band" |
| 1994 | Melrose Place | Sarah Owens | Recurring role (4 episodes) |
| 1994-1995 | Models Inc. | Sarah Owens | Main role (29 episodes) |
| 1995 | Favorite Deadly Sins | Norma Jean Hazelrigg | TV film |
| 1996 | The Single Guy | Nikki Gordon | Episode: "Nineteen" |
| 1996 | Lying Eyes | Amy Miller | TV film |
| 1997 | Swearing Allegiance | Adrianne Jones | TV film |
| 1997 | Journey of the Heart | Julia | TV film |
| 1997 | Crowned and Dangerous | Shauna Langley | TV film |
| 1997 | My Sister and Me | Davina Mayhan | TV film |
| 1998-1999 | Hyperion Bay | Trudy Tucker | Main role (17 episodes) |
| 1998-2000 | My Family And Me | Davina Mayhan #1 | Main role (54 episodes) |
| 1999 | Crime in Connecticut: The Story of Alex Kelly | Carrie Roberts | TV film |
| 2000 | Brutally Normal | Kate Miller | Episode: "You Get What You Get" |
| 2000 | Just Shoot Me! | Kaylene | Episodes: "Prescription for Love", "Paradise by the Dashboard Light" |
| 2000 | Rude Awakening | Heidi | Episode: "Full House" |
| 2000 | Zoe, Duncan, Jack and Jane | Ellen | Episode: "Desperately Seeking Zoe" |
[ Source: Wikipedia ]