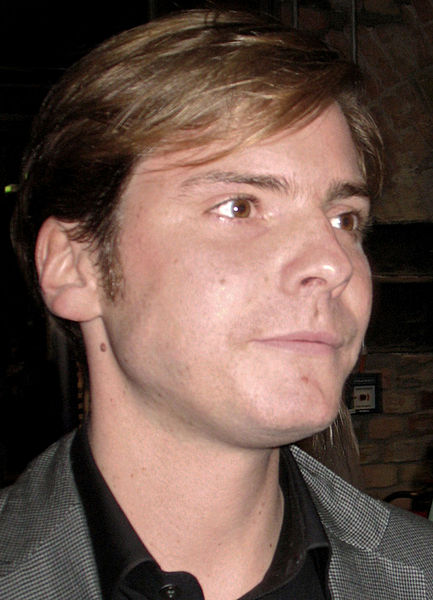 Daniel Bruhl
Birth name:
Daniel César Martín Brühl González
Born:
June 16, 1978
Age:
44
Birthplace:
Barcelona, Spain
Popularity:

Please login to contact Daniel Bruhl...
Biography
Daniel César Martín Brühl González (born 16 June 1978) is a German-Spanish actor. He began his work at a young age in a German soap opera called Verbotene Liebe in 1995. In 2003, his starring role in the German film Good Bye, Lenin! received wider recognition and critical acclaim which garnered him the European Film Award for Best Actor and the German Film Award for Best Actor. Brühl has worked in both European and American productions in several different languages.
He was introduced to mainstream U.S. audiences with his breakout role of Fredrick Zoller, a German war hero in Quentin Tarantino's Inglourious Basterds, and appeared in such films as The Bourne Ultimatum, The Fifth Estate and A Most Wanted Man. Brühl received widespread critical acclaim and further recognition for his portrayal of former Formula 1 driver Niki Lauda in the Ron Howard biographical film Rush. In 2016, Brühl made his Marvel Cinematic Universe debut in Captain America: Civil War, portraying Helmut Zemo.
Brühl was born in Barcelona, Spain.[1] His father was German Brazilian TV director Hanno Brühl, who was born in São Paulo, Brazil.[2][3] His Spanish mother was Marisa González Domingo, a Catalan teacher. He has a brother and a sister, Oliver and Miriam. Shortly after his birth, his family moved to Cologne, Germany, where he grew up and attended the Dreikönigsgymnasium. A fluent English-speaker, he grew up speaking Catalan,[4] German, Spanish, French, and Portuguese.[5]
Read more...
Career
Brühl in 2015
Brühl began acting at a young age, with a debut role in 1995 as street kid Benji in the soap opera Verbotene Liebe (Forbidden Love). His international breakthrough role came in 2003 as Alex Kerner in the German Golden Globe-nominated tragicomedy Good Bye, Lenin!, which reached an estimated six million cinema-goers worldwide. In 2003, Brühl won the European Film Academy award trophies for Best Actor (Critics/Audience Awards) for the role. Brühl made his English-speaking film debut in 2004's Ladies in Lavender, starring alongside English actresses Judi Dench and Maggie Smith. The same year, he won the People's Choice trophy for Best Actor for the film Love in Thoughts while at the same time, he was nominated for Best Actor (critics) for The Edukators. Brühl featured as Lieutenant Horstmayer, a central character in the 2005 film Joyeux Noël, a trilingual World War I film based on the experiences of French, German and Scottish soldiers during the Christmas truce of 1914. The film shows Brühl's linguistic ability as he ably communicates in German, French and English throughout.
In 2006, he was invited to be part of the short film and Cinéfondation juries of the Cannes Film Festival. Brühl made a cameo appearance in 2 Days in Paris, a romantic comedy film directed by French actress Julie Delpy. In September 2006, his Cannes-nominated film Salvador (Puig Antich) premiered in Spain. In the film, he played Salvador Puig Antich, a Spanish anarchist executed during the Franco era. In 2007, he appeared in a small role in the film The Bourne Ultimatum. He was in Krabat, based on a popular German children's story, which premiered in German cinemas in October 2008.
He was introduced to mainstream U.S. audiences in the role of Frederik Zoller, a German war hero in Quentin Tarantino's Inglourious Basterds, starring Brad Pitt, which premiered at Cannes 2009. He and his co-stars won the Screen Actors Guild Award for Outstanding Performance by a Cast in a Motion Picture. In 2009, he also starred in Julie Delpy's third directorial film, The Countess.
In May 2009, Brühl decided to become active in a different field of filmmaking by launching production company Fouronfilm together with Film1.[6] Brühl starred in the 2010 British-Russian production In Transit, in which he played a young Nazi soldier opposite John Malkovich. He also co-starred with Clive Owen in the 2011 horror thriller Intruders, which was directed by Juan Carlos Fresnadillo.[7]
In 2013, he co-starred in The Fifth Estate, a film based on the founding of WikiLeaks. Brühl played Daniel Domscheit-Berg, alongside Benedict Cumberbatch as Julian Assange. In the same year, Brühl portrayed former Formula 1 driver Niki Lauda in the Ron Howard biographical film Rush. The film was a commercial and critical success, and for his role he received multiple award nominations, including the Golden Globe Award for Best Supporting Actor, the Critic's Choice Award for Best Supporting Actor, the Screen Actors Guild Award and the BAFTA Award for Best Actor in a Supporting Role.
Brühl (left) at the press conference of
Entebbe
at the 68th Berlin International Film Festival, 2018
In 2015, he starred in Colonia, a thriller by Academy Award winner Florian Gallenberger. The film was shot October to December 2014 in South America, Germany and Luxembourg. His co-stars were Emma Watson and Michael Nyqvist, and the film was produced by Academy Award nominee Benjamin Herrmann.[8] Brühl played Helmut Zemo in Captain America: Civil War, released in 2016.[9][10] In Niki Caro's World War II film The Zookeeper's Wife (2017), he played Nazi zoologist Lutz Heck, who forces Jan and Antonina Żabiński (Jessica Chastain and Johan Heldenbergh) to abandon the Warsaw Zoo. The film is based on Diane Ackerman's non-fiction book.
Gastronomy
Since 2011, Brühl has been the joint operator of a tapas bar in the Kreuzberg district of Berlin. From February to October 2017, he was also joint operator of a similar bar in Prenzlauer Berg, named Bar Gracia after Barcelona's nightlife district Gràcia, but the bar closed in October 2017 because of little economic success.[11][12]
Personal life
In 2006, Brühl separated from his longtime girlfriend and later fiancée, actress Jessica Schwarz, whom he had met on the set of the 2001 film No Regrets.[13] Since 2010, he has been in a relationship with practicing psychologist and former model Felicitas Rombold.[14] They have a son together, Anton Hanno (b. October 2016),[15] and married sometime between then and early 2018.[16]
Filmography
Film and television roles
Year
Title
Role
Notes and awards
2000
No More School (Schule)
Markus
2000
Deeply
Jay
2001
No Regrets
Daniel
Bavarian Film Award for Best Young Actor
German Film Awards for Best Performance by an Actor in a Leading Role
New Faces Award for Best Actor
2001
The White Sound
Lukas
Bavarian Film Award for Best Young Actor
German Film Awards for Best Performance by an Actor in a Leading Role
German Film Critics Award for Best Actor
2001
Honolulu
Marek
2002
Vaya con Dios
Arbo
Bavarian Film Award for Best Young Actor
German Film Awards for Best Performance by an Actor in a Leading Role
German Film Critics Award for Best Actor
2002
Elephant Heart
Marko
German Film Awards for Best Performance by an Actor in a Leading Role
2003
Good Bye, Lenin!
Alexander Kerner
Bambi Award for Best Ensemble
European Film Award for Best Actor
European Film Audience Award for Best Actor
German Film Awards for Best Performance by an Actor in a Leading Role'
2004
Love in Thoughts (Was nützt die Liebe in Gedanken)
Paul
European Film Audience Award for Best Actor
2004
Ladies in Lavender
Andrea Marowski
2004
Farland
Frank
2004
The Edukators (Die fetten Jahre sind vorbei)
Jan
Nominated - European Film Award for Best Actor
2005
Merry Christmas (Joyeux Noël)
Horstmayer
2006
Cargo
Chris
2006
Salvador (Puig Antich)
Salvador Puig Antich
Barcelona Film Award for Best Actor
Seattle International Film Festival, Golden Space Needle Award for Best Actor
Nominated - Goya Award for Best Actor
Nominated - Butaca Award for Best Film Actor
Nominated - Cinema Writers Circle from Spain Award for Best Actor
Nominated - Fotogramas de plata Award for Best Film Actor
Nominated - Spanish Actors Union Award for Best Performance by an Actor in a Leading Role
2006
A Friend of Mine (Ein Freund von mir)
Karl
2007
2 Days in Paris
Lukas
2007
The Bourne Ultimatum
Martin Kreutz
2008
In Transit (In Tranzit)
Klaus
2008
Krabat
Tonda
2008
A Bit of Chocolate (Un poco de chocolate)
Marcos
2009
John Rabe
Dr. Georg Rosen
2009
Las madres de Elna
Amaro
2009
The Countess
István Thurzó
2009
Dinosaurier
Tobias Hardmann
2009
Inglourious Basterds
Fredrick Zoller
Screen Actors Guild Award for Outstanding Performance by a Cast in a Motion Picture
Broadcast Film Critics Association Award for Best Ensemble Acting
Central Ohio Film Critics Association Award for Best Ensemble
Phoenix Film Critics Society Award for Best Ensemble Acting
San Diego Film Critics Society Award for Best Performance by an Ensemble
2009
Lila, Lila
David Kern
Nominated - Lima International Film Festival, Audience Award for Best Actor
2010
King's Road (Kóngavegur 7)
Rupert
2010
The Coming Days (Die kommenden Tage)
Hans Krämer
2011
Eva
Álex Garel
Nominated - Goya Award for Best Actor
Nominated - Cinema Writers Circle from Spain Award for Best Actor
Nominated - Gaudí Award for Best Performance by an Actor in a Leading Role
2011
Lessons of a Dream (Der ganz große Traum)
Konrad Koch
2011
2 Days in New York
The Oak Fairy
2011
All Together (Et si on vivait tous ensemble?)
Dirk
2011
Intruders
Father Antonio
2012
Winning Streak (The Pelayos)
Iván Pelayo
2012
7 Days in Havana
Spanish Businessman
2013
Rush
Niki Lauda
Nominated - BAFTA Award for Best Actor in a Supporting Role
Nominated - Broadcast Film Critics Association Award for Best Supporting Actor
Nominated - Dallas-Fort Worth Film Critics Association Award for Best Supporting Actor
Nominated - Empire Award for Best Supporting Actor
Nominated - Golden Globe Award for Best Supporting Actor - Motion Picture
Nominated - San Diego Film Critics Society Award for Best Supporting Actor
Nominated - Screen Actors Guild Award for Outstanding Performance by a Male Actor in a Supporting Role
Nominated - Washington D.C. Area Film Critics Association Award for Best Supporting Actor
Nominated - Saturn Award for Best Supporting Actor
2013
The Fifth Estate
Daniel Domscheit-Berg
2013
A Most Wanted Man
Max
2014
The Face of an Angel
Thomas
2015
Me and Kaminski
Sebastian Zöllner
2015
Woman in Gold
Hubertus Czernin
2015
Colonia
Daniel
2015
Burnt
Tony Balerdi
2016
Alone in Berlin
Escherich
2016
Captain America: Civil War
Helmut Zemo
Nominated - Teen Choice Award for Choice Movie Villain
2016
Killing for Love
Jens Söring
2017
The Zookeeper's Wife
Lutz Heck
2018
The Alienist
Dr. Laszlo Kreizler
TV series; 10 episodes
2018
Black Panther
Helmut Zemo
Photograph
2018
The Cloverfield Paradox
Ernst Schmidt
2018
Entebbe
Wilfried Böse
Awards and nominations
Year
Association
Category
Nominated work
Result
2002
Bavarian Film Awards
Best Young Actor
Das Weisse Rauschen
Won
Deutscher Filmpreis
Best Performance by an Actor in a Leading Role
Won
New Faces Awards
Best Actor
Nichts bereuen
Won
2003
Bambi Awards
Best Film - National
Good Bye, Lenin!
Won
Shooting Stars Award
Top Young Actor
Won
European Film Awards
European Film Award for Best Actor
Won
Jameson People's Choice Award for Best Actor
Won
Deutscher Filmpreis
Best Performance by an Actor in a Leading Role
Won
Audience Award for Best German Actor
Won
Preis der deutschen Filmkritik
Best Actor
Das Weisse Rauschen
Won
2004
European Film Awards
European Film Award for Best Actor
Die fetten Jahre sind vorbei
Won
Jameson People's Choice Award for Best Actor
Was nützt die Liebe in Gedanken
Won
2006
Barcelona Film Awards
Best Actor
Salvador (Puig Antich)
Won
2007
Butaca Awards
Best Catalan Film Actor
Nominated
Cinema Writers Circle Awards
Best Actor
Nominated
Fotogramas de Plata
Best Movie Actor
Nominated
Goya Awards
Best Lead Actor
Nominated
Mestre Mateo Awards
Best Actor
Cargo
Nominated
Seattle International Film Festival
Best Actor
Salvador (Puig Antich)
Won
Spanish Actors Union
Best Male Lead Performance
Nominated
2009
Awards Circuit Community Awards
Best Cast Ensemble
Inglourious Basterds
Won
Phoenix Film Critics Society Awards
Best Acting Ensemble
Won
San Diego Film Critics Society Awards
Best Ensemble Performance
Won
2010
Central Ohio Film Critics Association Awards
Best Ensemble
Won
Gold Derby Awards
Best Ensemble Cast
Won
Screen Actors Guild Award
Outstanding Performance by a Cast in a Motion Picture
Won
2012
Cinema Writers Circle Awards
Best Actor
Eva
Nominated
Gaudí Awards
Best Performance by an Actor in a Leading Role
Nominated
Goya Awards
Best Actor
Nominated
2013
Dallas-Fort Worth Film Critics Association Awards
Best Supporting Actor
Rush
Nominated
Dublin Film Critics Circle Awards
Best Actor
Nominated
San Diego Film Critics Society Awards
Best Supporting Actor
Nominated
Washington D.C. Area Film Critics Association Awards
Best Supporting Actor
Nominated
2014
Golden Globe Award
Best Supporting Actor in a Motion Picture
Nominated
British Academy Film Awards
Best Supporting Actor
Nominated
Saturn Award
Best Supporting Actor
Nominated
Critics' Choice Movie Awards
Best Supporting Actor
Nominated
Empire Awards
Best Supporting Actor
Nominated
International Online Cinema Awards
Best Actor
Nominated
Jupiter Award
Best German Actor
Nominated
Online Film & Television Association Awards
Best Supporting Actor
Nominated
Best Breakthrough Performance: Male
Nominated
Romy Gala
Favorite Actor
Nominated
Santa Barbara International Film Festival
Virtuoso Award
Won
Screen Actors Guild Award
Best Supporting Actor
Nominated
Seattle Film Critics Awards
Best Supporting Actor
Won
2016
Jupiter Award
Best German Actor
Ich und Kaminski
Nominated
Teen Choice Awards
Choice Movie: Villain
Captain America: Civil War
Nominated
[ Source: Wikipedia ]