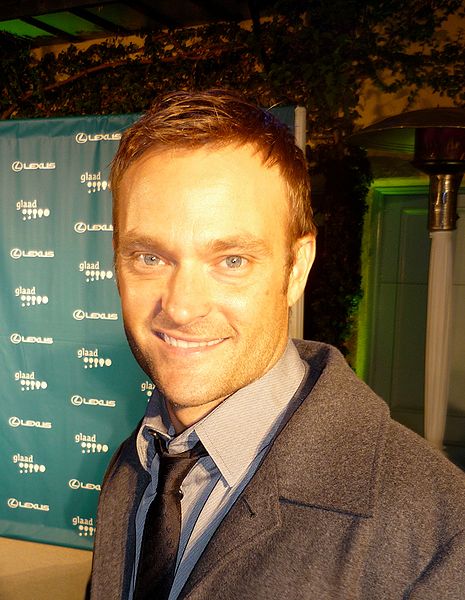 Chad Allen
Birth name:
Chad Allen Lazzari
Born:
June 5, 1974
Age:
48
Birthplace:
Cerritos, California, U.S.
Popularity:

Please login to contact Chad Allen...
Biography
Chad Allen (born June 5, 1974) is a retired American actor. Beginning his career at the age of seven, Allen is a three-time Young Artist Award winner and GLAAD Media Award honoree. He was a teen idol during the late 1980s as David Witherspoon on the NBC family drama Our House and as Zach Nichols on the NBC sitcom My Two Dads before transitioning to an adult career as Matthew Cooper on the CBS western drama Dr. Quinn: Medicine Woman. He announced his retirement from acting in April 2015.
Read more...
Early life
Allen was born Chad Allen Lazzari in Cerritos, California, and grew up in Artesia. He has a twin sister named Charity and a brother named Steve Lazzari who works for Union Pacific Railroad. Allen is of predominantly Italian origin, with a "dose" of German origin. He was raised within a "strict" Roman Catholic household and regards himself as being a "deeply spiritual person" because of his upbringing. Allen attended St. John Bosco High School in Bellflower, California.
Early career
Allen guest-starred on several prime time series including an early episode of Airwolf for which he was nominated as 'Best Young Actor: Guest in a Series' at the 6th Youth in Film Awards and St. Elsewhere, in which he played autistic child Tommy Westphall (1983-88). The series final episode, "The Last One", ends with the indication that all of its storylines occurred in Tommy's imagination. In 1983, he appeared on Cutter to Houston, playing "a kid who got hurt and had to be given mouth-to-mouth and carried to the waiting chopper by Dr. Hal Wexler (Alec Baldwin)". "I thought it was the greatest job I had ever gotten," he later stated. Allen's first regular role was as David Witherspoon on Our House (1986-88). In 1989-90, he had a recurring role as Zach in My Two Dads. Allen's next contract role was Matthew Cooper in Dr. Quinn, Medicine Woman alongside Jane Seymour (1993-98).
Outing and activism
In 1996, at age 21, Allen was outed as gay when the U.S. tabloid The Globe published photos of him kissing another man in a hot tub at a party. The photos were sold by someone who claimed to be a friend of the couple. Allen has since become an activist for the LGBT community in addition to his continuing acting and producing career. On January 17, 2006, Allen appeared on CNN's Larry King Live with San Francisco mayor Gavin Newsom to represent his viewpoint in a debate over same-sex marriage. Allen thanked Newsom for his attempts to legalize same-sex marriage in the city. Allen has been featured in The Advocate magazine multiple times and has appeared on three of its covers.
Further career
Starting with Third Man Out (2005), Allen stars as Donald Strachey, a gay private detective in a monogamous relationship, in a series of television movies for the here! network based on novels by Richard Stevenson. The sequel, Shock to the System (2006), was followed by On the Other Hand, Death (2008) and Ice Blues (2008). Allen noted that Strachey is the first gay character he had ever played outside of theater and that, though his career is "different" since coming out, he finds it "more interesting and fun for me than it has ever been."
When Allen was cast as real-life Christian missionary Nate Saint in the docudrama End of the Spear (2006) some conservative Christians lashed out at producers for casting an openly gay man in the role.
In 2007, Allen starred in the film Save Me. Developed and produced by Allen, the film was directed by Robert Cary and written by Robert Desiderio. Save Me, a film exploring the ex-gay movement, premiered at the 2007 Sundance Film Festival and was later picked up for distribution by independent studio Fine Line Features.
From June through August 2008, Allen appeared with Valerie Harper in Looped, a play based on the life of Tallulah Bankhead, at the Pasadena Playhouse in Pasadena, California.
Starting September 23, 2008, Allen portrayed the love interest of Dr. Kyle Julian for five episodes of the prime time SOAPnet serial General Hospital: Night Shift, a spin-off of the ABC Daytime soap opera General Hospital.
Personal life
In November 2006, The Los Angeles Daily News wrote in passing that Allen's partner, Jeremy Glazer, was also in the film Save Me. In a September 2008 interview with Out.com, Allen stated that he was currently in a three-year relationship and had been sober for eight years. In October 2008, AfterElton.com stated his boyfriend to be Glazer. In May 2009, Allen was the recipient of a GLAAD Media Award: the Davidson/Valentini Award. In his acceptance speech he said he had met Glazer, his partner, exactly four years earlier. They broke up in 2015.
In April 2015, Allen announced in a video his retirement from acting, saying that he plans to become a clinical psychologist. "It's been an exciting journey...working on the shows that I got to work on over the years. I am incredibly grateful today, I have been and always will be," adding "My life has taken me on a very different trajectory and after 30-plus years as an actor, I made a decision a couple of years ago to begin letting that side of my life go and I've been focusing on my education."
Allen graduated from University of California, Los Angeles in June 2015 with a Bachelor of Arts in Psychology.
Filmography
Year
Title
Role
Notes
1981
Simon & Simon
Boy
Episode: "A Recipe for Disaster"
1983-1988
St. Elsewhere
Tommy Westphall
11 episodes
1984
Airwolf
Ho Minh Truong
Episode: "Daddy's Gone a Hunt'n"
1984
The New Leave It to Beaver
Doug Williams
2 episodes
1985
Matt Houston
Patrick
Episode: "The Nightmare Man"
1985
Not My Kid
Bobby
Television movie
1985
The Bad Seed
Mark Daigler
Television movie
1985
Hotel
Bobby Cowley
Episode: "Sleeping Dogs"
1985
A Death in California
Glenn
2 episodes
1985
Code of Vengeance
A.J. Flowers
Episode: "Code of Vengeance"
1985
Punky Brewster
Conrad
Brian
2 episodes
1985-1986
Webster
Rob Whitaker
4 episodes
1986
Happy New Year, Charlie Brown!
Charlie Brown (Voice)
Television special
1986
Help Wanted: Kids
Coop
1986
TerrorVision
Sherman Putterman
1986-1988
Our House
David Witherspoon
46 episodes
1987
Tales from the Darkside
Sandy
Episode: "The Milkman Cometh"
1988
Straight Up
Ben
Unknown episodes
1988
Highway to Heaven
Ricky Diller
Episode: "The Whole Nine Yards"
1988
Hunter
Danny Sanderson
Episode: "Heir of Neglect"
1989-1990
My Two Dads
Zach Nichols
21 episodes
1990
Camp Cucamonga
Frankie Calloway
Television movie
1990
Star Trek: The Next Generation
Jono/Jeremiah Rossa
Episode: "Suddenly Human"
1991
The Wonder Years
Brad Patterson
Episode: "The Yearbook"
1991
DEA
Michael Stadler
2 episodes
1991
Murder in New Hampshire: The Pamela Wojas Smart Story
William Flynn
Television movie
1992
ABC Weekend Special
Sean
Episode: "Choose Your Own Adventure: The Case of the Silk King"
1993
Praying Mantis
Bobby McAndrews
1993
In the Heat of the Night
Matt Skinner
Episode: "Every Man's Family"
1993-1998
Dr. Quinn, Medicine Woman
Matthew Cooper
147 episodes
1998
The Love Boat: The Next Wave
Pete Dougherty
Episode: "How Long Has This Been Going On?"
1999
Total Recall 2070
Eddie Miller
Episode: "First Wave"
1999, 2004
NYPD Blue
Tommy Ibarra
Kyle Tanner
2 episodes
2001
What Matters Most
Lucas Warner
2001
A Mother's Testimony
Kenny Carlson
2001
Do You Wanna Know a Secret?
Brad Adams/Bradley Clayton
2002
Sexy
Voice 1
2002
Getting Out
Steve
2003
Paris
Jason Bartok
2004
Downtown: A Street Tale
Hunter
2005
Cold Case
Monty Fineman 1985
Episode: "Kensington"
2005
Third Man Out
Donald Strachey
2005
Charmed
Emrick
Episode: "Hulkus Pocus"
2005
End of the Spear
Nate Saint/Steve Saint
2006
The Pool 2
Mark Casati
2006
Criminal Minds
Jackson Cally
Episode: "The Tribe"
2006
Shock to the System
Donald Strachey
2007
Save Me
Mark
2007
Terra
Terrian Scientist
Voice
2008
On the Other Hand, Death
Donald Strachey
2008
Ice Blues
Donald Strachey
2008
CSI: Miami
Barry/Stan Carlyle
Episode: "Bombshell"
2008
General Hospital: Night Shift
Eric Whitlow
5 episodes
2009
Hollywood, je t'aime
Ross
2009
Fright Flick
Brock
2010
Spork
Loogie
2010
Dexter
Lance Robinson
Episode: "Everything is Illumenated"
2010
For Better or for Worse
2012
Hollywood to Dollywood
Himself
Charities
Chad Allen supports the following charitable causes: Homeless, LGBTQ Youth, LGBTQ Rights.
[ Source: Wikipedia ]