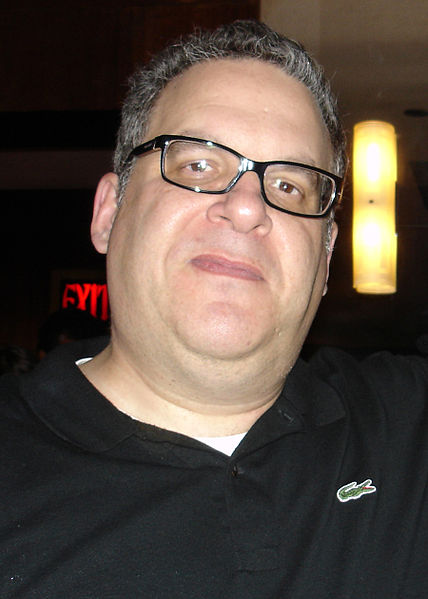 Jeff Garlin
Born:
June 5, 1962
Age:
60
Popularity:

Please login to contact Jeff Garlin...
Biography
Jeffrey Todd Garlin (born June 5, 1962) is an American comedian, actor, producer, director, and writer. He is widely known for playing Jeff Greene on the HBO show Curb Your Enthusiasm, Mort Meyers on Arrested Development for Fox and Netflix and the patriarch of the titular family in the ABC sitcom The Goldbergs.
He has also appeared in ParaNorman, Wall-E, Toy Story 3 and Safety Not Guaranteed, among other films and has hosted his own podcast on Earwolf since 2013.
Garlin was born in Chicago, Illinois, to Gene[3] and Carole (née Crafton) Garlin. He grew up in Morton Grove, Illinois,[4] where his father had a family plumbing supply business called Bilko and his mother was active in community theater. He has a younger brother, Michael.[5] Garlin is Jewish[6] and attended Hebrew school.[7][8]
Garlin says he has wanted to be a comedian since the age of eight, when he saw Jimmy Durante perform in Chicago.[6] Garlin attended Melzer Elementary School in Morton Grove, Illinois.[9] He enjoyed playing sports at school, but had to stop, because he has Wolff-Parkinson-White syndrome, a heart ailment.[5]
When Garlin was in sixth grade, his father sold his supply business and the family relocated to South Florida.[9] He graduated from Nova High School, Davie, Florida in 1980. He attended Broward Community College, followed by a stint at the University of Miami studying film, but eventually dropped out. He began performing stand-up comedy there.[10]
Read more...
Career
Standup
In 1984, aged 22, Garlin moved back to Chicago to pursue a stand up comedy career. He performed with the comedy troupe The Second City.[11][12] He worked in the box office with Stephen Colbert.[13]
In the end of the 1980s, Garlin was briefly roommates,[14][15][16][17] in Wrigleyville, Chicago, with Conan O'Brien, who was then a comedy writer.[5] He remains close to O'Brien, and after O'Brien was removed as host of The Tonight Show in 2010 so that Jay Leno could return, Garlin stated that he would not be a guest on the show again.[11][13]
Garlin was hired by comedians Denis Leary (Lock-n-Load) and Jon Stewart (Unleavened) to help develop their specials. He worked as a stage director for their shows and edited the scripts. He worked with Larry David in this same way. He continues to do standup, where he says he improvises a lot on stage, and feels very relaxed, "maybe too relaxed."[5]
Film and television
Garlin has a variety of television and film appearances to his credit, as an actor and a stand up, including Dr. Katz, Arrested Development, Everybody Loves Raymond, Late Show with David Letterman, Tom Goes to the Mayor, The Life and Times of Tim, The Daily Show, Late Night with Conan O'Brien, and Entourage.[18]
Garlin with the cast of
The Goldbergs
From 1997-99, Garlin spent three seasons on NBC's Mad About You in the role of Marvin.[19] He co stars and executive produces the HBO series Curb Your Enthusiasm. In 2013, Garlin signed onto the ABC sitcom The Goldbergs.[20] He had a recurring role on the series Wizards of Waverly Place as Uncle Kelbo, appearing in three episodes over the first three seasons.
Nine years after making an uncredited début as Gut Gut in Spring Break (1983), Garlin earned his first film credit in 1992 in Dolly Parton's comedy Straight Talk.[21] He had a small role in RoboCop 3 as "Donut Jerk" after a member of the casting crew witnessed Garlin eating a doughnut while leaving Krispy Kreme with an additional two dozen doughnuts. He also had cameo appearances in Austin Powers: The Spy Who Shagged Me in 1999.
Other cameo appearances include Run Ronnie Run!, After the Sunset, Fat Albert, and Sleepover. He appeared in Steven Soderbergh's Full Frontal (2002) and with Eddie Murphy in Daddy Day Care (2003). In 2005, he had a small role in Fun with Dick and Jane.
In 2008, Garlin appeared in The Rocker as Stan, and also played Ed Lawson in Strange Wilderness. He lent his voice to the Disney/Pixar film Toy Story 3, as Buttercup. He appeared as Sid, alongside Jennifer Aniston and Gerard Butler, in the 2010 comedy action film The Bounty Hunter. He played Ed Burch in Laggies, released in 2014.
His feature directorial debut, I Want Someone to Eat Cheese With (which he also wrote), premiered to favourable reviews at the 2006 Tribeca Film Festival. It opened in September 2007. The film co starred Sarah Silverman and Bonnie Hunt.[22]
In 2006, Garlin directed This Filthy World, a one man show performed by director John Waters. He was a voice actor in WALL-E, an animated film by Pixar that was released June 27, 2008, as the Captain of the Axiom spaceship.[23] Garlin executive produced the documentary Finding Vivian Maier (2013).[24]
In 2013, Garlin directed his second film, Dealin' with Idiots,[25] which was inspired by his experiences with his two sons in Little League.[20][26] The entire movie was improvised.[24]
Writing
On February 23, 2010, Garlin released a book, My Footprint: Carrying the Weight of the World, a memoir which documents his journey to lessen both his physical and carbon footprint.[27][28][29][30][31][32][33][34][35][36]
Podcast
On the comedy podcast network Earwolf[37] Garlin hosted a show, called By The Way, In Conversation with Jeff Garlin,[38] which consisted of unscripted talks rather than formal interviews. The debut episode featured Garlin's Curb Your Enthusiasm co-star Larry David. The twice monthly instalments were recorded in front of a live audience at Largo at the Coronet in Los Angeles.[37] The last episode of the podcast was released in February 2015.[39]
Other works
In March 2018, Garlin was one of the actors who voiced the audiobook A Day in the Life of Marlon Bundo.[40]
Personal life
Garlin is an avid fan of the Chicago Cubs. In this image, he is seen in Wrigleyville before Game Four of the 2016 World Series.
Garlin married Marla Beth Cahan on July 24, 1994. They have two sons: James (b. 1996), and Duke (b. 2000). They live in Los Angeles.[2] The couple announced their intention to divorce on September 4, 2018, having been separated since July 25, 2017.[41]
Having grown up around Chicago, Garlin is a fan of the Chicago Cubs.[42]
Garlin is a practitioner of transcendental meditation, which he does twice a day.[43] He says that it has helped him with the symptoms of ADHD.[44]
Health
Garlin had surgery in Oklahoma City when he was in his late 20s to correct Wolff-Parkinson-White syndrome, a heart condition, which is an accessory electrical conduction pathway in the heart that results in tachycardia.[5] Garlin said he was an early recipient (#72) of the surgery, which millions of people have now had done.
In February 2000, before filming began on Curb Your Enthusiasm, he had a stroke, when he was 37 years old. During the early episodes of Season One, he had noticeably slurred speech, although his speech later improved. He also has type II diabetes, which he controls with diet and exercise.[5]
Garlin has written about his issues with food and has discussed his weight issues publicly.[43] In an interview in October 2011, Garlin said: "I think people look at fat people as having a lack of willpower when willpower has nothing to do with it. I didn't change my life until I approached everything like an addict. I haven't had sweets in almost three years because I know if I have one cookie, just like if an alcoholic has his first drink, I'm off to the races and I'm back eating sugar again."[44]
Filmography
Movies
Year
Film
Role
Notes
1983
Spring Break
Gut Gut
Uncredited
1992
Straight Talk
Bob
Hero
News Vendor
1993
RoboCop 3
Donut Jerk
1994
Little Big League
Opposing Little League Manager
1995
The Computer Wore Tennis Shoes
Agent Reese
1997
The Love Bug
Highway Patrolman
1998
Senseless
Arlo Vickers
1999
Austin Powers: The Spy Who Shagged Me
Cyclops
2000
Bounce
Emcee
2002
Run Ronnie Run!
Birthday Woman's Friend
Naked Movie
Writer No. 1
The Third Wheel
Office Worker
Uncredited
Full Frontal
Harvey
2003
Daddy Day Care
Phil
2004
Sleepover
Mr. Corky
Outing Riley
Partner in Architects' Firm
Uncredited
After the Sunset
Ron
Fat Albert
Jer
Uncredited
2005
Fun with Dick and Jane
Boss
2006
The Jeff Garlin Program
Jeff
I Want Someone to Eat Cheese With
James Aaron
Also writer/director
The Jimmy Timmy Power Hour 3: The Jerkinators!
Shirley
Voice only
2007
Trainwreck: My Life as an Idiot
Lenny
2008
Strange Wilderness
Ed Lawson
The Rocker
Stan
WALL-E
Captain B. McCrea
Voice only
2010
The Bounty Hunter
Sid
Toy Story 3
Buttercup
Voice only
2011
Hawaiian Vacation
Buttercup
Voice only
Cars 2
Otis[45]
Voice only
Sin Bin
Dean Theatard
2012
ParaNorman
Perry Babcock
Voice only
Safety Not Guaranteed
Mr. Britt
2013
Dealin' with Idiots
Max Morris
Also writer/director
2014
Laggies
Ed Burch
2017
Lemon
Guy Roach
Handsome: A Netflix Mystery Movie
Gene Handsome
Also writer/director
Becoming Bond
Harry Saltzman
Documentary
2019
Toy Story 4
Buttercup
Voice only
Television
| Year | Film | Role |
| --- | --- | --- |
| 1989 | Roseanne | Fred |
| 1990 | Open House | Brian |
| 1994 | Baywatch | Larry 'Loomin' Large |
| 1996 | Gross Ratings | Jack Bekins |
| 1997 | Dr. Katz, Professional Therapist | Jeff |
| 1997-99 | Mad About You | Marvin |
| 1999 | Larry David: Curb Your Enthusiasm | Jeff Greene |
| 2000 | Self Storage | Duncan Baumgartner |
| 2000-present | Curb Your Enthusiasm | Jeff Greene |
| 2000 | The Michael Richards Show | Ed |
| 2001 | Late Friday | Himself/Host |
| 2001 | Three Sisters | Joel |
| 2001 | Dead Last | Ron Belson |
| 2001-02 | What About Joan? | Steinie |
| 2002 | King of the Hill | Dan |
| 2001-03 | Everybody Loves Raymond | Produce Manager Jimmy |
| 2003 | Greetings from Tucson | Executive (2003) |
| 2003 | Crank Yankers | Jeff |
| 2004 | Tom Goes to the Mayor | Pat Croce |
| 2005 | Pudding Wars | Tobey (2005) |
| 2005 | Duck Dodgers | Camoman |
| 2005 | Yes, Dear | Howie |
| 2005 | MADtv | Hank Whitley |
| 2005-06, 2013 | Arrested Development | Mort Meyers |
| 2006 | Hooked | Mr. Waterhouse |
| 2006 | Campus Ladies | Mr. Hubney |
| 2008 | Shorty McShorts' Shorts | Duke |
| 2007 | Law & Order: Criminal Intent | Barry Freeburg |
| 2008 | The Life & Times of Tim | |
| 2008 | BURN-E | Captain (uncredited) |
| 2008-10 | Wizards of Waverly Place | Uncle Kelbo |
| 2010 | Entourage | Roger Jay |
| 2011 | Community | Himself |
| 2013-present | The Goldbergs | Murray Goldberg |
| 2015 | Repeat After Me | Himself |
| 2017 | SpongeBob SquarePants | Cuddle E. Hugs |
Podcasts
Video games
Blade Runner - Lieutenant Edison Guzza (1997)
WALL-E - Captain (2008)
Toy Story 3: The Video Game - Buttercup (2010)
Works and publications
Garlin, Jeff, and John Ficarra. The MAD Bathroom Companion: The Gushing Fourth Edition. New York: MAD Books, 2004.
Garlin, Jeff. My Footprint: Carrying the Weight of the World. New York: Gallery Books, 2010; ISBN 978-1-439-15010-8

Note: Republished as :

Garlin, Jeff. Curbing It. New York: Gallery Books, 2010; ISBN 978-1-439-15012-2
[ Source: Wikipedia ]