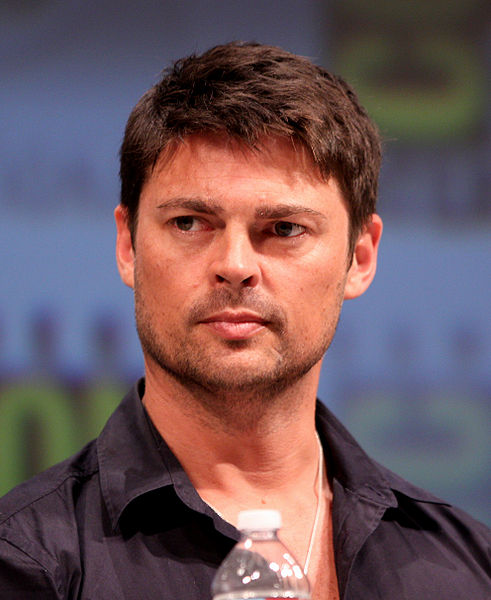 Karl Urban
Birth name:
Karl-Heinz Urban
Born:
June 7, 1972
Age:
50
Birthplace:
Wellington, New Zealand
Popularity:

Please login to contact Karl Urban...
Biography
Karl-Heinz Urban (born 7 June 1972) is a New Zealand actor. He has portrayed Leonard McCoy in the Star Trek reboot film series (2009-), Éomer in the second and third installments of Peter Jackson's The Lord of the Rings trilogy, Vaako in the Riddick film series, Gavin in Pete's Dragon, John Grimm in Doom, and Judge Dredd in Dredd. He earned a Qantas Film and Television Award for Best Supporting Actor for his performance in the New Zealand film Out of the Blue.
Urban was born in Wellington, New Zealand. His father, a German immigrant, owned a leather goods store, and his mother once worked for Film Facilities in Wellington. Through his mother, the young Urban was exposed to classic New Zealand cinema, and developed an interest in the film industry.[2] Urban attended St Mark's Church School, where he showed an early love for public performance. His first acting role came at age eight, when he had a single line in one episode of the New Zealand television series
Pioneer Woman
. Though continuing to take part in school stage productions, he did not act professionally again until after high school.
He attended Wellington College in 1986-1990. He then enrolled at Victoria University of Wellington in the Bachelor of Arts program but left after one year to pursue a career in acting. Over the next few years, he appeared in several local TV commercials in addition to theater roles in the Wellington area. Eventually he moved to Auckland, where he was offered many guest roles in TV shows (one of which was playing a heroin addict in the police drama Shark in the Park). Urban then moved briefly to Bondi Beach, Sydney, Australia in 1995, before returning to New Zealand the following year.[3]
Read more...
Career
New Zealand roles
Urban was seen on the internationally syndicated American/New Zealand TV series Hercules: The Legendary Journeys and on its spin-off Xena: Warrior Princess, in which he played the recurring roles of both Cupid and Julius Caesar from 1996 to 2001. He also made appearances as Mael in the episode "Altared States", from the first season of Xena, and as Kor in the episode "Lifeblood", from the fifth season. Both programs were filmed in New Zealand. In 2001, he appeared in the offbeat rural romance The Price of Milk, for which he received his first nomination at the New Zealand Qantas Film and Television Awards. Urban later won acclaim for his portrayal of policeman Nick Harvey in Out of the Blue, a dramatization of New Zealand's Aramoana massacre, for which he won the Qantas Film and Television Award for Best Supporting Actor in 2008.
International roles
Urban's first Hollywood role was in the 2002 horror film Ghost Ship. Since then, he has worked on many high-profile movies, including the second and third installments of The Lord of the Rings trilogy (The Two Towers and The Return of the King) as Eómer, The Bourne Supremacy (as Russian Federal Security Service agent Kirill), The Chronicles of Riddick, Star Trek and Doom. The Hollywood Reporter speculated that Urban was one of several actors being considered for the part of British secret service agent 007 in Casino Royale, directed by fellow New Zealander Martin Campbell.[4] However, he was unable to make the audition because of filming commitments. The role eventually went to Daniel Craig.
Urban,
Zachary Quinto
, J. J. Abrams, and
Chris Pine
, at the
Star Trek Into Darkness
in Sydney, Australia movie premiere, in April 2013
Urban played John "Reaper" Grimm in Universal Pictures' Doom (based on the first-person shooter video game Doom), which was released on 21 October 2005. In 2007, he starred in the Viking adventure Pathfinder. A longtime fan of Westerns,[5] Urban appeared as Woodrow Call in Comanche Moon, the CBS miniseries prequel to Lonesome Dove, in January 2008.
In 2009, he played Dr. Leonard "Bones" McCoy, a role famously originated by DeForest Kelley, in the eleventh Star Trek film.[6][7][8][9] A fan of the Star Trek franchise since childhood, Urban actively pursued a role in the film.[10] His performance was widely embraced by the Star Trek fan community for its faithfulness to the spirit of Kelley's McCoy.[11] In 2009, he also appeared as himself in the documentary film Reclaiming the Blade, discussing his sword-wielding experience in films such as The Lord of the Rings.
Urban next appeared as CIA agent William Cooper in Red, adapted from the DC Comics graphic novel of the same name and co-starring Bruce Willis and Helen Mirren.[12] He portrayed Black Hat, a villainous priest-turned-vampire, in the film adaption of the Korean manhwa Priest, released in 3-D in 2011.[13]
In 2012, Urban starred as law-enforcing comic book hero Judge Dredd in the film Dredd. In an interview with Shave magazine, Urban described it as a "high-octane, action-fueled film... about the day in the life of Dredd". The film was directed by Pete Travis, with a script by Alex Garland.[14] Though it underperformed at the box office, Dredd was well received by critics.[15] He then reprised his role of "Bones" McCoy in the sequel to Star Trek, Star Trek Into Darkness, which was released on 15 May 2013.
In 2013, Urban starred as Detective John Kennex in Almost Human, a TV series created by J. H. Wyman. The series was set 35 years into the future when cops in the L.A.P.D. are paired up with lifelike androids. Urban played a detective who has a dislike for robots but ends up being teamed up with one with emotional feelings. Urban next appeared in the ensemble thriller The Loft, a remake of the Belgian film of the same name. It was filmed in New Orleans and Belgium by the director of the 2008 original, Erik Van Looy.[16] In January 2015, Urban replaced Michael C. Hall as the role as the main antagonist in the 2016 remake of Pete's Dragon.[17] In May 2016, he was cast as Skurge in Thor: Ragnarok.[18]
Personal life
Urban married his long time partner, Natalie Wihongi (who was his makeup artist for the 2000 television movie The Privateers),[19] in September 2004. Together they have two sons: Hunter, born 16 December 2000,[20] and Indiana ("Indy"), born January 2005[21] and named for the eponymous hero of the Indiana Jones franchise,[22] the first movie of which he has cited as one of his favorites.[23] They lived in their NZ$5.25 million mansion in the affluent Herne Bay section of Auckland, New Zealand.[24] The couple announced their separation in June 2014,[24] selling their home for NZ$6.65 million in December 2014.[25]
Urban serves as a celebrity ambassador for KidsCan, a charity which currently supports over 16,000 disadvantaged children in New Zealand by providing them with essentials such as food, clothing, and shoes.[26]
Filmography
Film
Year
Title
Role
Notes
1992
Chunuk Bair
Wellington Soldier
1998
Heaven
Sweeper
Via Satellite
Paul
2000
The Irrefutable Truth about Demons
Harry Ballard
The Price of Milk
Rob
2002
Ghost Ship
Munder
The Lord of the Rings: The Two Towers
Éomer
2003
The Lord of the Rings: The Return of the King
Éomer
Broadcast Film Critics Association Award for Best Cast
Critics' Choice Movie Award for Best Acting Ensemble
National Board of Review Award for Best Cast
Screen Actors Guild Award for Outstanding Performance by a Cast in a Motion Picture
Nominated—Phoenix Film Critics Society Award for Best Cast
2004
The Chronicles of Riddick
Siberius Vaako
The Bourne Supremacy
Kirill
2005
Doom
John Grimm
Nominated—Fangoria Chainsaw Award for Bloodiest Beatdown
2006
Out of the Blue
Nick Harvey
2007
Pathfinder
Ghost
2009
Star Trek
Leonard McCoy
Boston Society of Film Critics Award for Best Cast
Denver Film Critics Society Award for Best Cast
Nominated—Critics' Choice Movie Award for Best Acting Ensemble
Nominated—Washington D.C. Area Film Critics Association Award for Best Ensemble
Black Water Transit[27]
Earl Pike
2010
And Soon the Darkness
Michael
RED
William Cooper
2011
Priest
Black Hat
2012
Dredd
Judge Dredd
2013
Star Trek Into Darkness
Leonard McCoy
Riddick
Siberius Vaako
Cameo only
Walking with Dinosaurs
Zack
2014
The Loft
Vincent Stevens
2016
Star Trek Beyond
Leonard McCoy
Pete's Dragon
Gavin Magary
2017
Thor: Ragnarok
Skurge
Acts of Vengeance
Officer Hank Strode
Hangman
Detective Will Ruiney
2018
Bent
Danny Gallagher
Television
| Year | Title | Role | Notes |
| --- | --- | --- | --- |
| 1990 | Shark in the Park | Rohann Murdoch | Recurring role, 6 episodes |
| 1992 | Homeward Bound | Tim Johnstone | |
| 1993 | White Fang | David | Episode: "Tough Kid" |
| 1993-1994 | Shortland Street | Paramedic Jamie Forrest | |
| 1995 | Riding High | James Westwood | |
| 1996 | Hercules: The Legendary Journeys | Cupid | Episode: "The Green-Eyed Monster" |
| 1996 | Xena: Warrior Princess | Mael | Episode: "Altared States" |
| 1997 | Amazon High | Kor | Television movie |
| 1997-2001 | Xena: Warrior Princess | Julius Caesar | Recurring role, 8 episodes |
| 1997 | Xena: Warrior Princess | Cupid | 2 episodes |
| 1998 | Hercules: The Legendary Journeys | Julius Caesar | Episode: "Render Unto Caesar" |
| 2000 | Xena: Warrior Princess | Kor | Episode: "Lifeblood" |
| 2000 | The Privateers | Capt. Aran Dravyk | Television movie |
| 2008 | Comanche Moon | Woodrow F. Call | Television miniseries |
| 2013-2014 | Almost Human | John Kennex | Main role, 13 episodes |
| 2014 | Short Poppies | Alex Turnbull | Episode: "Mary Ledbetter" |
| 2019 | The Boys[28] | Billy Butcher | Main role |
Video games
| Year | Title | Role | Notes |
| --- | --- | --- | --- |
| 2013 | Star Trek | Leonard McCoy | Voice and likeness |
[ Source: Wikipedia ]