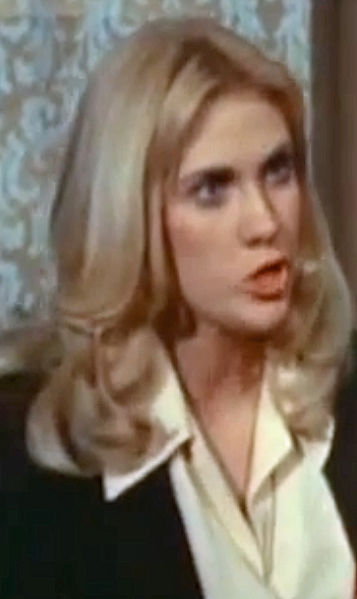 Colleen Camp
Birth name:
Colleen Celeste Camp
Born:
June 7, 1953
Age:
69
Birthplace:
San Francisco, California, U.S.
Popularity:

Please login to contact Colleen Camp...
Biography
Colleen Celeste Camp (born June 7, 1953)[1] is an American character actress, comedian and producer. After appearing in several bit parts, she had a lead role in the comedy The Swinging Cheerleaders (1974), followed by roles in two installments of the Police Academy series. Camp appeared in supporting parts in Apocalypse Now (1979) and The Seduction (1982), after which she played Yvette the Maid in the 1985 comedy Clue.[2]
Camp has continued to have minor and supporting roles in various independent and studio films, including Election (1999), Factory Girl (2006), Palo Alto (2013), and American Hustle (2013).
Colleen Camp was born on June 7, 1953, in San Francisco, California. She moved to the San Fernando Valley at a young age and attended John H. Francis Polytechnic High School, Los Angeles Valley College, and California State University, Northridge, where she majored in English and minored in theater arts.[3] To help pay for college, Camp trained macaws and worked at the bird attraction at Busch Gardens on weeknights, weekends, and during the summer, where she performed for up to 2,000 people in six shows a day, six days a week.[4] Ultimately striving to be an actress, Camp also took private acting and singing lessons and was eventually noticed by a talent agent. After the agent viewed an hour-long Busch Gardens television special featuring Camp and her birds, she was signed for national television commercials for both Gallo wine and Touch of Sweden hand lotion.[3][5] This exposure led to small television parts in shows such as
Marcus Welby, M.D.
,
Happy Days
, and
Love, American Style
, as well as a six-episode stint on the miniseries
Rich Man, Poor Man
.[3]
Camp landed small early roles in films like Funny Lady with Barbra Streisand and James Caan, and Smile with Bruce Dern and Barbara Feldon in 1975.[3][4] She also appeared in the Bruce Lee movie Game of Death as his girlfriend, Ann, the young aspiring singer (her scenes were shot with a lookalike as Lee had died before she became involved) performing the film's love theme "Will This Be The Song I'll Be Singing Tomorrow". Camp went on to portray a Playmate in Francis Coppola's 1979 film Apocalypse Now (followed by an actual pictorial in the October 1979 Playboy), though most of her footage was cut from the initial theatrical release. She would later feature more heavily in Coppola's Redux cut. She was also the first actress to play Kristin Shepard, Linda Gray's character's sister, in the primetime soap opera Dallas in 1979. Mary Crosby later was cast in this role.[6]
Camp has worked steadily in film comedies like Peter Bogdanovich's 1981 comedy They All Laughed, 1983's Valley Girl and the 1994 Michael J. Fox comedy Greedy. She often is cast as a police officer, appearing in two of the Police Academy films. Camp has been nominated twice for the Worst Supporting Actress Golden Raspberry Award - first, in 1982, for The Seduction, and then, in 1993, for Sliver. In 1999, she had a small part as character Tracy Flick's overbearing mother in the film Election, with Reese Witherspoon as Tracy.[7] She appeared in the episode "Simple Explanation" of House in 2009.
In 2013 she appeared in a supporting part in David O. Russell's American Hustle.[8] The following year, Camp co-produced a Broadway production of Love Letters.[9] and in 2015 co-produced Eli Roth's thriller Knock Knock, also appearing in a supporting role in the film.[10]
Read more...
Personal life
Colleen Camp's parents are Dorothy and Wilson. She has two brothers, Don and Glen. She has three nephews Byron, Colin and Ryan.[3]
In the late 1970s, Camp dated Dean Tavoularis, whom she met in the Philippines while filming Apocalypse Now.[3] In 1986, she married John Goldwyn, a Paramount executive, though they divorced in 2001. They have one daughter, Emily.[11]
Filmography
Film
| Year | Title | Role | Notes |
| --- | --- | --- | --- |
| 1973 | Battle for the Planet of the Apes | Julie | Uncredited |
| 1974 | The Last Porno Flick | | Also known as: Those Mad, Mad Moviemakers |
| 1974 | The Swinging Cheerleaders | Mary Ann | |
| 1975 | Funny Lady | Billy's Girl | |
| 1975 | Smile | Connie | |
| 1976 | Ebony, Ivory & Jade | Ginger Douglas | |
| 1976 | The Gumball Rally | Franco's Date | |
| 1976 | Amelia Earhart | Starlet | |
| 1977 | Death Game | Donna | |
| 1977 | Love and the Midnight Auto Supply | Billie Jean | |
| 1978 | Game of Death | Ann Morris | |
| 1978 | Lady of the House | Rosette | |
| 1978 | Cat in the Cage | Gilda Riener | |
| 1979 | Apocalypse Now | Playmate | |
| 1980 | Cloud Dancer | Cindy | |
| 1981 | They All Laughed | Christy Miller | |
| 1982 | The Seduction | Robin | |
| 1982 | Deadly Games | Randy | |
| 1983 | Valley Girl | Sarah Richman | |
| 1983 | Smokey and the Bandit Part 3 | Dusty Trails | |
| 1983 | Trial by Terror | | |
| 1984 | City Girl | Rose | |
| 1984 | Joy of Sex | Liz Sampson | |
| 1984 | The Rosebud Beach Hotel | Tracy King | |
| 1985 | Police Academy 2: Their First Assignment | Sgt. Kathleen Kirkland | |
| 1985 | Doin' Time | Nancy Catlett | |
| 1985 | D.A.R.Y.L. | Elaine Fox | |
| 1985 | Clue | Yvette | |
| 1986 | Screwball Academy | Liberty Jean | Television film |
| 1987 | Police Academy 4: Citizens on Patrol | Mrs. Kirkland-Tackleberry | |
| 1987 | Walk Like a Man | Rhonda Shand | |
| 1988 | Addicted to His Love | Ellie Snyder | Television film |
| 1988 | Illegally Yours | Molly Gilbert | |
| 1988 | Track 29 | Arlanda | |
| 1989 | Wicked Stepmother | Jenny Fisher | |
| 1990 | My Blue Heaven | Dr. Margaret Snow Coppersmith | |
| 1991 | Backfield in Motion | Laurie | Television film |
| 1992 | Wayne's World | Mrs. Vanderhoff | |
| 1992 | The Vagrant | Judy Dansig | |
| 1992 | Unbecoming Age | Deborah | |
| 1993 | For Their Own Good | Chris | Television film |
| 1993 | Sliver | Judy Marks | |
| 1993 | Last Action Hero | Ratcliff | |
| 1993 | Naked in New York | Auditioned | |
| 1994 | Greedy | Patti | |
| 1995 | Die Hard with a Vengeance | Connie Kowalski | |
| 1995 | The Baby-Sitters Club | Maureen McGill | |
| 1995 | Three Wishes | Neighbor's Wife | |
| 1996 | The Right to Remain Silent | Mrs. Buford Lowry | Television film |
| 1996 | House Arrest | Mrs. Burtis | |
| 1996 | The Associate | Detective Jones | |
| 1996 | The Lone Star Letters | Deulah Pooch | |
| 1996 | Suddenly | Jude | Television film |
| 1997 | The Ice Storm | Dr. Pasmier | |
| 1997 | Plump Fiction | Viv | |
| 1997 | Speed 2: Cruise Control | Debbie | |
| 1999 | Election | Judith R. Flick | |
| 1999 | Love Stinks | Monica Harris | |
| 1999 | Goosed | Jane | |
| 1999 | Jazz Night | Marge Winslow | |
| 2000 | Loser | Homeless Woman | |
| 2000 | Bar Hopping | Chick with Ax to Grind | Television film |
| 2001 | Someone Like You... | Realtor | |
| 2001 | An American Rhapsody | Dottie | Also co-producer |
| 2001 | Rat Race | Rainbow House Nurse | |
| 2001 | How to Make a Monster | Faye Clayton | Television film |
| 2002 | Joshua | Joan Casey | |
| 2002 | Second to Die | Cynthia | |
| 2002 | Trapped | Joan Evans | |
| 2004 | Who's Your Daddy? | Beverly Hughes | |
| 2004 | L.A. Twister | Judith | |
| 2004 | In Good Company | Receptionist | |
| 2005 | Mystery Woman: Mystery Weekend | Maura Hobbs | Television film |
| 2005 | Rumor Has It... | Pasadenan Wife | |
| 2006 | Material Girls | Charlene | |
| 2006 | Running with Scissors | Joan | |
| 2006 | Dead and Deader | Mrs. Wisteria | Television film |
| 2006 | Factory Girl | Mrs. Whitley | |
| 2007 | '77 | Janet Johnson | |
| 2007 | Noise | Mrs. Broomell | |
| 2008 | Four Christmases | Aunt Donna | |
| 2009 | Winter of Frozen Dreams | Jerry's Mother | |
| 2009 | Cirque du Freak: The Vampire's Assistant | Mrs. Shan | |
| 2009 | Porky's Pimpin' Pee Wee | Helen Morris | |
| 2010 | Burning Palms | Barbara Barish | |
| 2010 | Psych:9 | Beth | |
| 2011 | Balls to the Wall | Maureen | |
| 2011 | Hollywood & Wine | Judge Head | |
| 2011 | Love, Wedding, Marriage | Ethel | |
| 2011 | Homecoming | Cathy | |
| 2012 | A Glimpse Inside the Mind of Charles Swan III | Karen | |
| 2012 | Waffle Hut | Carla | Television film |
| 2013 | Palo Alto | Sally | |
| 2013 | American Hustle | Brenda | |
| 2014 | Chicanery | Regina Moon | |
| 2014 | She's Funny That Way | Cece | |
| 2015 | Knock Knock | Vivian | Also co-producer |
| 2015 | Joy | Lori | |
| 2016 | Always Shine | Sandra | |
| 2017 | The Truth About Lies | May | Also co-producer |
| 2018 | The House with a Clock in Its Walls | Mrs. Hanchett | |
Television
| Year | Title | Role | Notes |
| --- | --- | --- | --- |
| 1973 | Marcus Welby, M.D. | Betty Adams | 1 episode |
| 1973 | Love, American Style | Jane / Diane | 2 episodes |
| 1975 | Happy Days | Rose | 1 episode |
| 1976 | Harry O | Karen Bremmer | 1 episode |
| 1976 | Doc | | 1 episode |
| 1976 | Isis | Wynn | 1 episode |
| 1976 | Starsky and Hutch | Bobette | 1 episode |
| 1976-1977 | Rich Man, Poor Man—Book II | Vicki St. John | 6 episodes |
| 1976 | Man from Atlantis | Amanda | 1 episode |
| 1979 | Dallas | Kristin Shepard | 2 episodes |
| 1981 | The Dukes of Hazzard | Bonnie Lane | 1 episode |
| 1982 | WKRP | Herself | 1 episode |
| 1984 | Magnum, P.I. | Valerie Cane | 1 episode |
| 1985 | Tales from the Darkside | Connie Squires | 1 episode |
| 1987-1988 | Murder, She Wrote | Dody Rogers / Dep. Marigold Feeney | 2 episodes |
| 1990 | Tales from the Crypt | Mrs. Mildred Korman | 1 episode |
| 1991 | thirtysomething | Deborah Branchflower Diggs | 1 episode |
| 1994 | Tom | Kara Wilhoit | 12 episodes |
| 1993-1996 | Roseanne | Jill / Dawn / Secretary | 3 episodes |
| 2006-2007 | The Minor Accomplishments of Jackie Woodman | Angela Birnbaum | 4 episodes |
| 2007 | Entourage | Marjorie | 2 episodes |
| 2009 | House | Charlotte | 1 episode |
| 2013 | Mob City | Woman in Restaurant | 2 episodes |
| 2015 | American Dad! | Voice | 1 episode |
| 2017 | Signed, Sealed, and Delivered: Home Again | Sunny Haywith | Television film |
[ Source: Wikipedia ]