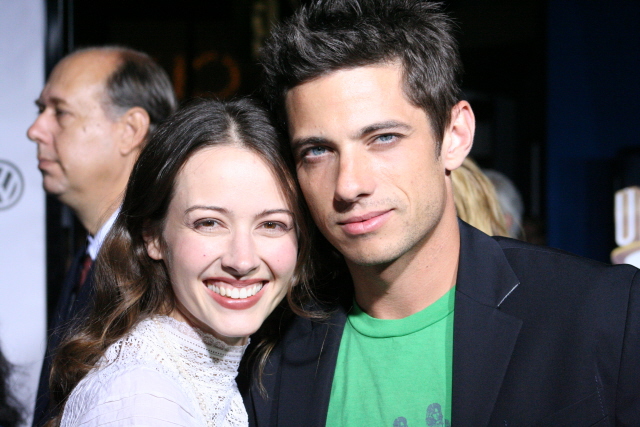 James Carpinello
Born:
August 13, 1975
Age:
46
Birthplace:
Albany, New York, U.S.
Popularity:

Please login to contact James Carpinello...
Biography
James Carpinello (born August 13, 1975)[citation needed] is an American film, television, and Broadway actor who came to national attention with his appearances in Tori Spelling's VH1 sitcom So NoTORIous. He is also part of the musical Rock of Ages.
Carpinello first appeared on Broadway in the 1999 musical
Saturday Night Fever
as Tony Manero.[1] The musical is based on the 1977 film
Saturday Night Fever
in which the role of Manero was played by
John Travolta
.
He was next cast as Link Larkin in the Broadway musical version of Hairspray, but left the show prior to its first pre-Broadway performances in Seattle in order to shoot the film The Great Raid in 2002. He was replaced by Matthew Morrison.
For his third Broadway outing, Carpinello was cast in the Broadway musical Xanadu.[2] Like Saturday Night Fever, Xanadu is based on a film of the same name—1980s Xanadu, which starred Olivia Newton-John and Michael Beck as Sonny, the leading role for which Carpinello was cast. Due to breaking his leg in three places[3] while roller skating during a rehearsal on June 12, 2007, Carpinello was forced to leave the production just two weeks before its scheduled June 26, 2007, opening at the Helen Hayes Theatre. Cheyenne Jackson assumed the role of Sonny as of June 22, 2007; the musical's opening was rescheduled for July 10, 2007.[4][5]
Carpinello next starred as rocker Stacee Jaxx in the Broadway musical Rock of Ages at the Brooks Atkinson Theatre.[6] When the show previously played off-Broadway, actor Will Swenson performed the role of Jaxx, until Swenson was offered the lead comedic role of Berger, in the revival Broadway Production of HAIR. Carpinello replaced him before Rock of Ages started performances on Broadway.
Read more...
Television appearances
Carpinello has appeared on episodes of the CBS TV show, The Good Wife as Detective Anthony Burton. He guest starred on the Season 4 premier of the United States TV show, In Plain Sight. He played former soldier Joey in "Mission Creep", the third episode of CBS crime drama Person of Interest, and reprised that role as the series neared the end of its run in June 2016. He is a regular on the FOX medical/crime drama The Mob Doctor.
Personal life
He is the son of Sharon, a mental health official, and Anthony J. Carpinello, a former Justice of the New York Supreme Court.[7] On April 25, 2003, Carpinello married actress Amy Acker. They have two children — a son born on January 22, 2005, and a daughter born on September 1, 2006.[8]
Filmography
Film
| Year | Title | Role | Notes |
| --- | --- | --- | --- |
| 2001 | Mr. Life | N/A | Television movie |
| 2002 | Aces | N/A | Television movie |
| 2004 | The Punisher | Bobby Saint/John Saint | |
| 2005 | The Great Raid | Cpl. Aliteri | |
| 2012 | Christmas is Ruined | Agent Spaulding | Short film |
| 2013 | Gangster Squad | Johnny Stompanato | |
| 2014 | Let's Kill Ward's Wife | Ronnie | |
Television
| Year | Title | Role | Notes |
| --- | --- | --- | --- |
| 2000 | Felicity | Randy | 3 episodes |
| 2006 | So NoTORIous | Pete | 9 episodes |
| 2006 | The Closer | Larry Cole | 2 episodes |
| 2010 | The Good Wife | Detective Anthony Burton | 5 episodes |
| 2010 | CSI: Miami | Dominic Giordano | Episode: "See No Evil" |
| 2011 | Law & Order: Special Victims Unit | Joe Gilbert | Episode: "Pop" |
| 2011 | NCIS | Smitty Brown | Episode: "False Witness" |
| 2011 | In Plain Sight | Riley | Episode: "The Art of the Steal" |
| 2011, 2016 | Person of Interest | Joey Durban | 2 episodes |
| 2012 | Body of Proof | Sal Rubenstone | Episode: "Occupational Hazards" |
| 2012-13 | The Mob Doctor | Franco Leoni | 12 episodes |
| 2013 | Castle | Frank Henson | Episode: "Like Father, Like Daughter" |
| 2014 | Blue Bloods | Russell Price | Episode: "Loose Lips" |
| 2016-17 | Gotham | Mario Falcone | 8 Episodes |
| 2017-Present | The Blacklist | Henry Prescott | Recurring Role |
Stage
| Year | Title | Role | Notes |
| --- | --- | --- | --- |
| 1998 | Stupid Kids | Jim Stark | |
| 1999-2000 | Saturday Night Fever | Tony Manero | |
| 2007-08 | Xanadu | Sonny | |
| 2009 | Rock of Ages | Stacee Jaxx | |
[ Source: Wikipedia ]