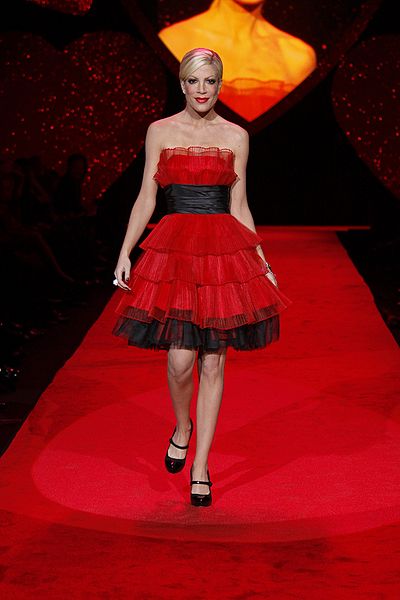 Tori Spelling
Birth name:
Victoria Davey Spelling
Born:
May 16, 1973
Age:
50
Birthplace:
Los Angeles, California, U.S.
Popularity:

Please login to contact Tori Spelling...
Biography
Victoria Davey Spelling[1] (born May 16, 1973)[2][3] is an American actress, television personality, socialite and author. She is most widely known from her first major role, Donna Martin, on Beverly Hills, 90210 beginning in 1990, produced by her father, Aaron. She appeared in a string of made-for-television films, including A Friend to Die For (1994), A Carol Christmas (2003), The Mistle-Tones (2012), both versions of Mother, May I Sleep with Danger? (1996,2016), and The Last Sharknado: It's About Time (2018). She appeared also in several independent films such as The House of Yes (1997), Trick (1999), Scary Movie 2 (2001), Cthulhu (2007), Kiss the Bride (2007) and Izzie's Way Home (2016). She reprised her role of Donna Martin in Beverly Hills, 90210's spin-off, 90210, in 2009.
Spelling's autobiography, Stori Telling, debuted on top of the New York Times Best Seller list and was named the best celebrity autobiography of 2009.[4]
Spelling was born in Los Angeles, California. She is the daughter of Candy (née Marer; born 1945) and television and film producer
Aaron Spelling
(1923-2006).[5] She has a younger brother, Randy, a former actor who as of 2009[update] works as a life coach. Spelling's parents were from Jewish families whose ancestors moved to the United States from Russia and Poland.[5][6] Her middle name comes from her paternal grandfather, David. She attended Beverly Hills High School in Beverly Hills, California, and graduated from Harvard-Westlake School[7] in 1991.
Read more...
Career
Early work
At age six, Spelling was given acting lessons from an acting coach hired by her father, and was subsequently given guest spots on television series such as The Love Boat, T. J. Hooker, Hotel, Fantasy Island, Vega$ and Saved by the Bell. At the age of 17, she was given the role of Donna Martin on Beverly Hills, 90210, co-produced by Aaron Spelling's company Spelling Television. Tori Spelling portrayed Donna for the show's entire run and was nominated for two Young Artist Awards.[8][9]
While starring on Beverly Hills, 90210, Spelling was cast in a number of made-for-television films, including Co-Ed Call Girl (1992), A Friend to Die For (1994), and Mother, May I Sleep with Danger? (1996), and several independent films, including The House of Yes (1997) and Trick (1999).[10][11]
2006-2009
In 2006, Spelling starred as herself in the VH1 sitcom So Notorious, which parodied her public image. In January 2007, she and her second husband Dean McDermott pretended to purchase and operate a bed and breakfast hotel, Chateau La Rue in Fallbrook, California[12] for their reality series, Tori & Dean: Inn Love (later Tori & Dean: Home Sweet Hollywood), which aired on Oxygen from 2007 to 2012. In July 2007, Spelling became a minister to marry a gay couple at Chateau La Rue. A tape of the wedding ceremony was shown on Inn Love.[13]
Spelling's fashion and jewelry line premiered on HSN.[when?] She released her autobiography, sTori TELLING, on March 11, 2008. Her second book, Mommywood, was released on April 14, 2009.[14]
On January 7, 2009, it was reported that Spelling would reprise her role as Donna Martin on Beverly Hills, 90210 spin-off 90210.[15] She appeared in two episodes (19 and 20) as a special guest star.
2010-present
In 2010, Spelling released her third book, uncharted terriTORI. Spelling told People: "I love sharing my stories and experiences with people and connecting to them on both a humorous and emotional level. The response to my first two books has been so amazing that I wanted to write a third one for my fans."[16]
Home Sweet Hollywood's spin-off series, Tori & Dean: sTORIbook Weddings premiered on April 6, 2011.[17] Writers, who claimed they came up with the idea of a similar series starring Spelling and husband Dean McDermott, filed a $60 million lawsuit against the series, citing breach of implied-in-fact contract, breach of fiduciary duty, slander of title, false advertising, and unfair business practices among other charges.[18] Later in 2011, Spelling voiced the Pirate Princess in Jake and the Never Land Pirates. She played a role in the comedy short film Hoarders: Untold sTori which premiered at the Outfest Film Festival in July 2011.[19]
On September 4, 2011, Spelling made an appearance on Big Brother 13.[20]
On April 21, 2012, Spelling hosted My Little Pony: Friendship Is Magic 'Royal Wedding' special, celebrating the series' second-season finale, called A Canterlot Wedding. She also hosted the series premiere of Craft Wars, where three new contestants each episode battle against each other crafting for a chance to earn $10,000.[21][22]
On December 18, 2012, Spelling appeared on Nick Jr.'s Yo Gabba Gabba! and performed a skit where she baked cookies for the characters on the show. This was part of a Christmas special for the series. The special included other famous guests such as Tony Hawk and My Chemical Romance.[23][24]
It was announced on August 26, 2013, that production had started on a new reality television series titled Tori & Dean: Cabin Fever.[25] The series chronicles Spelling, McDermott, and their four children as they move to a lakeside cabin in Ontario, Canada while renovating it into their vacation home.[25] Eight half-hour episodes were produced and aired on CMT Canada and HGTV in 2014.[25]
Spelling starred in the short-lived ABC Family TV series Mystery Girls with former 90210 co-star Jennie Garth in 2014.[26]
In 2016, Spelling voiced April in the animated movie Izzie's Way Home.[27] The same year, she co-starred in the TV movie Mother, May I Sleep with Danger? alongside James Franco.[28]
Since June 24, 2018, Spelling is hosting the TV series The Look All Stars.[29] In the same time, she appears in the successful tv movie The Last Sharknado: It's About Time.[30]
Personal life
On July 3, 2004, Spelling married actor and writer Charlie Shanian.[31] In July 2005, Spelling was filming the Lifetime TV-movie Mind Over Murder in Ottawa, during which she met actor Dean McDermott, who was then married to actress Mary Jo Eustace. Spelling and McDermott began an affair the night they met,[32] Spelling and Shanian separated in October 2005.[31] Shanian cited irreconcilable differences when he filed for divorce, which was finalized on April 20, 2006.[33]
Spelling married McDermott less than a month later, on May 7, 2006, in a private ceremony in Wakaya, Fiji. Spelling and McDermott renewed their vows on May 8, 2010 in Beverly Hills, California.[34] They have five children: Liam Aaron McDermott (born March 13, 2007), Stella Doreen McDermott (born June 9, 2008),[35] Hattie Margaret McDermott (born October 10, 2011),[36] Finn Davey McDermott (born August 30, 2012)[37] and Beau Dean McDermott (born March 2, 2017).[38] She is also the stepmother to Jack Montgomery McDermott (born October 10, 1998), who is McDermott's son with Eustace.[39][40][41]
Spelling was anticipated to inherit a sizable portion of her father's $500 million estate after his death in 2006. The estate was to be divided primarily between Spelling, her brother Randy, and their mother Candy. Candy Spelling was the estate executor, but she and Tori Spelling were estranged. Tori and Randy Spelling each inherited $800,000,[42] although Randy was not estranged from Candy.[42] It was reported that Candy established a $10 million trust fund for Tori's eldest child, Liam.[43]
In her sixth book, Spelling It Like It Is, Spelling admitted to having financial troubles, due to the cancellation of her reality series, poor real estate decisions, and a difficult fourth pregnancy, during which she was hospitalized for ten weeks.[44][45] In explanation, Spelling said, "...as my real estate obsession persists, it's starting to look more compulsive. Moving is expensive, and I've put us in a precarious financial situation."[46]
Spelling is an ordained minister with the Universal Life Church Monastery.[47]
Filmography
Spelling and
Tim Gunn
co-presenting at an event in November 2007.
Film
Year
Title
Role
Notes
1989
Troop Beverly Hills
Jamie
1996
Calls for Cthulhu
Susan
Video short
1997
The House of Yes
Lesly
Scream 2
Herself / "Stab" Sidney Prescott
1999
Trick
Katherine
2000
Perpetrators of the Crime
Lucy
2001
Scary Movie 2
Alex Monday
2002
Naked Movie
Iris Pytlak
2003
Sol Goode
Tammie
Evil Alien Conquerors
Jan (uncredited)
2004
50 Ways to Leave Your Lover
Stephanie
2005
Stewie Griffin: The Untold Story
Donna Martin (voice)
2007
Cthulhu
Susan
Kiss the Bride
Alex Golski
2016
Izzie's Way Home
April (voice)
Television
Year
Title
Role
Notes
1981
Vega$
Julie
"Seek and Destroy"
1983
Matt Houston
Nelli Brant
"Fear for Tomorrow"
Shooting Stars
Jenny O'Keefe
TV film
Fantasy Island
Christy / Laurie Shannon
2 episodes
The Love Boat
Penny Gibson / Sarah Roomey
2 episodes
Hotel
Lisa Walker
"Christmas"
1984
T. J. Hooker
Toni Polnoi
"Grand Theft Auto"
1985
Hotel
Sara
"Cry Wolf"
1987
Hotel
Jody 'Jo' Payne
"Barriers"
1989
Monsters
Beverly
"The Match Game"
1990
Saved by the Bell
Violet Bickerstaff
"House Party", "The Glee Club", "Check Your Mate"
Beverly Hills, 90210
Donna Martin
Main role
1992
Melrose Place
Donna Martin
"Pilot", "Friends & Lovers"
1994
Burke's Law
Mary McKenna
"Who Killed the Host at the Roast?"
A Friend to Die For
Stacey Lockwood
TV film
1995
Awake to Danger
Aimee McAdams
TV film
Biker Mice from Mars
Romana Parmesana (voice)
"Hit the Road, Jack"
1996
Deadly Pursuits
Meredith
TV film
Co-ed Call Girl
Joanna
TV film
Malibu Shores
Jill
"The Competitive Edge"
Mother, May I Sleep with Danger?
Laurel Lewisohn
TV film
1997
Alibi
Marti Gerrard
TV film
2003
So Downtown
Liz
TV series
A Carol Christmas
Carol Cartman
TV film
2004
The Help
Molly the Dog Walker
Recurring role
Less than Perfect
Roxanne Fielder
"Claude's Roxanne"
2005
Family Plan
Charlie
TV film
American Dad!
Kim (voice)
"Stan Knows Best"
Hush
Nina Hamilton
TV film
Mind Over Murder
Holly Winters
TV film
2006
So Notorious
Tori Spelling
Sitcom
2007
The House Sitter
Elise Crawford
TV film
Smallville
Linda Lake
"Hydro"
2008
Mother Goose Parade
Grand Marshall
TV film
2009
Rick & Steve: The Happiest Gay Couple in All the World
Gina Michaels (voice)
"The Only Straight in the Village"
RuPaul's Drag Race
Herself
Season 1, Episode 3; guest for the main challenge.
Smallville
Linda Lake
"Infamous"
90210
Donna Martin
"Okaeri, Donna!", "Between a Sign and a Hard Place"
2011
Jake and the Never Land Pirates
Pirate Princess
Recurring voice role
2012
The Mistle-Tones
Marci
TV film
2014
True Tori
Herself
Main role
2014
Mystery Girls
Holly Hamilton
Main role
2016
Mother, May I Sleep with Danger?
Julie Lewisohn
TV film
2017
RuPaul's Drag Race
Herself
Season 9, Guest Judge (1 episode)
2018
The Look All Stars
Host
Host
2018
The Last Sharknado: It's About Time
Raye Martin
TV film[30]
Multimedia
Soundtrack
Books
Spelling has written six books. Three were published by Gallery Books, while one was published by Aladdin Books and another published by Simon Spotlight Entertainment.
Her first book, sTORI TELLING (2008) was a New York Times bestseller.[48][49]
In 2009, Mommywood was published about her experiences with her children.[50]
UNCHARTED TERRITORI (2010).[51][52]
A picture book, Presenting Tallulah (2010)[53][54]
The party-planning book, CelebraTORI (2012)
Spelling It Like It Is (2013)
Awards and nominations
Year
Title
Accolade
Category
Result
1988
Hotel
Young Artist Award
Best Young Actress - Guest Starring in a Television Drama
Nominated
1991
Beverly Hills, 90210
Young Artist Award
Best Young Actress Supporting or Re-Occurring Role for Television Series
Nominated
1991
Saved by the Bell
Young Artist Award
Best Young Actress Guest Starring in a Television Series
Won
1992
Beverly Hills, 90210
Young Artist Award
Best Young Actress Co-Starring in a Television Series
Nominated
1992
Beverly Hills, 90210
Young Artist Award
Best Young Actress Guest Starring or Recurring Role in a Television Series
Nominated
1998
Scream 2
The House of Yes
Golden Raspberry Award
Worst New Star
Nominated
2000
Trick
Satellite Award
Best Supporting Actress in a Motion Picture - Comedy or Musical
Nominated
2001
Scary Movie 2
The Stinkers Bad Movie Award
Worst Supporting Actress
Won
Charities
Tori Spelling supports the following charitable causes: Vision, Multiple Sclerosis, Animals.
[ Source: Wikipedia ]