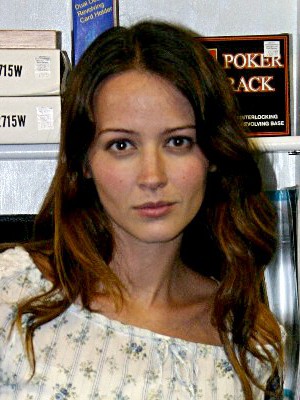 Amy Acker
Birth name:
Amy Louise Acker
Born:
December 5, 1976
Age:
46
Birthplace:
Dallas, Texas, U.S.
Popularity:

Please login to contact Amy Acker...
Biography
Amy Louise Acker (born December 5, 1976[citation needed]) is an American actress. She is best known for starring as Winifred Burkle and Illyria on the supernatural drama series Angel (2001-2004), as Kelly Peyton on the action drama series Alias (2005-2006), and as Root on the science-fiction drama series Person of Interest (2012-2016). As of 2017, she stars as Caitlin Strucker on the superhero drama series The Gifted, based on Marvel Comics' X-Men.
Acker was born and raised in Dallas, Texas, to a homemaker mother and a lawyer father.[1][2] She studied ballet and modern dance for 14 years. She underwent knee surgery while in high school, ending her ballet career.[3] Acker graduated from Lake Highlands High School in Dallas. She subsequently earned a bachelor's degree in theater from Southern Methodist University.[4]
In her junior year of college, Acker modeled for J. Crew catalog. She received a Bachelor of Fine Arts degree in the same year. She worked as a stage actress for several seasons, including a stint at American Players Theatre in Spring Green, Wisconsin.[5]
Read more...
Career
Acker made her major television debut when she starred as Winifred "Fred" Burkle in Angel (seasons 2-5), and also as the character of Illyria for part of the show's fifth and final season. She won the 2003 Saturn Award for Best Supporting Actress on Television for her portrayal.
She joined the cast of Alias in 2005 for its final season, playing villainess Kelly Peyton. Acker graduated from guest star to fully credited cast member as the show entered the final episodes in April and May 2006. Also in 2005, Acker provided voice acting for the character of Huntress on the animated series Justice League Unlimited. She went on to make a guest appearance on How I Met Your Mother, in which she was reunited with Angel co-star, Alexis Denisof (the real-life husband of HIMYM star Alyson Hannigan), who had a recurring role on the show.
Acker portrayed Dr. Claire Saunders/Whiskey, a recurring character, on Joss Whedon's Dollhouse.[6] She guest-starred in 10 of the 13 episodes of the first season and three episodes of the second.
In 2010, she was a series regular in the ABC drama Happy Town, portraying the character Rachel Conroy. That same year, she starred in the season-one finale of the Fox series Human Target, as the mysterious Katherine Walters. On May 25, 2010, she appeared on CBS's The Good Wife. She appeared in the horror movie The Cabin in the Woods, released April 13, 2012. In 2012, she made guest performances in Warehouse 13, Once Upon A Time, and Grimm. In 2012, she starred as Beatrice in Joss Whedon's Much Ado About Nothing.
Acker appeared in the sitcom Husbands's third season as Claudia, the ex-fiancée of Brady Kelly who unexpectedly shows up.[7] In March 2014, Acker was cast as Audrey, a former lover to Phil Coulson in an episode of Agents of S.H.I.E.L.D.[8]
Between 2012 and 2016, Acker portrayed Samantha "Root" Groves on the CBS drama Person of Interest; Groves became a regular character starting in the series' third season. Starting with the series' 100th episode, Acker took on the voice role of the Machine.[9][10] In the series finale, she also appeared as the visual manifestation of the Machine.[11]
In March 2017, Acker was cast as Caitlin Strucker in the pilot for the prospective FOX television series The Gifted,[12][13] which was picked up to series in May 2017.[14] The Gifted began airing on October 2, 2017, with first season running for 13 episodes.
Personal life
Acker with her husband,
James Carpinello
, in 2005
On April 25, 2003, Acker wed actor James Carpinello in California. They have a son, born in 2005, and a daughter, born in 2006.[15]
Filmography
Film
| Year | Title | Role | Notes |
| --- | --- | --- | --- |
| 2001 | The Accident | Nina | |
| 2002 | Groom Lake | Kate | |
| 2002 | Catch Me If You Can | Miggy | |
| 2005 | Mr. Dramatic | Jodi | Short film |
| 2006 | The Novice | Jill Yarrut | |
| 2009 | 21 and a Wake-Up | Caitlin Murphy | |
| 2011 | Sironia | Molly Fisher | |
| 2012 | The Cabin in the Woods | Wendy Lin | |
| 2012 | Much Ado About Nothing | Beatrice | |
| 2014 | Let's Kill Ward's Wife | Geena Bradford | |
| 2016 | The Energy Specialist | Claire | |
| 2017 | Amanda & Jack Go Glamping | Amanda | |
Television
| Year | Title | Role | Notes |
| --- | --- | --- | --- |
| 1998 | Wishbone | Catherine Morland | Episode: "Pup Fiction" |
| 1999 | To Serve and Protect | Melissa Jorgensen | Episode 1.2 |
| 1999 | Wishbone | Priscilla / Venus | Episodes: "A Bone of Contention", "A Roamin' Nose" |
| 2001 | Special Unit 2 | Nancy | Episode: "The Invisible" |
| 2001-2004 | Angel | Winifred 'Fred' Burkle / Illyria | Recurring role (season 2); main role (seasons 3-5) |
| 2003 | Return to the Batcave: The Misadventures of Adam and Burt | Bonnie Lindsay | Television film (CBS) |
| 2005 | Supernatural | Andrea Barr | Episode: "Dead in the Water" |
| 2005-2006 | Justice League Unlimited | Huntress / Helena Bertinelli | Voice role; 4 episodes |
| 2005-2006 | Alias | Kelly Peyton | Main role (season 5); 13 episodes |
| 2006 | How I Met Your Mother | Penelope | Episode: "Come On" |
| 2007 | Drive | Kathryn Tully | 3 episodes |
| 2007 | Law & Order: Criminal Intent | Leslie LeZard | Episode: "Smile" |
| 2007 | Ghost Whisperer | Tessa | Episode: "Weight of What Was" |
| 2008 | A Near Death Experience | Ellie Daly | Television film (a.k.a. Voices) |
| 2008 | Fire and Ice: The Dragon Chronicles | Princess Luisa | Television film (Syfy) |
| 2008 | October Road | Girl in Blue Uniform | Episode: "Dancing Days Are Here Again" |
| 2008 | October Road | Jenny Bristol | Episode: "Hat? No Hat?" |
| 2008 | Private Practice | Molly Madison | Episode: "A Family Thing" |
| 2009-2010 | Dollhouse | Dr. Claire Saunders | Recurring role; 14 episodes |
| 2010 | Human Target | Katherine Walters | Episode: "Christopher Chance" |
| 2010 | The Good Wife | Trish Arkin | Episode: "Running" |
| 2010 | Happy Town | Rachel Conroy | Main role; 8 episodes |
| 2010 | No Ordinary Family | Amanda Grayson | Episodes: "No Ordinary Mobster", "No Ordinary Accident" |
| 2011 | Dear Santa | Crystal Carruthers | Television film (Lifetime) |
| 2011, 2013 | CSI: Crime Scene Investigation | Sandy Colfax | Episodes: "Man Up", "Backfire" |
| 2012 | Grimm | Lena Marcenko | Episode: "Tarantella" |
| 2012 | Once Upon a Time | Astrid / Nova | Episode: "Dreamy" |
| 2012 | Warehouse 13 | Tracey | Episode: "The Ones You Love" |
| 2012-2016 | Person of Interest | Samantha "Root" Groves | Guest role (season 1); recurring role (season 2); main role (seasons 3-5);[9] 65 episodes |
| 2013 | Scooby-Doo! Mystery Incorporated | Nova | Voice role; 4 episodes |
| 2014 | Agents of S.H.I.E.L.D. | Audrey Nathan | Episode: "The Only Light in the Darkness" |
| 2015 | A Novel Romance | Sophie | Television film (Hallmark) |
| 2015, 2018 | Suits | Esther Edelstein | Episodes: "No Puedo Hacerlo", "Hitting Home", "Sour Grapes" |
| 2016-2017 | MacGyver | Sarah Adler | Episodes: "Metal Saw", "Screwdriver" |
| 2016 | A Nutcracker Christmas | Lily | Television film (Hallmark) |
| 2017-present | The Gifted | Caitlin Strucker | Main role |
Web
| Year | Title | Role | Notes |
| --- | --- | --- | --- |
| 2008 | Who Cut the Cake? | Ellen | 3 episodes |
| 2013 | Husbands | Claudia | |
| 2015 | Con Man | Dawn Jones | 3 episodes |
Awards and nominations
| | |
| --- | --- |
| | This section of a biography of a living person does not include any references or sources. Please help by adding reliable sources. Contentious material about living people that is unsourced or poorly sourced must be removed immediately. |
| Year | Association | Category | Work | Result | Refs |
| --- | --- | --- | --- | --- | --- |
| 2003 | Saturn Awards | Best Supporting Actress on Television | Angel | Won | |
| 2004 | Saturn Awards | Best Supporting Actress on Television | Angel | Nominated | |
| 2014 | Indie Series Awards | Best Guest Star - Comedy | Husbands | Won | |
[ Source: Wikipedia ]