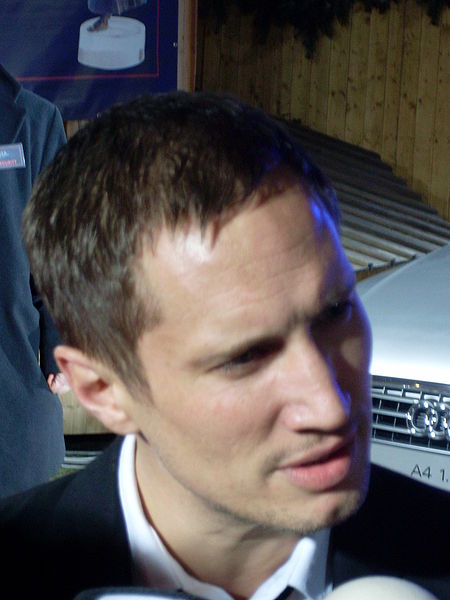 Benno Furmann
Born:
January 17, 1972
Age:
51
Birthplace:
Berlin-Kreuzberg, West Germany
Popularity:

Please login to contact Benno Furmann...
Biography
Benjamin "Benno" Fürmann (born 17 January 1972) is a German film and television actor.
Fürmann was born in Berlin-Kreuzberg. By the age of 15 he had lost both his parents. At 17, he had a serious accident while train surfing, and had to spend six weeks in the hospital as a result. Fürmann left school after his Mittlere Reife and after that worked as a waiter and a bouncer. In 1991 he went to New York City and studied acting at the Lee Strasberg Theatre Institute.
Read more...
Awards
1999 German Television Award Best Actor in a Leading Role for Die Bubi Scholz Story
2000 Bavarian Film Awards, Best Actor[1]
Filmography
1992: Schuld war nur der Bossanova with Beate Abraham, Muriel Baumeister
1993: Einfach nur Liebe with Regula Grauwiller, Uwe Ochsenknecht
1998: Die Bubi Scholz Story with Götz George, Nicolette Krebitz
1998: The Polar Bear with Til Schweiger, Karina Krawczyk
1999: St. Pauli Nacht (de)
2000: Anatomie with Franka Potente
2000: Freunde with Christiane Paul, Erdal Yıldız (de)
2000: Der Krieger und die Kaiserin with Franka Potente, Joachim Król
2002: Naked with Heike Makatsch, Jürgen Vogel, Alexandra Maria Lara
2002: Wolfsburg with Nina Hoss
2003: The Order (alternative title: The Sin Eater) with Heath Ledger
2003: My House in Umbria with Maggie Smith
2004: Dark Kingdom: The Dragon King with Alicia Witt
2005: Ghosts with Julia Hummer
2005: Joyeux Noël with Diane Kruger and Daniel Brühl
2006: Crusade in Jeans
2007: Pornorama with Tom Schilling
2008: Speed Racer with Emile Hirsch and John Goodman
2008: Mutant Chronicles
2008: Jerichow
2008: Nordwand (North Face) with Johanna Wokalek and Ulrich Tukur
2009: Hinter Kaifeck (Kaifeck Murder) with Alexandra Maria Lara
2011: In Darkness
2013: Der blinde Fleck
2014: Nachthelle
2015: Survivor as Pavlou
2017: Babylon Berlin as Oberst Wendt
[ Source: Wikipedia ]