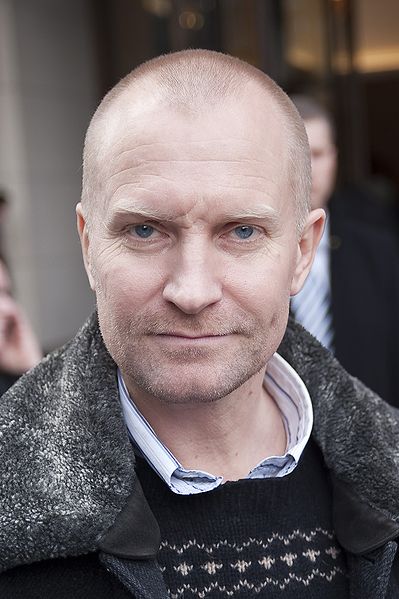 Ulrich Thomsen
Born:
December 6, 1963
Age:
58
Birthplace:
Odense, Denmark
Popularity:

Please login to contact Ulrich Thomsen...
Biography
Ulrich Thomsen (born 6 December 1963) is a Danish actor and filmmaker.
Ulrich Thomsen was born in (Næsby) Odense, Denmark and graduated from the Danish National School of Theatre and Contemporary Dance in 1993, after which he performed in several theatres in Copenhagen, such as Dr. Dantes Aveny, Mungo Park and Østre Gasværks Teater.[1]
His film debut was in 1994 in Nightwatch, directed by Ole Bornedal. Since then, he has starred in a number of roles including, among others, Thomas Vinterberg's The Biggest Heroes (1996), Susanne Bier's Sekten (1997) and Anders Thomas Jensen's Flickering Lights (2000). The major breakthrough in his career came in the 1998 film Festen followed by an important role in the James Bond film The World Is Not Enough (1999) portraying the part of henchman Sasha Davidov.
This established Thomsen as an international actor, famous outside his native Denmark. He played a part in the 2002 English film Killing Me Softly. He stars as series regular in Banshee playing the role of primary antagonist, Kai Proctor. Aside from his native language Danish, Thomsen is fluent in German and English. He is vegan.[2]
Read more...
Filmography
Film
Title
Year
Role
Notes
Nattevagten
1994
Rod 1
Portland
1996
Lasse
De nye lejere
Peter
Short film
De største helte
Peter
Robert Award for Best Actor in a Supporting Role
Rouen Nordic Film Festival Award for Best Actor
Café Hector
Christian
Short film
Kys, kærlighed og kroner
1997
Holger
Short Film
Sekten
Svane
Royal Blues
Christian
Baby Doom
1998
Magnus
Tempo
Dirgenten
Festen
Christian Klingenfeldt-Hansen
Bodil Award for Best Actor in a Leading Role
Robert Award for Best Actor in a Leading Role
Nominated—European Film Award for Best Actor
Angel of the Night
Alex
Election Night
Peter
Short movie
The World Is Not Enough
1999
Sasha Davidov
Maries Herz
2000
Short film
The Weight of Water
John Hontvedt
Blinkende lygter
Peter
Solen er så rød
Sælgeren
Short film
Bella Martha
2001
Samuel "Sam" Thalberg
Mike Bassett: England Manager
Dr. Hans Shoegaarten
The Zookeeper
Dragov
P.O.V. - Point of View
Henrik
Den gamle møller
2002
Kulturgangster I
Short film
Killing Me Softly
Klaus
Max
Karl Mayr
Arven
2003
Christoffer
Bodil Award for Best Actor in a Leading Role
Flaiano Film Festival Award for Best Actor
Mexico City International Contemporary Film Festival Special Award for Best Actor
Robert Award for Best Actor in a Leading Role
Rouen Nordic Film Festival Award for Best Actor
Baby
Marc
Also executive producer
Blueprint
Dr. Martin Fisher
The Rocket Post
2004
Gerhard Zucker
Brødre
Michael
San Sebastián International Film Festival Silver Seashell for Best Actor
Nominated—Bodil Award for Best Actor in a Leading Role
Nominated—European Film Award for Best Actor
Nominated—Robert Award for Best Actor in a Leading Role
Sergeant Pepper
Johnny Sínger
Adams æbler
2005
Adam Pedersen
Bucheon International Fantastic Film Festival Award for Best Actor
Fantasporto Directors' Week Award for Best Actor
Nominated-Robert Award for Best Actor in a Leading Role
Kingdom of Heaven
Templar Master
Allegro
Zetterstrøm
Han, hun og Strindberg
2006
N/A
executive producer
Sprængfarlig Bombe
Tonny Jensen
Der Liebeswunsch
Jan
Ópium: Egy elmebeteg nő naplója
2007
Dr. Brenner
Vikaren
Jesper Osböll
Nominated—Robert Award for Best Actor in a Supporting Role
Fremkaldt
Nikolaj
Short film
Hitman
Mikhail Belicoff
One Shot
2008
N/A
executive producer
The Broken
Dr. Robert Zachman
Den du frygter
Mikael
Mar del Plata International Film Festival Award for Best Actor
Nominated—Bodil Award for Best Actor in a Leading Role
Nominated—Robert Award for Best Actor in a Leading Role
Reservations
Leigh
Lulu und Jimi
2009
Harry Hass
The International
Jonas Skarssen
Duplicity
Big Swiss Suit
Tell-Tale
Lethe
Centurion
2010
Gorlacon
Das letzte Schweigen
Peer Sommer
Hævnen
Claus
Season of the Witch
2011
Johann Eckhardt
The Thing
Dr. Sander Halvorson
Aya
2012
Mr. Overby[3]
Short film
A nagy füzet
2013
Officer Tiszt
The Miracle
Jakob
En chance til
2014
Simon
Livsforkortelses Ekspert
Michael
Mortdecai
2015
Romanov
Skyggen af en helt
Gustaf (voice)
Sommeren '92
Richard Møller Nielsen
Robert Award for Best Actor in a Leading Role
Nominated—Bodil Award for Best Actor in a Leading Role
Kollektivet
2016
Erik
Nominated—Bodil Award for Best Actor in a Leading Role
Nominated—Robert Award for Best Actor in a Leading Role
In Embryo
Peter
Also director, writer, and executive producer
Dræberne fra Nibe
2017
Edward
Darling
Kristian
Gutterbee
2018
N/A
Director and writer. Post-production
I Krig & Kærlighed
Müller
Key

| | |
| --- | --- |
| | Denotes films that have not yet been released |
Television
Title
Year
Role
Notes
Mappen
1995
Television film
Charlot og Charlotte
1996
Læge
1 episode: "Jeg så ind i dig"
Bryggeren
1997
Gartner Jørgensen
1 episode: "7. afsnit, 1862-1864"
Deadline
Television film
Naja fra Narjana
1999
Far
miniseries
Dybt vand
Flygge
Television film
Labyrinten
2000
Dansk polisman
miniseries
Ins Leben zurück
2003
Eric Lundgren
Television film
Alias
2005
Ulrich Kottor
1 Episode: "Tuesday"
The Virgin Queen
Baron Casper Breuner
miniseries (3 episodes)
The Company
2007
Starik Zhilov
miniseries (2 episodes)
Entführt
2009
Dr. Albert Brand
Television film
Blekingegade
Jørn Moos
Lead role
Den som dræber
2011
Martin Høeg
2 episodes
Fringe
Man in Zeppelin / Mr X
1 episode: "Lysergic Acid Diethylamide"
Banshee
2013-16
Kai Proctor
Series regular (38 episodes)
In der Überzahl
2014
Stig
Television film
The Blacklist
2016
Alexander Kirk / Konstantin Rostov
Recurring role (10 episodes)
Counterpart
2017-18
Aldrich
Recurring role (9 episodes)
Web series
| Title | Year | Role | Notes |
| --- | --- | --- | --- |
| Banshee Origins | 2013-16 | Kai Proctor | 8 episodes |
[ Source: Wikipedia ]