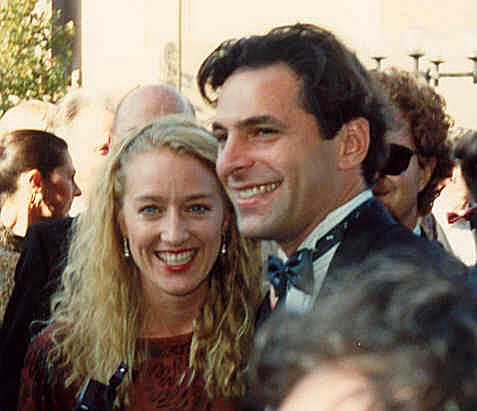 Patricia Wettig
Born:
December 4, 1951
Age:
70
Birthplace:
Milford, Ohio, U.S.
Popularity:

Please login to contact Patricia Wettig...
Biography
Patricia Wettig (born December 4, 1951) is an American actress and playwright.[1] She is best known for her role as Nancy Weston in the television series Thirtysomething (1987-1991), for which she received a Golden Globe Award and three Primetime Emmy Awards.
Other notable television works include the portrayal of Caroline Reynolds in the drama series Prison Break (2005-2007) and Holly Harper in the drama series Brothers & Sisters (2006-2011). She is also known for her roles in the films City Slickers (1991), City Slickers II: The Legend of Curly's Gold (1994), and The Langoliers (1995).
Wettig was born in Milford, Ohio, to Florence (née Morlock) and Clifford Neal Wettig, a high school basketball coach. She has three sisters: Pam, Phyllis, and Peggy. She was raised in Grove City, Pennsylvania and graduated in 1970.[2] She attended Ohio Wesleyan University and graduated from Temple University in 1975. She returned to her studies later in life and received a Master of Fine Arts in playwriting from Smith College in 2001.[3]
F2M
, a play she authored, was performed in 2011 as part of the New York Stage and Film and Vassar College's 2011 Powerhouse Theater season.[4][5]
Read more...
Career
Although Wettig has acted in a number of films (including City Slickers, Guilty by Suspicion, and The Langoliers), she is best known for her work on television. She received critical acclaim (and a number of awards) for her role as Nancy Weston on ABC's thirtysomething. Her portrayal of Nancy's cancer struggle attracted considerable acclaim and attention.[6][7] She also portrayed Joanne McFadden on the television program St. Elsewhere. In addition, Wettig appeared in a number of popular television programs during the 1980s and 1990s including L.A. Law, Frasier, Hill Street Blues, and Remington Steele.[3]
Wettig starred in the ABC comedy-drama series Brothers & Sisters, which debuted in September 2006, where she portrays the Walker family patriarch's mistress, Holly Harper. Her character was the co-CEO at Ojai Foods with Sarah Walker, the daughter of William Walker. She left the show mid-season during Season 5 after her character Holly Harper followed her daughter to New York along with her fiance David played by real life husband Ken Olin.[8] This season sees the whole Harper family absent from the show. Wettig also had the recurring role of CIA psychotherapist Dr. Judy Barnett on Alias (husband Olin was a producer and director on the series). Before joining Brothers & Sisters, she played the fictional Vice President Caroline Reynolds on the 2005 Fox television drama, Prison Break. She turned down Fox's offer of becoming a series regular on Prison Break in order to pursue Brothers & Sisters. In 2007 ABC and FOX agreed that Wettig could briefly reprise her role as Caroline Reynolds, providing off-camera voice-overs and appearing in a scene with Wentworth Miller.[9]
Patricia Wettig and Ken Olin on the red carpet at the 41st Annual Emmy Awards
In 2012, Wettig joined the national tour for Larry Kramer's production, The Normal Heart.[10]
Personal life
Wettig is married to actor and producer Ken Olin; they have two children, son Clifford (b. 1983) and daughter Roxanne "Roxy" Olin (b. 1985).[1]
Filmography
Film
| Year | Title | Role | Notes |
| --- | --- | --- | --- |
| 1991 | Guilty by Suspicion | Dorothy Nolan | |
| 1991 | City Slickers | Barbara Robbins | |
| 1993 | Me and Veronica | Veronica | |
| 1994 | City Slickers II: The Legend of Curly's Gold | Barbara Robbins | |
| 1997 | Bongwater | Mom | |
| 1998 | Dancer, Texas Pop. 81 | Mrs. Lusk | |
| 1999 | Nightmare in Big Sky Country | Judge | |
Television films
| Year | Title | Role | Notes |
| --- | --- | --- | --- |
| 1982 | Parole | Maureen | |
| 1988 | Police Story: Cop Killer | Dede Mandell | |
| 1991 | Silent Motive | Laura Bardell | |
| 1992 | Taking Back My Life: The Nancy Ziegenmeyer Story | Nancy Ziegenmeyer | |
| 1994 | Parallel Lives | Rebecca Ferguson Stone | |
| 1995 | Nothing But the Truth | Jill Ross | |
| 1995 | Kansas | Virginia 'Giny' Mae Farley | |
| 2005 | Lackawanna Blues | Laura's Mother | |
| 2010 | The 19th Wife | BeckyLyn | |
Television series
| Year | Title | Role | Notes |
| --- | --- | --- | --- |
| 1984 | Remington Steele | Barbara Frick | Episode: "Blood Is Thicker Than Steele" |
| 1985 | Hill Street Blues | Mrs. Florio | Episode: "The Life and Time of Dominic Florio Jr." |
| 1986 | Stingray | Annie Murray | Episode: "Below the Line" |
| 1986-87 | St. Elsewhere | Joanne | 6 episodes |
| 1987 | L.A. Law | Carolyn Glasband | Episode: "Beef Jerky" |
| 1987-91 | thirtysomething | Nancy Krieger Weston | 64 episodes |
| 1995 | The Langoliers | Laurel Stevenson | 2 episodes |
| 1995 | Courthouse | Judge Justine Parkes | 11 episodes |
| 1997 | Frasier | Stephanie | Episode: "To Kill a Talking Bird" |
| 1998-99 | L.A. Doctors | Eleanor Riggs-Cattan | 8 episodes |
| 2002 | Breaking News | Alison Dunne | 5 episodes |
| 2002 | Boomtown | Nora Jean Flannery | Episode: "Reelin' in the Years" |
| 2002-04 | Alias | Dr. Judy Barnett | 11 episodes |
| 2005-07 | Prison Break | Caroline Reynolds | 13 episodes |
| 2006-11 | Brothers & Sisters | Holly Harper | 85 episodes |
| 2014 | Identity[11] | Liana Grant | Unsold TV pilot |
Awards and nominations
Year
Award
Category
Work
Result
1988
Emmy Award
Outstanding Supporting Actress in a Drama Series
thirtysomething
Won
1990
Emmy Award
Outstanding Lead Actress in a Drama Series
Won
1990
Q Award
Best Supporting Actress in a Quality Drama Series
Nominated
1991
Golden Globes Awards
Best Actress - Television Series Drama
Won
1991
Emmy Award
Outstanding Lead Actress in a Drama Series
Won
1991
Q Award
Best Actress in a Quality Drama Series
Nominated
[ Source: Wikipedia ]