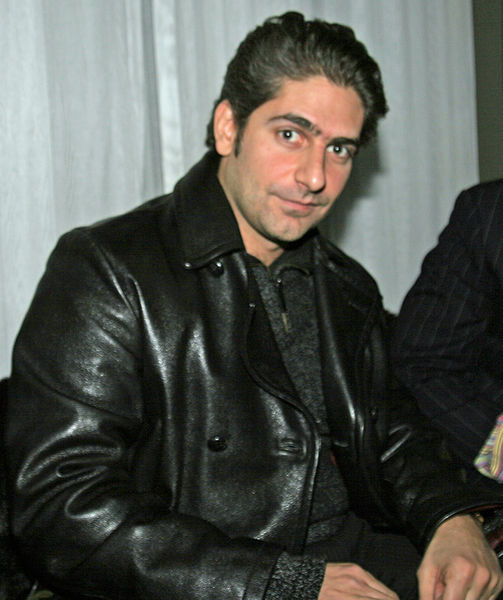 Michael Imperioli
Born:
March 26, 1966
Age:
57
Birthplace:
Mount Vernon, New York, U.S.
Popularity:

Please login to contact Michael Imperioli...
Biography
Michael Imperioli (born March 26, 1966) is an American actor, writer and director best known for his role as Christopher Moltisanti on The Sopranos, for which he won the Primetime Emmy Award for Outstanding Supporting Actor in a Drama Series in 2004. He also appeared in the TV drama series Law & Order as NYPD Detective Nick Falco. Imperioli spent the 2008-2009 television season as Detective Ray Carling in the US version of Life on Mars. He was starring as Detective Louis Fitch in the ABC police drama Detroit 1-8-7 until its cancellation. He wrote and directed his first feature film, The Hungry Ghosts, in 2008. In 2015, he starred in Mad Dogs, a dark-comic thriller television series available for viewing on Amazon's Amazon Prime subscription service in the U.S and on Shomi in Canada.
Imperioli was born in Mount Vernon, New York into an Italian-American family (ancestors originated from Lazio),[1] the son of Dan Imperioli, a bus driver and amateur actor[2] and Claire Imperioli, an amateur actress. In his early childhood he attended Lincoln School in Mount Vernon. He moved to Brewster, New York in 1977, and he graduated from Brewster High School in 1983.
Read more...
Career
Imperioli has been nominated for two Golden Globe Awards as well as for five Emmy Awards for his work as Christopher Moltisanti on The Sopranos; he won one Emmy, for the show's fifth season in 2004.
In addition to his role on The Sopranos, Imperioli has appeared in a number of films, including Goodfellas, Jungle Fever, Bad Boys, Malcolm X, The Basketball Diaries, Clockers, Dead Presidents, Girl 6, My Baby's Daddy, Lean on Me, I Shot Andy Warhol, Last Man Standing, Shark Tale, High Roller: The Stu Ungar Story, and Summer of Sam, which he also co-wrote and co-produced. In addition, he also wrote a number of episodes for The Sopranos.
He served as artistic director of Studio Dante,[3] an Off-Broadway theater he formed with his wife. He is also the lead singer/guitarist for a rock band named La Dolce Vita.[4]
Imperioli is an active member of The Jazz Foundation of America and co-hosted their May 2009 annual benefit concert, "A Great Night in Harlem", at the Apollo Theater, which celebrated the foundation's 20th anniversary.[5]
He was a guest on episode MB2E08 ("San Giuseppe") of Mario Batali's Food Network television show Molto Mario.
In 2010, Imperioli was signed on to play the lead in the ABC TV show, Detroit 1-8-7.[6]
Working with the writer Gabriele Tinti, he wrote the text Pride for Tinti's book New York Shots, and participated in a reading of The Way of the Cross at the Queens Museum of Art in 2011.[7]
He won the "Tournament of Stars" competition on the cooking show Chopped in 2014, sending $50,000 to his designated charity the Pureland Project, an organization which builds and maintains schools in rural Tibet. In 2016, he guest starred as the angel Uriel on the Fox show Lucifer.
Personal life
Imperioli has been married to Victoria Chlebowski since 1995, lives in Santa Barbara, California and has three children. He and his family are avid practitioners of Tae Kwon Do.[8]
Filmography
Film
Year
Title
Role
Notes
1989
Alexa
Acid Head
Lean on Me
George
1990
Goodfellas
Michael "Spider" Gianco
Jacob's Ladder
Doctor
Uncredited
1991
Jungle Fever
James Tucci
1992
Fathers & Sons
Johnny
Malcolm X
Reporter at Fire Bombing
1993
The Night We Never Met
Dry Cleaning Costumer #1
Joey Breaker
Larry Metz
Household Saints
Leonard Villanova
1994
Scenes from the New World
Billy
Touch Base
Bennie
Hand Gun
Benny
Men Lie
N/A
Amateur
Doorman at Club
Postcards from America
The Hustler
1995
The Addiction
Missionary
Trouble
Ellis
Short film
Bad Boys
Jojo
The Basketball Diaries
Bobby
Clockers
Detective 'Jo-Jo'
Flirt
Michael
Dead Presidents
D'ambrosio
1996
Girls Town
Anthony
Blixa Bargeld Stole My Cowboy Boots
Johnny
Sweet Nothing
Angelo
Girl 6
Scary Caller #30
I Shot Andy Warhol
Ondine
Trees Lounge
George
Last Man Standing
Giorgio Carmonte
1997
A River Made to Drown In
Allen Hayden
The Deli
Matty
Office Killer
Daniel Birch
Under the Bridge
N/A
1999
Too Tired to Die
Fabrizio
On the Run
Albert DeSantis
Summer of Sam
Midnight
Also Writer
2000
Auto Motives
Stud
Disappearing Acts
Vinney
Hamlet
Rosencrantz
2002
Love in the Time of Money
Will
2003
High Roller: The Stu Ungar Story
Stu Ungar
2004
My Baby's Daddy
Dominic
Shark Tale
Frankie
Voice role
2007
The Inner Life of Martin Frost
Jim Fortunato
The Lovebirds
Vincent
Oprah Winfrey Presents: Mitch Albom's For One More Day
Charley "Chick" Benetto
2008
Stóra Planið
Alexander
2009
Hungry Ghosts
N/A
Nominated—International Film Festival Rotterdam - Tiger Award
The Lovely Bones
Detective Len Fenerman
2010
Love & Distrust
Stud
2011
Stuck Between Stations
David
2013
The Call
Alan Denado
Oldboy
Chucky
2014
Foreclosure
Bill Landopolous
The Scribbler
Moss
Cantinflas
Michael Todd[9][10]
2015
The Wannabe
Alphonse
2019
The Last Full Measure
Jay Ford
Post-production
Television
Year
Title
Role
Notes
1994
NYPD Blue
Duane Rollins
Episode: "Dead and Gone"
1996
Law & Order
Johnny Stivers
Episode: "Atonement", credited as Michael Imperiola.
1997
New York Undercover
Miles Gordon
Episode: "The Last Hurrah"
Firehouse
Lt. O'Connell
Television movie
1998
Witness to the Mob
Louie Milito
Television movie
1999-2007
The Sopranos
Christopher Moltisanti
80 episodes
Primetime Emmy Award for Outstanding Supporting Actor in a Drama Series
Screen Actors Guild Award for Outstanding Performance by an Ensemble in a Drama Series
Nominated—Golden Globe Award for Best Supporting Actor - Series, Miniseries or Television Film
Nominated—Golden Nymph Award for Outstanding Actor in a Drama Series
Nominated—Primetime Emmy Award for Outstanding Supporting Actor in a Drama Series
Nominated—PRISM Award for Best Performance in a Drama Series
Nominated—Screen Actors Guild Award for Outstanding Performance by an Ensemble in a Drama Series
2004
The Five People You Meet in Heaven
Captain
Television movie
2005-2006
Law & Order
Nick Falco
5 episodes
2006
The Simpsons
Dante, Jr. (voice)
Episode: "The Mook, the Chef, the Wife and Her Homer"
2008-2009
Life on Mars
Detective Ray Carling
17 episodes
2010
Mercy
Harold Pindus
Episode: "We're All Adults"
The Secret Life of the American Teenager
Dr. Wattabi
Episode: "The Sound of Silence"
2010-2011
Detroit 1-8-7
Detective Louis "Lou" Fitch
18 episodes
2012
Girls
Powell Goldman
Episode: "Leave Me Alone"
The Godfather Legacy
Narrator
TV documentary
40
N/A
Television movie
2013
The Office
Sensei Billy
Episode: "Livin' the Dream"
2014
Californication
Rick Rath
11 episodes
Rake
Alberto Rinaldi
Episode: "Bigamist"
2015-2016
Mad Dogs
Lex
10 episodes
Hawaii Five-0
Odell Martin
3 episodes
2016-2017
Lucifer
Uriel
2 episodes
2016
Blue Bloods
Deputy Attorney General Robert Lewis
2 episodes
2017
Dice
Himself
Episode: "Fingerless"
The Untitled Action Bronson Show
Himself
1 episode
2018
Alex, Inc.
Eddie
Series regular
TBA
Escape at Dannemora
Andrew Cuomo
Upcoming miniseries
[ Source: Wikipedia ]