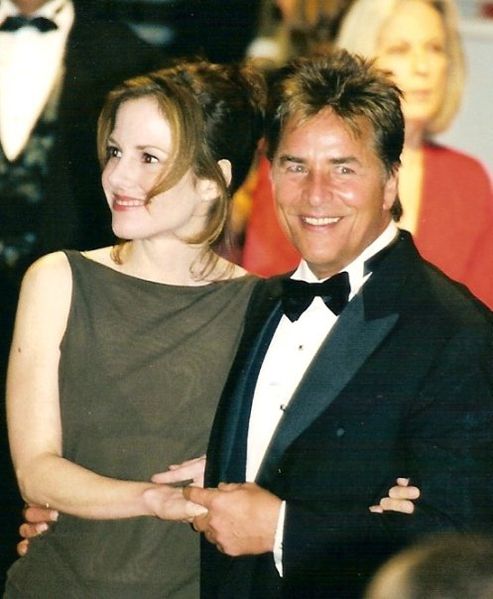 Don Johnson
Born:
December 15, 1949
Age:
73
Birthplace:
Flat Creek, Missouri, United States
Popularity:

Please login to contact Don Johnson...
Biography
Donnie Wayne "Don" Johnson (born December 15, 1949) is an American actor, producer, director, singer, and songwriter. He is best known for his role as James "Sonny" Crockett in the 1980s television series Miami Vice and as the eponymous lead role in the 1990s cop series Nash Bridges. Johnson is a Golden Globe-winning actor for his role in Miami Vice and a winner of the American Power Boat Association Offshore World Cup, and has received a star on the Hollywood Walk of Fame.
Read more...
Early life
Johnson was born on December 15, 1949 in Flat Creek, Missouri. His mother, Nell (née Wilson), was a beautician, and his father, Wayne Fred Johnson, was a farmer. At the time of his birth, they were 19 and 17, respectively. At age six, he moved from Missouri to Wichita, Kansas. A 1967 graduate of South High School, he was involved in the high school's theatre program. As a senior, he played the lead role of Tony in West Side Story. His biography noted that he had previously appeared in "Burnt Cork and Melody" and "The Hullabaloo." He also attended the University of Kansas in Lawrence, Kansas.
Johnson has spoken about his draft-exempt status and his dislike for war.
Acting
Early years
Johnson studied drama at the American Conservatory Theater in San Francisco. His first major role was in the 1969 Los Angeles stage production of Fortune and Men's Eyes, in which he played Smitty, the lead role. This exposure led to the quickly forgotten film The Magic Garden of Stanley Sweetheart (1970, based on a novel by Robert Westbrook, son of columnist Sheilah Graham). He continued to work on stage, film and television without breaking out into stardom. His notable films from this period were Zachariah (1971), The Harrad Experiment (1973), Lollipop and Roses (1974), and A Boy and His Dog (1975). In 1976, Johnson was roommates with actor Sal Mineo when Mineo was murdered outside their West Hollywood, California apartment.
Miami Vice
From 1984-1989—after years of struggling to establish himself as a TV actor (in such fare as Revenge of the Stepford Wives), and a string of pilots, none of which became a TV series—Johnson landed a starring role as undercover police detective Sonny Crockett in the cop series, Miami Vice. The character typically wore thousand-dollar Versace and Hugo Boss suits over pastel cotton T-shirts, drove a Ferrari 365 GTS/4 Daytona (really a replica kit on a 1981 Corvette chassis), followed by a Ferrari Testarossa and lived on a 40-foot (12 m) (later a 42 -ft) Endeavour yacht with his pet alligator, Elvis. Miami Vice was noted for its revolutionary use of music, cinematography, imagery, and its glitzy take on the police drama genre. In the show, his partner was Ricardo Tubbs, played by Philip Michael Thomas. Between seasons, Johnson gained further renown through several TV miniseries, such as the 1985 TV remake of The Long, Hot Summer.
Nash Bridges
Johnson later starred in the 1996-2001 drama Nash Bridges with Cheech Marin, Jeff Perry, Jaime P. Gomez and Jodi Lyn O'Keefe. Johnson played the title role of Nash Bridges, an inspector (Later promoted to Captain) for the San Francisco Police Department. In Nash Bridges Johnson was again paired with a flashy convertible car, this time a Curious Yellow 1971 Plymouth Barracuda.
2000s
In the fall of 2005, he briefly starred in The WB courtroom television drama show Just Legal as a jaded lawyer with a very young and idealistic protégé/partner (Jay Baruchel); the show was canceled in October 2005 after just three episodes aired. In January 2007, Johnson began a run in the West End of London production of Guys and Dolls as Nathan Detroit.
Johnson also has a role in the Norwegian comedy Lange Flate Ballær 2 ("Long Flat Balls II"), directed by Johnson's friend Harald Zwart. Johnson did the movie as a favour to Zwart. The movie was launched March 14, 2008 in Norway, with Johnson making an appearance at the premiere. He next appeared in When in Rome with Danny DeVito, Anjelica Huston and Kristen Bell.
2010s
Johnson and Jon Heder co-hosted WWE's Raw on January 18, 2010.
Johnson had a supporting role in Robert Rodriguez's film, Machete. Johnson played Von Jackson, "a twisted border vigilante leading a small army." The film was released on September 3, 2010.
In October 2010, he began appearing on the HBO series Eastbound & Down, playing Kenny Powers' long-lost father, going by the alias "Eduardo Sanchez". He also reprised his role as Sonny Crockett for a Nike commercial with LeBron James where the NBA player contemplates acting and appears alongside Johnson on Miami Vice.
In September 2011, Johnson had a cameo in the comedy A Good Old Fashioned Orgy with Jason Sudeikis.
Johnson had a supporting role in the 2012 Quentin Tarantino film, Django Unchained, playing a southern plantation owner named Spencer 'Big Daddy' Bennett.
In 2015, Johnson began starring in the ABC prime time soap opera, Blood & Oil.
Music
Johnson released two albums of pop music in the 1980s, one in 1986 and the other in 1989. His single, "Heartbeat", reached #5 on the Billboard Hot 100 singles chart. It was the title track from his first album, and was a collaboration with Robert Tepper. Johnson is also a good friend of Willie Nelson and Robert Tepper, and was briefly a part of the "Thailand Pack", alongside Tommy Morrison, and British TV funny man Les Dennis. Previously, Johnson worked with Gregg Allman and Dickey Betts of the Allman Brothers, co-writing the songs "Blind Love" and "Can't Take It with You" with Dickie Betts, which appeared on their 1979 album, Enlightened Rogues. B.B. King and Jules Taub co-wrote the song "Blind Love", the Allman's covered it. There is no writer's credit to confirm he co-wrote "Can't Take It with You". "Till I Loved You" was the title track (a Top 40 hit in the Billboard Hot 100) of a studio album released on October 25, 1988 on Columbia Records. The song was a duet with then girl-friend, Barbra Streisand. The song was re-released on the Streisand album "Duets" in 2002.
Personal life
Relationships and family
Johnson has had four wives in five marriages, three of which were brief. His first two marriages were annulled within a matter of days. The names of Johnson's first two wives have not been made public knowledge, though they were said to have been a dancer and a "rich bimbo." In the early 1970s, Johnson lived with groupie Pamela Des Barres. During the first half of 1972, he met Melanie Griffith, the 14-year-old daughter of his Harrad Experiment co-star Tippi Hedren. When Griffith was 15, she and Johnson began living together in a rented house in Laurel Canyon. On her 18th birthday they became engaged, and were married in January 1976; they filed for divorce that July. They reunited and conceived a daughter close to the start of 1989, Dakota Johnson (born October 4, 1989) and were married again from that year until 1996.
In 1980, he dated Sally Adams (then using the aka Sally Savalas), mother of actress Nicollette Sheridan. Cybill Shepherd has written of a liaison with Johnson in her autobiography.
Johnson lived with actress Patti D'Arbanville from 1981 to 1988. The couple has a son, Jesse Wayne Johnson (born December 7, 1982). A 1989 description of the couple's life in the 1980s said,
...n Jan. 17, 1981, ... D'Arbanville ... met Johnson at an L.A. restaurant. "I saw this gorgeous guy," she says, "and I ran after him. saying, 'Hey you.' It turned out to be Donny. I said, 'So, Donny, how many times have you been married?' He said, 'Three.' I said, 'Say hello to No. 4.'...." Johnson ditched his date, Tanya Tucker, and spent the night with Patti. "One month later," she says, "I was pregnant." The couple planned to marry that fall, but D'Arbanville changed her mind. "I didn't see the point," she says. "Besides, there were areas in which we didn't get along." Drinking was one of them. Shortly after becoming pregnant, Patti sobered up. "Donny didn't," she says " we grew further apart." ... Johnson eventually stopped drinking with D'Arbanville's help.... Miami Vice took Johnson to Florida in 1984, and the couple split a year later....
Johnson next had a relationship with Barbra Streisand, lasting into at least September 1988. In 1995-1996 Johnson was briefly engaged to Jodi Lyn O'Keefe who played his daughter on Nash Bridges.
On April 29, 1999, he married San Francisco socialite and Montessori nursery school teacher Kelley Phleger, then 30, at the Pacific Heights mansion of Ann and Gordon Getty. Actor Robert Wagner served as best man, and Mayor Willie Brown presided over the civil ceremony. Johnson and Phleger have three children together: a daughter, Atherton Grace Johnson (born December 28, 1999), and two sons, Jasper Breckinridge Johnson (born June 6, 2002), and Deacon Johnson (born April 29, 2006).
Legal problems
In November 2002, German customs officers at the Swiss-German border performed a routine search of Johnson's car. Bank statements evidencing US$8 billion in transactions were found in the trunk of his car. He was accompanied in his black Mercedes-Benz by three men: an investment adviser, a personal assistant, and a third of unknown identity. Initially it was thought Johnson was involved in money laundering, but he was cleared of wrongdoing.
In May 2008, Johnson came within hours of losing his Woody Creek, Colorado home to foreclosure; he paid off his $14.5 million debts less than 24 hours before a scheduled auction of the property.
In July 2010, a Los Angeles jury awarded Johnson $23.2 million in a lawsuit against production company Rysher Entertainment, from whom Johnson sought a share of profits commensurate with his ownership of half the copyright of Nash Bridges. Rysher announced it would appeal the verdict. In January 2013, after recalculating interest and avoiding an additional appeal, Rysher paid Johnson $19 million to end the lawsuit.
Reception
Awards and recognitions
Year
Result
Award
Category
TV/Film
1975
Winner
Saturn Award
Best Actor
A Boy and His Dog
1985
Nominated
Emmy Awards
Outstanding Lead Actor in a Drama Series
Miami Vice
1986
Winner
Golden Globe Awards
Best Performance by an Actor In A Television Series - Drama
1987
Nominated
Best Performance by an Actor In A Television Series - Drama
1988
Won
APBA Offshore World Cup
Superboat class
1996
Awarded
Hollywood Walk of Fame
Star on the Hollywood Walk of Fame
Filmography
Film
Year
Title
Role
Notes
1970
The Magic Garden of Stanley Sweetheart
Stanley Sweetheart
1971
Zachariah
Matthew
1973
Harrad Experiment, TheThe Harrad Experiment
Stanley Cole
1974
Lollipops, Roses and Talangka
Franky
1975
A Boy and His Dog
Vic
1975
Return to Macon County
Harley McKay
1976
Law of the Land
Quirt
Television film
1977
The City
Sergeant Brian Scott
Television pilot film
1977
Cover Girls
Johnny Wilson
Television film
1978
Swan Lake
Benno
English version voice
1978
Pressure Point
Television film
1978
Ski Lift to Death
Mike Sloan
Television film
1978
The Two-Five
Charlie Morgan
Television film
1978
Katie: Portrait of a Centerfold
Gunther
Television film
1978
First, You Cry
Daniel Easton
Television film
1979
Amateur Night at the Dixie Bar and Grill
Cowboy
Television film
1979
The Rebels
Judson Fletcher
Miniseries
1980
Beulah Land
Bonard Davis
Miniseries
1980
Revenge of the Stepford Wives
Officer Andy Brady
Television film
1981
Elvis and the Beauty Queen
Elvis Presley
Television film
1981
The Two Lives of Carol Letner
Bob Howard
Television film
1981
Soggy Bottom, U.S.A.
Jacob Gorch
1982
Melanie
Carl
1982
Aladdin and the Wonderful Lamp
Wazir's Son
English version voice
1983
Six Pack
Brewster Baker
Television pilot film
1985
Cease Fire
Tim Murphy
1985
The Long Hot Summer
Ben Quick
Television film
1987
G.I. Joe: The Movie
Lieutenant Vincent R. Falcone/Lt. Falcon
1988
Sweet Hearts Dance
Wiley Boon
1989
Dead Bang
Jerry Beck
1990
The Hot Spot
Harry Madox
1990
Seriously...Phil Collins
Himself
Television film
1991
Harley Davidson and the Marlboro Man
Robert Anderson/The Marlboro Man
1991
Paradise
Ben Reed
1993
Born Yesterday
Paul Verrall
1993
Guilty as Sin
David Edgar Greenhill
1995
In Pursuit of Honor
Sgt. John Libbey
Television film
1996
Tin Cup
David Simms
1998
Goodbye Lover
Ben Dunmore
2003
Word of Honor
Lt. Benjamin Tyson
Television film
Co-executive producer
2007
Moondance Alexander
Dante Longpre
2007
Bastardi
Sante Patene
2008
Long Flat Balls II
Admiral Burnett
2008
Torno a vivere da solo
Nico
2010
When in Rome
Mr. Martin
Uncredited
2010
Machete
Lt. Von Jackson
2010
Southern Discomfort
Television pilot film
2011
A Mann's World
Allan Mann
Television pilot film
2011
Four Loko Vineyards
Mr. Four Loko
Online short film
2011
A Good Old Fashioned Orgy
Jerry Keppler
Uncredited
2011
Bucky Larson: Born to Be a Star
Miles Deep
2012
Django Unchained
Spencer "Big Daddy" Bennett
2014
Cold in July
Jim Bob Luke
2014
The Other Woman
Frank Whitten
2015
Alex of Venice
Roger
Television
Year
Title
Role
Notes
1971
Serge
Deloy Coopersmith
1 episode
1972
Young Dr. Kildare
Ted Thatcher
1 episode
1972
The Bold Ones: The New Doctors
Ev Howard
1 episode
1973
Kung Fu
Nashebo
1 episode
1974
The Rookies
Al Devering
1 episode
1976
The Streets of San Francisco
Officer Larry Wilson
1 episode
1976
Barnaby Jones
Wayne Lockwood
1 episode
1977
Nashville 99
Mike Watling
1 episode
1977
Eight is Enough
Doug
1 episode
1977
Big Hawaii
Gandy
1 episode
1977
Police Story
Lee Morgan
1 episode
1978
What Really Happened to the Class of '65?
Edgar
1 episode
1978
The American Girls
Everett Simms
1 episode
1980
From Here to Eternity
Private Jefferson "Jeff" Davis Prewitt
13 episodes
1982
Matt Houston
Terry Spence
1 episode
1984-1989
Miami Vice
Detective James "Sonny" Crockett
111 Episodes
1985
Tales of the Unexpected
Reeve Baker
1 episode
1988; 2015
Saturday Night Live
Himself
2 episodes
1996-2001
Nash Bridges
Inspector/Captain Nash Bridges
122 episodes
Executive producer
2005-2006
Just Legal
Grant H. Cooper
8 episodes
2010
WWE Raw
Himself
1 episode
2010-2011
Glenn Martin, DDS
Grandpa Whitey
4 episodes
2010-2012
Eastbound & Down
Eduardo Sanchez Powers
5 episodes
2014
From Dusk till Dawn: The Series
Sheriff Earl McGraw
4 episodes
2015
Blood & Oil
Hap Briggs
Discography
Studio albums
Title
Details
Peak chart positions
US

AUT

FIN

FRA

GER

NL

NOR

SWE

SWI

Heartbeat

Release date: November 11, 1986
Label: Epic Records
Formats: CD, cassette

17
3
5
—
3
20
7
34
7
Let It Roll

Release date: September 20, 1989
Label: Epic Records
Formats: CD, cassette

—
23
17
15
2
19
—
35
6
"—" denotes releases that did not chart
Compilation albums
Title
Details
The Essential

Release date: January 20, 1997
Label: Sony Music Entertainment
Formats: CD, cassette
Singles
Year
Single
Peak positions
Album
US

AUT

FIN

FRA

GER

NL

NOR

SWE

SWI

UK

1986
"Heartbeat"
5
3
4
—
6
10
5
16
6
46
Heartbeat
"Heartache Away"
56
22
—
—
31
25
—
—
—
—
1987
"Voice on a Hotline"
—
—
—
—
—
59
—
—
—
—
1989
"Tell It Like It Is"
—
13
—
6
2
6
—
—
6
84
Let It Roll
"Other People's Lives"
—
—
—
46
57
53
—
—
—
—
"A Better Place"
—
—
—
—
—
—
—
—
—
—
"—" denotes releases that did not chart
Featured singles
Year
Single
Artist
Peak chart positions
Album
US

AUS

FRA

GER

NL

UK

1988
"Till I Loved You"
Barbra Streisand
25
34
22
26
4
16
Till I Loved You
Videography
[ Source: Wikipedia ]