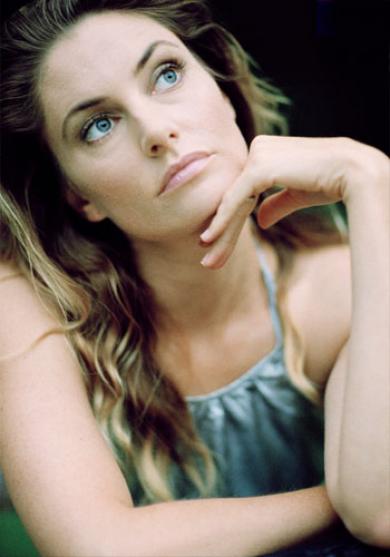 Madchen Amick
Birth name:
Mädchen Amick
Born:
December 12, 1970
Age:
52
Birthplace:
Reno, Nevada, U.S
Popularity:

Please login to contact Madchen Amick...
Biography
Mädchen Amick (/ˈmeɪdʃən ˈeɪmɪk/ MAYD-shən AY-mik; born December 12, 1970) is an American actress. She is best known for her starring role as Shelly Johnson on the cult television series Twin Peaks (1990-1991), its prequel film Twin Peaks: Fire Walk with Me (1992) and its revival television series Twin Peaks: The Return (2017). She was also a series regular on Central Park West (1995-1996), Freddie (2005-2006), and Witches of East End (2013-2014). On the big screen she had starring roles in Sleepwalkers (1992) and Dream Lover (1993). She currently portrays Alice Cooper on the drama television series Riverdale (2017-present).
Amick was born in Sparks, Nevada,[1] a few miles east of Reno, the daughter of Judy (née Ross), a medical office manager, and Bill Amick, a musician.[2] Amick's parents are partly German;[3] the name
Mädchen
, which means "girl" in German, was chosen by her parents, because they wanted an unusual name.[4] She is also of Norwegian, Swedish, English and Irish descent.[5] As a young girl, Amick was encouraged by her parents to follow her creative instincts. She learned to play the piano, bass, violin and guitar and took lessons in tap, ballet, jazz and modern dance. In 1987, at the age of 16, she moved to Los Angeles to pursue a career in acting.
Read more...
Career
After moving to Los Angeles, Amick began her career with guest roles on Star Trek: The Next Generation (1989) and Baywatch (1989). Amick got her first break when director David Lynch chose her to play waitress Shelly Johnson on the television series Twin Peaks (1990-1991). Amick's character endured physical abuse at the hands of her criminal husband, Leo, and was one of the most popular characters. Amick went on to work twice more with Lynch—reprising her role as Shelly in the prequel film Twin Peaks: Fire Walk with Me (1992) and in 7 episodes of the 2017 Twin Peaks revival series.
In 1990, Amick was cast as Mandy in Don't Tell Her It's Me and portrayed Amy in Tobe Hooper's horror film I'm Dangerous Tonight. In 1991, Amick was cast in The Borrower. In 1992, Amick portrayed the heroine Tanya Robertson in the Stephen King horror movie Sleepwalkers. The following year, she starred in the thriller film Love, Cheat & Steal (1993).
Amick at the 2017 WonderCon
In 1993, Amick was cast as Lena Mathers in the feature film Dream Lover, a thriller in which she co-starred with James Spader. In 1995, she and Spader were reunited in the TV movie The Courtyard. That same year, Amick appeared in the romantic comedy French Exit. In 1996, Amick was cast in the science fiction thriller Bombshell. Amick's return to network television came in the fall of 1995 with the much-publicized CBS primetime soap opera Central Park West. In 1997, Amick starred in the film Wounded. In 1998, Amick starred in the updated edition of Fantasy Island.[6]
After a decade of roles that failed to ignite the publicity Twin Peaks had, Amick gradually became a noticeable face in television with recurring roles on Gilmore Girls, ER, Jake in Progress, and Joey. In 2006, Amick was a regular in the sitcom Freddie which was subsequently cancelled.
Amick guest-starred in a number of episodes of the serial thriller Kidnapped on NBC, playing a strange and deadly assassin. She also had a recurring role in the second season of Dawson's Creek as the lead character's substitute film studies teacher. In 2007, she had a lead role in the short-lived CBS musical series Viva Laughlin.
Amick had a recurring role in season 2 of Gossip Girl as Nate Archibald's "cougar" love interest,[7] and she also appears in the second season of the Showtime series Californication. In 2008, Amick starred as Christian Slater's wife on the NBC series My Own Worst Enemy. In 2010, Amick played Danielle Marchetti on the FX series Damages.
In 2011 she appeared in the post-apocalyptic film Priest.[8] In 2013, Amick began starring in the Lifetime supernatural drama Witches of East End opposite Julia Ormond, Rachel Boston and Jenna Dewan-Tatum.[9][10] Amick's character Wendy Beauchamp was originally a guest star, but she later became a permanent character after shooting the pilot episode.[11] On August 6, 2015 Amick joined the cast of American Horror Story: Hotel as a mother whose son is ailing.[12] Since 2017, Mädchen has starred as Alice Cooper, Betty Cooper's mother, on the CW television series Riverdale.
Personal life
David Alexis and Mädchen Amick have been married since December 16, 1992. Together they have two kids, a son Sylvester (born July 5, 1992) and a daughter Mina (born September 2, 1993). Amick's daughter, Mina Tobias, is a musician. In 2015, Tobias released her single "Freedom"[13] and filmed a music video paying homage to Twin Peaks.[13]
Filmography
Film
Year
Title
Role
Notes
1990
Don't Tell Her It's Me
Mandy
1991
The Borrower
Megan
1992
Twin Peaks: Fire Walk with Me
Shelly Johnson
Sleepwalkers
Tanya Robertson
1993
Dream Lover
Lena Mathers
Nominated-Saturn Award for Best Actress
Love, Cheat & Steal
Lauren Harrington
1994
Trapped in Paradise
Sarah Collins
1995
French Exit
Zina
1996
Bombshell
Angeline
1997
Wounded
Julie Clayton
1998
Twist of Fate
Rachel Dwyer
2000
The List
Grace Mitchell
2001
Italian Ties
Jamie
Scenes of the Crime
Carmen
2002
Global Effect
Dr. Sera Levitt
2005
Four Corners of Suburbia
Rachel Samson
2007
A Slice of Lynch
Herself
Documentary
2011
Priest
Shannon Pace
2017
Grannie
Daddy Warbucks's Assistant
Short film
Television
Year
Title
Role
Notes
1989
Star Trek: The Next Generation
Young Anya
Episode: "The Dauphin"
Baywatch
Laurie Harris
Episode: "Panic at Malibu Pier"
1990
The Great American Sex Scandal
Miss Doddsworth
Television film
I'm Dangerous Tonight
Amy
Television film
1990-1991
Twin Peaks
Shelly Johnson
26 episodes
Nominated-Soap Opera Digest Awards for Outstanding Supporting Actress: Prime Time
1991
For the Very First Time
Rhonda
Television film
1995
The Courtyard
Lauren
Television film
Fallen Angels
Mrs. Cordell
Episode: "Love and Blood"
1995-1996
Central Park West
Carrie Fairchild
21 episodes
1997
Heartless
Ann "Annie" O'Keefe
Television film
1998
The Hunted
Samantha Clark
Television film
1998-1999
Fantasy Island
Ariel
13 episodes
1999
Dawson's Creek
Nicole Kennedy
3 episodes
Mr. Rock 'n' Roll: The Alan Freed Story
Jackie McCoy
Television film
2001
Hangman
Grace Mitchell
Television film
2002
The Rats
Susan Costello
Television film
2002-2003
Gilmore Girls
Sherry Tinsdale
3 episodes
2003
Queens Supreme
Lisa Salinger
Episode: "The House Next Door"
Wild Card
Crystal Stevenson
Episode: "Black Sheep"
Ed
Celeste "CeCe" Royce
Episode: "Home for Christmas"
2004-2005
ER
Wendall Meade
10 episodes
2005
Lies and Deception
Jean Brooks
Television film
Jake in Progress
Kylie
2 episodes
Joey
Sara
5 episodes
2005-2006
Freddie
Allison
22 episodes
2006
Law & Order
Alissa Goodwyn
Episode: "Home Sweet"
2006-2007
Kidnapped
Yvonne Guttman
3 episodes
2007
Viva Laughlin
Natalie Holden
8 episodes
2008
Shark
Gina Romero
Episode: "One Hit Wonder"
The Verdict
Christine
Pilot
Gossip Girl
Duchess Catherine Beaton
4 episodes
Californication
Janie Jones
5 episodes
My Own Worst Enemy
Angelica "Angie" Spivey
9 episodes
2009
The Law
Liz
Pilot
2010
Pleading Guilty
Brushy
Pilot
Damages
Danielle Marchetti
5 episodes
CSI: NY
Aubrey Hunter
3 episodes
Unanswered Prayers
Ava Andersson
Television film
2011
White Collar
Selena Thomas
Episode: "Veiled Threats"
Metro
Mary McCarthy
Pilot
2012
Psych
Jacqueline Maderos
Episode: "Indiana Shawn and the Temple of the Kinda Crappy, Rusty Old Dagger"
Beauty & the Beast
Lois Whitworth
Episode: "Basic Instinct"
Ringer
Greer Sheridan
2 episodes
In Plain Sight
Associate Director Susan Campbell
2 episodes
Mad Men
Andrea Rhodes
Episode: "Mystery Date"
Drop Dead Diva
Gina Blunt
2 episodes
Political Animals
Mindy Meyers
Episode: "Lost Boys"
2013-2014
Longmire
Deena
3 episodes
Witches of East End
Wendy Beauchamp
23 episodes
2015
American Horror Story: Hotel
Mrs. Ellison
3 episodes
2016-2017
Love
Mom
3 episodes
2016
Second Chance
Joan Solodar
Episode: "May Old Acquaintance Be Forgot"
2017-present
Riverdale
Alice Cooper
Main role
2017
Twin Peaks
Shelly Johnson
7 episodes
[ Source: Wikipedia ]