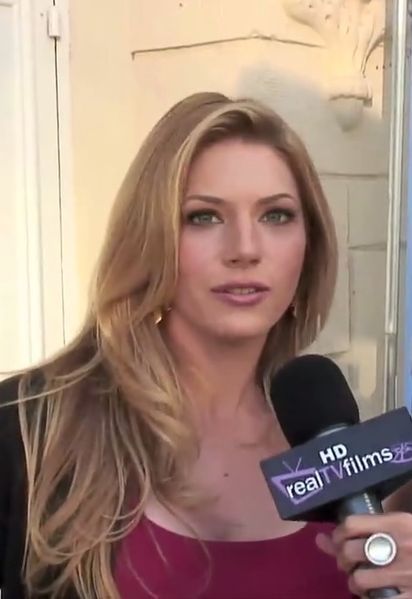 Katheryn Winnick
Born:
December 17, 1977
Age:
44
Birthplace:
Etobicoke, Ontario, Canada
Popularity:

Please login to contact Katheryn Winnick...
Biography
Katheryn Winnick (born December 17, 1977[1][not in citation given]) is a Canadian actress. She is known for her roles in Amusement (2008), Bones (2010), A Glimpse Inside the Mind of Charles Swan III (2012), Vikings (2013-present), and The Art of the Steal (2013).
Winnick was born in Etobicoke, Ontario, and is of Ukrainian descent. She spoke Ukrainian as her first language and did not begin speaking English until she was eight years old.[2][3] She began training in martial arts at age seven, and obtained her first black belt at 13.[4] By age 21, she had started three martial arts schools.[4]
Read more...
Career
Winnick has appeared in many films, including Stand Up Guys, Failure to Launch, Love & Other Drugs, and Killers. She has guest-starred in numerous television shows, most notably House,[5] The Glades, Bones, Law & Order, Law & Order: Criminal Intent, CSI, CSI: NY, CSI: Miami, Criminal Minds, Person of Interest,[6] and Nikita. In her role on Bones, she portrays Hannah Burley, a war correspondent who had been posted to cover the war in Afghanistan and becomes a love interest for main character Seeley Booth.
Winnick starred in the comedy-drama film Cold Souls, which had its world premiere at the Sundance Film Festival 2009. In 2011, Winnick was cast in a guest role on The CW's spy drama Nikita. In 2013, she starred in A Glimpse Inside the Mind of Charles Swan III and appeared in the comedy The Art of the Steal. She also joined History Channel's Vikings, starring in the role of Lagertha, a legendary figure in Viking history.[4][7] In July 2017, Winnick stated on her Twitter account that she had been cast for a role in what was thought to be a film project, and that it will be announced at the San Diego Comic-Con International.[8] She was later revealed to be cast as a main character in the Nazi Zombies mode of the video game Call of Duty: WWII.[citation needed]
In July 2018, it was announced that Winnick was cast in the series regular role of Christine "C.G." Gavin on the upcoming Netflix series, Wu Assassins.[9]
Filmography
Film
| Year | Title | Role | Notes |
| --- | --- | --- | --- |
| 2001 | Biohazardous | Jennifer | |
| 2002 | Smoking Herb | Marcia | |
| 2002 | The It Factor | Herself | |
| 2002 | Fabled | Liz | |
| 2002 | Daddy's Little Girl | | Short film |
| 2002 | Two Weeks Notice | Tiffany | |
| 2003 | What Alice Found | Julie | |
| 2004 | 50 First Dates | Young Woman | |
| 2004 | Satan's Little Helper | Jenna Whooly | |
| 2004 | Going the Distance | Trish | |
| 2004 | Our Time is Up | Waif | Short film |
| 2005 | Hellraiser: Hellworld | Chelsea | |
| 2006 | Cloud 9 | Olga | |
| 2006 | Kiss Me Again | Chalice | |
| 2006 | Failure to Launch | Melissa | |
| 2007 | When Nietzsche Wept | Lou Salome | |
| 2008 | Amusement | Tabitha | |
| 2009 | Cold Souls | Sveta | |
| 2010 | Tranced | Cleo | |
| 2010 | Night and Day | July | Short film |
| 2010 | Radio Free Albemuth | Rachel Brady | |
| 2010 | Choose | Fiona Wagner | |
| 2010 | Killers | Vivian | |
| 2010 | Love & Other Drugs | 'Lisa' | |
| 2011 | Bat $#*! Crazy | Girlfriend | |
| 2012 | Children of the Air | Samantha Thomas | Short film |
| 2012 | Stand Up Guys | Oxana | |
| 2012 | A Glimpse Inside the Mind of Charles Swan III | Ivana | |
| 2013 | The Art of the Steal | Lola | |
| 2016 | Stripped | Margaret Dupre | Short film |
| 2017 | The Dark Tower | Laurie Chambers | |
| 2019 | Polar | | [10] |
Television
| Year | Title | Role | Notes |
| --- | --- | --- | --- |
| 1999 | PSI Factor: Chronicles of the Paranormal | Suzie | Episode: "Sacrifices" |
| 1999 | Student Bodies | Holly Benson | Recurring role, 5 episodes |
| 2000 | Relic Hunter | Roselyn | Episode: "Nine Lives" |
| 2001 | Screech Owls | Brianna Styles | Episode: "Face Off" |
| 2002 | Tracker | Laura | 2 episodes |
| 2002 | Law & Order: Criminal Intent | Karyn Bennett | Episode: "Seizure" |
| 2003 | Oz | Liesel Robson | Episode: "4giveness" |
| 2003 | Wild Card | Kendall | Episode: "Hell Week" |
| 2003 | 10-8: Officers on Duty | Lucy Johnson | Episode: "Lucy in the Sky" |
| 2004 | CSI: Miami | Nicole Harjo | Episode: "Rap Sheet" |
| 2004 | 1-800-Missing | Julie Snyder | Episode: "In the Midnight Hour" |
| 2005 | CSI: NY | Lisa Kay | Episode: "Corporate Warriors" |
| 2005 | Trump Unauthorized | Ivana Trump | Television film |
| 2006 | Criminal Minds | Maggie Lowe | Episode: "Somebody's Watching" |
| 2006 | 13 Graves | Amy | Television film |
| 2007 | House | Eve | Episode: "One Day, One Room" |
| 2007 | Tipping Point | Nina Patterson | Television film |
| 2007 | Law Dogs | Lisa Bennett | Television film |
| 2008 | Law & Order | Sarah Shipley | Episode: "Excalibur" |
| 2008 | Law & Order: Criminal Intent | Carrie Conlon | Episode: "Faithfully" |
| 2009 | CSI: Crime Scene Investigation | Maureen Martin | Episode: "One to Go" |
| 2010 | The Gates | Kat Russo | Episode: "Identity Crisis" |
| 2010-2011 | Bones | Hannah Burley | Recurring role, 11 episodes |
| 2011 | The Glades | Valerie Dorman | Episode: "Lost and Found" |
| 2011 | Nikita | Kelly | Episode: "Partners" |
| 2012 | Transporter: The Series | Darcy Daniels | Episode: "Hot Ice" |
| 2013-present | Vikings | Lagertha | Main role |
| 2015 | Person of Interest | Frankie Wells | Episode: "Skip" |
| 2019 | Wu Assassins | Christine "C.G." Gavin | Main role; upcoming TV series[9] |
Video games
| Year | Title | Role |
| --- | --- | --- |
| 2017 | Call of Duty: WWII | Marie Fischer |
Awards and nominations
| Year | Award | Category | Work | Result | Refs. |
| --- | --- | --- | --- | --- | --- |
| 2012 | Beverly Hills Film Festival | Best Actress | Children of the Air | Won | |
| 2014 | Canadian Screen Award | Best Performance by an Actress in a Continuing Leading Dramatic Role | Vikings | Nominated | [11] |
| 2014 | Women's Image Network Awards | Best Actress in a Drama Series | Vikings | Nominated | [12] |
| 2015 | Critics' Choice Television Award | Best Supporting Actress in a Drama Series | Vikings | Nominated | [13] |
| 2015 | Golden Maple Awards | Best Actress in a TV series broadcasted in the U.S. | Vikings | Nominated | [14][15] |
| 2015 | Women's Image Network Awards | Best Actress in a Drama Series | Vikings | Nominated | |
| 2016 | Women's Image Network Awards | Best Actress in a Drama Series | Vikings | Nominated | |
[ Source: Wikipedia ]