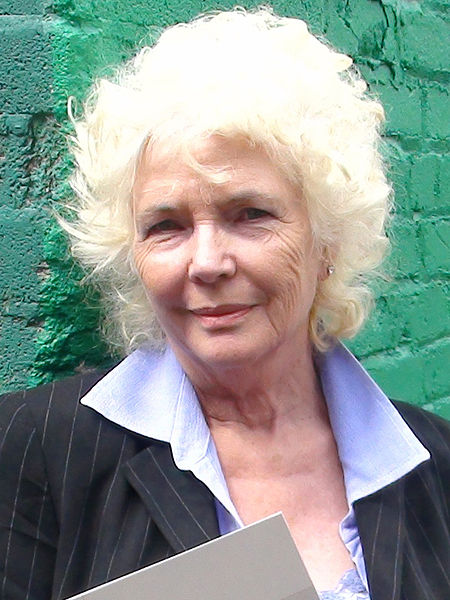 Fionnula Flanagan
Born:
December 10, 1941
Age:
81
Birthplace:
Dublin, Ireland
Popularity:

Please login to contact Fionnula Flanagan...
Biography
Fionnghuala Manon "Fionnula" Flanagan (born 10 December 1941) is an Irish actress and political activist.
Flanagan was born and raised in Dublin, the daughter of Rosanna (
née
McGuirk) and Terence Niall Flanagan.[1] Her father was an Irish Army officer and Communist who had fought in the International Brigade in the Spanish Civil War against Franco.[2] Although her parents were not Irish speakers, they wanted Fionnula and her four siblings to learn the Irish language, thus she grew up speaking English and Irish fluently. She was educated in Switzerland and England. She trained extensively at the Abbey Theatre in Dublin and travelled throughout Europe before settling in Los Angeles in early 1968.
Read more...
Career
Flanagan came to prominence in Ireland in 1965 as a result of her role as Máire in the Telefís Éireann production of the Irish language play An Triail, for which she received the Jacob's Award in Dublin for her "outstanding performance".[3] With her portrayal of Gerty McDowell in the film version of Ulysses (1967), Flanagan established herself as one of the foremost interpreters of James Joyce. She made her Broadway debut in Brian Friel's Lovers (1968), then appeared in The Incomparable Max (1971) and such Joycean theatrical projects as Ulysses in Nighttown (as Molly Bloom) and James Joyce's Women (1977; toured through 1979), a one-woman show written by Flanagan and directed for the stage by Burgess Meredith. It was subsequently filmed in 1983, with Flanagan both producing and playing all six main female roles (Joyce's wife, Nora Barnacle, as well as fictional characters Molly Bloom, Gerty McDowell, etc.).
A familiar presence in American television, Flanagan has appeared in several made-for-TV movies including The Legend of Lizzie Borden (1975) starring Elizabeth Montgomery, Mary White (1977), The Ewok Adventure (1984) and A Winner Never Quits (1986). She won an Emmy Award for her performance as Clothilde in the 1976 network miniseries Rich Man, Poor Man. Her weekly-series stints have included Aunt Molly Culhane in How the West Was Won (1977), which earned her a second Emmy Award nomination. She did multiple appearances on Murder, She Wrote, one of them as Freida, a secretary aiding Jessica Fletcher in finding a murderer on the episode Steal me a Story (1987). She played Lt. Guyla Cook in Hard Copy (1987), and as Kathleen Meacham, wife of a police chief played by John Mahoney in H.E.L.P. (1990).
She made guest appearances in three of the Star Trek spin-offs:
The Star Trek: Deep Space Nine episode "Dax"
The Star Trek: The Next Generation episode "Inheritance", in which she played Data's "mother"
The Star Trek: Enterprise episode "Fallen Hero", playing the Vulcan Ambassador V'Lar
Flanagan guest-starred in several episodes of Lost as Eloise Hawking, a recurring character. She appeared in such films as The Others opposite Nicole Kidman, The Divine Secrets of the Ya-Ya Sisterhood as the eldest Teensy, and Waking Ned. She appeared in television series and stage productions including the Emmy-nominated miniseries Revelations, starring Bill Pullman and Natascha McElhone, and in Transamerica, starring Felicity Huffman. From 2006 to 2008, she played Rose Caffee, the matriarch of an Irish-American Rhode Island family on the Showtime drama Brotherhood.
Personal life
Flanagan appeared with Helen Mirren in Some Mother's Son, written and directed by Terry George, as the militantly supportive mother of a Provisional Irish Republican Army hunger striker in 1981. Subsequently, she spoke at a memorial hosted by Sinn Féin at the Citywest Building in Dublin for Irish republicans and their kin who were killed during the latest instalment of the Troubles in Northern Ireland.[citation needed]
Flanagan and her late husband Garrett O'Connor, an Irish nationalist from Dublin,[4] were known to host parties at their Hollywood Hills home for people in the Irish community. In July 2009, she joined Sinn Féin president Gerry Adams for a series of lectures across the US supporting Irish unity. In October 2011, she announced her support for Sinn Féin politician Martin McGuinness in his unsuccessful bid in Ireland's 2011 presidential election.[5]
Filmography
Film
Year
Title
Role
Notes
1967
Ulysses
Gerty MacDowell
1969
Sinful Davey
Penelope
1973
The Picture of Dorian Gray
Felicia
1976
In the Region of Ice
The Sister
1977
Mary White
Sallie White
1980
Mr. Patman
Abadaba
1983
Through Naked Eyes
Dr. Frances Muller
1984
Reflections
Mrs. Charlotte Lawless
1984
Scorned and Swindled
Margaret
1984
Caravan of Courage: An Ewok Adventure
Catarine Towani
1985
James Joyce's Women
Harriet Shaw Weaver
1986
Youngblood
Miss McGill
1986
A State of Emergency
Diane Carmody
1987
P.K. and the Kid
Flo
1991
Death Dreams
Margaret Neuberger
1991
Final Verdict
Pearl Morton
1992
Mad at the Moon
Mrs. Hill
1993
Money for Nothing
Mrs. Coyle
1994
White Mile
Gena Karas
1996
Some Mother's Son
Annie Higgins
1998
Waking Ned
Annie O'Shea
Nominated-Screen Actors Guild Award for Outstanding Performance by a Cast in a Motion Picture
1999
With or Without You
Irene
1999
A Secret Affair
Drucilla Fitzgerald
1999
Deceit
uncredited
2000
For Love or Country: The Arturo Sandoval Story
Sally
2001
The Others
Mrs. Bertha Mills
Saturn Award for Best Supporting Actress
Nominated-Satellite Award for Best Supporting Actress - Motion Picture
2002
Divine Secrets of the Ya-Ya Sisterhood
"Teensy" Whitman
2003
Tears of the Sun
Sister Grace
2004
Blessed
J. Lloyd Samuel
2004
Man About Dog
Olivia
2005
Transamerica
Elizabeth Schupak
Irish Film and Television Award for Best Supporting Actress - Film
2005
Sexual Life
Grandmother
2005
Four Brothers
Evelyn Mercer
2007
Slipstream
Bette Lustig
2008
Yes Man
Tillie
2009
The Invention of Lying
Martha
2009
A Christmas Carol
Mrs. Dilber
2010
Kill the Irishman
Grace O'Keefe
2010
The Guard
Eileen Boyle
Irish Film and Television Award for Best Supporting Actress - Film
2011
Coming & Going
Irma
2013
Angels Sing
Ma
2013
Life's a Breeze
Nan
2014
Song of the Sea
Granny / Macha
Voices; English and Irish-language versions
2016
Trash Fire
Violet
2016
Havenhurst
Eleanor Mudgett
2016
Little Secret
Barbara
Television
Year
Title
Role
Notes
1972
Gunsmoke
Sarah Morgan
Episode: "The Drummer"
1972
Bonanza
Meg Dundee
Episode: "Heritage of Anger"
1972
Mannix
Gloria Paget
Episode: "The Crimson Hero"
1975
The Legend of Lizzie Borden
Bridget Sullivan
1976
Rich Man, Poor Man
Clothilde
Episode: "Part II: Chapters 3 and 4"
Primetime Emmy Award for Outstanding Guest Actress in a Drama Series
1976
The Streets of San Francisco
Emma Simms
Episode: "Requiem for Murder"
1976
Kojak
Molly Braddock
Episode: "A Summer Madness"
1978-1979
How the West Was Won
Molly Cullhane
12 episodes
Nominated-Primetime Emmy Award for Outstanding Lead Actress in a Drama Series
1983
Voyagers!
Molly Brown
Episode: "Voyagers of the Titanic" - Episode 15
1986
A Winner Never Quits
Mrs. Wyshner
1987
Murder, She Wrote
Freida Schmidt
Episode: "Steal Me a Story"
1989
Columbo
Louise
Episode: "Murder: A Self Portrait"
1990
Beauty and the Beast
Jessica Webb
2 episodes
1993
Star Trek: Deep Space Nine
Enina Tandro
Episode: "Dax"
1993
Star Trek: The Next Generation
Juliana Tainer
Episode: "Inheritance"
1993
Murder, She Wrote
Fiona Griffith
"A Killing in Cork"
1993
Dr. Quinn: Medicine Woman
Heart
Episode: "The Circus - The Queen of Hearts"
1995
Murder, She Wrote
Eileen O'Brannon
2 episodes
1998-1999
Poltergeist: The Legacy
Older Woman
3 episodes
2002
Star Trek: Enterprise
V'Lar
Episode: "Fallen Hero"
2003
Law & Order: Special Victims Unit
Sheila Baxter
Episode: "Escape"
2003
Murder, She Wrote
Margaret Byrne
"The Celtic Riddle", TV movie
2004
Nip/Tuck
Sr. Rita Claire
Episode: "Agatha Ripp"
2005
Revelations
Mother Francine
5 episodes
2007
Paddywhackery
Peig Sayers
6 episodes
Nominated-Irish Film and Television Award for Best Actress in a Supporting Role - Television
2006-2008
Brotherhood
Rose Caffee
25 episodes
Satellite Award for Best Supporting Actress - Series, Miniseries or Television Film
Nominated-Irish Film and Television Award for Best Actress in a Leading Role - Television
Nominated-Satellite Award for Best Supporting Actress - Series, Miniseries or Television Film
2007-2010
Lost
Eloise Hawking
7 episodes
2013
Defiance
Nicolette "Nicky" Riordan
5 episodes
2017
Redwater[6]
Agnes Byrne
2017
American Gods
Essie's Grandmother/Old Essie Macgowan
Episode: "A Prayer for Mad Sweeney"
2018
Law & Order: Special Victims Unit
Madeline Jane Thomas
Episode: "Mama"
Awards and recognition
IFTA Lifetime Achievement gong at the 9th Irish Film and Television Awards.[7]
[ Source: Wikipedia ]