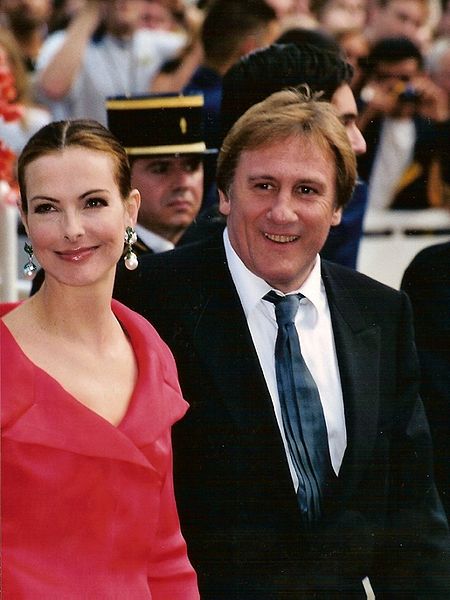 Gerard Depardieu
Birth name:
Gérard Xavier Marcel Depardieu
Born:
December 27, 1948
Age:
73
Birthplace:
Châteauroux, France
Popularity:

Please login to contact Gerard Depardieu...
Biography
Gérard Xavier Marcel Depardieu (born 27 December 1948) is a French actor. He is one of the most prolific character actors in film history, having completed more than 170 films since 1967.[citation needed]
He has received acclaim for his performances in The Last Metro (1980), for which he won the César Award for Best Actor, in Police (1985), for which he won the Volpi Cup for Best Actor, Jean de Florette (1986), and Cyrano de Bergerac (1990), winning the Cannes Film Festival for Best Actor, his second César Award for Best Actor, and his first Academy Award nomination for Best Actor.
He co-starred in Peter Weir's comedy Green Card (1990), winning a Golden Globe Award and later acted in many big budget Hollywood movies including Ridley Scott's 1492: Conquest of Paradise (1992), Kenneth Branagh's Hamlet (1996), Randall Wallace's The Man in the Iron Mask (1998), and Ang Lee's Life of Pi (2012).
He is a Chevalier of the Légion d'honneur and Chevalier of the Ordre national du Mérite. He was granted citizenship of Russia in January 2013, and became a cultural ambassador of Montenegro during the same month.
Gérard Depardieu was born in Châteauroux, Indre, France. He is one of the five children of Anne Jeanne Josèphe (née Marillier) and René Maxime Lionel Depardieu, a metal worker and volunteer fireman.[1][2] After leaving school at the age of thirteen, he worked at a printworks. He also became involved in selling stolen things, and was put on probation at one point.[3]
Read more...
Acting career
Depardieu at the 1994 Cannes Film Festival
At the age of sixteen, Depardieu left Châteauroux for Paris. There, he began acting in the new comedy theatre Café de la Gare, along with Patrick Dewaere, Romain Bouteille, Sotha, Coluche, and Miou-Miou.[4] He studied dancing under Jean-Laurent Cochet.
His first film role to gain attention was playing Jean-Claude in Bertrand Blier's comedy Les Valseuses (Going Places, 1974).[5] Other prominent early roles include a starring role in Bernardo Bertolucci's historical epic 1900 (1976), with Robert De Niro, and a role in François Truffaut's The Last Metro (1980), with Catherine Deneuve for which he won his first César Award for Best Actor.
His international profile rose as a result of his performance as a doomed, hunchbacked farmer in the film Jean de Florette (1986) and received notice for his starring role in Cyrano de Bergerac (1990), for which he won his second César Award for Best Actor, the Cannes Film Festival for Best Actor, and received a nomination for an Academy Award.
Depardieu co-starred in Peter Weir's English language romantic comedy Green Card (1990), for which he won a Golden Globe Award. He has since had other roles in other English language films, including Ridley Scott's 1492: Conquest of Paradise (1992), Kenneth Branagh's Hamlet (1996), and Ang Lee's Life of Pi (2012).
He played Obélix in the four live-action Astérix films in which he is said to have discovered Mélanie Laurent when she was fourteen.[6]
In 2009, he took part in a rare performance of Sardou's La Haine at the Festival de Radio France et Montpellier Languedoc Roussillon, with Fanny Ardant; subsequently broadcast on France Musique.[7]
In 2013, he starred in an independent film titled A Farewell to Fools.[8]
Depardieu featured as a main character in Antwerp (Edinburgh Festival 2014), a play in The Europeans Trilogy (Bruges, Antwerp, Tervuren) by Paris-based UK playwright Nick Awde.
Personal life
Depardieu with
Carole Bouquet
at the 2001 Cannes Film Festival
In 1970, Depardieu married Élisabeth Guignot, with whom he had two children, actor Guillaume (1971-2008) and actress Julie (born 1973).
On 28 January 1992, while separated from Guignot, he had a daughter, Roxanne, with the model Karine Silla (sister of producer Virginie Besson-Silla). In 1996, he divorced Guignot and began a relationship with actress Carole Bouquet, who was his partner from 1997 to 2005.[9]
Depardieu at the 2015 Cannes Film Festival
On 14 July 2006, he had a son, Jean, with French-Cambodian Hélène Bizot (daughter of François Bizot and not to be confused with actress Hélène Bizot).[10][11] Since 2005, Depardieu has lived with Clémentine Igou.
He underwent heart surgery in July 2000.[12]
On 13 October 2008, Depardieu's son Guillaume died from pneumonia at the age of 37. The infection arose as a complication following surgery to amputate his leg. Guillaume's health had been adversely affected by drug use. A motorcycle crash resulted in a number of post-accident operations performed in an attempt to save the leg. These were complicated by the development of post-operative wound infections, eventually necessitating the amputation of the leg.[13]
In his sixties, Depardieu attracted attention from the media and legal authorities for his behavior. On 16 August 2011, he urinated in a bottle while on board a CityJet flight bound for Dublin as it taxied in Paris. The incident was attributed to urinary incontinence caused by a prostate problem with the flight attendant not allowing him to get up from his seat to go to the toilet because the aircraft was already moving.[14] In August 2012, he was accused of assault and battery for punching a motorist in Paris.[15] In November 2012, he was arrested for driving while intoxicated after he fell from his scooter, and was found to have a blood alcohol level of 1.8 grams per litre, well above the French limit for driving of 0.5.[16]
Depardieu with
Vladimir Putin
in Sochi, Russia, 5 January 2013
He has been an official resident of Néchin, Belgium, since 7 December 2012.[17] French prime minister Jean-Marc Ayrault criticised his move.[18] On 15 December 2012, Depardieu publicly stated he was handing back his French passport.[19][20] On 3 January 2013, Russian President Vladimir Putin signed an Executive Order granting Russian citizenship to Depardieu.[21] In his first interview thereafter, Depardieu attacked Putin's critics.[22] In his autobiography, Depardieu said Putin "immediately liked my hooligan side."[23] In February 2013, he registered as a resident of Saransk. Also in January 2013, he was appointed a cultural ambassador for Montenegro.[24] During the summer of 2015, due to Russian-Ukrainian political issues, Depardieu was banned from television and movie theaters in Ukraine.[25]
In August 2018, he was accused of the sexual assault and rape of a young female actress. Via his lawyer, Depardieu denied the allegations.[26][27]
Awards
Depardieu has been nominated for the Best Actor in a Leading Role César 17 times during his career and won it twice, in 1981 and 1991. He was also nominated for an Oscar in 1990 for his role in Cyrano de Bergerac.
1981: César Award for Best Actor for his role in The Last Metro (Le dernier métro)
1985: Volpi Cup for Best Actor for his role in Police
1985: Chevalier (Knight) of the Ordre national du Mérite
1990: Cannes Film Festival: Best actor award for his role in Cyrano de Bergerac
1991: César Award for Best Actor for his role in Cyrano de Bergerac
1991: Golden Globe Award for Best Actor - Motion Picture Musical or Comedy for his role in Green Card
1996: Chevalier (Knight) of the Légion d'honneur[28]
2006: Moscow Film Festival: Stanislavsky Award for the outstanding achievement in the career of acting[29]
Filmography
Main article: Gérard Depardieu filmography
[ Source: Wikipedia ]