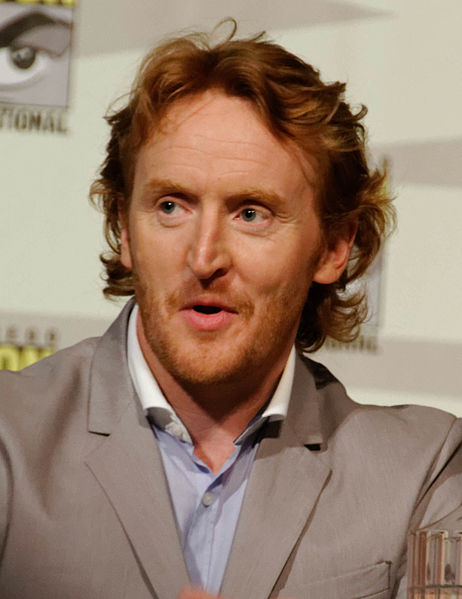 Tony Curran
Born:
December 13, 1969
Age:
52
Birthplace:
Glasgow, Lanarkshire, Scotland
Popularity:

Please login to contact Tony Curran...
Biography
Tony Curran (born 1969) is a Scottish actor who has appeared in Underworld: Evolution, Doctor Who, Roots and the upcoming Netflix historical epic Outlaw King.
Curran was born in Glasgow, Scotland, in 1969. He is a graduate of the Royal Scottish Academy of Music and Drama. In 2012, he married Mai Nguyen.[1]
Read more...
Career
Curran appeared in the BBC television series This Life. Since then, the Scots star has appeared in a number of major film and television roles. Some of his roles have included Rodney Skinner (The Invisible Man), an original character in The League of Extraordinary Gentlemen. To portray the Invisible Man, he donned a special suit that turned him into a walking bluescreen (according to his commentary on the DVD, he looked like a "smurf on acid"). Curran also played vampire roles in Guillermo del Toro's Blade II as Priest and Underworld: Evolution as Markus. In 2006 Curran appeared in the unrated film Red Road.[2] Curran is active in participating in marathons to raise money for charity. He is a frequent and popular participant in the annual Dressed to Kilt event in New York City, run by the organization Friends of Scotland in celebration of Tartan Week. He is also a keen fan of Celtic F.C. In April 2009, Curran revealed to the Daily Record newspaper that he was playing the role of Lieutenant Delcourt, in The Adventures of Tintin: Secret of the Unicorn, which was released in 2011. }} He also made a cameo appearance in "The Pandorica Opens".
Curran in 2011
Curran played the role of Datak Tarr on the Syfy series Defiance and in 2014, Curran co-starred with Diana Vickers in the thriller film Awaiting.[3] In 2016 Tony signed up to play 'Callum' in the new E4/Netflix original series Crazyhead.
Curran portrayed Vincent van Gogh in the science fiction series Doctor Who. The episode, written by Richard Curtis, has been rated by Screen Rant as the best for Matt Smith's time as the doctor.[4] A scene where Curran plays an emotional Van Gogh, taken into the future to see to see his work in a modern museum, has been described as one of the most emotional scenes in the entire series.[5][6]
Ultimate Force
Curran played Sgt Pete Twamley in the ITV series Ultimate Force, which was broadcast in over 100 countries.
Video games
Call of Duty: Modern Warfare 3 (2011) — "Baseplate" SAS Major General James MacMillan Director of United Kingdom Special Forces.
Counter-Strike: Global Offensive (2012) — SAS soldier voices
Awards
Evening News National Award — for the role of Devil in the theatre production The Soldier's Tale
BAFTA Scotland 2006 — Best Actor
Best Actor at the 2006 British Independent Film Awards for his role in Andrea Arnold's Red Road.
Filmography
Film
| Year | Title | Role |
| --- | --- | --- |
| 1993 | Being Human | Raider |
| 1994 | Shallow Grave | Travel Agent |
| 1994 | Captives | Spider |
| 1995 | Go Now | Chris Cameron |
| 1999 | The Magical Legend of the Leprechauns | Sean Devine |
| 1999 | The 13th Warrior | Weath the Musician |
| 2000 | Gladiator | Assassin No. 1 |
| 2001 | Pearl Harbor | Ian |
| 2002 | Blade II | Priest |
| 2003 | The League of Extraordinary Gentlemen | Rodney Skinner (The Invisible Man) |
| 2004 | Flight of the Phoenix | Rodney |
| 2005 | Beowulf & Grendel | Hondscioh |
| 2006 | Underworld: Evolution | Markus Corvinus |
| 2006 | Red Road | Clyde |
| 2006 | Miami Vice | Aryan Brother (as Anthony Curran) |
| 2006 | The Good German | Danny |
| 2007 | Trust Me | Miles Loncrain |
| 2008 | Shuttle | Driver |
| 2008 | The Midnight Meat Train | The Driver |
| 2008 | The Lazarus Project | William Reeds |
| 2009 | A Day in the Life | Dr. Reynolds |
| 2009 | Ondine | Alex |
| 2009 | Corrado | Officer Tony |
| 2010 | Golf in the Kingdom | Adam Green |
| 2010 | The Presence | The Man in Black |
| 2011 | The Adventures of Tintin: The Secret of the Unicorn | Lt. Delcourt |
| 2011 | Big Mommas: Like Father, Like Son | Chirkoff |
| 2011 | The Veteran | Chris Turner |
| 2011 | Cat Run | Sean Moody |
| 2011 | Two-Legged Rat Bastards (short) | Desoto |
| 2011 | Crossmaglen | Dermot McGarvey |
| 2011 | The Last Best Place | Fletcher |
| 2011 | X-Men: First Class | Man in Black Agent |
| 2012 | In the Dark Half | Filthy |
| 2013 | Mary Queen of Scots | Knox |
| 2013 | Thor: The Dark World | Bor |
| 2014 | The Seventeenth Kind | James |
| 2016 | Race | Lawson Robertson |
| 2018 | Outlaw King | Angus Macdonald |
| 2018 | Calibre | Logan |
Television
Year
Title
Role
1997
A Touch of Frost
Craig Hudson (guest, one episode: "Penny for the Guy")
1997
Taggart
Ian Jardine
1997
This Life
Lenny
1998
Touching Evil
(guest, two episodes: "Scalping Part 1 & 2")
1999
Split Second
Ronnie Baxter
1999
Great Expectations
Orlick
2001
The Mists of Avalon
Uther's Captain
2002
Ultimate Force
Sergeant Pete Twamley
2002
Menace
Det. Sgt. Skinner
2008
Numb3rs
(guest, one episode: "Frienemies")
2009
Medium
Lucas Harvey (guest, two episodes: "The Devil Inside Part 1 & 2")
2009
Primeval
Sir William de Mornay (guest, one episode)
2010
24
Lugo
2010
The Mentalist
C.D.C.A Agent Dean Harken
2010
Doctor Who
Vincent van Gogh (guest, two episodes: "Vincent and the Doctor," "The Pandorica Opens")
2010
Pillars of the Earth
King Stephen
2011
CSI: Crime Scene Investigation
Dr. Tyrell Neth (guest, season 11 episode: (19) "Unleashed")
2011
Young James Herriot
Prof. Donald Richie
2011
The Hunt for Tony Blair
Robin Cook
2011
Boardwalk Empire
Eaominn Rohan
2011
Hawaii Five-0
John O'Toole
2011
Covert Affairs
MI6 "Janitor" Kenneth Martin
2012
Labyrinth
Guy d'Évreux
2013-2015
Defiance
Datak Tarr
Datak Tarr's father (one episode)
2014
Sons of Anarchy
Gaines (guest, season 7 episode: (08) "The Separation of Crows")
2014
Marvellous
Lou Macari
2016
Daredevil
Finn Cooley
2016
Roots
Connelly (guest, two episodes)
2016
Elementary
Joshua Vikner (guest, two episodes)
2016
Crazyhead
Callum
2018
The Looming Tower
Inspector Barry James
[ Source: Wikipedia ]