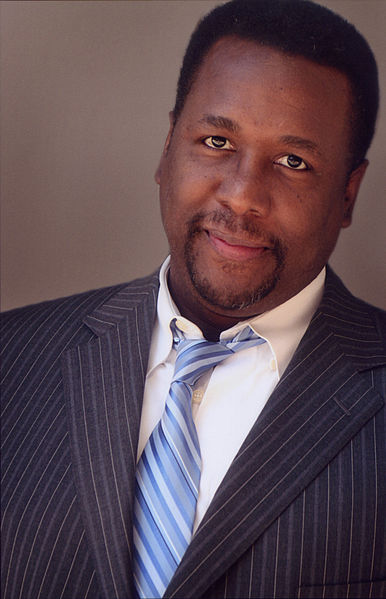 Wendell Pierce
Born:
December 8, 1963
Age:
59
Birthplace:
New Orleans, Louisiana, U.S.
Popularity:

Please login to contact Wendell Pierce...
Biography
Wendell Edward Pierce (born December 8, 1963) is an American actor. He is known for his roles in Suits as high-powered attorney Robert Zane, in HBO dramas such as Detective Bunk Moreland in The Wire and trombonist Antoine Batiste in Treme, and as Michael Davenport in Waiting to Exhale. Pierce also had a starring role as Teddy on the CBS sitcom The Odd Couple.
Pierce was born in New Orleans, Louisiana, one of three sons of a teacher and a decorated World War II veteran who worked as a maintenance engineer.[1] His father's segregated Army unit helped Marines win the Battle of Saipan in 1944. Pierce has said of his father's experience: "When the country wasn't loving my father, my father was loving his country. It's the ultimate act of patriotism."[2]
Pierce was raised in the black middle-class community of Pontchartrain Park, the first African-American post-war suburb. His father, along with many black veterans, moved into the neighborhood after returning home from the war. The neighborhood was wiped out during Hurricane Katrina in 2005, including Pierce's family home, which was flooded by 14 feet of water.[3][4]
Pierce graduated in 1981[5] from both Benjamin Franklin High School[6] and the New Orleans Center for Creative Arts (most NOCCA students attend traditional secondary school in the mornings and the arts school in the afternoons). In 1981, Pierce was named a Presidential Scholar of the Arts.[7] As a young actor, he appeared in The Winter's Tale at the Tulane Shakespeare Festival. He produced and hosted Think About It, a youth-themed talk show, for the local NBC affiliate station, and also hosted a weekly jazz show on WYLD-FM Radio called Extensions from Congo Square.[8]
He then attended the Juilliard School's Drama Division from 1981 to 1985, where he graduated as a member of Group 14 with a Bachelor of Fine Arts.[9]
Read more...
Career
Pierce has been in over 30 films, appeared in nearly 50 television shows and has performed in dozens of stage productions. He worked on the HBO dramas The Wire and Treme. He appeared in The Twilight Saga: Breaking Dawn - Part 2 as "J. Jenks".[10]
For his role in Treme, Pierce learned to play the trombone, though he relied on "sound double" Stafford Agee of the Rebirth Brass Band.[3] Agee played off-camera for Pierce, syncing his trombone with Wendell's motions for authenticity.[11]
Pierce was nominated for an Independent Spirit Award for Best Male Lead for his portrayal of "Joe" in Four, playing a married, closeted gay man who steps out on his family with a young white man he met online. The film was released on September 13, 2013, around the same time that The Michael J. Fox Show debuted on NBC, in which Pierce played Michael J. Fox's character's boss until the show's cancellation some five months later.[12][13]
Stage
Pierce has been in numerous stage productions. He was lauded for his performance as Holt Fay in Queenie at the John F. Kennedy Center. He has performed on Broadway in staged productions of The Piano Lesson, Serious Money and The Boys of Winter. He has performed off-Broadway in The Cherry Orchard (for which he was nominated for a VIV Award for Lead Actor), Waiting for Godot (which was set on a New Orleans rooftop post-Hurricane Katrina), and Broke-ology, performed at Lincoln Center for the Performing Arts.[14]
Other performances include Cymbeline (at The Public Theater), The Good Times Are Killing Me, Two Gentlemen of Verona, Tis Pity She's a Whore, and Ms. Ever's Boys performed at the ACT Theatre.
Pierce is also a theater producer, having produced the Broadway show, Clybourne Park. The show was nominated for four Tony Awards. It went on to win the Tony Award for Best Play in 2012. [15]
In 2015, Pierce returned to the stage to star in the Billie Holiday Theatre production of Jackie Alexander's Brothers from the Bottom in New York. [16]
Radio
In 2009, Pierce became the host of the nationally syndicated, Peabody Award-winning radio program, Jazz at Lincoln Center, which features live recordings from Jazz at Lincoln Center's House of Swing.
Business and philanthropy
Pierce considers himself a "true capitalist" and a "classic entrepreneur."[3][4]
In 2013, Fast Company named Pierce one of the "100 Most Creative People in Business."[17]
Pontchartrain Park Community Development Corp.
Pierce started the non-profit, Pontchartrain Park Community Development Corp., to build new affordable solar and geothermal homes in the area for families displaced by Hurricane Katrina.[18]
Sterling Farms
Inspired in part by Michelle Obama's initiative to bring more supermarkets to "food deserts" - where residents lack easy access to fresh produce - Pierce, along with two partners (Troy Henry and James Hatchett), started a chain of grocery stores, Sterling Farms, in the Ninth Ward of New Orleans in 2012.[19] Sterling Farms also has a convenience store division called "Sterling Express." The stores are named after Sterling Henry, his business partner's father who ran a pharmacy for about 40 years in the Lower Ninth Ward.[20]
Personal life
Pierce describes himself as "tri-coastal", splitting his time among Los Angeles, New York City, and New Orleans.[21] He is a supporter of the New Orleans Saints, and locals have nicknamed him "Saints Wendell".[19] He is also an avid supporter of St. Patrick's Athletic FC.[22]
Pierce attended the 2012 Democratic National Convention, was one of President Barack Obama's top campaign fundraisers in 2012, and once escorted Gwen Ifill to a White House State Dinner.[4][23][24]
When first cast in The Wire, Pierce and his castmates doubted the show would be a hit: "I remember the first time we all sat around and watched the pilot. We all turned to each other and said, 'Man, I don't think this shit is going anywhere.'"[19]
On Sunday, May 15, 2016, Pierce was arrested and charged with simple battery for an alleged attack against a female Bernie Sanders supporter outside Atlanta Lowes Hotel. He was booked and released on $1,000 bond from Fulton County Jail.[25][26] Pierce has been a vocal supporter of Hillary Clinton and is on the board for Alliance for a Healthier Generation, a campaign created by the Clinton Foundation.[27][28]
Filmography
Film
Year
Title
Role
Notes
1986
The Money Pit
Paramedic
1989
Casualties of War
MacIntire
Family Business
Prosecutor
1990
A Matter of Degrees
Wells Dennard
1991
A Rage in Harlem
Louis
1992
Malcolm X
Ben Thomas
1993
Manhattan Murder Mystery
Policeman
1994
It Could Happen to You
Bo Williams
1995
Bye Bye Love
Hector
Hackers
Agent Dick Gill
Waiting to Exhale
Michael Davenport
1996
Get on the Bus
Wendell
Sleepers
Little Caesar
1998
Bulworth
Fred
1999
The 24 Hour Woman
Roy Labelle
Shadows of the Past (aka Abilene)
Reverend Tillis
2002
Brown Sugar
Simon
2003
The Fighting Temptations
Reverend Lewis
2004
A Hole in One
Dan
Land of Plenty
Henry
Ray
Wilbur Brassfield
2006
Stay Alive
Detective Thibodeaux
2007
I Think I Love My Wife
Sean
2009
The Storm Inside
narrator
Documentary
2010
Night Catches Us
David Gordon
Love Ranch
Naasih Mohammed
The Big Uneasy
Himself (narration)
Documentary
2011
The Mortician
Wendell Simms
Horrible Bosses
Detective Hagan
2012
Lay the Favorite
Dave the Rave
The Twilight Saga: Breaking Dawn - Part 2
J. Jenks
Four
Joe
2013
Parker
Carlson
Möbius
Bob
2014
Elsa & Fred
Armande
Selma
Hosea Williams
Foreclosure
Virgil
2015
The Runner
Frank Legrand
Mary Lou Williams: The Lady Who Swings the Band
Andy Kirk (voice)
Documentary
Runaway Hearts
Paul
The Gift
Detective Mills
2016
Bad Moms
Principal Daryl Burr
2017
Rodents of Unusual Size
Narrator
Documentary
2018
Piercing
Television
Year
Title
Role
Notes
1987
Vietnam War Story
French
Episode: "The Pass"
1989
A Man Called Hawk
Derrick West
Episode: "Never My Love"
1988-1989
The Equalizer
Dr. Wolff
Episodes: ""The Last Campaign", "Starfire"
1990
Capital News
Conrad White
13 episodes
1991
General Motors Playwrights Theater
Sergeant Kelly
Episode: "Avenue Z Afternoon"
The 10 Million Dollar Getaway
Parnell "Stacks" Edwards
TV movie
I'll Fly Away
Charles
Episode: "Coming Home"
1992
Law & Order
Chief Ola-Gimju Nwaka
Episode: "Consultation"
Unnatural Pursuits
Cabbie
Episode: "I Don't Do Cuddles"
1993
Strapped
TV movie
1995
Law & Order
Jerome Bryant
Episode: "Rage"
New York News
Jesus
Episode: "The Using Game"
1996
New York Undercover
Dr. Anthony Fisher
Episode: "Bad Blood"
Never Give Up: The Jimmy V Story
John Saunders
TV movie
1996-1997
Moloney
DA Calvin Patterson
5 episodes
1997
413 Hope
Taffy
Pilot episode
The Advocate's Devil
Justin
TV movie
1997-1999
The Gregory Hines Show
Carl Stevenson
20 episodes
1999
The Expert
Dr. Worseley
Pilot episode
Law & Order
Mr. Wade
"Disciple"
1998-2000
The Brian Benben Show
Kevin La Rue
7 episodes
2000
God, the Devil and Bob
Voice role; Episodes: "In the Beginning", "Date from Hell"
Third Watch
Officer Conrad "Candyman" Jones
5 episodes
City of Angels
Norbert Grimly
Episode: "Straight Flush"
2001
My Wife and Kids
Dr. Boucher
Pilot episode
2000-2001
The Weber Show/Cursed
Wendell Simms
17 episodes
2002
Girlfriends
Anthony Jackson
Episode: "Childs in Charge"
2002-2008
The Wire
Det. William "Bunk" Moreland
54 episodes
2004
Judging Amy
Harry Benton
"Sins of the Father"
Law & Order
Roger Porter
"Gunplay"
Law & Order: Trial by Jury
Dr. Richard Link
Episodes: "The Line", "Eros in the Upper Eighties"
2006
Close to Home
Sam Carter
Episode: "Prodigal Son"
2007
Life Support
Slick
TV movie
The Wire: The Chronicles
Det. William "Bunk" Moreland
Episode: "2000: Bunk and McNulty"
2007-2008
Numb3rs
William Bradford
4 episodes
2008
Women's Murder Club
Bill Schroeder
Episode: "Father's Day"
In Plain Sight
Dr. Warren McBride/Warren Morris
Episode: "It Doesn't Live Here Anymore"
House of Payne
Jeffrey Lucas
Episodes: "The Last Supper", "We've Come this Far by Faith: Part 2"
2009
Fear Itself
Wiilbur Orwell
"Something with Bite"
Hawthorne
Michael Schilling
Episode: "Trust Me"
Drop Dead Diva
Neal David
Episode: "Grayson's Anatomy"
2010
Tim & Eric Awesome Show
Detective
Episode: "Re-Animated"
2010-2013
Treme
Antoine Batiste
36 episodes
2013-present
Suits
Robert Zane
Recurring role; 28 episodes
2013-2014
The Michael J. Fox Show
Harris Green
Regular cast; 22 episodes
2014-2015
Ray Donovan
Ronald Keith
Recurring role; 11 episodes
2015-2017
The Odd Couple
Teddy
Regular cast; 38 episodes
2015
The Night Shift
Walt
Episode: "Moving On"
2016
Grease: Live
Coach Calhoun
Live TV musical
Confirmation
Clarence Thomas
TV movie
Pickle and Peanut
Dr. Craig
Voice only; Episode: "Night Shift/Scalped"
2017
Archer
Verl
Voice only; Episode: "Archer Dreamland: Jane Doe"
Chicago P.D.
Alderman Ray Price
3 episodes
2018
Unsolved: The Murders of Tupac and the Notorious B.I.G.
Detective Lee Tucker
3 episodes
Jack Ryan
James Greer
Main Role
[ Source: Wikipedia ]