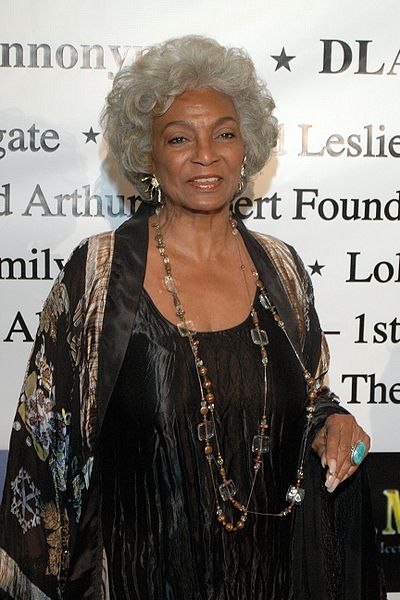 Nichelle Nichols
Birth name:
Grace Dell Nichols
Born:
December 28, 1932
Age:
90
Birthplace:
Robbins, Illinois, U.S.
Popularity:

Please login to contact Nichelle Nichols...
Biography
Nichelle Nichols (born Grace Dell Nichols; December 28, 1932)[3] is an American actress, singer, and voice artist. She sang with Duke Ellington and Lionel Hampton before turning to acting. Nichols played communications officer Lieutenant (later, Commander) Uhura aboard the USS Enterprise in the Star Trek television series (1966-1969), as well as the succeeding motion pictures. Nichols's role was groundbreaking as one of the first African American female characters on American television not portrayed as a servant.[4] She also worked to recruit diverse astronauts to NASA, including women and ethnic minorities.
Grace Dell Nichols was born in Robbins, Illinois, near Chicago, to Samuel Earl Nichols, a factory worker who was elected both town mayor of Robbins and its chief magistrate, and his wife, Lishia (Parks) Nichols.[5] Later, the family moved into an apartment in Chicago. She studied in Chicago as well as New York and Los Angeles. Her break came in an appearance in
Kicks and Co.
,
Oscar Brown
's highly touted, but ill-fated 1961 musical.[6] In a thinly veiled satire of
Playboy
magazine, she played Hazel Sharpe, a voluptuous campus queen who was being tempted by the devil and
Orgy Magazine
to become "Orgy Maiden of the Month". Although the play closed after its brief try-out in Chicago, in an ironic twist, she attracted the attention of
Hugh Hefner
, the publisher of
Playboy
, who booked her for his Chicago Playboy Club.[7][8] While still in Chicago, she performed at the "Blue Angel", and in New York, Nichols appeared at that city's Blue Angel as a dancer and singer.[
citation needed
] She also appeared in the role of Carmen for a Chicago stock company production of
Carmen Jones
and performed in a New York production of
Porgy and Bess
. Between acting and singing engagements, Nichols did occasional modeling work.
In January 1967, Nichols also was featured on the cover of Ebony magazine,[9] and had two feature articles in the publication in five years. Nichols toured the United States, Canada and Europe as a singer with the Duke Ellington and Lionel Hampton bands.[10] On the West Coast, she appeared in The Roar of the Greasepaint - The Smell of the Crowd, For My People, and garnered high praise for her performance in the James Baldwin play Blues for Mister Charlie. Prior to being cast as Lieutenant Uhura in Star Trek, Nichols was a guest actress on television producer Gene Roddenberry's first series The Lieutenant (1964) in an episode, "To Set It Right", which dealt with racial prejudice.[11]
Read more...
Career
Star Trek
Main article: Uhura Nichols as Lieutenant Uhura on Star Trek, 1967.
On Star Trek, Nichols was one of the first black women featured in a major television series not portraying a servant[4]; her prominent supporting role as a bridge officer was unprecedented. During the first year of the series, Nichols was tempted to leave the series, as she wanted to pursue a Broadway career; however, a conversation with Dr. Martin Luther King Jr. changed her mind. She has said that King personally encouraged her to stay on the series, telling her that he was a big fan of Star Trek. He said she "could not give up" because she was playing a vital role model for black children and young women across the country, as well as for other children who would see blacks appearing as equals.[4][12][13][14] In an interview, she said that the day after she told Roddenberry she planned to leave the show, she was at a fundraiser at the NAACP and was told there was a big fan who wanted to meet her. Nichols said:
I thought it was a Trekkie, and so I said, 'Sure.' I looked across the room, and there was Dr. Martin Luther King walking towards me with this big grin on his face. He reached out to me and said, 'Yes, Ms. Nichols, I am your greatest fan.' He said that Star Trek was the only show that he, and his wife Coretta, would allow their three little children to stay up and watch. I never got to tell him why, because he said, 'You can't. You're part of history.'
When she told Roddenberry what King had said, he cried.[15] Former NASA astronaut Mae Jemison has cited Nichols' role of Lieutenant Uhura as her inspiration for wanting to become an astronaut and Whoopi Goldberg has also spoken of Nichols' influence.[16] Goldberg asked for a role on Star Trek: The Next Generation,[17] and the character Guinan was specially created, while Jemison appeared on an episode of the series.
In her role as Lieutenant Uhura, Nichols kissed white actor William Shatner as Captain James T. Kirk in the November 22, 1968, Star Trek episode "Plato's Stepchildren". The episode is cited as the first example of an interracial kiss on U.S. television.[18][19][20] The Shatner/Nichols kiss was seen as groundbreaking, even though it was portrayed as having been forced by alien telekinesis. There was some praise and some protest. On page 197 of her 1994 autobiography Beyond Uhura, Star Trek and Other Memories, Nichols cites a letter from a white Southerner who wrote, "I am totally opposed to the mixing of the races. However, any time a red-blooded American boy like Captain Kirk gets a beautiful dame in his arms that looks like Uhura, he ain't gonna fight it." During the Comedy Central Roast of Shatner on August 20, 2006, Nichols jokingly referred to the kiss and said, "Let's make TV history again—and you can kiss my black ass!" Despite the cancellation of the series in 1969, Star Trek lived on in other ways, and continued to play a part in Nichols' life. She again provided the voice of Uhura in Star Trek: The Animated Series; in one episode, "The Lorelei Signal", Uhura assumes command of the Enterprise. Nichols noted in her autobiography her frustration that this never happened on the original series. Nichols has co-starred in six Star Trek films, the last one being Star Trek VI: The Undiscovered Country.
Other acting roles
In 1994, Nichols published her autobiography Beyond Uhura: Star Trek and Other Memories. In it, she claimed that the role of Peggy Fair in the television series Mannix was offered to her during the final season of Star Trek, but producer Gene Roddenberry refused to release her from her contract. Between the end of the original series and the Star Trek animated series and feature films, Nichols appeared in small television and film roles. She briefly appeared as a secretary in Doctor, You've Got to Be Kidding! (1967), and portrayed a foul-mouthed madam in Truck Turner (1974) opposite Isaac Hayes, her only appearance in a blaxploitation film.
Nichols appeared in animated form as one of Al Gore's Vice Presidential Action Rangers in the "Anthology of Interest I" episode of Futurama, and she provided the voice of her own head in a glass jar in the episode "Where No Fan Has Gone Before". She voiced the recurring role of Elisa Maza's mother Diane Maza in the animated series Gargoyles, and played Thoth-Kopeira in an episode of Batman: The Animated Series. In 2004, she provided the voice for herself in The Simpsons episode "Simple Simpson". In the comedy film Snow Dogs (2002), Nichols appeared as the mother of the male lead, played by Cuba Gooding Jr. In 2006, she appeared as the title character in the film Lady Magdalene's, the madam of a legal Nevada brothel in tax default. She also served as executive producer and choreographer, and sang three songs in the film, two of which she composed. In addition to her acting skills, Nichols is an accomplished dancer and singer. She has twice been nominated for the Chicago theatrical Sarah Siddons Award for Best Actress. The first nomination was for her portrayal of Hazel Sharpe in Kicks and Co.; the second for her performance in The Blacks.
Nichols in September 2012.
Nichols played a recurring role on the second season of the NBC drama Heroes. Her first appearance was on the episode "Kindred", which aired October 8, 2007. She portrayed Nana Dawson, the matriarch of a New Orleans family financially and personally devastated by Hurricane Katrina, who cares for her orphaned grandchildren and her great-nephew, series regular Micah Sanders. In 2008, Nichols starred in the film The Torturer, playing the role of a psychiatrist. In 2009, she joined the cast of The Cabonauts, a sci-fi musical comedy that debuted on the Internet. Playing CJ, the CEO of the Cabonauts Inc, Nichols is also featured singing and dancing. On August 30, 2016, she was introduced as the aging mother of Neil Winters on the long-standing soap opera The Young and the Restless. She received her first Daytime Emmy nomination in the "Outstanding Guest Performer in a Drama Series" category for this role March 22, 2017.[21]
Music
Nichols has released two music albums. Down to Earth is a collection of standards released in 1967, during the original run of Star Trek.[22] Out of This World, released in 1991, is more rock oriented and is themed around Star Trek and space exploration.
NASA work
Nichols (fourth from the left) with most of the cast of
Star Trek
visiting the Space Shuttle Enterprise at the Rockwell International plant at Palmdale, California, USA, 1976.
After the cancellation of Star Trek, Nichols volunteered her time in a special project with NASA to recruit minority and female personnel for the space agency.[23] She began this work by making an affiliation between NASA and a company which she helped to run, Women in Motion.[24][25][26][27][28][29]
The program was a success. Among those recruited were Dr. Sally Ride, the first American female astronaut, and United States Air Force Colonel Guion Bluford, the first African-American astronaut, as well as Dr. Judith Resnik and Dr. Ronald McNair, who both flew successful missions during the Space Shuttle program before their deaths in the Space Shuttle Challenger disaster on January 28, 1986. Recruits also included Charles Bolden, the former NASA administrator and veteran of four shuttle missions, Frederick D. Gregory, former deputy administrator and a veteran of three shuttle missions and Lori Garver, former deputy administrator. An enthusiastic advocate of space exploration, Nichols has served since the mid-1980s on the board of governors of the National Space Society, a nonprofit, educational space advocacy organization founded by Dr. Wernher von Braun.[27]
In late 2015, Nichols flew aboard NASA's Stratospheric Observatory for Infrared Astronomy (SOFIA) Boeing 747SP, which analyzed the atmospheres of Mars and Saturn on an eight-hour, high-altitude mission. She was also a special guest at the Jet Propulsion Laboratory in Pasadena, California, on July 17, 1976, to view the Viking 1 soft landing on Mars. Along with the other cast members from the original Star Trek series, she attended the christening of the first space shuttle, Enterprise, at the North American Rockwell assembly facility in Palmdale, California. On July 14, 2010, she toured the space shuttle simulator and Mission Control at the Johnson Space Center.[30]
Personal life
Nichols' brother, Thomas, was a member of the Heaven's Gate cult. He died on March 26, 1997 in the cult's mass suicide that purposely coincided with the passing of the Hale-Bopp comet.[31] A member for 20 years,[32] he identified himself as the brother of Nichols in the group videotape (after leader Marshall Applewhite brought it up) prior to the event and left a final message saying: "I'm the happiest person in the world."[33]
In her autobiography, Nichols stated that she was romantically involved with Star Trek creator Gene Roddenberry for several years in the 1960s. She said the affair ended well before Star Trek began, when she and Roddenberry realized he was in love with Majel Hudec, who was an acquaintance of Nichols'.[34] When Roddenberry's health was fading, Nichols co-wrote a song for him, entitled "Gene", which she sang at his funeral. Nichols has been married twice, first to dancer Foster Johnson (1917-1981). They were married in 1951 and divorced that same year. Johnson and Nichols had one child together, Kyle Johnson, who was born August 14, 1951. She married Duke Mondy in 1968 and they were divorced in 1972.
On February 29, 2012, Nichols met with President Barack Obama in the White House Oval Office. She later Tweeted about the meeting, "Months ago, Pres Obama was quoted as saying that he'd had a crush on me when he was younger," Nichols also wrote. "I asked about that and he proudly confirmed it! President Obama also confirmed for me that he was definitely a Trekker! How wonderful is that?!"[35]
On June 4, 2015, Nichols' booking agency announced that she had suffered a mild stroke at her Los Angeles home and had been admitted to a Los Angeles-area hospital. This was barely three months after the death of her friend and Star Trek co-star Leonard Nimoy. Doctors were conducting tests to determine the severity of the stroke. Nichols was reportedly awake and resting comfortably.[36][37] An online news article by Frazier Moore of the Associated Press, which cited news updates from the actress's Facebook page, stated that, four days afterward, the hospitalized actress was feeling much better and was improving, remaining cheerful and alert and taking the time to read the messages from fans and well-wishers on her Facebook page, of which there were many. A magnetic resonance imaging (MRI) scan did reveal a small stroke but she was able to begin inpatient therapy on June 5, 2015, for rehabilitation and recovery and to further evaluate her condition and determine the prognosis. Her fellow Star Trek actor George Takei, who played Hikaru Sulu, wished her well on his Twitter account page.
In May 2018, Nichols' son, Kyle Johnson, announced that she was suffering from "severe" short-term memory loss as a complication of advanced dementia.[38][39] Johnson officially filed legal documents nominating four fiduciaries to become Nichols' conservators, giving them executive control over her financial and health-related decisions.[38] A 2013 video shows Nichols revealing that her son has tried to stop her from working and attending Trekkie conventions.[40][41]
Recognition
Nichols is an honorary member of Alpha Kappa Alpha Sorority. Robert A. Heinlein in part dedicated his novel Friday (1982) to her.[42] On June 8, 2010, Nichols received an honorary degree from Los Angeles Mission College. Asteroid 68410 Nichols is named in her honor.[43] In 2016, she received The Life Career Award, from the Academy of Science Fiction, Fantasy and Horror Films and it was presented as part of the 42nd Saturn Awards ceremony.
Filmography
Year
Title
Role
Notes
1959
Porgy and Bess
Dancer
Uncredited
1966
Tarzan's Deadly Silence
Ruana
Made in Paris
Buyer at Salon
Mister Buddwing
Dice Player
1967
Doctor, You've Got to Be Kidding!
Jenny Ribbock
1974
Truck Turner
Dorinda
1979
Star Trek: The Motion Picture
Lt. Commander Uhura
1982
Star Trek II: The Wrath of Khan
Commander Uhura
1984
Star Trek III: The Search for Spock
Commander Uhura
1986
Star Trek IV: The Voyage Home
Commander Uhura
The Supernaturals
Sgt. Leona Hawkins
1989
Star Trek V: The Final Frontier
Commander Uhura
1991
Star Trek VI: The Undiscovered Country
Commander Uhura
1995
The Adventures of Captain Zoom in Outer Space
High Priestess of Pangea
2002
Snow Dogs
Amelia Brooks
2004
Surge of Power: The Stuff of Heroes
Oman
2005
Are We There Yet?
Miss Mable
2008
Lady Magdalene's
Lady Magdalene / Maggie
Tru Loved
Grandmother
The Torturer
Doc
2012
This Bitter Earth
Clara Watkins
2016
Renegades
Admiral Grace Jemison
2017
The Order
2018
American Nightmares
Mystic Woman
Television
Year
Title
Role
Notes
1964
The Lieutenant
Norma Bartlett
"To Set It Right"
1966-69
Star Trek
Lieutenant Uhura
Series regular
1973
Star Trek: The Animated Series
Lieutenant Uhura / Additional voices
1984
Antony and Cleopatra
Charmian - Maid of Honour
1994
Gargoyles
Diane Maza
Guest appearance in four episodes through 1998
Batman: The Animated Series
Thoth-Khepera
"Avatar"
1996
Star Trek: Deep Space Nine
Lieutenant Uhura
Archive footage used in one episode ("Trials and Tribble-ations")
2000
Futurama
Herself
"Anthology of Interest I"
2002
Futurama
Herself
"Where No Fan Has Gone Before"
2007
Heroes
Nana Dawson
"Kindred"
Star Trek: Of Gods and Men
Captain Nyota Uhura
2009
The Cabonauts
CJ
2010
Scooby-Doo! Curse of the Lake Monster
Senator
2016
The Young and the Restless
Neil Winter's long lost mother Lucinda[44]
2017
Downward Dog
Deejay Devine
Video games
| Year | Title | Role | Notes |
| --- | --- | --- | --- |
| 1992 | Star Trek: 25th Anniversary Enhanced | Lt. Uhura | |
| 1994 | Star Trek: Judgment Rites | Lt. Uhura | |
Bibliography
Nichols, Nichelle; Bonanno, Margaret Wander (1996). Saturn's Child. New York: Ace Books. ISBN 978-0-441-00384-6.
Nichols, Nichelle (1995). Beyond Uhura: Star Trek and Other Memories. New York: Boulevard Books. ISBN 978-1-57297-011-3.
Nichols, Nichelle; Meechan, Jim (2002). Saturna's Quest. California: Planet X Publications. ISBN 978-0-9719154-0-4.
[ Source: Wikipedia ]