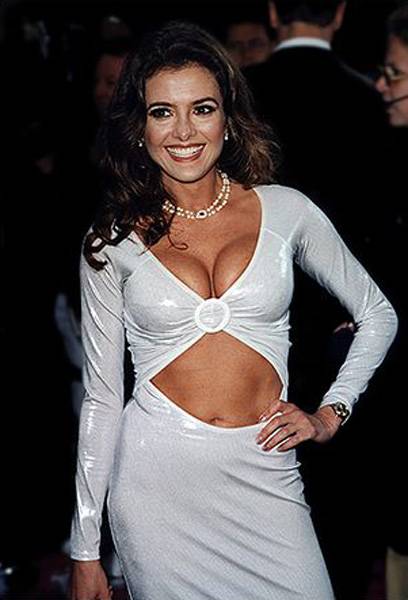 Fabiana Udenio
Born:
December 21, 1964
Age:
58
Birthplace:
Buenos Aires, Argentina
Popularity:

Please login to contact Fabiana Udenio...
Biography
Fabiana Udenio (born December 21, 1964) is an Italian actress. Born in Argentina, she is best known for her role as "Alotta Fagina", a Bond girl parody in Austin Powers: International Man of Mystery.
Fabiana Udenio was born in Buenos Aires, Argentina, and moved to Italy, where at the age of thirteen, was crowned "Miss Teen Italy", that same year Fabiana made her theatre debut as Miranda in The Tempest directed by Giorgio Strehler. She began acting in films and television as a teenager.[1]
Read more...
Career
Udenio's film roles include playing the daughter of a World War II Resistance fighter (Barbara Bouchet) in The Scarlet and the Black, Italian foreign-exchange student Anna-Maria Mazarelli in Summer School (1987), the sunbather in the "Sunblock 5000" commercial within RoboCop 2 (1990), Dan Cain's only living girlfriend Francesca in Bride of Re-Animator (1990), as "Alotta Fagina" in Austin Powers: International Man of Mystery (1997), as "Don Na" in The Godson (1998), and Gabriella in Pauly Shore's film In The Army Now (1994).
On television, Udenio had the recurring role of "Giulietta" on the ABC soap opera One Life to Live from 1985 to 1986, and was regular cast member in the syndicated drama Amazon (1999-2000). She has guest starred and had recurring roles on dozens of television shows, including Babylon 5, Baywatch, Full House, NYPD Blue, Quantum Leap, Mortal Kombat: Conquest, Cheers, Mad About You, Wings, The Magnificent Seven, CSI: Miami, and Mistresses. She also had the recurring role on 90210 (2008-2011) of Atooza Shirazi. She appears in the recurring role of Elena Di Nola/Mutter in the series Jane the Virgin (2015-2016).
Personal life
Udenio was married to Robert MacLeod for four years. She filed for divorce on February 5, 2009, citing irreconcilable differences. They have a son named Adrian Raice.[2]
Partial filmography
Leidenschaftliche Blumchen (1978) - Gina
The Warning (1980)
The Scarlet and the Black (1983) - Guila Lombardo
Hardbodies 2 (1986) - Cleo / Princess
Summer School (1987) - Anna-Maria Mazarelli
Bride of Re-Animator (1989) - Francesca Danelli
RoboCop 2 (1990) - Sunblock Woman
Diplomatic Immunity (1991) - Teresa Escobal
Anni 90 (1992) - Daniela ("Un amore impossibile")
Journey to the Center of the Earth (1993) - Sandra Miller
In the Army Now (1994) - Gabriella
Austin Powers: International Man of Mystery (1997) - Alotta Fagina
The Godson (1998) - Don Na
Amazon (1999-2000, TV Series) - Pia Claire
The Wedding Planner (2001) - Anna Bosco
Slammed (2004) - Natasha
[ Source: Wikipedia ]