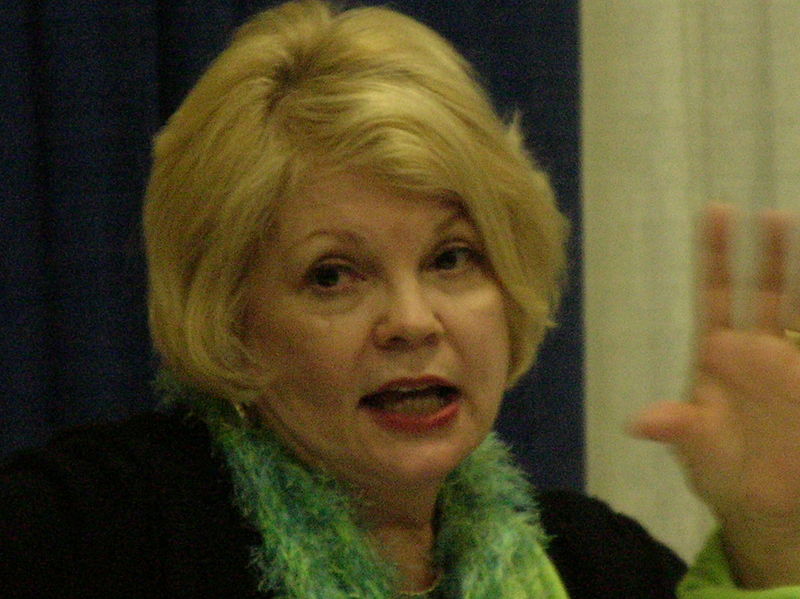 Kathy Garver
Birth name:
Kathleen Marie Garver
Born:
December 13, 1945
Age:
77
Birthplace:
Long Beach, California, U.S.
Popularity:

Please login to contact Kathy Garver...
Biography
Kathleen Marie Garver (born December 13, 1945) is an American stage, film, television, and voice-over actress most remembered for having portrayed the teenage niece, Catherine "Cissy" Davis, to series character Uncle Bill Davis, played by Brian Keith, on the popular 1960s CBS sitcom, Family Affair. Before that, she was cast by Cecil B DeMille in the film The Ten Commandments (1956). She is also known as the voice of Firestar in the animated television series Spider-Man and his Amazing Friends. Garver authored The Family Affair Cookbook (2009),[1] Surviving Cissy: My Family Affair of Life in Hollywood (2015),[2] and X Child Stars: Where are They Now? (2016).[3]
Garver was born in Long Beach, California, the daughter of Rosemary and Hayes Garver.[4][5] She was raised Roman Catholic and attended a Catholic primary school.[6] When she was nine, she tried her hand at acting and was cast in
I'll Cry Tomorrow
, but her most famous movie role was that of one of the young slaves in
The Ten Commandments
.
Between the mid-1950s and mid-1960s, the young actress worked with, in addition to her association with Brian Keith, such actors as Marvin Miller, Chuck Connors, Peter Graves, Scott Forbes, Dan O'Herlihy, Kurt Russell, Fess Parker, Vince Edwards, Richard Chamberlain, Patty Duke, Anne Lockhart, and James Franciscus.
In 1960, Garver released a Christmas song called "Lem, The Orphan Reindeer"[7] on the Aquarian label, distributed by Bell Records. The song was written by Tommy Boyce, Bobby Hart, and E. Justin, and arranged by Jimmie Haskell.
Garver later moved to San Bernardino, California, where she entered Pacific High School in 1960 and remained there until graduation in 1964. After high school, she entered UCLA, majoring in speech and drama, until her graduation in 1968. Garver was a member of Pi Beta Phi Fraternity for Women at UCLA.[citation needed]
Read more...
Career
Garver (bottom left) with her co-stars of
Family Affair
, Brian Keith (center), Sebastian Cabot (back),
Johnny Whitaker
, and
Anissa Jones
In 1965, Garver played a youthful Isadora Duncan, with June Lockhart as librarian Ina Coolbrith, the first poet laureate of California, and Sean McClory as the poet Joaquin Miller, in the episode "Magic Locket" of the syndicated western television series, Death Valley Days, hosted by Ronald Reagan. In the story line, Coolbrith develops a tenuous friendship with the teen-aged free spirit, "Dorita Duncan". The two have identical portions of a broken locket.[8]
In 1966, while studying at UCLA, she auditioned for, and won, the role of "Cissy" Davis, the eldest of the three siblings on Family Affair. Garver had been a fan of Keith since she was ten years old and had guest-starred on his earlier CBS series about the Cold War, Crusader. Family Affair lasted for five seasons and Garver would play the role of "Cissy" throughout its run.
Appeared as Laura Hayden in The Big Valley (S4E16, "The Royal Road", 1969 Mar 3).
Today, Ms. Garver is an accomplished actress, author and speaker, appearing in such movies as "Princess Diaries," "Unleashed," and "Helen's Last Love," and as guest star in such MOWs as "Hercules Save Christmas" and "FBI Murders." Her stage plays include "Voice of the Turtle," "Vanities," "Under the Yum Yum Tree," "Sunday in New York," "Star Spangled Girl," "Romeo and Juliet" with musicals "My Fair Lady," "River Song: The Adventures of Tom Sawyer" and "Summer Magic."[citation needed]
Garver provided the voice of Firestar on the Saturday morning cartoon Spider-Man and His Amazing Friends. She voiced Storm, as well as other female guest characters. In the 1990s Spider-Man cartoon series, she played the voice of Miss America.[9][10]
Garver was the voice of Alice Mitchell in the Dennis the Menace cartoon special Mayday for Mother and Pepper in Chuck Norris: Karate Kommandos. Her other voice roles included the television series Fonz and the Happy Days Gang, The Tom & Jerry Kids Show, Droopy, Master Detective, The New Yogi Bear Show, The Richie Rich/Scooby-Doo Show and The All-New Super Friends Hour, the cartoon special Marvin: Baby of the Year and the anime film JoJo's Bizarre Adventure. In addition to her television work, Garver has lent her voice talents to numerous commercials, toys, and audiobooks.
Her voice has been heard in the films Apollo 13, Ransom, and Backdraft which were all directed by Ron Howard, and Jingle All the Way directed by Brian Levant. She appeared as a cable car tourist in the film The Princess Diaries.
Garver has produced, narrated, written lyrics, and composed the music for eight audio Beatrix Potter tales and eight Mother Goose based audiotapes for Smarty Pants, Inc. Her Beatrix Potter tapes have sold over two million copies and have won numerous awards.[citation needed] She has recorded books for Brilliance Audio, Dove, Audible, and Listen and Live.
From 2008-2012 she co-hosted the Comcast television talk show Backstage! With Barry & Kathy.[11][12]
Ms Garver's latest plays include "Absolutely Dead" and "Dinner at Five" the latter written and directed by Lloyd Schwartz, also starring Fred Grandy, Christopher Knight and Caryn Richman.[13][14]
As a noted speaker, Ms Garver gives presentations on "The Power of Perseverance" among other topics.
Personal life
Garver lives in Hillsborough, California, with her husband, David Travis, and son, Reid.[15] She kept in touch with and visited her Family Affair co-star Brian Keith until his death on June 24, 1997, and attended his funeral.
Appearances and books
Garver appeared in the Christmas episode of the 2002-2003 Family Affair WB series, which was a remake of the original.
On June 26, 2008, she attended the Hollywood Walk of Fame ceremony when Brian Keith was awarded a star posthumously; Garver gave a speech on his behalf.[16]
On March 19, 2011, Garver made a guest appearance at the 21st annual "Festival of the West" in Scottsdale, Arizona, promoting her best-selling book, The Family Affair Cookbook (published in 2009[17]).[18]
She has appeared on the autograph convention circuit at such festivals as Western Legends Roundup in Kanab, Comic Con San Diego Wonder Con Anaheim, Chiller, Mid Atlantic Nostalgia Convention, Western Film Fair, among many others[citation needed].
On September 15, 2015, Amazon Books published her autobiography, Surviving Cissy: My Family Affair Of Life In Hollywood.[19]
Awards and honors
In 1995, a Golden Palm Star on the Palm Springs, California Walk of Stars was dedicated to her.[20] Garver has won two Audie Awards, one for her narration of The World's Shortest Stories, the other in 2004 for her direction of Amy Tan in The Opposite of Fate read by the author. In 2010, Garver was honored by the Young Artist Foundation with its Former Child Star "Lifetime Achievement" Award for her role in Family Affair.[21] The Southern California Motion Picture Council bestowed the honor of the Golden Halo Lifetime Achievement Award in Entertainment to Ms. Garver in 2016[citation needed].
[ Source: Wikipedia ]