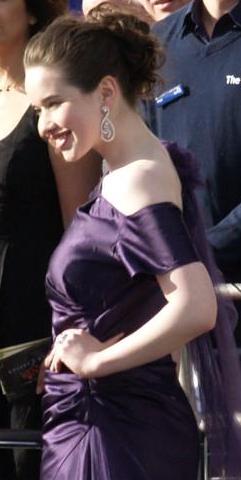 Anna Popplewell
Birth name:
Anna Katherine Popplewell
Born:
December 16, 1988
Age:
34
Birthplace:
London, England
Popularity:

Please login to contact Anna Popplewell...
Biography
Anna Katherine Popplewell (born 16 December 1988) is an English film, television and theatre actress. She is known for her role as Susan Pevensie in The Chronicles of Narnia film series since 2005, as Chyler Silva in Halo 4: Forward Unto Dawn since 2012 and Lady Lola in Reign from 2013-2016.
Popplewell, oldest of three children, is the daughter of the High Court judge Andrew Popplewell and Dr. Debra Lomas, a dermatologist who studied at Newnham College Cambridge. She was born in London. Her siblings are actress
Lulu Popplewell
, who starred as Daisy in
Love Actually
, and Freddie Popplewell, who starred as Michael Darling in the film
Peter Pan
. Her paternal grandfather, Sir Oliver Popplewell, is a former judge, and her uncle is former cricketer Nigel Popplewell. She attended North London Collegiate School and was Head Girl of 2006-07.[1] She was admitted to Oxford University in 2007 where she studied English Language and Literature at Magdalen College.
Read more...
Career
Popplewell began acting at the age of six, taking classes at the Allsorts Drama School. She began acting professionally in the TV production Frenchman's Creek in 1998. She made her film debut in 1999 in the film Mansfield Park, and followed up with supporting roles in the films The Little Vampire (2000) and Girl with a Pearl Earring (2003), with Scarlett Johansson. In 2001, she appeared as Victoria in the BBC serial Love in a Cold Climate.
Her first major role was in the film The Chronicles of Narnia: The Lion, the Witch and the Wardrobe (2005) where she played Susan Pevensie. She has a phobia of mice, which required a double to do part of her scene at the Stone Table in The Lion, the Witch, and the Wardrobe.[2] She reprised her role in the sequel, The Chronicles of Narnia: Prince Caspian, in which she acted with William Moseley, Skandar Keynes, Georgie Henley and Ben Barnes. The film opened in cinemas 16 May 2008. She also made a cameo appearance in the third Narnia film, The Chronicles of Narnia: The Voyage of the Dawn Treader.
In 2012 she played the character Chyler Silva in the live action 5-part mini series Halo 4: Forward Unto Dawn.
In 2013 Popplewell played Lola, a friend of Mary, Queen of Scots, in Reign. Filming took place in Ireland and Canada.[3] She played the role until 2016.
Filmography
Film roles

| Year | Title | Role | Notes |
| --- | --- | --- | --- |
| 1999 | Mansfield Park | Betsey | |
| 2000 | The Little Vampire | Anna Sackville-Bagg | |
| 2001 | Me Without You | Young Marina | |
| 2002 | Thunderpants | Denise Smash | |
| 2003 | Girl with a Pearl Earring | Maertge | |
| 2005 | The Chronicles of Narnia: The Lion, the Witch and the Wardrobe | Susan Pevensie | |
| 2008 | The Chronicles of Narnia: Prince Caspian | Susan Pevensie | |
| 2010 | The Chronicles of Narnia: The Voyage of the Dawn Treader | Susan Pevensie | Cameo |
| 2012 | Payback Season | Izzy | |
| 2015 | Freak of Nurture | Nurse Bethany Lane | |
| 2018 | The Last Birthday | Olga | Short |
Television roles

| Year | Title | Role | Notes |
| --- | --- | --- | --- |
| 1998 | Frenchman's Creek | Henrietta | Television film |
| 2000 | Dirty Tricks | Rebecca | Television film |
| 2001 | Love in a Cold Climate | Victoria | Television mini-series |
| 2002 | Daniel Deronda | Fanny Davilow | Television mini-series; 3 episodes |
| 2011 | Comedy Lab | Herself - Guest | Episode: "Totally Tom" |
| 2011 | Brave New World | Maura Taft | Television film |
| 2012 | Halo 4: Forward Unto Dawn | Chyler Silva | Web series; Main role, 5 episodes |
| 2012 | Looking Back | Herself | Documentary short |
| 2013-2016 | Reign | Lady Lola | Main role (seasons 1-3); 62 episodes |
Video game roles

| Year | Title | Role | Notes |
| --- | --- | --- | --- |
| 2005 | The Chronicles of Narnia: The Lion, the Witch and the Wardrobe | Susan Pevensie | Voice role |
| 2008 | The Chronicles of Narnia: Prince Caspian | Susan Pevensie | Voice role |
Awards and nominations
| Year | Award | Category | Nominated work | Result |
| --- | --- | --- | --- | --- |
| 2006 | Teen Choice Awards | Best Movie Choice Actress | for The Lion, The Witch and The Wardrobe | Nominated |
| 2006 | Character and Morality in Entertainment Awards | Best Actress | for The Lion, The Witch and The Wardrobe | Won |
| 2006 | Character and Morality in Entertainment Awards | Best Performance in cast | for The Lion, The Witch and The Wardrobe | Won |
| 2008 | Nickelodeon UK Kids' Choice Awards | Best Film Star | for The Chronicles of Narnia: Prince Caspian | Nominated |
| 2009 | Young Artist Awards | Best Performance in a Feature Film - Young Ensemble Cast | for The Chronicles of Narnia: Prince Caspian | Nominated |
| 2012 | 3rd Annual Streamy Awards | Best Female Performance: Drama | for Halo 4: Forward Unto Dawn | Nominated |
[ Source: Wikipedia ]