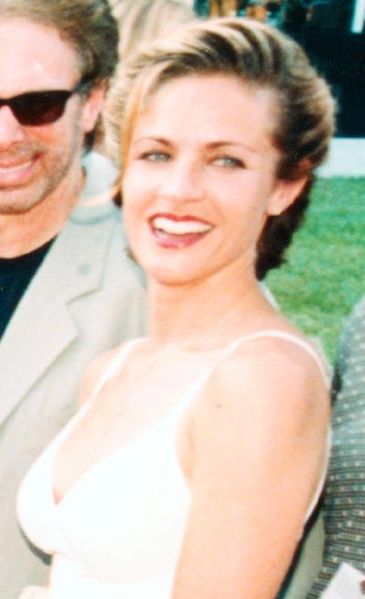 Jessica Steen
Born:
December 19, 1965
Age:
57
Birthplace:
Toronto, Ontario, Canada
Popularity:

Please login to contact Jessica Steen...
Biography
Jessica Steen (born December 19, 1965) is a Canadian film and television actress, noted for her roles in Captain Power and the Soldiers of the Future, Homefront, Earth 2, Armageddon, Left Behind: World at War, NCIS, Flashpoint and the CBC series Heartland.
Jessica Steen was born in Toronto, Ontario, the daughter of Joanna Noyes, an actress, and Jan Steen, a director and actor.[1] She is of Dutch and Scottish ancestry.
Aside from her entertainment career, Steen is an environmentalist and animal rights supporter. She supports David Suzuki, the World Society for the Protection of Animals and the Western Canadian Wilderness Committee, among others. She is a certified diver, and is skilled at several circus arts - including stilt-walking, fire-twirling, and fire-eating.
Read more...
Career
At the age of eight, Steen was cast in her first role in the Canadian children's television series, The Sunrunners, co-starring with her mother. In the 1986 TV movie Young Again she portrayed Tracy Gordon, the daughter of a character portrayed by Lindsay Wagner.[2]
In 1987, she was the only female regular on the syndicated series Captain Power and the Soldiers of the Future, which lasted one year. For her performance in the Captain Power episode, "Judgment", she was nominated for the Gemini Award in the "Best Performance by a Lead Actress in a Continuing Dramatic Role" category in 1988. In 1989, Steen broke onto the big screen with the movie musical Sing.[2]
While in Toronto, Steen garnered roles on Canadian series and American made-for-TV movies until 1991, when she elected to move to New York City. Six weeks after arriving there, she was chosen to replace actress Noelle Beck, who was on maternity leave, on the soap opera Loving. Her portrayal of Patricia Alden Sowolsky Hartman McKenzie caught the attention of ABC's casting department and led to her being cast in the series Homefront. Set in a small Cleveland suburb immediately after World War II, Homefront was critically acclaimed for its writing, ensemble cast, and historical insights. The series lasted two seasons.[2]
Steen at the
Armageddon
premiere, 1998
In 1994, she was cast as Dr. Julia Heller, a genetically enhanced doctor, in the NBC science fiction series Earth 2. While the show was canceled in 1995, the attention brought by the show allowed Steen to land guest appearances on other series, including The Outer Limits, ER, Murder One, The Pretender, The Practice, Due South, and Touched by an Angel. In 1994, she won the "Best Actress" Gemini Award, Canada's version of Emmy Awards, for her portrayal of Nora in the TV movie, Small Gifts.[2]
In 1997, she was cast as District Attorney Elizabeth Gardner in the movie Trial & Error, working with Jeff Daniels and Michael Richards, to whom she gave his first screen kiss. She prepared for the role with the help of a friend who was going through law school and by watching the closing arguments of Marcia Clark during the O. J. Simpson trial. Her performance earned a rave review from Roger Ebert on his syndicated show, Siskel & Ebert.[2]
Producer Jerry Bruckheimer recommended her for the role of the shuttle pilot in 1998's Armageddon because he remembered her portrayal of Cpl. Jennifer 'Pilot' Chase in Captain Power and the Soldiers of the Future. In 2004 Steen played Dr. Elizabeth Weir in "Lost City", the two-part finale of season 7 of Stargate SG-1. In Stargate Atlantis the part was instead played by Torri Higginson. She played lead roles in Slap Shot 2: Breaking the Ice and the Disney TV movies Smart House and Principal Takes a Holiday.[2]
She played Myra Teal in a 2002 episode ("Mr. Monk and the Billionaire Mugger") of Monk. She played a recurring character on the CBS crime drama NCIS, that of Special Agent Paula Cassidy, from 2004-07. In the fall of 2007 she landed featured multi-episode roles on two Canadian series, jPod and Heartland, both based on popular books of the same names.[2]
In 2009, Steen appeared in six episodes of the Canadian TV police drama Flashpoint (which is also broadcast on CBS in the U.S) as Strategic Response Unit Specialist Donna Sabine, filling in for Julianna 'Jules' Callaghan (played by Amy Jo Johnson), who was shot. She is currently playing the same character during a 2011 episode where she gets married and her husband is shot the same day. She reprised the role in the final episode of the third season. In the fall of 2010 she was nominated for a Gemini Award for the season two episodes.
She also played Sheriff's Deputy Kathleen Hudak in the Supernatural season 1 episode "The Benders".[2]
Steen is currently filming her 10th season of CBC's Heartland as Lisa Stillman, the wife of series patriarch, Jack Bartlett.[3]
Filmography
Film

| Year | Title | Role | Notes |
| --- | --- | --- | --- |
| 1981 | Threshold | Tracy Vrain | |
| 1983 | Gentle Sinners | Donna | |
| 1986 | A Judgment in Stone | Melinda Coverdale | |
| 1986 | Flying | Carly Simmons | |
| 1987 | John and the Missus | Faith | |
| 1989 | Sing | Hannah Gottschalk | |
| 1990 | Still Life: The Fine Art of Murder | Nellie Ambrose | |
| 1996 | Dog Watch | Janet | Video |
| 1997 | Trial and Error | Elizabeth | |
| 1998 | Armageddon | Co-Pilot Jennifer Watts | |
| 1999 | Question of Privilege | Andrea Roberts | |
| 2000 | The Ride Home | Clara | Short film |
| 2001 | Apocalypse IV: Judgment | Victoria Thorne | |
| 2002 | Slap Shot 2: Breaking the Ice | Jessie Dage | Video |
| 2003 | Flip Phone | Sue | Short film |
| 2005 | Chaos | Karen Cross | |
| 2005 | Left Behind: World at War | Carolyn Miller | |
| 2008 | Transit Lounge | Roberta | Short film |
Television
Year
Title
Role
Notes
1983
Hangin' In
Darcy
Episode: "I've Got a Secret"
1983
SCTV Channel
College Student
Episode: "It's a Wonderful Film"
1984
When We First Met
Gail Pennoyer
TV movie
1984
The Edison Twins
Elaine
Episode: "Enemy of Weston"
1985
Workin' for Peanuts
Mellisa Stotts
TV movie
1985
Home Free
Daughter
TV movie
1985
The Littlest Hobo
Leslie 'Torque' Davidson
Episode: "Torgue"
1985
Striker's Mountain
Lowni Striker
TV movie
1985
Night Heat
Michelle Parker
Episode: "The Source"
1986
Night Heat
Angela Rivera
Episode: "Fighting Back"
1986
Kay O'Brien
Lindsay
Episode: "Little White Lies"
1986
The Truth About Alex
Kay
TV movie
1986
The Edison Twins
Elaine
Episode: "What Goes Up"
1986
The Campbells
Amanda Sims
Episode: "Blinded by Love"
1986
Walt Disney's Wonderful World of Color
Tracy Gordon
Episode: "Young Again"
1986
Easy Prey
Wendy Robinson
TV movie
1987
CBS Schoolbreak Special
Kate
Episode: "The Day They Came to Arrest the Book"
1987
Alfred Hitchcock Presents
Sally Carlyle
Episode: "Man on the Edge"
1987
Wiseguy
Tracy Steelgrave
Episode: "Pilot"
1987-1988
Captain Power and the Soldiers of the Future
Corporal Jennifer 'Pilot' Chase
22 episodes
1989
C.B.C.'s Magic Hour
Jennifer McPhail
Episode: "High Country"
1989
The Rocket Boy
The Rocket Boy's Girlfriend
TV movie
1990
Christmas in America
Eileen Morgan
TV movie
1990
Knights of the Kitchen Table
Marla McDermott
TV movie
1990
Street Legal
Karen MacNeil
Episode: "Softsell"
1991
The Great Pretender
Kate Hightower
TV movie
1991
Tropical Heat
Patricia Poston Phd.
Episode: "Dead Men Tell"
1991
Loving
Patricia 'Trisha' Alden Sowolsky Hartman McKenzie
TV series
1991-1993
Homefront
Linda Metcalf
42 episodes
1993
Herman's Head
Heather
Episode: "When Hairy Met Hermy"
1994
Small Gifts
Nora
TV movie
1994
To Save the Children
Kathi Davidson
TV movie
1994-1995
Earth 2
Dr. Julia Heller
21 episodes
1996
ER
Karen Hardy
Episode: "True Lies"
1996
The Outer Limits
Gina Beaumont
Episode: "The Refuge"
1997
Murder One
Paige Weikopf
4 episodes
1997
Touched by an Angel
Sarah Bingham
Episode: "Full Moon"
1998
Principal Takes a Holiday
Celia Shine
TV movie
1999
The Pretender
Rachel
Episode: "The Assassin"
1999
Due South
Constable Maggie MacKenzie
Episode: "Hunting Season"
1999
Smart House
Sara Barnes
TV movie
1999
The Practice
Brianna Hatfield
Episode: "Marooned"
1999
The Outer Limits
Stephanie Sawyer
Episode: "Essence of Life"
2000
On Hostile Ground
Allison Beauchamp
TV movie
2000
The Outer Limits
Kathrine
Episode: "The Grid"
2001
The Practice
Dr. Sarah Ford
Episode: "Inter Arma Silent Leges"
2002
Society's Child
Terry Best
TV movie
2002
Untitled Secret Service Project
Maureen Gage
TV movie
2002
Monk
Myra Teal
Episode: "Mr. Monk and the Billionaire Mugger"
2002
The Pact (2002 film)
Det. Anne-Marie Marrone
TV movie
2003
The Paradise Virus
Susan Holme
TV movie
2003
L.A. Dragnet
Amy Wenzel
Episode: "The Cutting of the Swath"
2003
Mutant X
Dr. Sara Stanton
Episode: "The Taking of Crows"
2003-2007,
2015
NCIS
NCIS Special Agent Paula Cassidy
6 episodes
2004
Stargate SG-1
Dr. Elizabeth Weir
Episode: "Lost City: Part 1"
Episode: "Lost City: Part 2"
2004
Nip/Tuck
Amy Connors
Episode: "Kimber Henry"
2005
Charmed
Ruth Brody
Episode: "Ordinary Witches"
2005
Kojak
Kate
Episode: "Pilot"
2005
Eyes
Holly Gibson
Episode: "Shots"
2005
Killer Instinct
Dr. Francine Klepp
7 episodes
2006
Supernatural
Deputy Kathleen Hudak
Episode: "The Benders"
2006
CSI: Crime Scene Investigation
Donna Basset
Episode: "Toe Tags"
2006
Rapid Fire
Linda
TV movie
2007-present
Heartland
Lisa Stillman
39 episodes
2008
Canooks
Katherine 'Kat' Baines
Episode: "Pilot"
Episode: "The City LA"
2008
jPod
Freedom
3 episodes
2008
Vipers
Dr. Collins
TV movie
2009
My Nanny's Secret
Julia
TV movie
2009-2011
Flashpoint
Donna Sabine
10 episodes
2012
Republic of Doyle
Sonja Sterling
3 episodes
2012
Bullet in the Face
Eva Braden
6 episodes
2018
Grey's Anatomy
Dr. Rebecca Froy
Episode: "Judgement Day"
[ Source: Wikipedia ]