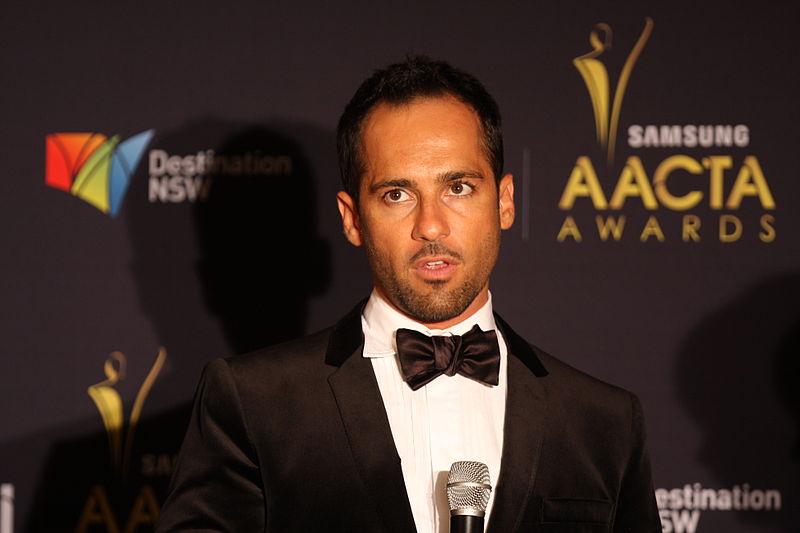 Alex Dimitriades
Born:
December 28, 1973
Age:
49
Birthplace:
Sydney, New South Wales, Australia
Popularity:

Please login to contact Alex Dimitriades...
Biography
Alex Dimitriades (born 28 December 1973) is an Australian film and television actor.
Dimitriades was born in Sydney, as Alexandros Dimitriades. He is the son of first generation Greek immigrants, and is the youngest of three siblings. He has a brother, George, and a sister, Melinda. He grew up in Earlwood, a suburb of Sydney.[1] His parents divorced when he was twelve.[2] His mother worked as a legal secretary. She raised the children as a single mother.[3]
Read more...
Career
Film
Dimitriades first attracted national attention for his co-starring role in the 1993 Australian film The Heartbreak Kid, for which he received positive reviews and acclaim.[4]
In 1998, he played the protagonist Ari in the controversial Ana Kokkinos film Head On, based on the book Loaded by Christos Tsiolkas. Dimitriades' performance in the role was critically acclaimed and earned him an AFI Award nomination.[5] The film was controversial for its graphic violence, sex scenes and LGBT subject matter, though it earned mostly positive reviews.[6] It screened at dozens of festivals around the world, including the Director's Fortnight at the 1998 Cannes Film Festival.[7]
His other film roles include the Australian comedies Let's Get Skase (2001) and La Spagnola (2001), the Greek film To Gamilio Party (English title Bang Bang Wedding, 2008), Wog Boy 2: Kings of Mykonos (2010), and Summer Coda starring alongside Rachael Taylor.[8] He has also had roles in the Hollywood films Ghost Ship (2002) and Deuce Bigalow: European Gigolo (2005).[9]
In 2015, he co-starred in Ruben Guthrie alongside Patrick Brammall.
Television
After making his acting debut in the film The Heartbreak Kid, he starred in a television spin-off, Heartbreak High, in which he played Nick Poulos.[10] He went on to play underworld figure, Warren Lanfranchi, in the 1995 drama television series Blue Murder.[11] In 1997, he took on a role in the police drama Wildside.
Dimitriades DJing at an event in 2012
In 2002, he appeared in Young Lions. In years to follow, he had small guest roles in the Australian soap Neighbours and the science fiction series Farscape. In 2008, Dimitriades played assassin Victor Brincat (known as Mr. T or 'The Running Man' in the show) in the drama series Underbelly.[12]
In 2011, he featured in the TV adaptation of Christos Tsiolkas' novel The Slap. He was awarded the AACTA Award for Best Lead Actor in a Television Drama for his role as the protagonist, Harry.[13]
Dimitriades at the 2016 Logie Awards
In 2015, he starred in The Principal, a SBS four-part crime drama screened over two weeks in October, for which he won a Logie Award.[14] The series has received positive reviews and various accolades, including several nominations from the Australian Film Institute in 2016. Subsequent to this, he appeared in the shows Secret City and Seven Types of Ambiguity.
DJ
Dimitriades, an avid collector of vinyl records, has stated that his love of music started in childhood.[15] He has a passion for both hip hop and dance music and has stated he is inspired by Kings Go Forth because of their "70s sound."[16] He works as a DJ professionally across Australia, often referred to as DJ Boogie Monster.[17] Dimitriades has headlined and performed at numerous events, including Derby Day[18] and as the headline act for the relaunch of the popular South Melbourne nightclub, Motel.[19]
Although Dimitriades is primarily known as an actor, his DJ work actually predates his acting work:
It's partly my fault, I was a DJ before I was an actor, but I wasn't known and haven't been known as one. It's two sides of me that will never go away."[20]
Theatre
In 1996 and 1997, Dimitriades, along with Nick Giannopoulos and Vince Colosimo, toured as part of the Wogboys comedy stage shows.[21][22]
Dimitriades has also appeared in many theatre productions, including two plays by Louis Nowra for Griffin Theatre Company, The Woman with Dog's Eyes (2004) and The Emperor of Sydney (2006); The Nightwatchman (2007) and Rain Man in 2010; and the Melbourne Theatre Company's production of Glengarry Glen Ross in 2014.[citation needed]
Personal life
Dimitriades had an eight-year relationship with Terry Biviano in the late 1990s and early 2000s.[3][23]
In 2008, Dimitriades was arrested driving under the influence. It was reported that he had a blood alcohol reading of .11, more than twice the legal limit in Australia. The charge resulted in the suspension of his driver's licence.[24][25]
In September 2009, his mother, Betty Dimitriades, lost her battle with a long-time illness.[26]
[ Source: Wikipedia ]