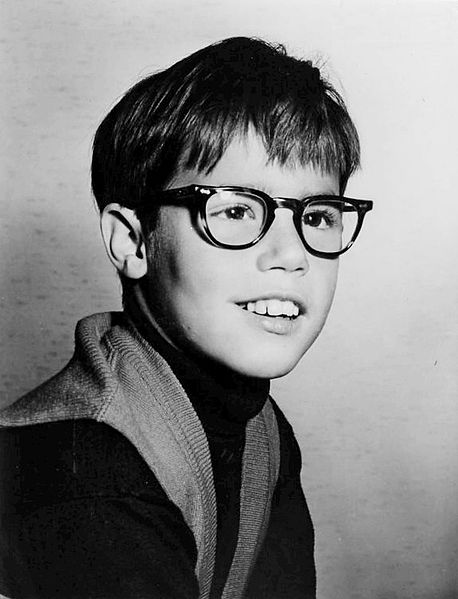 Barry Livingston
Born:
December 17, 1953
Age:
69
Birthplace:
Los Angeles, California, U.S.
Popularity:

Please login to contact Barry Livingston...
Biography
Barry Gordon Livingston (born December 17, 1953) is an American television and film actor, known for his role as "Ernie Douglas" on the television series My Three Sons (1963-72). He is the younger brother of actor/director Stanley Livingston, who played Ernie's older brother "Chip" on the show.
Livingston was born in Los Angeles, California, the son of Lillian Rochelle "Marilyn" Palyash and Hilliard Livingston.[2][3][4]
He began his career as a child actor in the late 1950s. He considers his film debut a role he won as one of the sons of Paul Newman in the film Rally 'Round the Flag, Boys! (1958) with his older brother Stanley who by this time was already working as a child actor. He was let go from the film when he was told that he needed to get glasses to successfully correct his astigmatism. His first professional onscreen appearance was in a small, uncredited role in the 1961 film The Errand Boy, followed by roles as "Barry", a neighborhood kid, in The Adventures of Ozzie & Harriet, on The Dick Van Dyke Show and (as "Arnold Mooney", son of banker Theodore J. Mooney portrayed by Gale Gordon) on The Lucy Show.[5] In 1963, he joined the cast of the ABC sitcom My Three Sons as next door neighbor Ernie Thompson.[6]
His older brother, Stanley Livingston, was already a series regular as Chip Douglas. After Tim Considine left the series two years later, Livingston joined the cast permanently (his character was adopted into the family, keeping the show's title intact) and remained with the series until its end in 1972. In 1964, at the age of ten, he appeared in the ABC medical drama about psychiatry, Breaking Point in the episode titled "A Land More Cruel".[6]
After the series run of My Three Sons ended in 1972, Livingston landed roles in Room 222 and The Streets of San Francisco. Barry appeared in some stage performances as well. One in particular was as Linus in "You're a Good Man Charlie Brown", which was off-Broadway, in NY, 1971. Throughout the 1970s and 1980s, he continued to work steadily in both films, made-for-TV movies and episodic television including Police Woman, Sidewinder 1, Simon & Simon, and 1st & Ten. He also appeared throughout the country in stage plays, including Broadway and off-Broadway. In 1974 he appeared in Sons and Daughters, a short-lived CBS series.[6]
In 2007, he appeared in Zodiac. He had a major role in the Hallmark Channel movie Final Approach. He has also appeared in You Don't Mess with the Zohan (2008), The Social Network (2010), Horrible Bosses (2011), and War Dogs (2016).[6]
In October 2011, Barry Livingston released his anecdote-filled autobiography, The Importance of Being Ernie (Citadel Press) -- detailing his career from My Three Sons to Mad Men and beyond. He most recently appeared on television in episodes of Mad Men, The New Adventures of Old Christine, Two and a Half Men and Anger Management. Barry Livingston is the only cast member of My Three Sons to still have an active Screen Actors Guild Card.[6]
Read more...
Family
Barry Livingston married his wife Karen in 1983. The couple has two children: Spencer (b. 1989) and Hailey (b. 1992).[citation needed]
Select filmography
Film
Peege (1972) Damion
Sidewinder 1 (1977) Willie Holt
Masters of the Universe (1987) Charlie
Easy Wheels (1989) Reporter
The Nutt House (1992) Williams
Maniac Cop III: Badge of Silence (1993) Asst. Coroner
Invisible Mom (1997) Professor Karl Griffin
Little Man on Campus (2000) Barry
Tremors 3: Back to Perfection (2001) Dr. Andrew Merliss
First Daughter (2004) Press Secretary
Zodiac (2007) Copy Editor#3
You Don't Mess with the Zohan (2008) Gray Kleibolt
Porky's Pimpin' Pee Wee (2009) Uncle Howard
The Social Network (2010) Mr. Cox
Hostel: Part III (2011) Doctor
Argo (2012) David Marmor, CIA official
Jersey Boys (2014) Accountant
War Dogs (2016) Army Bureaucrat
Television
The Dick Van Dyke Show (1 episode, 1962)
The Adventures of Ozzie & Harriet (8 episodes as "Barry", 1960-62)
Sam Benedict (1 episode, 1963)
Breaking Point (1 episode, 1964)
The Lucy Show (2 episodes as "Arnold Mooney", 1963-64)
Vacation Playhouse (1 episode, 1966)
My Three Sons (recurring roles Ernie Thompson/Douglas, (1963-72)
Room 222 (1 episode, 1973)
Ironside (1 episode, 1973)
You're a Good Man, Charlie Brown (1973)
Thicker Than Water (1 episode, 1973)
The Streets of San Francisco (1 episode, 1973)
The Elevator (1974)
Sons and Daughters (unknown number of episodes, 1974)
Police Woman (1 episode, 1974)
Lucas Tanner (1 episode, 1975)
High School U.S.A. (1983)
Simon & Simon (1 episode, 1984)
Hart to Hart (1 episode, 1984)
1st & Ten (1 episode, 1985)
Doogie Howser, M.D. (2 episodes, 1990-92)
Lois & Clark: The New Adventures of Superman (3 episodes, 1994-95)
Boston Common (1 episode, 1996)
The Nanny (1 episode, 1997)
Sliders (1 episode, 1997)
Ally McBeal (1 episode, 1998)
USA High (1 episode, 1998)
Beyond Belief: Fact or Fiction (1 episode, 1998)
Soldier of Fortune, Inc. (1 episode, 1999)
The Hughleys (1 episode, 1999)
Judging Amy (1 episode, 2000)
Zoe, Duncan, Jack and Jane (1 episode, 2000)
The Huntress (1 episode, 2000)
Sabrina, the Teenage Witch (1 episode, 2000)
Boston Public (1 episode, 2001)
The West Wing (1 episode, 2001)
All About Us (1 episode, 2001)
Will & Grace (episode: "Fagel Attraction", 2002)
Maybe It's Me (1 episode, 2002)
Roswell (1 episode, 2002)
Son of the Beach (1 episode, 2002)
American Dreams (1 episode, 2002)
The Guardian (1 episode, 2003)
She Spies (1 episode, 2004)
The Drew Carey Show (1 episode, 2004)
Wedding Daze (2004)
Strong Medicine (1 episode, 2004)
Crossing Jordan (1 episode, 2006) Hallmark movies & mysteries/ Mystery Woman:Wild West (1 episode, 2006)
Rodney (1 episode, 2006)
Pandemic (2007)
Final Approach (2007)
Mad Men (1 episode, 2007)
The New Adventures of Old Christine (1 episode, 2008)
Two and a Half Men (1 episode, 2008)
Everybody Hates Chris (1 episode, 2009)
Monk (1 episode, 2009)
NCIS (1 episode, 2009)
CSI: Miami (1 episode, 2012)
Anger Management (3 episodes, 2014)
The Middle (1 episode, 2017)
Angie Tribeca (1 episode, 2017)
The Orville (1 episode, 2017)
Bosch (1 episode, 2018)
[ Source: Wikipedia ]