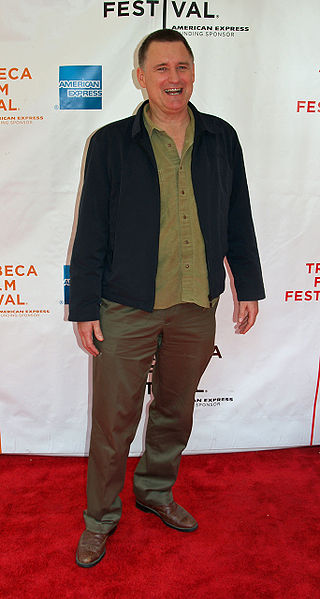 Bill Pullman
Birth name:
William James Pullman
Born:
December 17, 1953
Age:
69
Birthplace:
Hornell, New York, U.S.
Popularity:

Please login to contact Bill Pullman...
Biography
William James Pullman (born December 17, 1953) is an American actor. He made his film debut in the 1986 film Ruthless People, and has since gone on to star in other films, such as Spaceballs (1987), The Accidental Tourist (1988), Sleepless In Seattle (1993), While You Were Sleeping (1995), Casper (1995), Independence Day (1996), Lake Placid (1999), and Lost Highway (1997). He has also appeared regularly on television, usually in TV films, though starting in the 2000s he has also starred in miniseries and regular series, including starring roles in 1600 Penn (2012-13) and The Sinner (2017-present).
Pullman has also had a long stage acting career, and has appeared on Broadway several times, including in Edward Albee's The Goat, or Who is Sylvia? in 2002.
Pullman was born in Hornell, New York, the son of James Pullman, a physician, and his wife Johanna (née Blaas), a nurse.[
citation needed
]
After graduating from Hornell High School in 1971, he attended the State University of New York at Delhi (SUNY Delhi)[1] and the State University of New York at Oneonta in the 1970s. He eventually received his Masters of Fine Arts degree from the University of Massachusetts Amherst. Pullman taught theater at SUNY Delhi[1] and Montana State University's School of Film and Photography, where he was persuaded by his students to attempt film.[citation needed]
Read more...
Career
Pullman at the Tribeca Film Festival, April 2007
During the 1980s, he primarily worked with theater companies around New York and Los Angeles. His first prominent film role was in Ruthless People (which starred Danny DeVito and Bette Midler). Other notable films included the lead in Spaceballs (1987), The Serpent and the Rainbow (with Zakes Mokae), and While You Were Sleeping (1995). In 1996, he played the president of the United States in the sci-fi film Independence Day. A year later he had a major role in Lost Highway (1997) and voiced Korso in the animated post-apocalyptic film Titan A.E.. His more recent films have included The Grudge and Scary Movie 4. He also starred along with Christian Bale in the musical Newsies.
From February 2001 until February 2002, Pullman starred with Mercedes Ruehl, in Edward Albee's play The Goat, or Who is Sylvia? on Broadway. The play won several awards: 2002 Tony Award for Best Play; 2002 Drama Desk Award Outstanding New Play; 2003 Pulitzer Prize for Drama. Pullman was nominated for the 2002 Drama Desk Award Outstanding Actor in a Play. He starred as Dr. Richard Massey in the miniseries Revelations. Pullman starred in Albee's play Peter and Jerry, at Off-Broadway's Second Stage Theatre in New York. For his performance, Pullman received a second Drama Desk Award nomination for Outstanding Actor in a Play in 2008.
In addition to acting, Pullman is a creative writer. His first play, Expedition 6, is about the International Space Station mission Expedition 6 that was in orbit at the time that the Space Shuttle Columbia was destroyed on reentry, grounding the U.S. space shuttle program, which was to provide the vehicle for the crew's return to earth. The play opened at San Francisco's Magic Theater in September 2007.[2]
He also appeared in the Broadway production of David Mamet's Oleanna, co-starring Julia Stiles.[3] The production opened at the John Golden Theatre October 11, 2009, and closed on December 6, 2009, playing 65 performances.[4]
He is also a Jury Member for the digital studio Filmaka, a platform for undiscovered filmmakers to show their work to industry professionals.[5]
Pullman played Oswald Danes, a pedophile and child killer, in Torchwood: Miracle Day, the fourth series of the BBC/Starz Entertainment television show Torchwood (a spinoff to the BBC series Doctor Who),[6] the former of which began airing in July 2011. For his performance as Danes, Pullman received a Saturn Award nomination for Best Supporting Actor on Television.[7]
From 2012-13, Pullman portrayed the President of the United States in the television comedy series 1600 Penn.
He plays Detective Harry Ambrose in the USA Network mystery series The Sinner, which aired its first season in 2017 and has been renewed for a second season.
Personal life
Pullman is married to Tamara Hurwitz, a modern dancer,[8][9][10] Their three children are actor Lewis Pullman[11] singer-songwriter Maesa Pullman,[12] and Jack Pullman.[13][14] At the age of 21, Pullman suffered a head injury and lost his sense of smell.[15] He co-owns a cattle ranch with his brother in Montana, near the town of Whitehall, where he lives part-time.[16] He also serves on the Board of Trustees at Alfred University[17] and was awarded an honorary doctorate on May 14, 2011.[8]
Filmography
Film

| Year | Title | Role | Notes |
| --- | --- | --- | --- |
| 1986 | Ruthless People | Earl Mott | |
| 1987 | Spaceballs | Lone Starr | |
| 1988 | The Serpent and the Rainbow | Dennis Alan | |
| 1988 | Rocket Gibraltar | Crow Black | |
| 1988 | The Accidental Tourist | Julian | |
| 1989 | Cold Feet | Buck Latham | |
| 1990 | Brain Dead | Dr. Rex Martin | |
| 1990 | Sibling Rivalry | Nicholas Meany | |
| 1990 | Bright Angel | Bob | |
| 1990 | Going Under | Biff Banner | |
| 1991 | Liebestraum | Paul Kessler | |
| 1992 | Nervous Ticks | York Daley | |
| 1992 | Newsies | Bryan Denton | |
| 1992 | A League of Their Own | Bob Hinson | |
| 1992 | Singles | Doctor Jamison | |
| 1993 | Sommersby | Orin Meecham | |
| 1993 | Sleepless in Seattle | Walter | |
| 1993 | Malice | Andy Safian | |
| 1993 | Mr. Jones | Construction Site Foreman | Uncredited cameo |
| 1994 | The Favor | Peter Whiting | |
| 1994 | Wyatt Earp | Ed Masterson | |
| 1994 | The Last Seduction | Clay Gregory | |
| 1995 | While You Were Sleeping | Jack Callaghan | |
| 1995 | Casper | Dr. James Harvey | |
| 1996 | Mr. Wrong | Whitman Crawford | |
| 1996 | Independence Day | President Thomas J. Whitmore | |
| 1997 | Lost Highway | Fred Madison | |
| 1997 | The End of Violence | Mike Max | |
| 1998 | Zero Effect | Daryl Zero | |
| 1999 | Lake Placid | Jack Wells | |
| 1999 | Brokedown Palace | 'Yankee' Hank Green | |
| 1999 | Spy Games | Harry Howe/Ernie Halliday | |
| 2000 | The Guilty | Callum Crane | |
| 2000 | Titan A.E. | Captain Joseph Korso | Voice |
| 2000 | Lucky Numbers | Det. Pat Lakewood | |
| 2000 | A Man Is Mostly Water | Parking Fascist | |
| 2001 | Ignition | Conor Gallagher | |
| 2002 | 29 Palms | The Ticket Clerk | |
| 2002 | Igby Goes Down | Jason Slocumb | |
| 2003 | Rick | Rick | |
| 2004 | The Grudge | Peter Kirk | |
| 2005 | Dear Wendy | Officer Krugsby | |
| 2006 | Scary Movie 4 | Henry Hale | |
| 2006 | Alien Autopsy | Morgan Banner | |
| 2007 | Nobel Son | Max Mariner | |
| 2007 | You Kill Me | Dave | |
| 2008 | Surveillance | Sam Hallaway | |
| 2008 | Bottle Shock | Jim Barrett | |
| 2008 | Phoebe in Wonderland | Peter Lichten | |
| 2008 | Your Name Here | William J. Frick | |
| 2010 | Peacock | Edmund French | |
| 2010 | The Killer Inside Me | Billy Bob Walker | |
| 2010 | Rio Sex Comedy | William | |
| 2011 | Bringing Up Bobby | Kent | |
| 2012 | Lola Versus | Lenny | |
| 2013 | The Unbelievers | Himself | |
| 2014 | Red Sky | Captain John Webster | |
| 2014 | Cymbeline | Sicilius Leonatus | |
| 2014 | The Equalizer | Brian Plummer | |
| 2015 | American Ultra | Raymond Krueger | |
| 2016 | Independence Day: Resurgence | Former President Thomas J. Whitmore | |
| 2016 | LBJ | Senator Ralph Yarborough | |
| 2016 | Brother Nature | Jerry Turley | |
| 2017 | Walking Out | Clyde | |
| 2017 | The Ballad of Lefty Brown | Lefty Brown | |
| 2017 | Trouble | Ben | |
| 2017 | Battle of the Sexes | Jack Kramer | |
| 2018 | The Equalizer 2 | Brian Plummer | |
| 2018 | Vice | Nelson Rockefeller | In post-production |
Television
Year
Title
Role
Notes
1986
Cagney & Lacey
Doctor Giordano
Episode: "A Safe Place"
1989
Home Fires Burning
Henry Tibbets
Movie
1990
The Tracey Ullman Show
Sheldon Moss
Episode: "The Word"
1992
Crazy in Love
Nick Symonds
Movie
1995
Fallen Angels
Rich Thurber
Episode: "Tomorrow I Die"
1996
Mistrial
Steve Donohue
Movie
1997
Merry Christmas, George Bailey
George Bailey
Movie
2000
The Virginian
The Virginian
Movie
2001
Night Visions
Major Ben Darnell
Episode: "A View Through the Window"
2004
Tiger Cruise
Cmdr. Dolan
Movie
2005
Revelations
Richard Massey
6 episodes
2008
Law & Order: Special Victims Unit
Kurt Moss
Episode: "Closet"
2010
Nathan vs. Nature
Arthur
Movie
2011
Too Big to Fail
Jamie Dimon
Movie
2011
Innocent
Rusty Sabich
Movie
2011
Torchwood: Miracle Day
Oswald Danes
8 episodes
Nominated - Saturn Award for Best Supporting Actor on Television
2012-13
1600 Penn
President Dale Gilchrist
13 episodes
2017-present
The Sinner
Detective Harry Ambrose
Main cast - 16 episodes
[ Source: Wikipedia ]