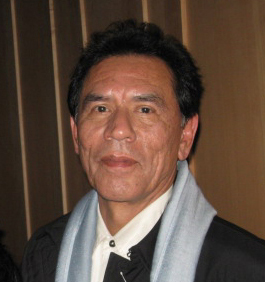 Wes Studi
Born:
December 17, 1947
Died:
December 31, 1969 (at age 22)
Birthplace:
Nofire Hollow, Oklahoma, U.S.
Popularity:

Biography
Wesley Studi (Cherokee: ᏪᏌ ᏍᏚᏗ) (born December 17, 1947) is a Cherokee actor and film producer from Nofire Hollow in Oklahoma.[1] He has won critical acclaim and awards for his portrayal of Native Americans in film.[2][3] He has appeared in Academy Award-winning films, such as Dances with Wolves (1990) and The Last of the Mohicans (1992), and in the Academy Award-nominated films Geronimo: An American Legend (1993) and The New World (2005). He is also known for portraying Sagat in Street Fighter (1994). Other films he has appeared in are Hostiles, Heat, Mystery Men, Avatar, A Million Ways to Die in the West, and the television series Penny Dreadful.
Studi was born Wesley Studi in a Cherokee family in Nofire Hollow, Oklahoma, a rural area in Tahlequah named after his mother's family.[4] He is the son of Maggie Studie, a housekeeper, and Andy Studie, a ranch hand.[5] Until he attended elementary school, he spoke only Cherokee at home.[6] He attended Chilocco Indian Agricultural School for high school and graduated in 1964; his vocational major was in dry cleaning.[7]
At the age of 17 Studi enlisted in the Oklahoma National Guard and had his Basic Combat Training and Advanced Individual Training at Ft. Polk, Louisiana. Meeting recently returned Vietnam Veterans, Studi volunteered for active service and went to Vietnam with A Company of the 3rd Battalion 39th Infantry, 9th Infantry Division.[8] He served 18 months in Vietnam. After his discharge, Studi became politically active in American Indian activism. He participated in the Wounded Knee Incident at Pine Ridge Reservation in 1973.[6]
Career
Play media Studi promoting healthy living among Native Americans in a CDC ad.
Studi appeared in his first film, The Trial of Standing Bear, in 1988.[4] He is best known for his roles as ruthless Native American warriors, such as a Pawnee in Dances with Wolves (1990), and Magua in The Last of the Mohicans (1992).[6][9] A year later, he was cast with Eric Schweig for TNT's film The Broken Chain, about the historic Iroquois League that was based in the area of central and western present-day New York state. It was shot in Virginia. This was part of a group of productions shown over 14 months on TNT as its "Native American initiative", including three television movies and several documentaries. A six-hour history series was told from a Native American perspective.[3] In 1993 Studi had the lead in Geronimo: An American Legend.[10] He showed a talent for comedy as the superhero Sphinx in the 1999 film Mystery Men.
In 2002, Studi brought to life the character of Lt. Joe Leaphorn, for a series of PBS movies based on Tony Hillerman's novels set in the Southwest among the Navajo and Hopi. It was produced by Robert Redford. In 2005, Studi portrayed a character based on chief Opechancanough, leader of the Powhatan Confederacy in Virginia, in the film The New World directed by Terrence Malick. On April 20, 2009, Studi appeared as Major Ridge, a leader of the Cherokee before removal to Indian Territory, in Trail of Tears. This was the third of five episodes in the PBS series We Shall Remain, portraying critical episodes in Native American history after European encounter,[11] part of the public television's acclaimed series American Experience, where Studi spoke only in native Cherokee. In 2009, Studi appeared in James Cameron's science fiction epic Avatar. He played Eytukan, the chieftain of a Na'vi tribe. Studi played Cheyenne chief Yellow Hawk in a starring role in the 2017 film Hostiles.[12]
At the 90th Academy Awards, Studi introduced a tribute to military movies,[13] and gave part of his speech in the Cherokee language, of which Studi is a fluent speaker.[14] Studi is the second Native American actor to present at the Academy Awards (Will Rogers hosted in 1934).[15]
Personal life
After his studies, Studi taught Cherokee language and syllabary and helped establish a Cherokee-language newspaper. He went into ranching. After his first marriage ended in divorce, Studi left ranching and started to study acting; a friend had recommended it as a place to meet women.[3] Studi married Maura Dhu, and they moved their family to a farm near Santa Fe, New Mexico, in the early 1990s.[3] Maura is the only child of Emmy- and Oscar-winning actor Jack Albertson. Wes and Maura Dhu Studi have a son, Kholan. Studi has a daughter, Leah, and a son, Daniel, from his first marriage.[16] Studi and his wife perform in the band, Firecat of Discord. Studi serves as honorary chair of the national endowment campaign of the Indigenous Language Institute in Santa Fe.[4]
Studi endorsed Senator Bernie Sanders for President in the 2016 U.S. presidential election.[17]
Honors
1994, Won a Western Heritage Award (shared with cast and crew) for Geronimo: An American Legend (1993).[10]
1998, The Dreamspeakers Film and Festival honored Studi with its Career Achievement Award.[4]
2000, Motion Picture and Television Fund's Golden Boot Award.[4]
2000, Artist of the Decade at the First Americans in the Arts Awards.[4]
2005, The New World was nominated for an Academy Award.
2013, Inducted into the Hall of Great Western Performers - Western Heritage Award, Oklahoma City, OK
2018, Presenter at the 90th Academy Awards
Filmography
Year
Title
Role
Notes
1988
The Trial of Standing Bear
Long Runner
Nebraska ETV
1989
Powwow Highway
Buff
1990
Dances with Wolves
Toughest Pawnee
The Flash
Roller
Episode: "Sins of the Father"
1991
The Doors
Indian in Desert
1992
The Last of the Mohicans
Magua
1993
Geronimo: An American Legend
Geronimo
The Broken Chain
Seth
TV movie
1994
Street Fighter
Sagat
The 51st Annual Golden Globe Awards
Himself/Presenter
1995
Lone Justice 2
One Horse
Heat
Detective Sammy Casals
Streets of Laredo
(Famous Shoes) Indian friend of Pea Eye
TV
500 Nations
Voice
TV miniseries
The Way West
Voice
TV movie documentary
1996
The Killing Jar
Cameron
1997
Crazy Horse
Red Cloud
TV
Adventures from the Book of Virtues
Scarface
Episode: "Perseverance"
Promised Land
Jesse Rainbird
Episode: "Outrage"
Big Guns Talk: The Story of the Western
Himself
TV movie documentary
1998
Deep Rising
Hanover
The Horse Whisperer
Parks guard
Soundman
Terry Leonard
1999
Mystery Men
The Sphinx
2001
Ice Planet
Commander Trager
Christmas in the Clouds
Bingo Caller
Road to Redemption
Frank Lightfoot
The Directors
Himself
Episode: "The Films of Michael Mann"
2002
Undisputed
Mingo Pace
Skinwalkers
Lt. Joe Leaphorn
2003
Edge of America
Cuch
The Ugly One
Father Mike
Coyote Waits
Lt. Joe Leaphorn
The Lone Ranger
Kulakinah
TV movie
2004
Echoes from Juniper Canyon
Grandpa
Voice
A Thief of Time
Lt. Joe Leaphorn
2005
Into the West
Black Kettle
Animal
Creeper
Voice
Miracle at Sage Creek
Chief Thomas
The Making of 'Miracle at Sage Creek'
Himself/Chief Thomas
The New World
Opechancanough
2006
Three Priests
Ben
The Making of the New World
Himself/Opechancanough
Video documentary
The Trail of Tears: Cherokee Legacy
Himself/Presenter
2007
Seraphim Falls
Charon
Bury My Heart at Wounded Knee
Wovoka
2008
Comanche Moon
Buffalo Hump
TV
Older Than America
Richard Two Rivers
2009
Avatar
Eytukan
Trail of Tears
Major Ridge
Kings
General Linus Abner
The Only Good Indian
Sam Franklin (main character)
Executive producer
2010
The Mentalist
Joseph Silverwing
Episode: "Aingavite Baa"
The Making of 'Last of the Mohicans'
Himself
Video documentary
2011
Hell on Wheels
Chief Many Horses
TV
Images of Indians: How Hollywood Stereotyped the Native American
Himself/Toughest Pawnee
TV movie documentary
2012
Being Flynn
Captain
2013
Sugar
Bishop
Road to Paloma
Numay
Battledogs
Captain Falcons
2014
A Million Ways to Die in the West
Cochise
Planes: Fire & Rescue
Windlifter
Voice
2015
The Red Road
Chief Levi Gall
The Condemned 2
Cyrus Merrick
2016
Penny Dreadful
Kaetenay
TV
2017
Hostiles
Chief Yellow Hawk
2019
A Dog's Way Home
[ Source: Wikipedia ]