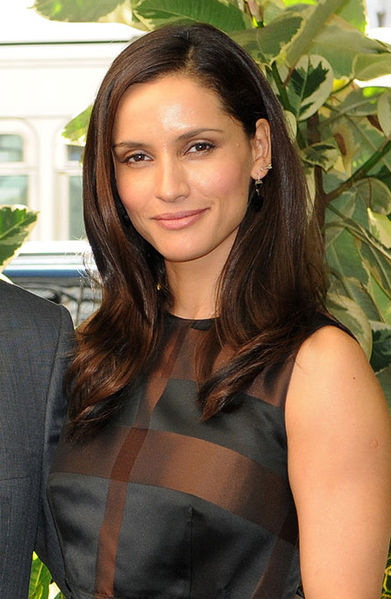 Leonor Varela
Birth name:
Leonor Varela Palma
Born:
December 29, 1972
Age:
50
Birthplace:
Santiago, Chile
Popularity:

Please login to contact Leonor Varela...
Biography
Leonor Varela Palma (born December 29, 1972) is a Chilean actress and model. She played the title role in the 1999 television film Cleopatra, and vampire princess Nyssa Damaskinos in the 2002 film Blade II.
Varela was born in Santiago, Chile, the daughter of Leonor Palma-Keller, a massage therapist, and biologist and cognitive neuroscientist Francisco Varela García.[1][2] She has a sister, Alejandra, and two brothers, Javier and Gabriel. Her mother was of French, Hungarian, and Syrian descent.[3] When Varela was a child, her family fled Chile after the 1973 military coup d'état.[4] In the early 1980s, her parents moved back to Chile while she remained in Paris where she studied acting at the
Niels Arestrup School
,
L'École du Passage
, and
Conservatoire Supérieur de Paris
.
Read more...
Career
Varela's first acting job was in 1995, playing Anette in Pony Trek, a children's film. Filming was in Iceland and Leonor was riding horses for three months. Then, referred to a French filmmaker by her dentist, she played in Shooting Stars (1997). Varela found her popularity on the rise at home when she was cast in the Chilean soap opera Tic Tac.
After appearing in a few more television productions in the late 1990s, Varela was cast in a small role in The Man in the Iron Mask. In 1999, she played the title character in the TV movie Cleopatra.
Roles in The Tailor of Panama and Texas Rangers (both in 2001) followed shortly thereafter, before playing vampire princess Nyssa in the 2002 blockbuster film Blade II. After that came Paraíso B and Pas Si Grave.
Varela also had a short recurring role in the Fox Television series Arrested Development as the original Marta. She was nominated for the Ariel Award in 2005 in the category of Best Actress for Innocent Voices (2004). She also had a non-recurring role in Stargate: Atlantis.[5]
She appeared in Americano and played journalist Jordana Garcia in the film Goal II: Living the Dream.
In 2012, she appeared as Marta Del Sol on the TNT television series Dallas.[6]
Personal life
Varela was engaged to Billy Zane, her co-star in the 1999 television film Cleopatra.[7] Then they broke up, followed by her marrying producer Lucas Akoskin in April 2013.
In November 2012, Varela and Akoskin welcomed their first child together, a son named Matteo.[8] They also have a younger daughter, Luna Mae, born on February 25, 2015.
Varela, a vegetarian,[9] is a marine life activist who is concerned with the welfare of whales, working with groups such as Save The Whales Again.[10]
Filmography
Film
| Year | Title | Role | Notes |
| --- | --- | --- | --- |
| 1997 | Shooting Stars | Vanessa | |
| 1997 | Bouge! | La danseuse | |
| 1998 | The Man in the Iron Mask | Ballroom Beauty | |
| 1999 | Les parasites | Fidelia | |
| 1999 | Les infortunes de la beauté | Annabella | |
| 2001 | The Tailor of Panama | Marta | |
| 2001 | Texas Rangers | Perdita | |
| 2002 | Blade II | Nyssa Damaskinos | |
| 2002 | Paraíso B | Gloria | |
| 2003 | No Big Deal | Angela | |
| 2003 | Ruby & Quentin | Katia / Sandra | |
| 2004 | Voces inocentes | Kella | English title, Innocent Voices |
| 2005 | Americano | Adela | |
| 2006 | The Curse of King Tut's Tomb | Azelia Barakat | |
| 2007 | Goal II: Living the Dream | Jordana Garcia | |
| 2007 | Where God Left His Shoes | Angela Diaz | |
| 2008 | Sleep Dealer | Luz Martinez | |
| 2008 | Hell Ride | Nada | |
| 2008 | Hindsight | Maria | |
| 2008 | All Inclusive | Miranda | |
| 2009 | Balls Out: Gary the Tennis Coach | Norma Sanchez | |
| 2009 | Wrong Turn at Tahoe | Anna | |
| 2010 | Que pena tu vida | Alma Subercaseaux | |
| 2011 | Blind Alley | La Madre | |
| 2013 | Odd Thomas | Odd's Mother | |
| 2013 | Deseo | Muchacha | |
| 2014 | A Fine Step | Liliana Bolivar | |
| 2014 | Ride | Danielle | |
| 2015 | Captive | Sgt. Carmen Sandoval | |
| 2018 | Alpha | Shaman | |
Television
| Year | Title | Role | Notes |
| --- | --- | --- | --- |
| 1995 | Extrême limite | Marie | "Sacrifice" |
| 1995 | Pony Trek | Anette | TV film |
| 1996 | Sous le soleil | Jeanne | "Comportement modèle" |
| 1997 | Le juste | Pregnant Girl | "En transit vers l'espoir" |
| 1997 | Tic Tac | Pola Santa María | Main role |
| 1997 | Inca de Oro | Flor de I'nca | TV film |
| 1997 | 13th Rider | Anette | TV series |
| 1998 | Jeremiah | Judith | TV film |
| 1999 | Cleopatra | Cleopatra | TV miniseries |
| 2003 | Arrested Development | Marta Estrella | "Bringing Up Buster", "Key Decisions" |
| 2004 | Stargate Atlantis | Chaya Sar | "Sanctuary" |
| 2005 | E-Ring | Lt. Col. Cat Rodriguez | "Pilot" |
| 2006 | The Curse of King Tut's Tomb | Dr. Azelia Barakat | TV film |
| 2007 | Como Ama una Mujer | Sofia Marquez | TV miniseries |
| 2010 | Feroz | Laura Palma | Recurring role |
| 2010 | Monsterwolf | Maria | TV film |
| 2010-2011 | Human Target | Maria Gallego | "Salvage & Reclamation", "A Problem Like Maria" |
| 2012 | Dallas | Marta Del Sol | Recurring role |
| 2012 | Inland Empire | Poopy | TV film |
| 2013 | Agents of S.H.I.E.L.D. | Camilla Reyes | "0-8-4" |
| 2015 | Murder in Mexico: The Bruce Beresford-Redman Story | Monica | TV film |
[ Source: Wikipedia ]