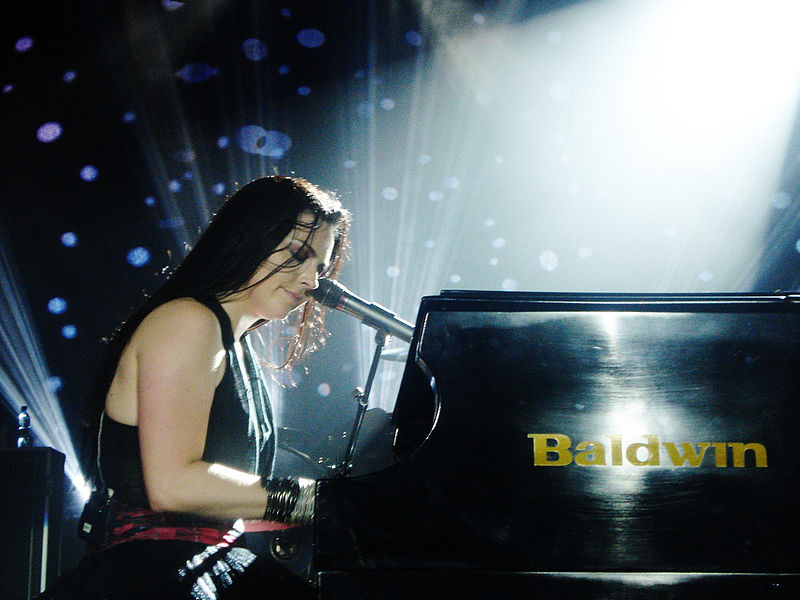 Amy Lee
Born:
December 13, 1981
Age:
41
Birthplace:
Riverside, California, U.S.
Popularity:

Please login to contact Amy Lee...
Biography
Amy Lynn Hartzler (née Lee; born December 13, 1981), known professionally as Amy Lee, is an American singer, songwriter, and pianist. She is the co-founder and lead vocalist of the rock band Evanescence. Along with her contributions with the band, Lee has also participated on other musical projects including Walt Disney Records' Nightmare Revisited and Muppets: The Green Album. She has performed collaborations with artists such as Korn, Seether, and David Hodges. Lee composed the soundtrack to the films War Story (2014) and Indigo Grey: The Passage (2015) with cellist Dave Eggar, and the song "Speak to Me" for the film Voice from the Stone (2017). She possesses a mezzo-soprano vocal range.[2][3]
Lee received the Songwriter Icon Award from the National Music Publishers Association in 2008.[4] In 2012, she won Best Vocalist at the Revolver Golden Gods Awards[5] and was also named Rock Goddess of the Year at the Loudwire Music Awards.[6] She was awarded Best Film Score by the Moondance International Film Festival for Indigo Grey: The Passage in 2015.[7] Lee is also the American chairperson for the international epilepsy awareness foundation Out of the Shadows.[8]
Amy Lee was born in Riverside, California,[9][10] to parents John Lee, a disc jockey and TV personality, and Sara Cargill. She has two sisters, Carrie and Lori. Lee had a younger sister who died in 1987 at the age of three from an unidentified illness[11] and a brother named Robby who died in 2018 from unknown causes.[12] The song "Hello" from
Fallen
has been reported to have been written for her late sister, as well as the song "Like You" from
The Open Door
.[13] Lee took classical piano lessons for nine years.
Lee's family moved to many places, including West Palm Beach, Florida,[14] and Rockford, Illinois,[15] and eventually settled in Little Rock, Arkansas, where Evanescence was formed. Lee graduated from Pulaski Academy, a private school in Little Rock, in 2000.[16] She briefly attended Middle Tennessee State University in 2000 to study music theory and composition but dropped out to focus on Evanescence.[17]
In an interview on AOL Music, Lee said that the first songs she remembered writing were called "Eternity of the Remorse" and "A Single Tear". The first was written when she was eleven years old and wanted to become a classical composer, and the second was for an assignment when she was in the eighth grade.[18]
Read more...
Career
1995-present: Evanescence
Main article: Evanescence Amy Lee at the 2003 Billboard Awards
Lee co-founded the rock band Evanescence with guitarist Ben Moody. The two met at a youth camp after Moody heard Lee playing Meat Loaf's "I'd Do Anything for Love (But I Won't Do That)" on the piano.[19] Within a month, the pair were playing acoustic sets at Arkansas book stores and coffee houses,[20] and they eventually recorded two EPs, Evanescence EP (1998) and Sound Asleep EP (1999), selling them at various local venues. In 2000, Evanescence recorded the longer EP Origin. This demo contains three songs from the debut album Fallen written by Lee and Moody: "Whisper", "Imaginary" and "My Immortal". Whereas "Whisper" and "Imaginary" were altered before being included on Fallen, "My Immortal" is virtually unchanged, apart from additional string arrangements. A later band version of "My Immortal" was made available for download for those who had bought an official version of Fallen through their web site, but required that a CD checker program also be downloaded for verification before it would play.[21] The band version was included on later copies of Fallen, notably the Brazilian, Bolivian, and Argentine editions.
On October 22, 2003, Moody left the band citing "creative differences". In an interview several months later, Amy said: "...we'd gotten to a point that if something didn't change, we wouldn't have been able to make a second record". She also said "We're finally a real band, not just Ben and I and a few others thrown together".[20] Ex-Cold guitarist Terry Balsamo replaced Moody in the band, both on guitar and as Lee's writing partner.
On January 3, 2014, TMZ reported that Lee had sued Evanescence's label, Wind-up Records, for $1.5 million in unpaid royalties.[22][23] In March 2014, via her Twitter account, Lee announced that she had been released from her Wind-up Records contract and was now an independent artist.[24]
2000-2007: Early solo projects
Lee in São Paulo, Brazil, in 2007
In 2000, Lee sang on two of former Evanescence keyboardist David Hodges' songs: "Breathe" (The Summit Church: Summit Worship) and the unreleased "Fall Into You".[25] She performed backup vocals for "Missing You", a song on Big Dismal's 2003 debut album Believe, and sang backup vocals on two songs with 'supergroup' The Damning Well, though her vocals were taken off the final release due to record label issues.[26] Lee later performed a duet with her then-boyfriend Shaun Morgan on the track "Broken" for Seether's 2004 album Disclaimer II. The song was also featured as part of the soundtrack for the 2004 film The Punisher.
In 2004, Lee claimed to be working on music for The Chronicles of Narnia: The Lion, the Witch and the Wardrobe, but that the music was rejected by the studio for being "too dark." However, the producers of Narnia stated that Lee was never asked to compose any music for the film, whose score was written by Harry Gregson-Williams, and that "No Evanescence music was planned for the soundtrack."[27][28] While there was some speculation that one of the supposed songs had been cut and used in several tracks of The Open Door, Lee stated this was not true except for part of it being used to segue into the last track of the album, "Good Enough".[29]
Lee became the American chairperson for Out of the Shadows in 2006. This organization is an international foundation with the goal of providing education about epilepsy. Lee's younger brother, Robby, was previously diagnosed with this condition.[8] The singer also made a brief guest appearance in the music video for Johnny Cash's "God's Gonna Cut You Down" in late 2006.[30] As each celebrity featured in the shoot was allowed to choose what they would be doing for the video, Lee chose to appear laying flowers on a grave. Her scene was recorded at Trinity Church in Manhattan, during which she wore a black velvet coat that previously belonged to Tim Burton.[31]
In February 2007, MTV released MTV Unplugged: Korn to television and radio, in which Lee is featured during the song "Freak on a Leash".[32] The song was also released as the first single from the album. In November 2007, VH1 produced a mockumentary in the style of Behind the Music, titled Rock Band Cometh: The Rock Band Band Story, to promote the video game Rock Band. Lee was one of the celebrity cameos featured on the show.[33]
2008-2012: Tribute albums
Lee performing during a concert in 2011
In June 2008, the National Music Publishers Association presented Lee with their 2008 Songwriter Icon Award, which "recognizes outstanding songwriters for their personal achievement."[4]
For Walt Disney Records' September 2008 release of Nightmare Revisited, Lee sang a remake of "Sally's Song". The album contains new material and covers of songs from the original Nightmare Before Christmas soundtrack.[34][35] Lee performed live renditions of "Sally's Song" during the October 17 Nightmare Before Christmas re-release premiere in Hollywood, and for an October 13 appearance on The Tonight Show with Jay Leno.[36]
During an October 2008 interview for Spin.com, Lee noted that she was writing new songs, possibly for a solo album project. Citing influences in folk and Celtic music, she says her current writings feel like she is going back to her "really old" roots. She gave no potential release date, but said of her reason for this new direction, "I need to show that I'm more than a one trick pony."[37]
Lee stated during an October 2008 interview with The Gauntlet that she did not know whether or not she would begin a solo career, saying that she was "at a point where I don't know what is next." She noted that Evanescence was still together as a band but that she found touring to be monotonous. She reiterated that she was continuing to write songs, although she did not yet know what purpose they would serve.[38]
In a Spin interview in March 2010, Lee stated that she was "in a very different creative space then" regarding her previous work on new material, and that while she wrote some songs that were good, nothing from those efforts would be included in the band's album Evanescence,[39] which was released on October 7, 2011.[40]
In 2011, Lee covered "Halfway Down the Stairs" for Muppets: The Green Album[41] and "I'm So Lonesome I Could Cry" for the tribute album We Walk the Line: A Celebration of the Music of Johnny Cash in 2012.[42]
2013-2015: Aftermath and Recover
Lee at the 2007 Scream Awards
On December 2, 2013, it was announced that Lee had teamed up with American composer Dave Eggar to create music for the American drama film War Story.[43] During an interview with MTV, Lee explained that it would be a "surprise" to her fans; the fact that the film was "dark" and lacking of conversations made it a "beautiful, sad platform for music". She added that for the music she blended various sounds and tones, mostly consisting of keyboard. Speaking about the song "Push the Button" which she originally penned for the movie, Lee explained that it marked a departure for her due to its electronic sound. She added, "I did it all myself, which was crazy, because I'm used to engineering and writing and mixing demos in my house, but being responsible for that being the end product was a new challenge for me."[44] On August 6, Lee announced that the soundtrack album would be called Aftermath and that it would be released on August 25. Lee contributes to all ten tracks, which features Eggar on eight of them and American/Moroccan musician Malika Zarra on one.[45] Lee revealed a 36-second teaser of the album on the same day.[46] It is her first full-length solo album to not involve her band Evanescence.
In March 2015, Lee and Eggar announced that they were recording music, along with Chuck Palmer, for Hammerstep's short film Indigo Grey: The Passage, which was released on September 14, 2015.[47][48] The film featured the songs "Between Worlds" and "Resurrection".[49] On August 13, 2015, Lee composed and recorded "Speak to Me" - the title song to Eric D. Howell's upcoming film Voice from the Stone.[50][51] The accompanying music video was also directed by Howell.[50] It was filmed on October 22, 2015, on the Castle of Celsa estate near Siena, Italy. During a radio interview in July 2015, Lee said that she had been recording cover songs and expressed an interest in releasing them online.[52] On October 27, 2015, she released the first song from the collection with Portishead's 1994 song "It's A Fire",[53] followed by U2's 1987 song "With or Without You" on November 10, 2015,[54] Led Zeppelin's 1971 song "Going to California" on December 1, 2015, and Chris Isaak's 1996 song "Baby Did a Bad, Bad Thing" on December 15, 2015.[55] They are featured on Lee's debut extended play, Recover, Vol. 1, which was released on February 19, 2016. The cover songs are accompanied by music videos directed by Eric Ryan Anderson.[56]
Lee confirmed in an interview with Rolling Stone that she is "definitely working and making music with every intention of people hearing it at this point," as of October 2015.[57] She also stated that she does not have "any news or plans" for new Evanescence music,[57] but assured fans on Twitter that the band has not broken up saying, "We don't follow the rules of a commerce-driven timeline. Inspiration drives us. We're wide open."[58] She later stated during an interview with Loudwire that "there is Evanescence in the future".[59] In December 2015, Lee confirmed that she plans to complete some songs from an Evanescence album (originally produced by Steve Lillywhite) that was rejected by Wind-up Records in 2010.[55] She explained that she was "devastated" and "furious" over the rejection, but was determined to move forward and ended up being "angry enough to write Evanescence's heaviest album." Although three songs from the Lillywhite sessions ended up on Evanescence, Lee admitted, "I was still left feeling unsatisfied about what I lovingly refer to as my 'broken record.'"[55]
2016-present: Dream Too Much
On June 17, 2016, Amazon.com announced that Lee was scheduled to release a "family" album exclusively through Amazon Prime Music in 2016.[60] The album, titled Dream Too Much (2016), features "original music for kids and families"[60] and was released on September 30, 2016. The album was a collaboration that involved her father, who is the lead vocalist on "Goodnight My Love", and her sisters.
In a September 14, 2016, article by MTV News, Lee was stated as having worked on music for the film Blind, starring Alec Baldwin and Demi Moore.[61] The film was premiered at the Woodstock Film Festival on October 13, 2016.[62] On February 10, 2017, Lee released an English-language cover of Francesca Michielin's "L'amore esiste" ("Love Exists"), which she heard while working on a film project in Italy. With Guy Sigsworth as producer and Dave Eggar providing string arrangements, Lee recorded her translated and reinterpreted version of the song over the course of a week at Flux Studios in New York City.[63][64] In March 2017, the song "Speak to Me" was made available on streaming platforms. It features as the end theme music for the film Voice from the Stone.[65]
Musical influences
Lee has cited influences ranging from composers such as Mozart and Danny Elfman,[66] to artists like Björk, Tori Amos,[66] Plumb[67] and Shirley Manson.[68]
Personal life
Lee was in a relationship with the lead singer Shaun Morgan from the band Seether from 2003 to 2005.[69] Following their separation due to his addiction to substances, Lee wrote "Call Me When You're Sober" about him; the song was released as the first single from The Open Door.[70] Lee revealed during the live broadcast of MuchMusic's January 9, 2007, episode of Live at Much that she had become engaged the prior evening. She later confirmed on EvThreads.com that Josh Hartzler, a therapist and long-time friend, proposed to her.[71][72][73][74] She noted in an interview that the songs "Good Enough" and "Bring Me to Life" were inspired by him.[31] The couple married on May 6, 2007, and honeymooned near The Bahamas.[75] Lee announced via social media on January 18, 2014, that she was pregnant.[76] The couple's first child, Jack Lion Hartzler, was born on July 24, 2014.[77][78]
Public image
Lee performing in Miami, 2007
Lee has a recognizable fashion style, marked by her occasional use of gothic make-up and taste for Victorian-styled clothing.[79] She also designs many of her own clothes, including those worn in the music video for "Going Under", the dress worn for the cover of The Open Door and the dress she wore to the Nobel Peace Prize Concert in 2011. After she designed the dress she wore at the 2004 Grammy Awards, she chose Japanese designer H. Naoto to make it for her.[80] She at one point had a piercing on her left eyebrow, which is visible on the cover of Fallen.
In an interview with VEVO stylized, Lee showcased and explained her fashion style, commenting that she would rather make her own clothes because it is hard to find what she exactly wants elsewhere.[81] In an interview with AOL, Lee stated that her daily style is very different from when she performs; pointing out that she was wearing "something floral" during the interview. She explained that her on-stage wardrobe was meant to preserve the atmosphere of the songs and complete the image. In another interview, she stated that when the band first started performing, she would wear corsets to avoid diluting the band's public image, but has gradually become more comfortable with her own style. Her most well-known on-stage style is often characterized by boots, a simple black tank top, a long skirt and various ornaments and accessories.[citation needed] However, while touring in promotion of Synthesis (Evanescence album), she wore long dresses in the vein of ball gowns.
Lee has stated on a number of occasions that she would never flash her breasts or engage in other publicity stunts that would draw attention to herself. Further, in the music video for "Everybody's Fool", she aimed to mock such artists by suggesting that celebrities who use sex to appeal to an audience are, in fact, merely peddling "lies" (the unifying theme of the music video). Many fans praise Lee for her refusal to emulate other celebrities by using sex appeal in her music.[82]
In 2006, Blender listed Lee as one of the hottest women in rock alongside such singers as Joan Jett, Courtney Love and Liz Phair.[83] In 2013, Lee ranked first in NME.com's "Hottest Women in Music" award.[84]
Discography
Main articles: Amy Lee discography and List of songs recorded by Amy Lee See also: Evanescence discography and List of songs recorded by Evanescence
Aftermath (2014, with Dave Eggar)
Dream Too Much (2016)
Awards and nominations
See also: List of awards and nominations received by Evanescence
Year
Award
Category
Nominated work
Result
Ref
2007
Kerrang! Awards
Sexiest Female
Amy Lee
Won
2008
National Music Publishers Association
Songwriter Icon Award
Won
[4]
2011
Revolver Magazine
Hottest Chicks in Hard Rock
Won
[85]
Loudwire Music Awards
Rock Goddess of the Year
Nominated
[86]
2012
VH1
Top 100 Greatest Women in Music
#49
[87]
Revolver Golden Gods Award
Best Vocalist
Won
[5]
Kerrang! Awards
Hottest Female
Nominated
Loudwire Music Awards
Rock Goddess of the Year
Won
[6]
2013
NME Awards
Hottest Woman
Won
[84]
2015
Independent Music Awards
World Beat Song
"Dark Water"
Won
[88]
Moondance International Film Festival
Film Score
Indigo Grey: The Passage
Won
[7]
2016
Family Choice Awards
Children's album
Dream Too Much
Won
[89]
2017
Parents' Choice Award
Silver Honor in Music
Dream Too Much
Won
[90]
Hollywood Music in Media Awards
Original Song - Independent Film
"Speak To Me"
Won
[91]
[ Source: Wikipedia ]