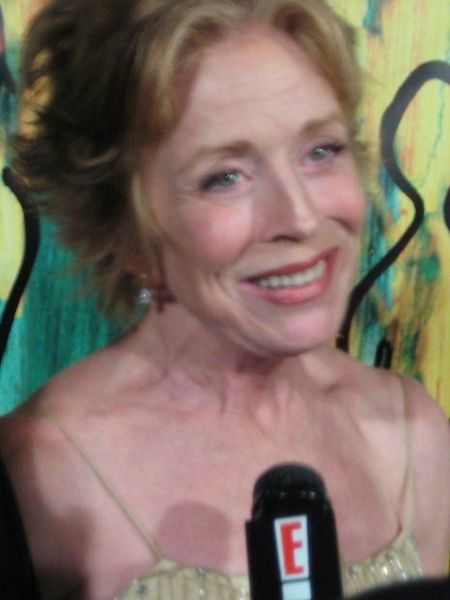 Holland Taylor
Birth name:
Holland Virginia Taylor
Born:
January 14, 1943
Age:
80
Birthplace:
Philadelphia, Pennsylvania, U.S.
Popularity:

Please login to contact Holland Taylor...
Biography
Holland Virginia Taylor (born January 14, 1943) is an American actress and playwright. She won the 1999 Primetime Emmy Award for Outstanding Supporting Actress in a Drama Series for her role as Judge Roberta Kittleson on the ABC drama The Practice (1998-2003). She is also known for her role as Evelyn Harper on the CBS sitcom Two and a Half Men (2003-2015).
Taylor's other notable television roles include the sitcoms Bosom Buddies (1980-1982) and The Powers That Be (1992-1993). Her film appearances include One Fine Day (1996), George of the Jungle (1997), The Truman Show (1998), and Legally Blonde (2001). She also wrote and starred in the solo play Ann, based on the life and work of Ann Richards, for which she was nominated for the 2013 Tony Award for Best Actress in a Play.
Taylor was born in 1943 in Philadelphia, Pennsylvania,[1] to Virginia (née Davis), a painter, and C.
Tracy Taylor
, an attorney.[2][3] She is the youngest of three girls in the family; her sisters are Patricia and Pamela, and through Pamela, she is an aunt of director
Brad Anderson
.[4] She attended high school at Westtown School, a Quaker boarding school in West Chester, Pennsylvania. She majored in drama at Bennington College[5] graduating in 1964, before moving to New York City to become an actress.[6]
Read more...
Career
Taylor began in the theater. Throughout the 1960s, '70s, and '80s, she appeared in numerous Broadway and off-Broadway productions, including starring roles in Simon Gray's Butley and A. R. Gurney's The Cocktail Hour; for the latter, she was nominated for a Drama Desk award. In 1983, Taylor appeared in Breakfast with Les and Bess, which prompted the New York magazine theatre critic John Simon to sing, "...Miss Taylor is one of the few utterly graceful, attractive, elegant and technically accomplished actresses in our theatre...seeing her may turn you, like me, into a Taylor freak..."[7]
Taylor took the role of Denise Cavanaugh on the soap opera, The Edge of Night, who killed herself just to frame her husband. Then encouraged by her acting coach, Stella Adler, Taylor took a role that would make her well known: Tom Hanks' sexy, demanding boss in the 1980s sitcom Bosom Buddies.[8]
She proved herself to be equally adept at both comedy and drama.[6] In 1985, she co-starred with Lisa Eilbacher in the ABC detective series Me and Mom. Two years later, she played opposite Alan Arkin in the short-lived ABC sitcom Harry, in which she received "starring" billing. In 1990, Taylor reunited with former Bosom Buddies executive producers Thomas L. Miller and Robert L. Boyett for a role on their ABC sitcom Going Places, playing grand dame television producer Dawn St. Claire for the show's first 13 episodes. From 1992-93, she starred in Norman Lear's The Powers That Be with John Forsythe and David Hyde Pierce, playing the wife of Forsythe's character, a U.S. senator.[citation needed]
In early 1994, she joined the cast of Saved by the Bell: The College Years as Dean Susan McMann, just episodes before its cancellation. Following this was her role as high-powered newspaper editor Camilla Dane on the ABC/NBC sitcom The Naked Truth; Taylor was one of the few cast members to last all the way through the show's run, from 1995-98.[citation needed]
She played the part of Judge Roberta Kittleson on The Practice. Originally intended to be a one-time appearance, the role lasted from 1998 to 2003. She won the Emmy for Best Supporting Actress in 1999; in her acceptance speech, she is remembered for claiming the statue and exclaiming, "Overnight!" Taylor thanked David E. Kelley, The Practice's producer/writer and creator, for "giving me a chariot to ride up here on: A woman who puts a flag on the moon for women over 40—who can think, who can work, who are successes, who can cook, and who can COOK!"[citation needed]
Taylor was also nominated for an Emmy for her recurring role on AMC's The Lot, and has been nominated four times since 2003, for Best Supporting Actress for her role on the TV series Two and a Half Men, playing Evelyn Harper, the snobbish, overbearing mother of Charlie Sheen and Jon Cryer's characters. Taylor's television movie and series guest roles have been extensive and include appearances on ER and Veronica's Closet, and recurring roles on Ally McBeal and Monk, and as billionaire Peggy Peabody on The L Word.
Taylor's movie roles have included Reese Witherspoon's character's tough Harvard law professor in the 2001 comedy Legally Blonde, Tina Fey's character's mother in Baby Mama, The Truman Show, Happy Accidents, Next Stop Wonderland, George of the Jungle, The Wedding Date, How to Make an American Quilt, Romancing the Stone, D.E.B.S., Cop and a Half, and One Fine Day.
Taylor's animated roles include that of Prudence, the castle's majordomo and love interest of the Grand Duke, in Disney's Cinderella II and Cinderella III: A Twist in Time. She also played a role in the animated show American Dad! as Francine's biological mother.
Holland Taylor in 2008.
Taylor began researching, writing, and producing a one-woman play about the late Texas Governor Ann Richards in 2009.[6] The two-act play, originally titled Money, Marbles, and Chalk, starring Taylor as Richards, was first workshopped in May 2010 at The Grand 1894 Opera House in Galveston, Texas.[9] It was later retitled Ann: An Affectionate Portrait of Ann Richards[10] and opened in Chicago November 16, 2011, and was billed as a "pre-Broadway" engagement. It played at the Kennedy Center in Washington, DC, from December 17, 2011, through January 15, 2012. The show next opened on Broadway at the Vivian Beaumont Theatre on March 7, 2013. For this role, Taylor was nominated for the Tony Award for Best Lead Actress in a Play.[11]
Personal life
On November 30, 2015, while answering a question about marriage, in a radio interview with WNYC, Taylor revealed that she was in a relationship with a younger woman and that most of her relationships have been with women.[12][13] Her partner was later reported to be actress Sarah Paulson.[14][15][16][17] In March 2016, Taylor and Paulson's relationship was confirmed when Paulson stated during an interview that they had been dating since early 2015.[18]
Taylor has been a supporter of Aid For AIDS in Los Angeles, serving on their Honorary Board and as an ongoing participant in their largest annual fundraiser, Best In Drag Show, among other fundraising efforts.[19]
Awards and nominations
Emmy Awards
Year
Category
Title of Work
Result
1999
Outstanding Supporting Actress - Drama Series
The Practice
Won
2000
Nominated
2000
Outstanding Guest Actress - Comedy Series
The Lot
Nominated
2005
Outstanding Supporting Actress - Comedy Series
Two and a Half Men
Nominated
2007
Nominated
2008
Nominated
2010
Nominated
Tony Awards
Year
Category
Title of Work
Result
2013
Best Actress in a Play
Ann
Nominated
Filmography
Film
| Year | Title | Role | Notes |
| --- | --- | --- | --- |
| 1976 | The Next Man | TV Interviewer | |
| 1979 | 3 by Cheever: O Youth and Beauty! | Beverly | |
| 1980 | Fame | Claudia Van Doren | Uncredited |
| 1983 | Reuben, Reuben | | Uncredited |
| 1984 | Concealed Enemies | Mrs. Marbury | |
| 1984 | Romancing the Stone | Gloria Hart | |
| 1985 | Key Exchange | Mrs. Fanshaw | |
| 1985 | The Jewel of the Nile | Gloria Hart | |
| 1987 | Tales from the Hollywood Hills: Natica Jackson | Ernestine King | |
| 1988 | She's Having a Baby | Sarah Briggs | |
| 1990 | Alice | Helen | |
| 1993 | Cop and a Half | Captain Rubio | |
| 1994 | The Favor | Maggie Sand | |
| 1995 | To Die For | Carol Stone | |
| 1995 | How to Make an American Quilt | Mrs. Rubens | |
| 1995 | Last Summer in the Hamptons | Davis | |
| 1995 | Steal Big Steal Little | Mona Rowland-Downey | |
| 1996 | One Fine Day | Rita | |
| 1997 | George of the Jungle | Beatrice Stanhope | |
| 1997 | Just Write | Emma Jeffreys | |
| 1997 | Betty | Crystal Ball | |
| 1998 | The Unknown Cyclist | Celia | Uncredited |
| 1998 | The Truman Show | Truman's Mother | |
| 1998 | Next Stop Wonderland | Piper Castleton | |
| 1999 | The Sex Monster | Muriel | |
| 2000 | Happy Accidents | Maggie Ann "Meg" Ford | |
| 2000 | Mail to the Chief | Katherine Horner | |
| 2000 | Keeping the Faith | Bonnie Rose | |
| 2001 | Town & Country | Mistress of Ceremonies | |
| 2001 | Legally Blonde | Professor Stromwell | |
| 2002 | Fits and Starts | | |
| 2002 | Cinderella II: Dreams Come True | Prudence (voice) | |
| 2002 | Home Room | Dr. Hollander | |
| 2002 | Spy Kids 2: The Island of Lost Dreams | Grandma Helga Avellan | |
| 2003 | Spy Kids 3-D: Game Over | Grandma Helga Avellan | |
| 2003 | Intent | Judge Cavallo | |
| 2004 | D.E.B.S. | Mrs. Petrie | |
| 2005 | The Wedding Date | Bunny | |
| 2007 | Cinderella III: A Twist in Time | Prudence (voice) | |
| 2008 | Baby Mama | Rose | |
| 2010 | The Chosen One | Ruth | |
| 2017 | Kepler's Dream | Violet von Stern | |
| 2018 | Gloria Bell | | |
Television
Year
Title
Role
Notes
1969
J.T.
Mrs. Arnold
Television film
1971
Love Is a Many Splendored Thing
Trish Wanamaker
Unknown episodes
1973
Somerset
Sgt. Ruth Winter
Unknown episodes
1975
Beacon Hill
Marilyn Gardiner
Unknown episodes
1977
Kojak
Elizabeth
1 episode
1977-1980
The Edge of Night
Denise Norwood Cavanaugh, R.N.
Unknown episodes
1980-1981
Bosom Buddies
Ruth Dunbar
21 episodes
1981
ABC Afterschool Special
Felicia Martin
Episode: "My Mother Was Never a Kid"
1981-1983
All My Children
Jill Ollinger
Unknown episodes
1982
The Royal Romance of Charles and Diana
Frances Shand Kydd
Television film
1982
I Was a Mail Order Bride
Dottie Birmington
Television film
1983
The Love Boat
Kathy Brighton
1 episode
1984
Kate & Allie
Linda Cabot
1 episode
1985
Me and Mom
Zena Hunnicutt
Unknown episodes
1985
Perry Mason Returns
Paula Gordon
Television film
1987
Harry
Ina Duckett, R.N.
7 episodes
1987
Perfect Strangers
Olivia Crawford
1 episode
1987-1989
CBS Summer Playhouse
Fran Grogan
2 episodes
1989
Murder, She Wrote
Winifred Thayer
1 episode
1990
Wiseguy
Allison Royce
1 episode
1990
People Like Us
Dolly
Television film
1990
Big Deals
Television film
1990-1991
Going Places
Dawn St. Clare
3 episodes
1991
The Rape of Doctor Willis
Dr. Greenway
Television film
1992-1993
The Powers That Be
Margaret Powers
20 episodes
1993
With Hostile Intent
Lois Baxter
Television film
1993-1994
Saved by the Bell: The College Years
Dean Susan McMann
7 episodes
1994
Betrayal of Trust
Mary Shelton
Television film
1994
In the Best of Families: Marriage, Pride & Madness
Florence Newsom
Television film
1994
The Counterfeit Contessa
Wallace Everett
Television film
1994-1995
Diagnosis: Murder
Agent Gretchen McCord
2 episodes
1995
A Walton Wedding
Aunt Flo
Television film
1995
Awake to Danger
Dr. Joyce Lindley
Television film
1995-1998
The Naked Truth
Camilla Dane
23 episodes
1996
Something So Right
Abigail
1 episode
1998-2003
The Practice
Judge Roberta Kittleson
29 episodes
1998
Veronica's Closet
Millicent
2 episodes
1998
Buddy Faro
Olivia Vandermeer
1 episode
1999
ER
Phyllis Farr
1 episode
1999
The Lot
Letitia DeVine
Unknown episodes
1999
My Last Love
Marnie Morton
Television film
1999-2000
Ally McBeal
2nd Woman in Face Bra Infomercial /
Judge Roberta Kittleson
2 episodes
2000
Strong Medicine
Lillian Pynchon
1 episode
2000
DAG
Katherine Twigg
1 episode
2000
The Living Edens
Narrator
1 episode
2000
The Spiral Staircase
Emma Warren
Television film
2000
The Deadly Look of Love
Evelyn McGinnis
Television film
2001
Strange Frequency
Marge Crowley
Television film; segment: "Room Service"
2001
The Fighting Fitzgeralds
Rose
1 episode
2001
The Day Reagan Was Shot
Nancy Reagan
Television film
2002
Fillmore!
Mrs. Cornwall (voice)
1 episode
2003-2015
Two and a Half Men
Evelyn Harper
101 episodes
2004-2008
The L Word
Peggy Peabody
8 episodes
2005-2007
Monk
Peggy Davenport
2 episodes
2007
American Dad!
Mrs. Dawson (voice)
Episode: "Big Trouble in Little Langley"
2012
Electric City
Ruth Orwell (voice)
20 episodes
2012
McDonald's Thanksgiving Parade
Grand Marshal
Television special
2017
Mr. Mercedes
Ida Silver
9 episodes
2017
The Orville
Jeannie Mercer
Episode: "Command Performance"
2017
Speechless
Andrea
Episode: "B-R-I-- BRITISH I-N-V-- INVASION"
2017
Good Behavior
Alice
2 episodes
Theater
Broadway
The Devils, 1965/66
Butley, 1972/73
We Interrupt This Program..., 1975
Murder Among Friends, 1975/76
Something Old, Something New, 1977
Moose Murders, 1983
Ann, 2013
The Front Page, 2016
Off-Broadway
The Poker Session, 1967
The David Show, 1968
Tonight in Living Color, 1969
Colette, 1970
Fashion, 1974
Children, 1976
Drinks Before Dinner, 1979
Breakfast with Les and Bess, 1982/83
The Perfect Party, 1986
The Cocktail Hour, 1988/89
Love Letters, 1989
The Vagina Monologues, 1999
Ann: An Affectionate Portrait of Ann Richards, 2011
Ripcord, 2015
Regional
The Philanthropist, 1971
Passion Play, 1988
Kindertransport, 1996
A Delicate Balance
Black Comedy
Ann: An Affectionate Portrait of Ann Richards, 2016[20][21]
Los Angeles
The Unexpected Man in The Geffen Playhouse, 2001
Kindertransport in The Tiffany Theatre
Narrator – LA Philharmonic "Persephone, Stravinsky, Essa-Pekka Salonen, Conductor"
Narrator – LA Philharmonic "Ahknaten, Philip Glass, John Adams, Conductor"
[ Source: Wikipedia ]