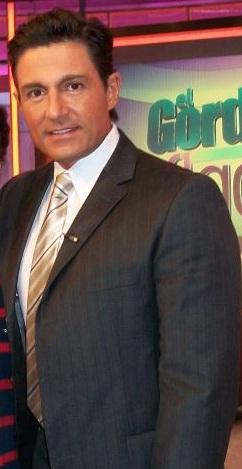 Fernando Colunga
Birth name:
Fernando Colunga Olivares
Born:
March 3, 1966
Age:
57
Birthplace:
Mexico City, Mexico
Popularity:

Please login to contact Fernando Colunga...
Biography
Fernando Colunga Olivares (born March 3, 1966 in Mexico City) is a Mexican actor known for his work in Mexican telenovelas. Colunga received his drama education at CEA (Centro de Educación Artística de Televisa).
Film and television actor, the only son of the engineer Fernando Colunga and Margarita Olivares began studying civil engineering, had a hardware store, was an auto dealer, worked as a clerk and also as a bartender. "I always had the urge to be an actor, but I did not directly Televisa", began film acting until in 1988 he worked twice as Eduardo Yañez's stuntman in the soap opera
Dulce Desafío
(Sweet Challenge). From there he decided to go into acting and enrolled in the Centro de Educación en las Artes (CEA) in Televisa in 1990. At the outset, his face became popular in many homes thanks to having a role in the Mexican version of the famous children's program
Sesame Street
. He appeared in other shows like "The web", "Marked time" and "All of it."
He had appearances in telenovelas like Cenizas y Diamantes, Madres Egoístas and Maria Mercedes. Carla Estrada offered him a role in the soap operas Más Allá del Puente with Maria Sorté in 1993-1994. "Fernando is a very studious person and given as a professional, demanding of himself" says Carla Estrada (People Magazine).
After this telenovela, had a role in Marimar in 1994 giving birth to Adrian Rosales. By that year, Fernando was released in the cinema with the film Kiss me on the mouth with Paulina Rubio and in 1995 plays the character of Lieutenant Raul Gutierrez Alondra a period novel produced by Carla Estrada, and teaming with actress Veronica Merchant and sharing credits with actors like Gonzalo Vega, Ernesto Laguardia, Marga Lopez, Ana Colchero, Juan Manuel Bernal, Beatriz Sheridan, Eric del Castillo, among others. In 1995-1996 Fernando got his first starring role opposite Thalía in the telenovela Maria la del Barrio giving life to Luis Fernando de la Vega. With this telenovela, Fernando began to be known in many countries.
Later starred in Esmeralda with Leticia Calderon, seen in countries as disparate as Indonesia or the Czech Republic. After the success of Esmeralda in 1997, Fernando makes a foray into the theater with Original Sin Not where he starred with Chantal Andere, starred as Jenny and Bill, an unhappy marriage in the process of destruction. His next show was in 1998, La Usurpadora with Venezuelan actress Gabriela Spanic and actors he had worked before and Juan Pablo Gamboa, Chantal Andere, Alejandro Ruiz, Enrique Lizalde and Dominika Paleta, among others. In this novel gives life to Carlos Daniel Bracho, a man who knows that the usurper, Paulina has replaced his wife Paola is under blackmail of it. "I liked playing him because he is quite different from me, but we seem that we are not sexist. But I think a lot more things and demand that others be respectful to me, because I am with them. Carlos Daniel has a weak character and that's not my case." In an overview Fernando says "I hardly had time to rest between a novel and another, but I accepted it gladly returned to work with friends and I liked the story. Besides best, was meeting someone as lovely as Gabriela Spanic. We understood so well that I think we are a fantastic couple. Besides, my character is not the typical leading man, is very innovative." (Soap Opera Magazine). Fernando managed to change a bit the image of the telenovela, "Yeah, I got that the protagonist of the telenovela will use beard and mustache and the costumes were something more casual. This had never been given, because the leading men always have to be impeccable; I've got that, without appearing too casual, my character has a different image, more youthful." (Soap Opera Magazine)
Fernando made Nunce Te Olvidare (1999), by Edith Gonzalez. Also participated in Christmas Carol and made the telenovela, Abrazame Muy Fuerte (2000) sharing scenes with Aracely Arambula, Victoria Ruffo, Cesar Evora and Nailea Norvind. After this role, he spent time away from telenovelas, which he used to study acting and production. He also did a role in Navidad Sin Fin in 2001. In 2003 he worked in Amor Real, a production of Carla Estrada, where he plays Manuel Fuentes Guerra, the bastard son of a rich landowner. This telenovela starred alongside Adela Noriega, who played War Resource Matilde Penalver, who was the wife of Manuel Fuentes Guerra. He also starred alongside Mauricio Islas and the first actress Helena Rojo. Thanks to Manuel Fuentes Guerra, he won another award in 2003 on TVyNovelas Award for Best Actor. After Amor Real, Fernando took some time off after which reverted to a genre that loves the theater. Along with César Evora, adapted screenplays and launched Death Trap. "My biggest challenge in making this project is that people have a good time, enjoy my work and see a different performance, they see things that surprise, it's worth paying a ticket to see an actor." (The Century Torreón)
After spending several months touring with his work, in 2005, Fernando returns to television with the telenovela of Carla Estrada, Alborada, a story of time set in Mexico in the eighteenth century. The couple in this case Fernando Lucero, sharing the stage with actors like Valentino Lanús, Daniela Romo, Mariana Garza, Luis Roberto Guzmán, Vanessa Guzman, Arturo Peniche, Iran Castillo and a long list of actors. This gave him the Best Actor award. In 2007 returns to star in a telenovela time, Passion, which is also produced by Carla Estrada. This time he shares scenes with Susana González, Sebastián Rulli and Daniela Castro.
In 2008 he worked on the telenovela Manana Es Para Siempre sharing credits with Silvia Navarro and Lucero starring as the villain of the story. This telenovela is produced by Nicardo Diaz, in which he plays Eduardo Juarez, a man who, for his revenge against Barbara Greco (Lucero) changes its name to Franco Santoro. In 2010 he was the star of the telenovela Soy Tu Dueña produced by Nicandro Diaz and where he shares credit with Lucero, Gabriela Spanic and the first actress Jacqueline Andere.
In 2012, Juan Osorio would summon him to star in Porque el Amor Manda with Blanca Soto and Erick Elias and Claudia Alvarez as antagonists, debuting in the genre of telenovela a comic touch. Porque el Amor Manda is a Mexican telenovela produced by Juan Osorio, the company licensed Colombian Snail, adaptation than it was in 2011 Secretary. This starring Fernando Colunga and Blanca Soto, with the shares of Erick Elias and Claudia Alvarez who play the main antagonists of the story. It also has antagonist costars María Elisa Camargo and Alejandro Avila, with stellar performances by Ninel Conde, Jorge Aravena and the first actress Carmen Salinas.
In 2015 he worked on the telenovela Pasión y Poder sharing credits with Jorge Salinas and Susana González.
Read more...
Filmography
Films
| Year | Title | Role | Notes | Ref. |
| --- | --- | --- | --- | --- |
| 1988 | La guerrera vengadora | Unknown role | | [1] |
| 1995 | Bésame en la boca | Arturo | | |
| 2007 | Ladrón que roba a ladrón | Alejandro Toledo | | |
| 2015 | Ladrones | Alejandro Toledo | | |
Television performances
Year
Title
Role
Notes
Ref.
1988
La Telaraña
Unknown role
1990
Cenizas y Diamantes
Unknown role
1991
Alcanzar Una Estrella II
Unknown role
Madres Egoístas
Jorge
1992
María Mercedes
Chicho
1993
Más Allá del Puente
Valerio
1994
Mujer, Casos de la Vida Real
Unknown role
Episode: "Te olvidaré"
Marimar
Adrián Rosales
1995
María la del Barrio
Luis Fernando de la Vega
Alondra
Raúl Gutiérrez
1997
Esmeralda
José Armando Peñarreal De Velasco
1998
La Usurpadora
Carlos Daniel Bracho
Más Allá de la Usurpadora
Television film
1999
Cuento de Navidad
Jaime Rodríguez Coder
Nunca Te Olvidaré
Luis Gustavo Uribe Del Valle
2000
Abrázame Muy Fuerte
Carlos Manuel Rivero
2001
Navidad Sin Fin
Pedro
2002
XHDRbZ
José
Episode: "Una de lobos"
2003
Amor Real
Manuel Fuentes Guerra
2005
Alborada
Luis Manrique y Arellano
2007
Pasión
Ricardo de Salamanca y Almonte/"El Antillano"
2008
Mañana Es Para Siempre
Eduardo Juárez Cruz / Franco Santoro
2010
Soy Tu Dueña
José Miguel Montesinos
2012
Porque El Amor Manda
Jesús García
2015
Pasión y Poder
Eladio Gómez Luna
[ Source: Wikipedia ]