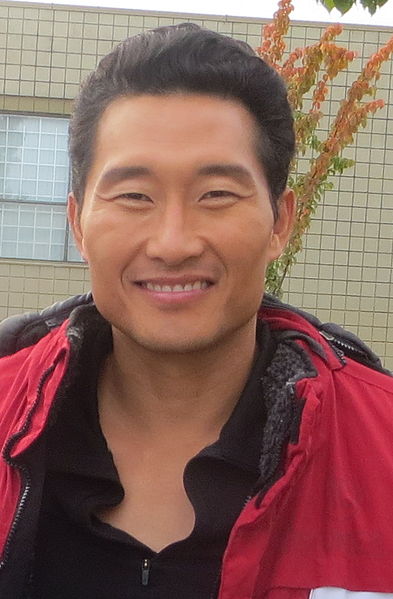 Daniel Dae Kim
Born:
August 4, 1968
Age:
54
Birthplace:
Busan, South Korea
Popularity:

Please login to contact Daniel Dae Kim...
Biography
Daniel Dae Hyun Kim (born August 4, 1968)[1] is a Korean-American actor, voice actor, and producer. He is known for his roles as Jin-Soo Kwon in Lost, Chin Ho Kelly in Hawaii Five-0, Gavin Park in Angel and Johnny Gat in the Saints Row series of video games. He also runs a production company called 3AD, which is currently producing the television series The Good Doctor.
Kim was born in Busan, South Korea, the son of mother Jung Kim and father Dr. Doo Tae Kim,[1] and moved to the United States with his family when he was a year old.[2] He grew up in New York City, Easton and Bethlehem, Pennsylvania.
Read more...
Education
Kim was educated at Freedom High School, a public school in his home city of Bethlehem, Pennsylvania. He graduated from Haverford College in Pennsylvania with a Bachelor's degree in 1990, and earned an MFA from NYU's Graduate Acting Program in 1996.[1]
Career
On the cover of
KoreAm
, April 2010
After graduation, Kim made a name for himself playing numerous roles in a wide variety of television programs. He appeared in CSI: Crime Scene Investigation as a treasury agent as well as episodes of Star Trek: Voyager, Star Trek: Enterprise, Charmed, The Shield, Seinfeld, NYPD Blue and ER. He was a regular on the short-lived Babylon 5 spin-off Crusade and had recurring roles on Angel and 24. He also portrayed Dr. Tsi Chou in a 2008 miniseries based on the acclaimed Michael Crichton novel The Andromeda Strain.
Kim's film credits include a small part in Spider-Man 2 as a scientist working in Doctor Octavius' laboratory, and Crash, the 2005 Best Picture Academy Award winner. He also had minor roles in films such as The Jackal, For Love of the Game, Hulk and The Cave.
From 2004 to 2010, Kim served as a regular cast member on the ABC series Lost in which he played Jin-Soo Kwon, a lowly Korean fisherman-turned-hitman who crashes onto a mysterious island with his wife, Sun-Hwa Kwon (Yunjin Kim). Since the role required him to speak exclusively in Korean, he said he was forced to quickly relearn the language, which he had not spoken with any great frequency since high school.[3] He would go on to play the character up until the 2010 series finale. Throughout the show's run, he, along with his fellow cast members, received numerous accolades, including a 2006 Screen Actors Guild Award for Best Ensemble. He was individually honored with an AZN Asian Excellence Award, a Multicultural Prism Award and a Vanguard Award from the Korean American Coalition, all for Outstanding Performance by an Actor.[4] Kim was also named one of People Magazine's "Sexiest Men Alive" in 2005.[5]
In February 2010, shortly after Lost's conclusion, it was announced that Kim would join the CBS reboot Hawaii Five-0 playing Chin Ho Kelly, the role originally made famous by actor Kam Fong.[6] He was the first actor to be officially cast on the show.[6] That series premiered on September 20, 2010 to strong ratings and solid critical acclaim.[7] He departed the show in late June 2017 prior to the eighth season due to a salary dispute with CBS. He had been seeking pay equality with co-stars Alex O'Loughlin and Scott Caan, but CBS would not agree to it.[8]
Kim co-starred in The Divergent Series: Insurgent, the sequel to 2014's Divergent,[9] playing Jack Kang, the leader of the Candor faction.[10]
In addition to acting, Kim made his directorial debut with the Hawaii Five-0 season five episode, "Kuka'awale."
Other projects
Kim is the voice of the character Johnny Gat for THQ's Saints Row video game series. He also contributed his vocal likeness for 24: The Game in which he played his character from the show, Tom Baker. He also provides the voice for Rikimaru in the game Tenchu: Wrath of Heaven. He provided the voice for Metron in the final two episodes of Justice League Unlimited.
In a return to his theater roots, Kim played the King of Siam in Rodgers & Hammerstein's The King and I from June 12-28, 2009 at the Royal Albert Hall in London, England.[11]
Kim is currently repped in America by United Talent Agency.[12] He signed with SidusHQ to manage his activities in South Korea.[13]
In January 2016, it was announced Kim would make his Broadway debut as the King of Siam in Rodgers & Hammerstein's The King and I from May 3 - June 26, 2016, at the Lincoln Center Theatre in New York.[14]
3AD
As the founder of the film and television production company 3AD, Kim in January 2014 signed a first-look development deal with CBS Television Studios, the first of its kind with an Asian-American actor.[15][16] 3AD is currently producing the television series The Good Doctor, based on the 2013 South Korean series of the same name.
Personal life
Daniel Dae Kim at Comic Con
Though Kim continues to split his time between Los Angeles and New York, he spends the majority of his year in Honolulu, Hawaii, where he lives with his wife and two children. After first moving to Hawaii during the later seasons of Lost, he continued his residency after being cast in Hawaii Five-0. On May 17, 2014, he served as a speaker at the 2014 University of Hawaii commencement ceremony.[17]
Besides acting, Kim has devoted much of his time to various charities. More recently, he served as Cultural Envoy and Member of the U.S. Presidential Delegation for the United States at the World Expo in Korea.[18]
Filmography
Film
| Year | Title | Role | Notes |
| --- | --- | --- | --- |
| 1992 | American Shaolin | Gao | |
| 1997 | Addicted to Love | Undergrad Assistant | |
| 1997 | The Jackal | Akashi | |
| 1997 | Space Retro | Teddy | |
| 1999 | For Love of the Game | E.R. Doctor | |
| 2001 | 15 Minutes | Restaurant Extra | |
| 2001 | Looking for Bobby D | Timmy | Short film |
| 2001 | Nate The Animals | Kuong | |
| 2002 | Superman Must Die | Bradley | |
| 2003 | Cradle 2 the Grave | Visiting Expert | |
| 2003 | Hulk | Aide | |
| 2003 | Ride or Die | Honda Civic Driver #3 | Direct-to-video |
| 2003 | Sin | Lakorn | |
| 2004 | Spider-Man 2 | Raymond | |
| 2004 | Crash | Park | |
| 2005 | The Cave | Alex Kim | |
| 2008 | The Onion Movie | Ivy Leaguer | |
| 2011 | Arena | Taiga | |
| 2013 | Linsanity[19] | Narrator | Documentary |
| 2015 | Ktown Cowboys | David | |
| 2015 | The Divergent Series: Insurgent | Jack Kang | |
| 2016 | The Divergent Series: Allegiant | Jack Kang | |
| 2018 | Mirai | The young man (voice) | English dub |
| 2019 | Hellboy | Ben Daimio | Post-production |
| 2019 | Always Be My Maybe | | Post-production |
Television
Year
Title
Role
Notes
1994
Law & Order
Harry Watanabe
Episode: "Golden Years"
1994
All-American Girl
Stan
Episode: "Ratting on Ruthie"
1995
All My Children
Dr. Kim
1997
Pacific Palisades
Kate's Attorney
Episode: "Sweet Revenge"
1997
Night Man
Roland Yates
Episode: "Pilot: Part 1"
1997
Beverly Hills, 90210
Dr. Sturla
Episodes: "Forgive and Forget" and "The Way We Weren't"
1997
NYPD Blue
Simon Lee
Episode: "It Takes a Village"
1998
The Pretender
Lenny Duc
Episode: "Collateral Damage"
1998
Seinfeld
Student No. 1
Episode: "The Burning"
1998
Brave New World
Ingram
Television film
1998
Ally McBeal
Police Officer
Episode: "The Inmates"
1998
The Practice
Testifying Officer
Episode: "Axe Murderer"
1998
Party of Five
Ethan
Episode: "Opposites Distract"
1998
Fantasy Island
Episode: "Dreams"
1999
Crusade
Lt. John Matheson
13 episodes
1999
Walker, Texas Ranger
Kahn
Episode: "The Lynn Sisters"
2000
Star Trek: Voyager
Astronaut - Gotana-Retz
Episode: "Blink of an Eye"
2000
Murder, She Wrote: A Story to Die For
Everett Jang
Television film
2001
Once and Again
Co-Worker No. 3
Episode: "Won't Someone Please Help George Bailey Tonight"
2001
Charmed
Yenlo
Episode: "Enter the Demon"
2001
CSI: Crime Scene Investigation
Special Agent Beckman
Episode: "Ellie"
2001-2003
Angel
Gavin Park
12 episodes
2002
Any Day Now
Mr. Chung
Episode: "Call Him Macaroni"
2003
Momentum
Agent Frears
Television film
2003
Street Time
Vo Nguyen
Episode: "Born to Kill"
2003
Miss Match
Clifford Kim
4 episodes
2003-2004
24
Tom Baker
11 episodes
2003
ER
Ken Sung
3 episodes
2003-2004
Star Trek: Enterprise
Corporal Chang
Episodes: "The Xindi", "Extinction" and "Hatchery"
2004
Without a Trace
Mark Hiroshi
Episode: "Exposure"
2004
ER
Ken Sung
Episode: "Abby Normal"
2004
The Shield
Thomas Choi
Episode: "Riceburner"
2004-2010
Lost
Jin-Soo Kwon
Main role (seasons 1–6)
92 episodes
2006
Avatar: The Last Airbender
General Fong (voice)
Episode: "The Avatar State"
2006
Justice League Unlimited
Metron / Chinese Man (voices)
Episodes: "Alive!" and "Destroyer"
2007-2008
Lost: Missing Pieces
Jin-Soo Kwon
Miniseries
2008
The Andromeda Strain
Dr. Tsi Chou
Miniseries
2010-2017
Hawaii Five-0
Chin Ho Kelly
Main cast (seasons 1–7)
168 episodes and Director; 1 episode.
2011
G.I. Joe: Renegades
Teddy Lee (voice)
Episode: "The Anomaly"
2012-2014
The Legend of Korra
Hiroshi Sato (voice)
7 episodes
2012
NCIS: Los Angeles
Chin Ho Kelly
Episode: "Touch of Death"
2013
Hollywood Game Night
Himself
Episode: "The One With the Friends"
2015
Once Upon a Time
Drive-Thru Employee (voice)
Episode: "Darkness on the Edge of Town"
2017
Big Pacific
Narrator
5 episodes
2017
MacGyver
Chin Ho Kelly
Episode: "Flashlight"
2017-present
The Good Doctor
N/A
Executive producer
Video games
| Year | Title | Role | Notes |
| --- | --- | --- | --- |
| 2003 | Tenchu: Wrath of Heaven | Rikimaru | |
| 2006 | 24: The Game | Agent Tom Baker | |
| 2006 | Saints Row | Johnny Gat | |
| 2006 | Scarface: The World Is Yours | Macau Fast Food manager | |
| 2007 | Avatar: The Last Airbender - The Burning Earth | General Fong | |
| 2008 | Saints Row 2 | Johnny Gat | |
| 2010 | Apache Overdose Gangstar III | Mac Silver | |
| 2011 | Saints Row: The Third | Johnny Gat | |
| 2013 | Saints Row IV | Johnny Gat | |
| 2013 | Apache Overdose Gangstar IV | Mac Silver | |
| 2015 | Saints Row: Gat out of Hell | Johnny Gat | [20] |
| 2017 | Agents of Mayhem | Johnny Gat | |
Awards and nominations
Year
Award
Category
Work
Result
Notes
2006
12th Screen Actors Guild Awards
Outstanding Performance by an Ensemble in a Drama Series
Lost
Won
[21]
2006
Asian Excellence Awards
Outstanding Television Actor
Won
2011
2011 Teen Choice Awards
Choice TV Actor - Action
Hawaii Five-0
Nominated
2012
2012 Teen Choice Awards
Choice TV Actor - Action
Hawaii Five-0
Nominated
Charities
Daniel Dae Kim supports the following charitable cause: Red Cross.
[ Source: Wikipedia ]