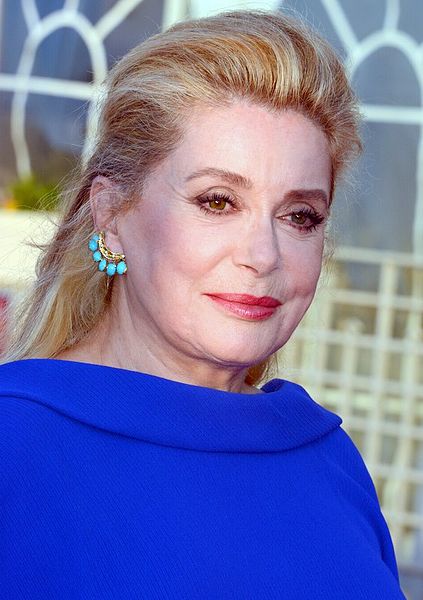 Catherine Deneuve
Birth name:
Catherine Fabienne Dorléac
Born:
October 22, 1943
Age:
77
Birthplace:
Paris, France
Popularity:

Please login to contact Catherine Deneuve...
Biography
Catherine Deneuve (born 22 October 1943) is a French actress as well as an occasional singer, model and producer. She gained recognition for her portrayal of icy, aloof and mysterious beauties for various directors, including Luis Buñuel, François Truffaut and Roman Polanski.[1] In 1985, she succeeded Mireille Mathieu as the official face of Marianne, France's national symbol of liberty. A 14-time César Award nominee, she won for her performances in Truffaut's The Last Metro (1980), for which she also won the David di Donatello for Best Foreign Actress, and Régis Wargnier's Indochine (1992). She is also noted for her support for a variety of liberal causes and sometimes controversial statements.
Deneuve made her film debut in 1957 and first came to prominence in Jacques Demy's 1964 musical The Umbrellas of Cherbourg, before going on to star for Polanski in Repulsion (1965) and for Buñuel in Belle de Jour (1967) and Tristana (1970). She was nominated for the BAFTA Award for Best Actress for Belle de Jour, and the Academy Award for Best Actress for Indochine. She also won the 1998 Volpi Cup for Best Actress at the Venice Film Festival for Place Vendôme. Her English-language films include The April Fools (1969), Hustle (1975), The Hunger (1983) and Dancer in the Dark (2000). She's also one of the few actresses in cinema history to be awarded prizes at the three most important film festivals, the Cannes Film Festival, Venice Film Festival and the Berlin International Film Festival.
Deneuve was born
Catherine Fabienne Dorléac
in Paris, the daughter of French stage actors Maurice Dorléac and Renée Simonot. Deneuve has two sisters, Françoise Dorléac (1942-1967) and Sylvie Dorléac (born 14 December 1946),[2] as well as a maternal half-sister, Danielle, whom their mother had out of wedlock in 1937 with Aimé Clariond, but who was later adopted by Maurice and took his surname. Deneuve was her mother's maiden name, which she chose for her stage name, in order to differentiate herself from her sisters. Deneuve attended Catholic schools.[3]
Read more...
Film career
Deneuve made her film debut with a small role in André Hunebelle's Les Collégiennes (1957) with her younger sister Sylvie Dorléac who, like their older half-sister Danielle, was an occasional child actress.[4] She subsequently appeared in several films for director Roger Vadim as well as in L'Homme à femmes (1960), which caught the eye of Jacques Demy, who cast Deneuve in his 1964 musical Les Parapluies de Cherbourg, the film that brought her to stardom.[4] Deneuve played the cold but erotic persona, for which she would be nicknamed the "ice maiden", in Roman Polanski's horror classic Repulsion (1965), reinforcing it in Luis Buñuel's Belle de Jour (1967), and reaching a peak in Tristana (1970).[5] Her work for Buñuel would be her most famous.[6][7]
Further prominent films from this early time in her career included Jean-Paul Rappeneau's A Matter of Resistance (1966), Demy's musical Les Demoiselles de Rochefort (1967) and François Truffaut's romantic thriller Mississippi Mermaid (1969). Deneuve remained active in European films during the 1960s and 1970s, though she limited her appearances in American films of the period to The April Fools (1969), a romantic comedy with Jack Lemmon, and Hustle (1975), a crime drama with Burt Reynolds. Her starring roles at the time were featured in such films as A Slightly Pregnant Man (1973) with Marcello Mastroianni and Le Sauvage (1975) with Yves Montand.
Catherine Deneuve at the 2017 Berlin Film Festival
In the 1980s, Deneuve's films included François Truffaut's Le Dernier métro (1980), for which she won the César Award for Best Actress, and Tony Scott's The Hunger (1983) as a bisexual vampire, co-starring with David Bowie and Susan Sarandon, a role which brought her a significant lesbian and cult following, mostly among the gothic subculture.[8] She made her debut film as a producer in 1988, Drôle d'endroit pour une rencontre, alongside frequent co-star Gerard Depardieu.
In the early 1990s, Deneuve's more significant roles included 1992's Indochine opposite Vincent Perez, for which she was nominated for an Academy Award for Best Actress and won a second César Award for Best Actress; and André Téchiné's two movies, Ma saison préférée (1993) and Les Voleurs (1996). In 1997, Deneuve was the protagonist in the music video for the song N'Oubliez Jamais sung by Joe Cocker. In 1998 she won acclaim and the Volpi Cup at the Venice Film Festival for her performance in Place Vendôme. In the late 1990s, Deneuve continued to appear in a large number of films such as 1999's five films Est-Ouest, Le temps retrouvé, Pola X, Belle maman, and Le Vent de la nuit.
In 2000, Deneuve's part in Lars von Trier's musical drama Dancer in the Dark alongside Icelandic singer Björk was subject to considerable critical scrutiny. The film was selected for the Palme d'Or at the Cannes Film Festival. She made another foray into Hollywood the following year, starring in The Musketeer (2001) for Peter Hyams. In 2002, she shared the Silver Bear Award for Best Ensemble Cast at the Berlin International Film Festival for her performance in 8 Women. In 2005, Deneuve published her diary A l'ombre de moi-meme ("In My Own Shadow", published in English as Close Up and Personal: The Private Diaries of Catherine Deneuve); in it she writes about her experiences shooting the films Indochine and Dancer in the Dark. She also provided the voice role of Marjane Satrapi's mother in Satrapi's animated autobiographical film Persepolis (2007), based on the graphic novel of the same name. In 2008, she appeared in her 100th film, Un conte de Noël.[9]
Deneuve's recent work includes Potiche (2010) with frequent co-star Depardieu, Les Bien-aimés (2012), alongside former co-stars Ludivine Sagnier and Chiara Mastroianni, the popular French adventure comedy Asterix and Obelix: God Save Britannia (2012) with Gerard Depardieu and Valérie Lemercier, screenwriter and director Emmanuelle Bercot's On My Way (2013), Palme D'or winning writer/director Pierre Salvadori's comedy drama In the Courtyard (2014), and André Téchiné's drama In the Name of My Daughter (2014). In 2017, she co-starred alongside Catherine Frot, in writer/director Martin Provost's French drama The Midwife, which has been acquired by Music Box Films for a summer 2017 distribution in the United States.[10][11]
Career outside film
Modeling
Deneuve in 1999
Deneuve appeared nude in two Playboy pictorials in 1963 and 1965.[12] Her image was used to represent Marianne, the national symbol of France, from 1985 to 1989.[citation needed] As the face of Chanel No. 5 in the late 1970s, she caused sales of the perfume to soar in the United States – so much so that the American press, captivated by her charm, nominated her as the world's most elegant woman.[13] In 1983, American Home Products retained her to represent their cosmetics line and hired world-renowned photographer Richard Avedon to promote its line of Youth Garde cosmetics, for which she famously proclaimed, "Look closely. Next year I will be 40."
She is considered the muse of designer Yves Saint Laurent; he dressed her in the films, Belle de Jour, La Chamade, La sirène du Mississipi, Un flic, Liza and The Hunger. In 1992, she became a model for his skincare line. In 2001, she was chosen as the new face of L'Oréal Paris. In 2006, Deneuve became the third inspiration for the M•A•C Beauty Icon series and collaborated on the colour collection that became available at M•A•C locations worldwide in February that year. Deneuve began appearing in the new Louis Vuitton luggage advertisements in 2007. Deneuve was listed as one of the fifty best-dressed over 50s by the Guardian in March 2013.[14] In July 2017, Deneuve appeared in a video campaign for Louis Vuitton entitled Connected Journeys, celebrating the launch of the brand's Tambour Horizon smartwatch, which also featured celebrities, including Jennifer Connelly, Bae Doona, Jaden Smith and Miranda Kerr.[15]
Entrepreneurial
In 1986, Deneuve introduced her own perfume, Deneuve.[16] She is also a designer of glasses, shoes, jewelery and greeting cards.[citation needed]
Charities
Deneuve was appointed UNESCO Goodwill Ambassador for the Safeguarding of Film Heritage in 1994 until her resignation on 12 November 2003.
Deneuve asked that the rights owed to her from her representation of Marianne be given to Amnesty International.[17]
Louis Vuitton made a donation to The Climate Project, spearheaded by Al Gore, on behalf of Deneuve.
Deneuve is also involved with Children Action, Children of Africa, Orphelins Roumains and Reporters Without Borders.
Douleur sans frontiers (Pain Without Borders) - At the end of 2003, Deneuve recorded a radio commercial to encourage donations to fight against the pain in the world, notably for the victims of landmines.[18]
Handicap International - In the middle of July 2005, Deneuve lent her voice to the message of radio commercials, TV and cinema, which denounced the use of the BASM (cluster bombs).
Voix de femmes pour la démocratie (Voice of women for democracy) - Deneuve read the text, "Le petit garçon", of Jean-Lou Dabadie, on the entitled CD, "Voix de femmes pour la démocratie." The CD was sold for the benefit of the female victims of the war and the fundamentalisms that fight for democracy.
Deneuve has also been involved with various charities in the fight against AIDS and cancer.[18]
Political involvement
Deneuve at the 2011 César Awards.
In 1972, Deneuve signed the Manifesto of the 343. The manifesto was an admission by its signers to have practiced illegal abortions and therefore exposed themselves to judicial actions and prison sentences. It was published in Le Nouvel Observateur on 5 April 1971. That same year, feminist lawyer Gisèle Halimi founded the group, Choisir ("To Choose"), to protect the women who had signed the Manifesto of the 343.
Deneuve is involved with Amnesty International's program to abolish the death penalty.
In 2001, Deneuve delivered a petition organized by the French-based group, "Together Against the death penalty", to the U.S. Embassy in Paris.[19]
In April 2007, Deneuve signed a petition on the internet protesting against the "misogynous" treatment of socialist presidential candidate Ségolène Royal. More than 8,000 French men and women signed the petition, including French actress Jeanne Moreau.[20]
In January 2018, Deneuve signed an open letter denouncing women's right to publicly call out perpetrators of sexual harassment and assault, complaining that this had become a witch hunt, and that there can be no right for a woman to say "no" to a sexual proposition from a man, without the accompanying right for a man to first make such a proposition.[21]
Personal life
Deneuve speaks fluent French, Italian and English. Her hobbies and passions include gardening, drawing, photography, reading, music, cinema, fashion, antiques and decoration.[18]
Deneuve has been married once,[22] to photographer David Bailey from 1965 to 1972.[2] She has lived with director Roger Vadim,[23] actor Marcello Mastroianni,[2] cinematographer Hugh Johnson,[24] Spanish model and current television presenter Carlos Lozano,[25] and Canal+ tycoon Pierre Lescure.[2]
Deneuve has two children: actor Christian Vadim, from her relationship with Roger Vadim, and actress Chiara Mastroianni, from her relationship with Marcello Mastroianni. She has five grandchildren.[2]
Deneuve is close friends with the artist Nall and owns some of his works.[26]
Filmography
Year
Title
Role
Director
Notes
1957
Les Collégiennes
Une grande
André Hunebelle
1960
L'Homme à femmes (fr)
Catherine
Jacques-Gérard Cornu (fr)
1960
Les Portes claquent
Dany
Michel Fermaud
Jacques Poitrenaud
1962
Les Parisiennes
Sophie
Marc Allégret
1962
Ça c'est la vie
Claude Choublier
Short film
1962
Et Satan conduit le bal
Manuelle
Grisha Dabat
1963
Vice and Virtue
Justine Morand
Roger Vadim
1963
Portuguese Vacation
Catherine
Pierre Kast
1964
The Umbrellas of Cherbourg
Geneviève Emery
Jacques Demy
1964
Les Plus belles escroqueries du monde
Swindler
Claude Chabrol
1964
La Chasse à l'homme
Denise
Édouard Molinaro
1964
Male Companion
Isabelle
Philippe de Broca
1964
La Costanza della ragione
Lori
Pasquale Festa Campanile
1965
Les Petits chats
Jacques R. Villa (fr)
1965
Repulsion
Carol
Roman Polanski
1965
Who Wants to Sleep?
Angela Claasen
Rolf Thiele
Axel von Ambesser
Alfred Weidenmann
1965
Le Chant du monde
Clara
Marcel Camus
1966
A Matter of Resistance
Marie
Jean-Paul Rappeneau
1966
Les Créatures
Mylène
Agnès Varda
1967
The Young Girls of Rochefort
Delphine Garnier
Jacques Demy
1967
Belle de Jour
Séverine Serizy / Belle de Jour
Luis Buñuel
1968
Benjamin
Anne de Clécy
Michel Deville
1968
Manon 70
Manon
Jean Aurel
1968
Mayerling
Maria Vetsera
Terence Young
1968
La Chamade
Lucile
Alain Cavalier
1969
The April Fools
Catherine Gunther
Stuart Rosenberg
1969
Mississippi Mermaid
Julie Roussel / Marion Vergano
François Truffaut
1969
Tout peut arriver (fr)
Interviewee
Philippe Labro
1970
Tristana
Tristana
Luis Buñuel
1970
Peau d'Âne
Princess / 'Donkey Skin'
Jacques Demy
1971
It Only Happens to Others
Catherine
Nadine Trintignant
1972
Liza
Liza
Marco Ferreri
1972
Un flic
Cathy
Jean-Pierre Melville
1973
A Slightly Pregnant Man
Irène de Fontenoy
Jacques Demy
1974
Don't Touch the White Woman!
Marie-Hélène de Boismonfrais
Marco Ferreri
1974
Drama of the Rich
Linda Murri
Mauro Bolognini
1974
La mujer con botas rojas (es)
Françoise LeRoi
Juan Luis Buñuel
1975
Zig-Zig (fr)
Marie
László Szabó
1975
L'Agression (fr)
Sarah
Gérard Pirès
1975
Lovers Like Us
Nelly
Jean-Paul Rappeneau
1975
Hustle
Nicole Britton
Robert Aldrich
1976
If I Had to Do It All Over Again
Catherine Berger
Claude Lelouch
1977
Anima persa
Sofia Stolz
Dino Risi
1977
March or Die
Simone Picard
Dick Richards
1977
Beach House
La donna del sogno
Sergio Citti
1978
L'Argent des autres
Cécile Rainier
Christian de Chalonge
1979
Ils sont grands, ces petits (fr)
Louise Mouchin
Joël Santoni
1979
Us Two
Françoise
Claude Lelouch
1979
Courage - Let's Run
Eva
Yves Robert
1979
Écoute voir
Claude Alphand
Hugo Santiago
1980
The Last Metro
Marion Steiner
François Truffaut
1980
Je vous aime
Alice
Claude Berri
1981
Le Choix des armes
Nicole Durieux
Alain Corneau
1981
Hotel America
Hélène
André Téchiné
1982
Le choc
Claire
Robin Davis
1983
L'Africain (fr)
Charlotte
Philippe de Broca
1983
The Hunger
Miriam Blaylock
Tony Scott
1984
Le Bon Plaisir
Claire Després
Francis Girod
1984
Fort Saganne
Louise
Alain Corneau
1984
Paroles et Musique (fr)
Margaux
Élie Chouraqui
1986
Speriamo che sia femmina
Claudia
Mario Monicelli
1986
Scene of the Crime
Lili Ravenel
André Téchiné
1987
Agent trouble
Amanda Weber
Jean-Pierre Mocky
1988
Fréquence meurtre
Jeanne Quester
Élisabeth Rappeneau
1988
A Strange Place to Meet
France
François Dupeyron
1991
La Reine blanche (fr)
Liliane Ripoche
Jean-Loup Hubert
1992
Indochine
Eliane
Régis Wargnier
1993
My Favorite Season
Emilie
André Téchiné
1994
La Partie d'échecs (fr)
Marquise
Yves Hanchar (fr)
1995
One Hundred and One Nights
The star-fantasy
Agnès Varda
1995
The Convent
Hélène
Manoel de Oliveira
1996
Thieves
Marie Leblanc
André Téchiné
1996
Court toujours: L'inconnu
Marianne
Ismaël Ferroukhi
Short film
1997
Genealogies of a Crime
Jeanne / Solange
Raúl Ruiz
1997
Sans titre
Leos Carax
Short film
1998
Place Vendôme
Marianne Malivert
Nicole Garcia
1999
Le vent de la nuit
Hélène
Philippe Garrel
English title: Night Wind
1999
Belle maman
Léa
Gabriel Aghion
1999
Pola X
Marie
Leos Carax
1999
Time Regained
Odette de Crecy
Raúl Ruiz
1999
East/West
Gabrielle Develay
Régis Wargnier
2000
Dancer in the Dark
Kathy
Lars von Trier
2001
I'm Going Home
Marguerite
Manoel de Oliveira
2001
Absolument fabuleux
A spectator of the parade (cameo)
Gabriel Aghion
2001
The Musketeer
The Queen
Peter Hyams
2001
Le petit poucet
The Queen
Olivier Dahan
2002
8 Women
Gaby
François Ozon
2002
Au plus près du paradis
Fanette
Tonie Marshall
2003
Les Liaisons dangereuses
Marquise Isabelle de Merteuil
Miniseries
2003
A Talking Picture
Delfina
Manoel de Oliveira
2004
Princesse Marie
Princess Marie Bonaparte
Benoît Jacquot
Television film
2004
Kings and Queen
Mme Vasset
Arnaud Desplechin
2004
Changing Times
Cécile
André Téchiné
2005
Palais royal!
Eugénia
Valérie Lemercier
2006
Le concile de pierre (fr)
Sybille Weber
Guillaume Nicloux
2006
Nip/Tuck
Diana Lubey
Ryan Murphy
Episode: "Diana Lubey"
2006
Le héros de la famille
Alice Mirmont
Thierry Klifa (fr)
2007
Après lui
Camille
Gaël Morel
2007
Persepolis
Mrs. Satrapi, Marjane's mother's voice
Marjane Satrapi
Vincent Paronnaud
2007
Pouvoir et séduction
Elegant Lady
Maria von Heland (de)
Television film
2008
A Christmas Tale
Junon Vuillard
Arnaud Desplechin
2008
Je veux voir
The famous actress
Joana Hadjithomas
Khalil Joreige
2008
Mes stars et moi
Solange Duvivier
Laetitia Colombani (fr)
2009
Cyprien
Vivianne Wagner
David Charhon (fr)
2009
The Girl on the Train
Louise
André Téchiné
2009
Park Benches
The client to the cupboard
Bruno Podalydès
2009
Hidden Diary
Martine
Julie Lopes-Curval
2010
Potiche
Suzanne Pujol
François Ozon
2010
The Big Picture
Anne
Eric Lartigau (fr)
2011
Les yeux de sa mère
Lena Weber
Thierry Klifa (fr)
2011
The Beloved
Madeleine
Christophe Honoré
2012
Lines of Wellington
Severina
Valeria Sarmiento
2012
God Loves Caviar
Empress Catherine II of Russia
Yannis Smaragdis
2012
Asterix and Obelix: God Save Britannia
Queen Cordelia
Laurent Tirard
2013
On My Way
Bettie
Emmanuelle Bercot
2014
In the Courtyard
Mathilde
Pierre Salvadori
2014
Three Hearts
The mother
Benoît Jacquot
2014
In the Name of My Daughter
Renée Le Roux
André Téchiné
2015
The Brand New Testament
Martine
Jaco Van Dormael
2015
Standing Tall
Florence Blaque
Emmanuelle Bercot
2016
Le Cancre
Marguerite
Paul Vecchiali
2017
The Midwife
Béatrice Sobolevski
Martin Provost
2017
Belle à croquer
The Angel
Axel Courtière
Short film
2017
Bonne Pomme
Barbara
Florence Quentin
2017
Tout nous sépare (fr)
Louise Keller
Thierry Klifa (fr)
2017
Naissance d'une étoile
Mlle Jean
James Bort
Short film
2018
Le dernier vide-grenier de Claire Darling
Julie Bertuccelli (fr)
Post-production
2018
Mauvaises herbes
Monique
Kheiron
Post-production
Discography
1980:

Dieu fumeur de havanes - by and with Serge Gainsbourg (original film soundtrack Je vous aime by Claude Berri)
Quand on s'aime - duet with Gérard Depardieu, for a television programme

1981: Her first and only album issued - Souviens-toi de m'oublier written by Serge Gainsbourg
Digital delay
Depression au-dessus du jardin
Epsilon
Monna Vanna et Miss Duncan
Marine bond tremolo
Ces petits riens (duet with Serge Gainsbourg) - original version performed by Gainsbourg and Juliette Gréco (1964)
Souviens-toi de m'oublier (duet with Serge Gainsbourg)
Overseas telegram
What tu dis qu'est-ce tu say
Oh Soliman
Alice helas
1993: Paris Paris - by and with Malcolm McLaren
1997: Allo maman bobo - by Alain Souchon, during an evening with Les Enfoirés in 1997 with Alain Souchon, Jean-Jacques Goldman and Laurent Voulzy
1999: Joyeux anniversaire maman - by Stomy Bugsy (original film soundtrack Belle-maman by Gabriel Aghion)
2000: Cvalda - by and with Björk (original film soundtrack Dancer in the dark by Lars von Trier)
2001: Toi jamais - original film soundtrack Huit Femmes by François Ozon (original version performed by Sylvie Vartan en 1976)
2006: Ho capito che ti amo - original film soundtrack Le héros de la famille by Thierry Klifa
2010: C'est beau la vie by Jean Ferrat - original film soundtrack Potiche by François Ozon
2011: Tout est si calme with Clara Couste, Ludivine Sagnier and Chiara Mastroianni, Une fille légère in duet with Chiara Mastroianni, Je ne peux vivre sans t'aimer - original film soundtrack The Beloved by Christophe Honoré
Audiobooks for Éditions des Femmes:

Cendrillon by Charles Perrault
Bonjour tristesse by Françoise Sagan
Les Petits Chevaux de Tarquinia by Marguerite Duras
Les Paradis aveugles by Duong Thu Huong
La Marquise d'O by Heinrich Von Kleist
Lettres à un jeune poète by Rainer Maria Rilke
Lettres à ma mère by Sylvia Plath
Awards and nominations
Academy Awards
| Year | Award | Title | Result |
| --- | --- | --- | --- |
| 1993 | Best Actress | Indochine | Nominated |
BAFTA Awards
| Year | Award | Title | Result |
| --- | --- | --- | --- |
| 1969 | Best Actress | Belle de Jour | Nominated |
César Awards
Year
Award
Title
Result
1976
Best Actress
Le Sauvage
Nominated
1981
Le Dernier métro
Won
1982
Hôtel des Amériques
Nominated
1988
Agent trouble
Nominated
1989
Drôle d'endroit pour une rencontre
Nominated
1993
Indochine
Won
1994
Ma saison préférée
Nominated
1997
Les Voleurs
Nominated
1999
Place Vendôme
Nominated
2006
Best Supporting Actress
Palais Royal!
Nominated
2011
Best Actress
Potiche
Nominated
2014
On My Way
Nominated
2015
In the Courtyard
Nominated
2016
La Tête haute
Nominated
Other Awards
Year
Group
Award
Title
Result
1965
NYFCC Award
Best Actress
Repulsion
3rd Place
1976
Bambi Award
Film International
Lovers Like Us
Won
1981
David di Donatello
Best Foreign Actress
The Last Metro
Won
1993
WIFTI Award
Crystal Award - International
Herself
Won
1994
Goldene Kamera
Best International Actress
My Favorite Season
Won
1995
San Sebastián IFF Award
Donostia Award
Herself
Won
1997
Moscow IFF Award
Silver St. George[27]
Won
1998
Venice FF Award
Volpi Cup - Best Actress
Place Vendôme
Won
Berlin IFF Award[28]
Honorary Golden Bear
Herself
Won
2000
AFF Award
Actor's Mission Award
Won
2001
Bambi Award
Film International
East/West
Won
I'm Going Home
Dancer in the Dark
Satellite Award
Best Supporting Actress - Drama
Dancer in the Dark
Nominated
2002
Berlin IFF Award
Silver Berlin Bear
8 Women

Won
EFA Award
Best Actress
Won
2005
Cannes IFF Award
Palme d'Or d'honneur
Herself
Won
2006
Bangkok IFF Award
Golden Kinnaree Award
Won
Istanbul IFF Award
Cinema Honorary Award
Won
2008
Cannes IFF Award
Special Jury Award
Won
Satellite Award
Best Actress - Motion Picture
A Christmas Tale
Nominated
2009
Globes de Cristal Award
Best Actress
Nominated
2011
Lumières Award
Best Actress
Potiche
Nominated
2012
FSLC Award
Gala Tribute
Herself
Won
Lumières Award
Best Actress
The Beloved
Nominated
Manaki Brothers FF Award
Special Golden Camera 300
Herself
Won
2013
Cabourg Film Festival
Coup de Cœur
On My Way
Won
Lumières Award
Best Actress
Nominated
2015
Filmfest Hamburg
Douglas-Sirk-Award
Herself
Won
2018
Globes de Cristal Award
Best Actress
The Midwife
Pending
In 2000, a Golden Palm Star on the Palm Springs, California, Walk of Stars was dedicated to her.[29] In 2013, she was honoured for her lifetime achievement at the 26th European Film Awards.[30] In 2015, she received the Lifetime Achievement Golden Orange Award from International Antalya Film Festival, Turkey.
Charities
Catherine Deneuve supports the following charitable causes: Children, AIDS, Peace, Women's Rights.
[ Source: Wikipedia ]