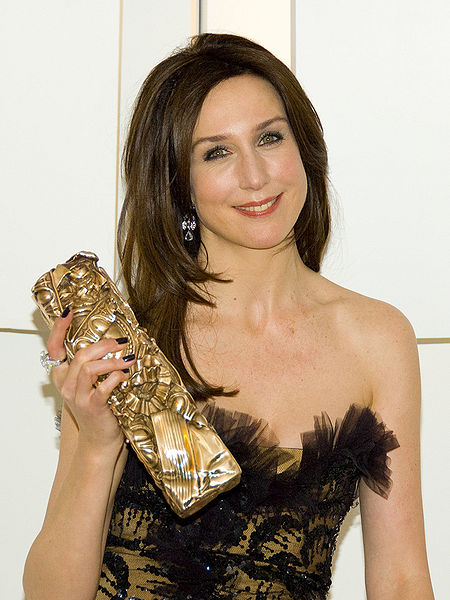 Elsa Zylberstein
Birth name:
Elsa Florence Zylbersztejn
Born:
October 16, 1968
Age:
55
Birthplace:
Paris, France
Popularity:

Please login to contact Elsa Zylberstein...
Biography
Elsa Zylberstein (born 16 October 1968)[1] is a French film, TV, and stage actress. After studying drama, Zylberstein began her film career in 1989, and has appeared in more than 60 films. She won the César Award for Best Supporting Actress for I've Loved You So Long (2008).
Zylberstein was born
Elsa Florence Zylbersztejn
[1] in Paris to an Ashkenazi Polish father, Albert Zylberstein, and a Catholic mother. Her father is a physicist. Zylberstein felt both Jewish and Christian; now she is "attracted to Buddhist rites".[2] She has practised classical dance since her childhood. After a Baccalauréat A3, she began university and studied English, but she was strongly attracted to artistic pursuits. She studied acting under Francis Huster at the Cours Florent.[3][4]
Read more...
Career
Elsa Zylberstein in 2009, at the 34th César Awards
In 1991, Elsa Zylberstein appeared in Van Gogh directed by Maurice Pialat. In 1992, she won the Michel Simon Prize and the first of her three nominations for the César Award for Most Promising Actress. In 1993, she played a student in Beau fixe, and won the Prix Romy Schneider.
She inspired young directors such as Pascale Bailly, Diane Bertrand and especially Martine Dugowson, who offered her the lead role alongside Romane Bohringer in Mina Tannenbaum (1994). She then appeared in Farinelli, Mr N., and Jefferson in Paris. She played Suzanne Valadon in Lautrec, and then the mistress of the artist, Modigliani, in Modigliani. Zylberstein played a Yiddish singer who falls in love with a gay clarinetist in Man Is a Woman, with Antoine de Caunes. She also gained roles in Time Regained, Love Torn in a Dream, and That Day.
In 2006 she played Mathilde, an Orthodox Jewish woman faced with marriage problems in Little Jerusalem. She also appeared in J'invente rien, based on a novel by Christine Angot. In 2008, she was in two films presented at the Berlin Festival: I've Loved You So Long, with Kristin Scott Thomas, and La Fabrique des sentiments.
Personal life
Zylberstein dated Antoine de Caunes between 1997 and 2005. Then she dated Nicolas Bedos from 2005 to 2008.[5] Later she dated Georges-Marc Benamou, advisor to French president Nicolas Sarkozy, although she is a staunch supporter of the Socialist Party.
Filmography
Year
Title
Role
Director
Notes
1989
Baptême
Gabrielle
René Féret
1990
Chillers
Isabelle
Maurice Dugowson
TV Series (1 Episode)
1991
Génial, mes parents divorcent !
Thomas's Sister
Patrick Braoudé
Van Gogh
Cathy
Maurice Pialat
Acteurs à l'Écran - Best Actress
Nominated - César Award for Most Promising Actress
La neige et le feu
Claude Pinoteau
Alisée
Alisée
André Blanchard
1992
Amoureuse
The Farsighted
Jacques Doillon
Beau fixe
Frederique
Christian Vincent
Nominated - César Award for Most Promising Actress
Princesse Alexandra
Sister Ermenegilde
Denis Amar
TV Movie
La grande collection
Mercedes
Gérard Vergez
TV Series (1 Episode)
1993
De force avec d'autres
Do
Simon Reggiani
La place d'un autre
Florence
René Féret (2)
Comment font les gens
Yvette
Pascale Bailly
Short
L'orange amère
Fanny
Olivier Sadock
Short
The Young Indiana Jones Chronicles
The Telephone Girl
Simon Wincer & Carl Schultz
TV Series (1 Episode)
1994
Mina Tannenbaum
Ethel Benegui
Martine Dugowson
Nominated - César Award for Most Promising Actress
Farinelli
Alexandra
Gérard Corbiau
1995
Jefferson in Paris
Adrienne de La Fayette
James Ivory
1996
A Saturday on Earth
Claire
Diane Bertrand
Portraits chinois
Emma
Martine Dugowson (2)
1997
Tenue correcte exigée
Lucie
Philippe Lioret
Metroland
Annick
Philip Saville
XXL
Arlette Stern
Ariel Zeitoun
1998
Man Is a Woman
Rosalie Baumann
Jean-Jacques Zilbermann
Cabourg Film Festival - Best Actress
Lautrec
Suzanne Valadon
Roger Planchon
1999
Je veux tout
Eva
Guila Braoudé
Time Regained
Rachel
Raúl Ruiz
Bonne Nuit
Susan
TV Movie
2000
Là-bas... mon pays
Pierre Nivel's Wife
Alexandre Arcady
Love Torn in a Dream
Lucrezia / Jessica / Sultane
Raúl Ruiz (2)
2001
Les fantômes de Louba
Louba
Martine Dugowson (3)
Un ange
Léa Pastore
Miguel Courtois
Not Afraid, Not Afraid
Annette Carducci
2002
Féroce
Zébulon
Gilles de Maistre
Jean Moulin
Antoinette
Yves Boisset
TV Movie
2003
Monsieur N.
Albine de Montholon
Antoine de Caunes
That Day
Livia
Raúl Ruiz (3)
Three Blind Mice
Nathalie
Mathias Ledoux
Qui perd gagne !
Angèle Berstein
Laurent Bénégui
2004
Tomorrow We Move
Michèle
Chantal Akerman
Pourquoi (pas) le Brésil
Christine Angot
Laetitia Masson
Modigliani
Jeanne Hébuterne
Mick Davis
2005
Little Jerusalem
Mathilde
Karin Albou
Nominated - Globes de Cristal Award for Best Actress
La cloche a sonné
Léa
Bruno Herbulot
Journées froides qui menacent les plantes
Virginie Chanu
2006
J'invente rien
Mathilde Mahut
Michel Leclerc
Le concile de pierre
Clarisse
Guillaume Nicloux
Petits meurtres en famille
Édith
Edwin Baily
TV Mini-Series
2007
Unknown Things
The Young Woman
Bruno Coppola
Childhoods
Ingmar Bergman's Mother
Safy Nebbou
2008
La fabrique des sentiments
Éloïse
Jean-Marc Moutout
I've Loved You So Long
Léa
Philippe Claudel
César Award for Best Supporting Actress
Chlotrudis Awards - Best Supporting Actress
Nuit de chien
Maria de Souza
Werner Schroeter
Nucingen House
Anne-Marie
Raúl Ruiz (4)
2009
La folle histoire d'amour de Simon Eskenazy
Rosalie
Jean-Jacques Zilbermann (2)
La double inconstance
Flaminia
Carole Giacobbi
TV Movie
Myster Mocky présente
Various
Jean-Pierre Mocky
TV Series (1 Episode)
Vénus & Apollon
Angie
Pascal Lahmani
TV Series (8 Episodes)
2010
Roses à crédit
The Pharmacist
Amos Gitai
2011
Un baiser papillon
Marie
Karine Silla
JC comme Jésus Christ
Herself
Jonathan Zaccaï
Les tribulations d'une caissière
Marie
Pierre Rambaldi
2012
Plan de table
Catherine
Christelle Raynal
Alpe d'Huez International Comedy Film Festival - Best Acting
Lines of Wellington
Sister Irmã Cordélia
Valeria Sarmiento
Nominated - CinEuphoria Awards - Best Ensemble
2013
À votre bon coeur mesdames
Sister Blandine
Jean-Pierre Mocky (2)
2014
Gemma Bovery
Wizzy
Anne Fontaine
2015
The Price of Desire
Romaine Brooks
Mary McGuckian
Un plus une
Anna Hamon
Claude Lelouch
Nominated - Lumières Award for Best Actress
Amazon
Amazon Priestess
Jeno Udvardi
2016
The Stalking Moon
Veronique Fournier
Antonio Galloro
2017
Un sac de billes
Anna
Christian Duguay
Chacun sa vie et son intime conviction
Claude Lelouch (2)
2018
Bel Canto
Paul Weitz
Theatre
Elsa Zylberstein in March 2013
Year
Title
Author
Director
Notes
1990
Joko's Anniversary
Roland Topor
Jean-Louis Jacopin
Petit Odéon
1991
Eurydice
Jean Anouilh
Georges Wilson
Théâtre de l'Œuvre
1993
Pygmalion
George Bernard Shaw
Bernard Murat
Théâtre Hébertot
1997-98
Six Characters in Search of an Author
Luigi Pirandello
Jorge Lavelli
Théâtre de l'Eldorado
2000
Le Malin Plaisir
David Hare
Jacques Lassalle
Théâtre de l'Atelier
2003
Proof
David Auburn
Bernard Murat (2)
Théâtre des Mathurins
2005
Laissez-moi
Marcelle Sauvageot
Laetitia Masson
Théâtre des Bouffes du Nord
2007
Gamines
Sylvie Testud
Sylvie Testud
Théâtre national de Nice
2009
Le Démon de Hannah
Antoine Rault
Michel Fagadau
Théâtre des Champs-Élysées
2011
Le Temps qui passe
Karine Silla-Pérez
Vincent Pérez
Théâtre des Mathurins
2012
Les Derniers Jours de Stefan Zweig
Laurent Seksik
Gérard Gélas
Théâtre Antoine-Simone Berriau
2014
Vita and Virginia
Eileen Atkins
Jean-Marie Besset
Festival NAVA
Splendour
Géraldine Maillet
Catherine Schaub
Théâtre de Paris
Globes de Cristal Award - Best Actress
[ Source: Wikipedia ]