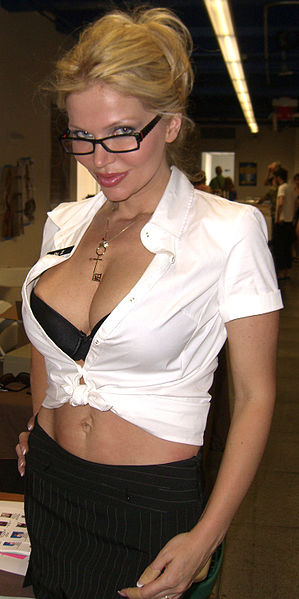 Victoria Zdrok
Born:
March 3, 1973
Age:
50
Birthplace:
Kiev, Ukrainian SSR, Soviet Union[1]
Popularity:

Please login to contact Victoria Zdrok...
Biography
Victoria Nika Zdrok (Ukrainian: Вікторія Здрок; born 3 March 1973[1]) is a Ukrainian-American pornographic actress, author, and model. She is Playboy's Playmate for October 1994. In June 2002 she became Penthouse magazine's Pet of the Month, later being chosen as their 2004 Penthouse Pet of the Year. Zdrok is also a non-practicing attorney, a clinical psychologist and sex therapist.
Zdrok was born on March 3, 1973 in Kiev, Ukraine.[1] She graduated from Pensacola Junior College in Florida at age 17 and West Chester University in Pennsylvania at age 18 with a B.A.[3] She earned a J.D. degree from Villanova University School of Law, and a Ph.D. in Clinical Psychology from Drexel University.[4] She aimed to specialize in the "area where law and psychology intersect" and originally intended to become a jury consultant. She later completed a post-doctoral qualification in sex therapy at the New Jersey School of Medicine.[4]
Read more...
Personal life
In January 2001, her ex-husband, Alexander Zdrok, sued her for monetary damages under their 1996 divorce property settlement, in which Victoria agreed to pay Alexander 15% of earnings from her work for the next decade. Victoria claimed the settlement was invalid, and sought to seal the trial, but the court declined to do so. She appealed and lost this issue.
On December 9, 2003, she settled with her husband for US$50,000. Afterwards, her ex-husband's lawyer, Elliot Goldberg, expressed disappointment over not being able to reveal intimate details about Victoria Zdrok.[5]
In March 2004, after Zdrok was named Penthouse Pet of the Year, Alexander Zdrok again sued to overturn the most recent settlement. Judge Carroll Cody chastised him for filing the suit, but also said that while she did not consider Victoria Zdrok entirely truthful, there was no evidence that she would have known that she was going to receive $100,000 at the time of the settlement.[6]
On December 12, 2009 Victoria admitted that she married Alexander Zdrok primarily with the intention to get a Green Card.[7]
Victoria Zdrok has a daughter with John Wilson.[8]
Career
Zdrok was crowned Philadelphia's "Best Beauty" in August 1994. In October of the same year she became a Playboy centerfold. In an interview, Zdrok claimed she would have been selected Playmate of the Year over Julie Lynn Cialini except for false rumors Zdrok said were circulated about her.[9]
Zdrok appeared in Penthouse as their June 2002 Pet of the Month. In 2004, at the age of 30, she was named Penthouse Pet of the Year. She is the second centerfold, after Linn Thomas, to be both a Playboy Playmate and a Penthouse Pet.
Zdrok has performed in adult films, including such as Lesbians in Lust, Assturbators 2, and The Best of Victoria Zdrok.[2]
Victoria Nika Zdrok
Playboy centerfold appearance
October 1994
Preceded by
Kelly Gallagher
Succeeded by
Donna Perry
Personal details
Born
(1973-03-03) March 3, 1973 (age 45)
Measurements
Bust: 36C[1]
Waist: 23
Hips: 34
Height
5 ft 9 in (1.75 m)[1]
Weight
120 lb (54 kg; 8.6 st)
Other work
Zdrok has written several books on sex, including The Anatomy of Pleasure and Dr. Z on Scoring: How to Pick Up, Seduce and Hook Up With Hot Women.[10]
[ Source: Wikipedia ]