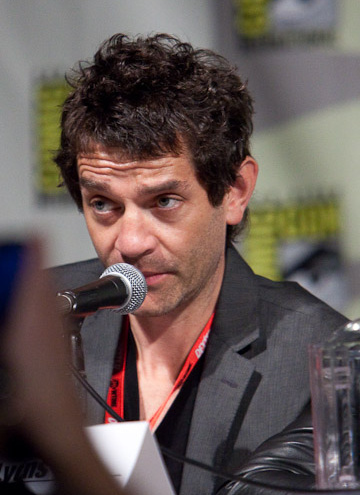 James Frain
Born:
March 14, 1968
Age:
55
Birthplace:
Leeds, West Riding of Yorkshire, England, UK
Popularity:

Please login to contact James Frain...
Biography
James Dominic Frain (born 14 March 1968) is an English stage and screen actor. His best known roles include those of Thomas Cromwell in the TV series The Tudors (2007-2009), vampire Franklin Mott in season three of the HBO drama True Blood, as Richard Neville, 16th Earl of Warwick, in the BBC drama serial The White Queen (2013),[1] as Ferdinand in Orphan Black (2015), Theo Galavan/Azrael in Season 2 of Gotham and as Ambassador Sarek in Star Trek Discovery (2017).
Frain played leading roles in the BBC dramas Armadillo (2001), The Buccaneers (1995) and The Mill on the Floss (1997) and the films Hilary and Jackie (1998) and Elizabeth (1998). He also appeared as Chief Magistrate Gérard de Villefort in The Count of Monte Cristo and Bassianus in Titus.
Frain was born in Leeds, West Riding of Yorkshire, and brought up in Stansted Mountfitchet, Essex, the eldest of eight children of a teacher mother and a stockbroker father.[2] He was educated at Newport Free Grammar School, studied English, Film and Drama at the University of East Anglia and trained as an actor at the Central School of Speech and Drama in London.
Read more...
Career
While in his final year of drama school, he made his film debut in Shadowlands (1993) after being spotted by Richard Attenborough. He was nominated for Best Actor at the 1995 Venice Film Festival for his performance as a Northern Irish terrorist in Thaddeus O'Sullivan's film, Nothing Personal (1995), and for Best Supporting Actor at the Genies in Toronto for his performance in István Szabó's Sunshine (1999).[3]
He has been a regular on the stage in the United Kingdom, appearing with the Royal Shakespeare Company and Royal Court Theatre, as well as on the West End. He has also appeared on Broadway and was a recipient of the 2008 Drama Desk Award for Outstanding Ensemble Performances along with the rest of the cast of The Homecoming (2007).[citation needed]
He has appeared in a number of television series, such as soldier soldier (1993)Armadillo (2001); 24 (2005); Invasion (2006); and The Closer (2006). His more recent roles include Thomas Cromwell in Showtime's The Tudors; the villainous billionaire 'Chess' in the NBC superhero/crime drama series The Cape; heroic Templar Sir Gregory in the Syfy original film Dark Relic (2010); and vampire Franklin Mott in the HBO drama True Blood. In season 2 of Grimm, Frain joined the cast as a mysterious recurring character named Eric Renard.[3]
He appeared in the second season of Gotham as Azrael. He currently portrays Sarek, the father of Spock, on Star Trek: Discovery, the second prequel TV series in the Star Trek franchise.
Personal life
In 2004, Frain married director Marta Cunningham; they have two children. In his spare time, he is an amateur artist.[citation needed]
Selected filmography
Film
Shadowlands (1993) - Peter Whistler
Nothing Personal (1995) - Kenny
An Awfully Big Adventure (1995) - John Harbour
Rasputin: Dark Servant of Destiny (1996) - Prince Felix Yusupov
Loch Ness (1996) - Adrian Foote
Red Meat (1997) - Victor
Robinson Crusoe (1997) - Defoe's Publisher
Elizabeth (1998) - Spanish Ambassador Álvaro de la Quadra
Hilary and Jackie (1998) - Daniel Barenboim
Sunshine (1999) - Gustave Sonnenschein
Titus (1999) - Bassianus
Where the Heart Is (2000) - Forney Hull
Reindeer Games (2000) - Nick
Armadillo (2001) - Lorimer Black
The Count of Monte Cristo (2002) - J.F. Villefort
Path to War (2002) - Richard N. Goodwin
Into the Blue (2005) - Reyes
The Front Line (2006) - Eddie Gilroy
Everybody's Fine (2009) - Tom
Tron: Evolution (video game) (2010) - Zuse
Tron: Legacy (2010) - Jarvis
Dark Relic (2010) - Sir Gregory
Water for Elephants (2011) - Rosie's Caretaker
Transit (2012) - Marek
The Lone Ranger (2013) - Barret
Television
'soldier, soldier Series 3 Episode 5 disintergration(1993)-Lt Giles Chapman
Prime Suspect (1993 miniseries) - Jason Baldwin
The Buccaneers (1995 miniseries) - Julius Folyat
Tales from the Crypt (1996) - Elliot
Macbeth on the Estate (1997 TV film) - Macbeth
Arabian Nights (2000) - Schahzenan/Harun al-Rashid
The Vice (2001 TV series) - Gordon Ellis
Spartacus (TV film) (2004) - David
Empire (2005) - Marcus Junius Brutus
24 (2005) - Paul Raines
Threshold (2005)
Invasion (2006) - Eli Szura
The Closer (2006)
The Tudors (2007-2009) - Thomas Cromwell
Law & Order: Criminal Intent (2008) - Dean Holiday
Fringe (2008) - Salmon Kohl
In Plain Sight (2009) - Philip Ashmore/Roy Murray
Grey's Anatomy (2009) - Tom
Lie to Me (2009) - Lance McClellan
Law & Order: Special Victims Unit (2009) - Martin Gold
Californication (2009) - Paul
FlashForward (2009-2010) - Dr. Gordon Myhill
Leverage (2010) - John Douglas Keller[4]
CSI: Crime Scene Investigation (2010) - Jeffrey Hughes
CSI: Miami (2010) - Richard Ellison
True Blood (2010) - Franklin Mott[5]
The Cape (2011) - Peter Fleming/Chess
Burn Notice (2011) - James Forte
The Mentalist
Grimm (2012-2013) - Eric Renard
The White Queen (2013) - Lord Warwick, "the Kingmaker"
Sleepy Hollow (2013) - Rutledge [6]
The Tunnel (2013) - John Sumner
Shameless (2013) - Frank's doctor (Season 3 Finale)
Intruders (2014) - Richard Shepherd
Agent Carter (2015) - Leet Brannis
Orphan Black (2015-2017) - Ferdinand[7]
True Detective (2015) - Kevin Burris
Gotham (2015-2016)[8] - Theo Galavan/Azrael[9]
Star Trek: Discovery (2017-present) - Sarek[10]
[ Source: Wikipedia ]